The Bay Area housing market epitomizes the word mania.  I was listening to a few real estate agents from the Bay Area and what they were saying sounds like absolute insanity.  Of course, for people drinking the Kool-Aid it is hard to have any sort of perspective especially when your paycheck is tied to you believing in the mania.  Hard evidence tells us that something crazy is happening in San Francisco.  The median price peaked in May at a stunning $1,225,000 based on MLS sales figures.  That is 65% higher than the previous peak reached and a whopping 104% higher than it was in January 2012.  Mania, mania, mania.  The price increase is happening so quickly that people are getting gentrified out of the market in epic fashion.  You have a large numbers of foreign investors buying properties and many leave the places unoccupied.  So not only do you take inventory away from those in the area that would live in these homes but you also take away potential rental property.  The rental market in San Francisco is just as crazy.  Builders have been building where they can especially with luxury condos.  But now, at the apex of prices we now have a record glut of luxury condos.  Many of these condos are sitting on the market as we enter the slow fall and winter season.  The median condo price is $1,100,000.  So where do we go from here?
The condo glut
We've talked about the absurd NIMBYism that simply is poor policy for California housing.  Sure, you can create a small coastal elite but now we are injecting outside money that is gobbling up inventory.  There is this odd sort of tech bubble run-off and VC money is trying to chase ideas that simply have no chance of succeeding all in the hopes of catching those future tech unicorns.  But guess what, the market has been blistering hot and now it is cooling off.  This is tracking the stock market.  It always goes this way.
The result is that a large number of luxury condos are coming online at a time when prices are peaking and the appreciation train is slowing down.  Take a look at this: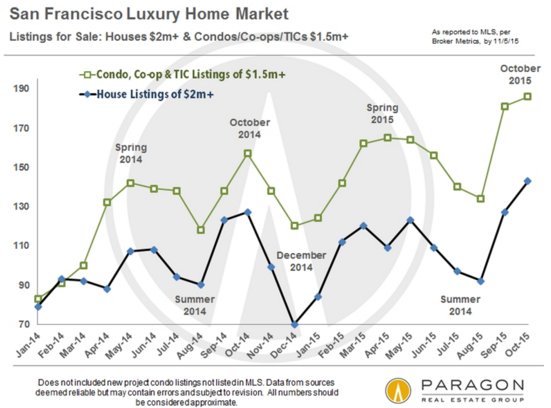 There is now a record number of luxury condo listings in San Francisco.  Will there be buyers waiting in the wings to buy these places?  Maybe.  But think about what you need to make to buy a $1.1 million condo – or a $1.5 million luxury condo.  It is funny to think that $1.1 million for a condo isn't even considered luxury for San Francisco.  Seeing real estate agents trying to convince people that a true million dollar crap shack is worth it is a sight to behold.  Go ahead and feel free to buy these places.  Local high income households are competing with large dark pools of money from abroad.  I've taken a look at sales data and deeds and it is interesting how some of these people are trying to hide their purchase.  They want to hide their names through LLCs and other complicated paperwork.  If you take a mortgage, your name is easily accessible and I would imagine even a high income household would need a mortgage for a $1.1 million condo.  But if you go all cash you can obscure the money trail easily.  For example, you are only supposed to be able to take out $50,000 per year from China but there is an entire cottage industry to get around this.
The market in California overall is slowing down: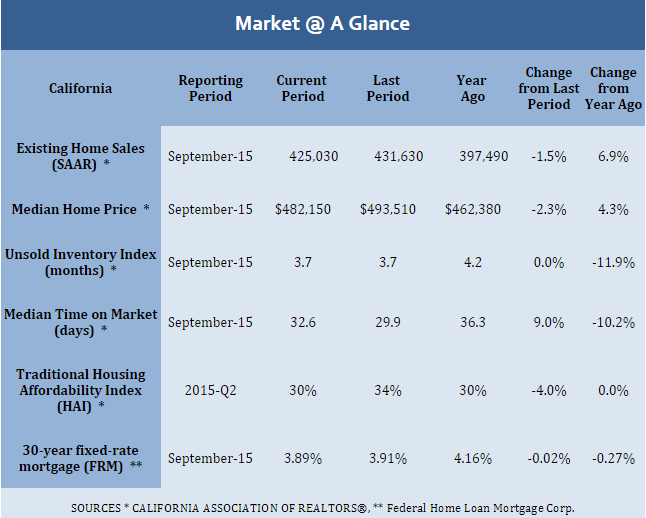 Prices dipped last month.  Sales figures have slowed down.  And in San Francisco, sales have dropped year-over-year.  Prices are simply getting too frothy.  You also have speculators buying for the prospect of appreciation.  You also have a good number of new condo construction coming online in San Francisco at a time when things are frothy.  Condos tend to be the canary in the coalmine because these are your weakest link in the housing food chain.  The same has happened in SoCal and it happened in the last bubble as well as new developments sprang up and some apartment buildings were converted into condos.  The same trend is playing out.
"(China Law Blog) Got a call the other day from a United States lawyer with a Chinese client who wanted to buy a very expensive house in that other lawyer's big city. The lawyer's Chinese client had said that Chinese law limited them to taking only $50,000 out of China and so this lawyer was calling me to see how they might take out a lot more than that.

We get calls like this fairly often. Sometimes they are from lawyers with Chinese clients. Other times they are from expats or foreign companies that have built up a large stack of illegal earnings in China and want our help to get it out.

Our answer to all of them is always the same. Why would you call a lawyer to ask how you can violate the law?  What you are seeking is not legal help, but a way to skirt the law and there is no way we are going to help in that."
The above is well worth a read.
Here is one example of new construction coming online: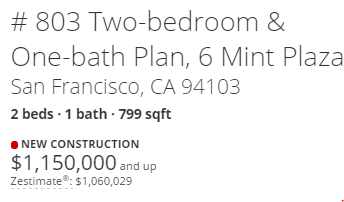 $1,150,000 for a 2 bedroom and 1 bath condo.  This is for 799 square feet.  A good deal?  You figure that one out on your own.  But if you are a working professional family a large chunk of your income is going to go to housing in San Francisco.  SoCal is home to the $700,000 crap shack while San Francisco is home to the $1 million crap shack.  The trendy and artist friendly San Francisco is long gone, many years ago.  San Francisco is now a place for elite high earning tech workers and foreign money.

Did You Enjoy The Post? Subscribe to Dr. Housing Bubble's Blog to get updated housing commentary, analysis, and information.