People have a hard time understanding that the world is not made up by black and white answers and that goes equally for how the economy evolves and responds to bubbles bursting.  Some don't even want to acknowledge that we are now half a decade into this bubble popping like believing the Earth is flat.  What I find interesting is that some are commingling a bottom in national median home prices and applying this national trend to tiny niche markets that are clearly in bubbles even today.  Yes, it takes a lot of time to parse out data for micro-markets but not paying attention to the details is what led us into this epic financial disaster in the first place. Most of this can be explained by the fundamental attribution error.  In other words, the bubble has burst for everyone else but not for me contrary to the data.  So yes, the nationwide median home price of roughly $150,000 might be finding a bottom when household incomes are roughly $50,000.  This can even apply to the Inland Empire here in Southern California.  But for other areas this is absolutely not the case.  Now that we have annual data for 2011 the results might shock people.
Los Angeles County worst performing cities
The benefit of having a year's worth of data is that you sand out any temporary blips on the radar.  What we find in Los Angeles County is that many areas are still seeing prices fall: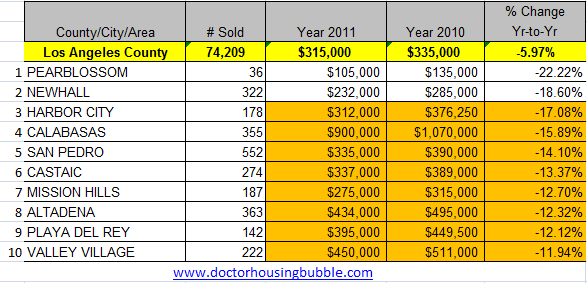 Calabasas saw the biggest nominal hit of the top 10 percentage drop cities seeing their median home price dropping by $170,000 from 2010 to 2011.  In other words, the correction is still hitting.  Now imagine that you put down 10 percent and bought in 2010 for that $1,070,000 price.  You can now kiss that down payment goodbye.  So much for the talks of a housing bottom in prime markets.  If you look at the areas with the biggest price drops for the year, you'll notice that most are above the median price for the county.  In other words, these are your mid-tier to prime regions.  This is the point.  While some areas may be finding bottoms nationally there are plenty of bubble markets in California that still have a way to go before having any semblance of a bottom.
All the people that dove in with FHA insured loans in 2010 and bought in these markets with the 3.5 percent down payment are now fully wiped out and part of the 12,000,000 Americans that are now underwater: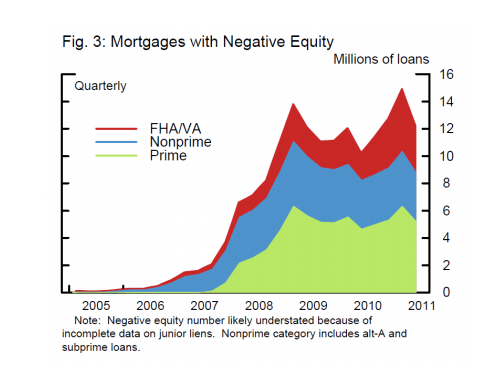 And this is what people are failing to understand that many recent buyers in bubble markets are now newly minted underwater homeowners.  Many of those underwater in a market like Las Vegas for example are those who bought near or during the apex of the national bubble.  Yet the markets above are merely a reflection of the second round correction that is hitting mid-tier and upper-tier areas.
You might be surprised what other areas show up on the list:
Median price fall from 2010 to 2011
Malibu:                                 -6.43%

Agoura Hills:                       -6.25%

San Marino:                        -7.69%

Woodland Hills:                 -5.56%

Manhattan Beach:           -5.00%
Woodland Hills and Agoura Hills are mid-tier areas, not prime like Malibu, San Marino, or Manhattan Beach.  So much for that talk of a bottom.  Factor in the typical selling costs of 5 to 6 percent and many of those that bought in the above markets in 2010 are now underwater.  Now how about we look at the top selling cities in 2011?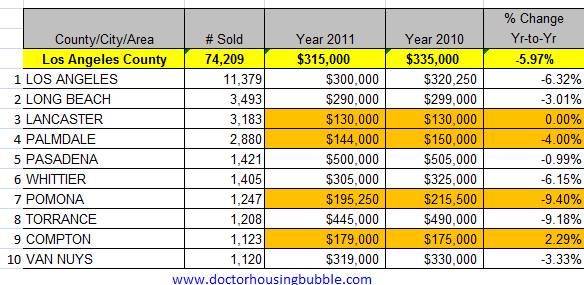 8 of the top 10 selling locations in Los Angeles County are near $300,000 or substantially lower including the lower priced markets of Palmdale and Lancaster.  This isn't new and this trend has been going on for years now.  Some of those with massive cognitive dissonance are simply examining the national trend or looking at markets in the Central Valley or the Inland Empire and applying it to their mid-tier cities.  What the above data is showing is that your city and area is not as prime as you may think it is.  Otherwise, how did prices fall strongly into 2011 with comically low interest rates and a Fed and government that is practically trying to give homes away for free?  Household incomes are not as strong as one would expect.  You see this in mid-tier cities where most households do well nationally, but have sub or par $100k incomes yet think they are pulling in $250k and higher and live that way.  The poser force is strong in Southern California.
To call a bottom overall and then apply it to pocket markets is nonsense.  Sure, if we are talking about a national median price of $150,000 we may be at a bottom assuming interest rates stay this low and most households keep on pulling in that $50,000 income (3 times annual household income to home price is a historical average anyway).  Try running those numbers on many of the California bubble cities and you'll find an entirely different picture.
I forgot how delusional people could be until I posted an article on Canada and their housing bubble and all of a sudden, it was a trip back into time to 2006 and 2007.  Bubbles by definition are driven by herding and psychological energy, not fundamental economics.  They are nothing more than financial sugar highs and end badly.  This isn't new.  History is replete with bubbles from Tulips, 1920s Florida Real Estate, South Sea Bubble, tech stocks, and many others.
So what are some simple lessons we can dig out from this bubble pop five years later?
-Lower priced areas may be finding a bottom (i.e., Inland Empire, Central Valley etc)

-Areas where the median price is higher than the regional median price still are seeing prices falling (likely because more shadow inventory is coming online and being priced to sell)

-Delusional people will always be around whether it is in the heart of a mania or even in the face of a bubble bursting right in front of them
Mark Twain was right in that history doesn't repeat itself, but it does rhyme.

Did You Enjoy The Post? Subscribe to Dr. Housing Bubble's Blog to get updated housing commentary, analysis, and information.