The core problem with the current housing market is that most of the current activity is being driven by distressed sales.  When mortgage rates were lowered, instead of boosting new home buyer activity you really saw a large surge of refinancing activity from those who already own.  Good news if you own a home but little use if you are trying to build up your income to purchase a home.  The bulk of housing activity is being driven by three items; investors snatching up lower priced homes, refinancing activity, and FHA buyers purchasing lower priced homes.  The overarching theme?  The demand in the housing market is for cheaper real estate.  So today, we are going to highlight three million dollar distressed properties here in Southern California.  Since few bother to cover this niche, it is important to highlight that million dollar foreclosures are more common than most think.
Million dollar foreclosure number 1 – Calabasas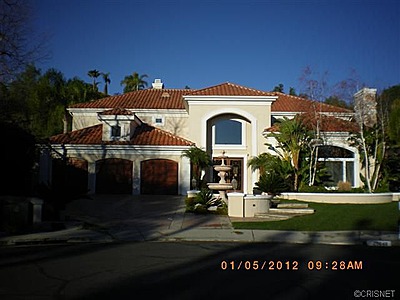 25648 QUEENSCLIFF COURT,  Calabasas, CA 91302
4 bedroom, 5 bathroom, 1 partial bath, 5,819 square feet, SFR
This home looks to be a recent addition to the MLS.  The trend seems to be picking up where prime REOs are now making it to public view.  In the next few months, there are some talks about major program changes with HARP and bulk sales of REOs to investors for turning them into rentals.  In other words, the investment banks and government have a hard time admitting there is a massive amount of shadow inventory yet we are having targeted programs for this major issue.  The above home has an interesting sales history: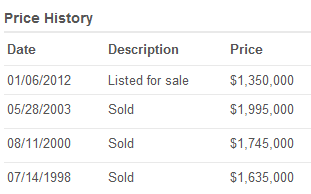 The above home sold for nearly $2 million in 2003.  The current list price is $1,350,000 but this is likely to generate interest.  Let us look at the ad:
"All offers should be highest and best and must be submitted by cob on monday, january 16, 1012!!!!!! Limitless potential!!! Almost 6,000 square feet at the end of a magnificent cul-de-sac on a 57,120 square foot lot in mountain view!!! 4 bedrooms, 5.5 baths, tennis/basketball court, beautiful swimming pool and back yard. Please see remarks section before showing."
Million dollar foreclosure number 2 – Bel-Air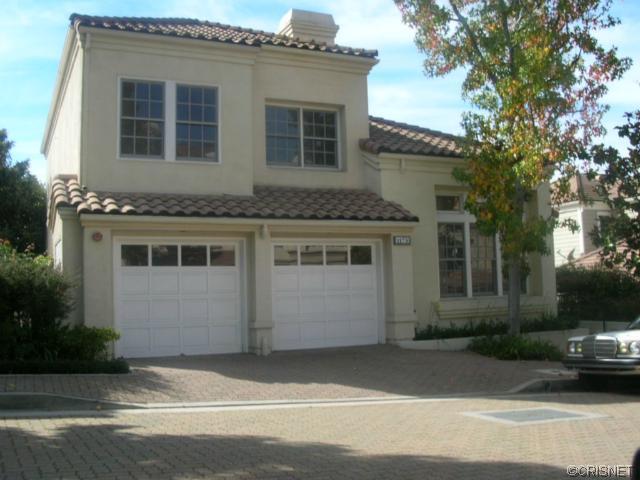 11730 GWYNNE LANE, Los Angeles, CA 90077
3 bedroom, 2 bathroom, 1 partial bath, 2,452 square feet, SFR
The next place takes us to the exclusive Bel-Air neighborhood.  Let us take a look at the ad first:
"Well maintained two story home with three bedrooms and three bathrooms in a high demand gated community of bel air crest. Full amenities and located on a quiet cul de sac. Private yard. Two car attached garage. Close to freeways and schools and ideal for families."
Nice place in a good Los Angeles area.  Certainly a prime location so if housing activity is picking up these places should be selling like pancakes.  Let us look at the pricing history here: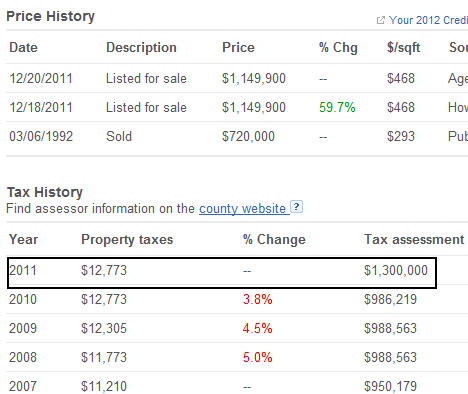 Interesting to see the tax assessment jump up in 2011.  Typically a jump like this occurs from a refinance or an upgrade.  The shadow inventory is definitely creeping out into the market in prime locations.  Current list price is $1,149,000.
Million dollar foreclosure number 3 – Brentwood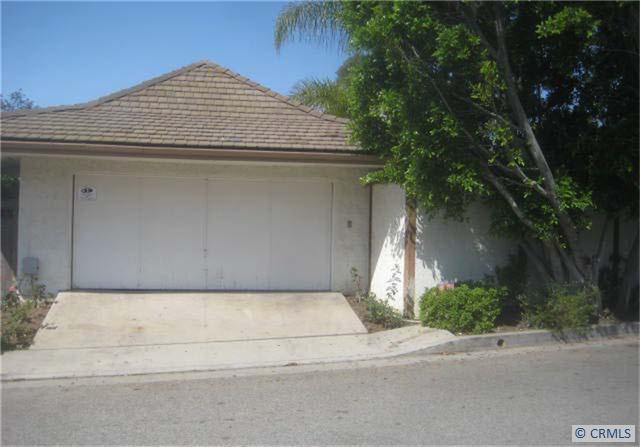 11328 CHALON RD,  Los Angeles, CA 90049
5 bedroom, 2 bathroom, 1 partial bath, 4,153 square feet, SFR
We finally end our journey in Brentwood.  Only one SFR foreclosure is listed in the area and this is it.  However if we look at the shadow inventory data we find the following: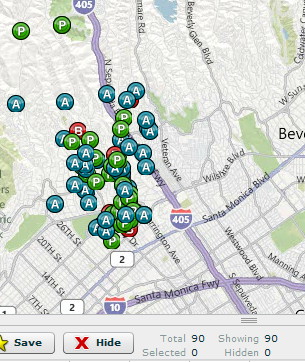 90 properties sure looks like a lot more than the 1 listed on the MLS.  And this is clearly a prime area in Los Angeles County.  Let us take a look at the price history: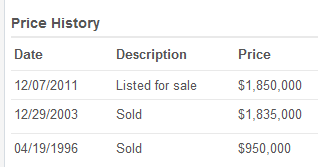 The current list price is $2,200,000.  I love the ad for this place:
"REO, contemporary, custom home. Tenant occupied."
So this $2.2 million home is a rental?  So much for all renters being poor.  As you can see someone is getting serious about listing prime properties on the market.  Little by little they are being leaked out but the shadow inventory is massively large.  The new bulk REO programs seek to offload lower price homes but you think an investor is going to be purchasing million dollar homes in bulk as rentals?  Highly doubtful.  Welcome to the housing market circa 2012!

Did You Enjoy The Post? Subscribe to Dr. Housing Bubble's Blog to get updated housing commentary, analysis, and information.