The Case Shiller data released today was rather significant since we have now achieved a new post-bubble low for home prices.  So much for hitting a bottom.  Clearly the economic conditions around the country are putting things into dramatic focus and many people are unable to stay afloat.  The paltry demand for housing is coming for lower priced homes by a population that has seen their household income fall for well over a decade.  The shadow inventory is still large and as expected is serving as a large drag on many markets.  We also find out that the Federal Reserve made an astonishing $7.7 trillion in shadow loans to their colleagues in the financial sector.  Keep moving along folks, nothing to see here!  Even in mid-tier Los Angeles markets many were too quick to jump in as we will highlight today.
Case Shiller reaches new low
As previously mentioned the Case Shiller made a new post-bubble low today: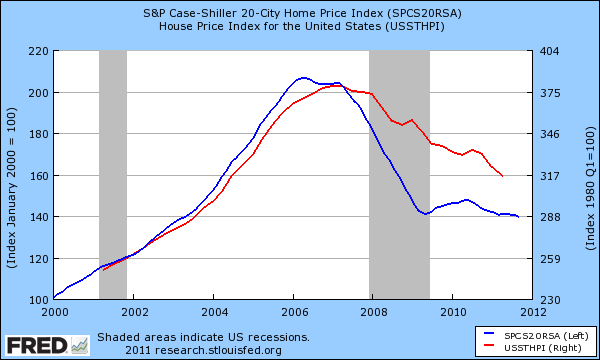 The market continues to make new lows for a variety of reasons but the most important one is the fundamentally weak economy.  People tend to forget that all housing price gains for the last decade were largely illusionary.  You had artificially low interest rates and no due diligence making up for a stagnant income base.  That is obviously unsustainable and many European countries are finding this out the hard way.  You cannot go into massive debt and create a sustainable economy contrary to what many believe.  Sure, it felt like this was a new paradigm since the bubble ran strong for a decade but many have a hard time accepting this post-bubble market.
According to the Case Shiller Index nationwide home prices are down by 33 percent from their peak.  Contrary to what some are saying, bubble markets have popped harder and will continue to drop quicker than nationwide prices.  Take the overall Los Angeles market: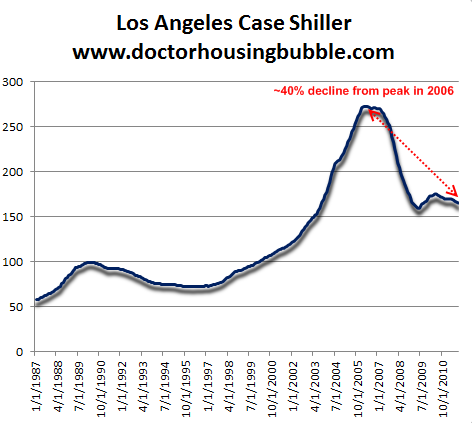 Looking at the Case Shiller data on Los Angeles which also includes pricey Orange County, home prices are down 40 percent from their peak and are down almost 5 percent year-over-year.


In other words, simply being in California is not going to keep prices inflated just because people enjoy the nice climate (last I checked Greece also has a nice climate).  Yet a line of thinking continues that some markets are immune to this bubble bursting.  As we have pointed out even housing in Beverly Hills is facing a correction.
But let us examine a mid-tier market here in Los Angeles County that certainly is not Beverly Hills, Woodland Hills.
Jumping in too early in Woodland Hills
You have to look at the entire scope of what is going on.  Housing does not operate in a vacuum.  I wanted to highlight how quickly things can change even in this market.  Take this short sale in Woodland Hills for example: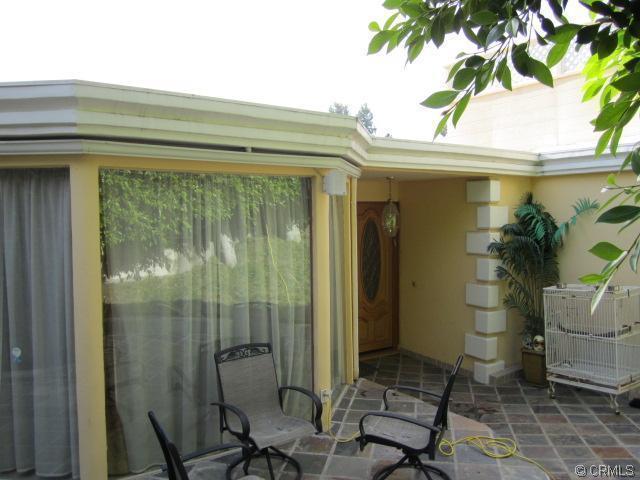 5219 BAZA AVENUE  Woodland Hills, CA 91364

3 bedroom, 3 bathroom, 0 partial bath, 3,476 square feet, SFR
Nothing extraordinary about the city or property but here is a perfect example of markets that have yet to hit a bottom.  This home has been on the market for well over 200 days.  But the real action is in the pricing history: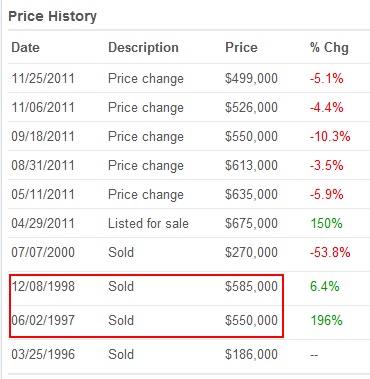 Does this pricing action demonstrate a market that is full of pent up and repressed demand?  This also shows how disconnected some markets in Los Angeles have become.  How can you go from $675,000 in April to $499,000 today?  In no other states do you see pervasive manic pricing like this.  This is like going to a car dealership on Monday and getting quoted $40,000 and then heading back on Friday and getting a price of $20,000.  The price reduction alone is the median price of a home in the United States!
These markets are incredibly inflated and that is why the above 3 bedrooms and 3 baths home in Woodland Hills is now reflecting a price last seen in the 1990s.  But of course this is only a handful of properties right?  Let us look at the shadow inventory in Woodland Hills: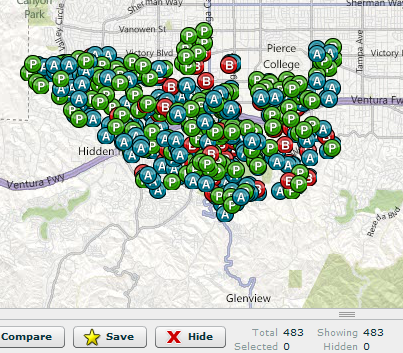 If we exclude distressed properties, Woodland Hills has roughly 200 non-distressed properties listed on the MLS while 483 are in some stage of foreclosure!  In other words, the bottom is far from being reached in some California cities.

Did You Enjoy The Post? Subscribe to Dr. Housing Bubble's Blog to get updated housing commentary, analysis, and information.