The dynamics of the housing market for the past year show very little resemblance to a normal market.  The government has stepped in and has artificially stimulated the market with a monetary taser.  It is hard to get a handle on where things are heading but one thing is certain; overall Southern California is still in a housing bubble.  Now this might seem odd given the massive drop in prices already faced in California.  Keep in mind that the drop was not universal.  Prices fell because of the way data is gathered.  For the past year the bulk of home sales came from distressed properties and the volume was pushed by lower priced home sales.  Now, we are seeing a better mix of home sales and higher priced areas although lower, are selling more and this has pushed the overall median price up.
Yet Southern California, a region with over 20 million people is still largely in a housing bubble.  If we look at housing prices on a historical basis, they normally keep pace with inflation.  So we can first use inflation over the past decade to measure the housing bubble:
California CPI
2000 = 172
2010 = 227
Increase of 32 percent
Source:  CA Dept. of Industrial Relations
Over the decade the Consumer Price Index (CPI) for the state has gone up nearly 32 percent.  This includes rent and also the owner's equivalent of rent figures.  This is the measure that is often used to examine inflation.  It may be flawed since it understated the housing bubble going up and does not capture the crash with home prices going down.  Yet this is the figure often used in government studies and also to base monetary decisions taken by the Federal Reserve.  How did home prices in Southern California perform over the last decade?

This is where you can see the housing bubble clearly.  In areas like Riverside and San Bernardino (the Inland Empire) home prices have actually come under the overall rate of inflation.  In fact, San Bernardino is seeing prices like those back in the early part of the decade.  So the housing market is not uniform across the spectrum even in a regionally close area like Southern California.  The three areas that are largely in bubbles are Los Angeles, Orange, and Ventura counties and the data above shows why.
In Los Angeles County home prices are up 72 percent over the decade and this is where half of SoCal lives (approximately 10 million people).  This is twice the overall rate of inflation.  If we were to use the 32 percent rate, home prices would be closer to:
$200,000 x 1.32 =             $264,000
That would mean an overall price decline of 23 percent from the current level for the county.  Is this feasible?  Keep in mind that prices can adjust in two ways.  They can nominally correct as they have been or they can be inflated away through inflation (what the Federal Reserve is hoping happens).  Yet without wage inflation and a weak state economy, there is little that can be done here even with gigantic tax credits and historically low interest rates.  So it is very likely prices will adjust lower in these areas.  The amount of the price drop will depend on the rate of inflation and also how well the economy does in the next few years.
Let us dig a little deeper into some cities in the region:

I track various markets closely because this is the only way you will get a better sense of market dynamics.  All the above areas are largely in housing bubbles as measured by their price increases (if we go by income and inflation data).  But if we look at a more recent trend we can see what is happening.  In very high priced areas like Westwood and Santa Monica, we see prices declining in the first half of 2010.  In the 90024 zip code, home sales doubled but the median price fell by $500,000 for these sold homes.  In Santa Monica (90405) the median price fell by $250,000 with the same number of homes moving.  In the 90803 zip code of Long Beach the median price fell by $240,000 over this time.  The higher priced regions are seeing similar trends.
Yet look at the mid-tier market.  This is where you see many fence sitters moving off the sidelines and jumping back into the market.  All these loans qualify under the FHA insured guidelines whereas the other top areas need jumbo loans and a hefty down payment.  For these areas home sales have jumped and so have home prices.  Take a look at the 91104 zip code in Pasadena.  Back in January 16 homes sold for a median price of $465,000.  In May, 30 homes sold for $605,000.  These are reminiscent trends of the housing bubble days.  Or take a look at La Verne.  In January there were 8 home sales at a median price of $465,000.  In May, there were 18 sold homes at a median price of $650,000.
What can we gather from the above?  The higher jumbo market end is adjusting rather drastically.  This market requires high down payments and cash to purchase.  The starter home markets and nicer area markets that qualify for government loans are showing bubble like jumps as many of those sitting on the fence jumped in to capitalize on the government tax credit and have pushed prices up.  With the tax credit and a low down payment it isn't that hard to jump in.
What is happening in lower priced areas of Southern California?  Let us examine that market as well:

First look at the decade long price increase column.  Interesting how each of these areas falls close or very close to the overall inflation rate (aside from Compton).  What happened in the first half of 2010?  Not much in terms of price.  The only area that saw a nice jump in home sales is the 93551 zip code in Palmdale but prices remained largely at the same level.  You'll also notice that the amount of home sales in these regions is much higher than the previous chart.  And this isn't all based on population:
93551 (Palmdale):            est. pop               41,462
91104 (Pasadena):           est. pop               40,882
The Pasadena zip code had 30 home sales and the Palmdale zip code had 106 home sales in the same month.  Clearly something is pushing a three time higher sales rate in an area that has nearly the same population.  For the above lower priced regions, a large part of the home buyer base comes from investors.  But this momentum is stalling out.  With rents declining and a glut of housing on the market, many investors are finding it harder to flip in these regions.  Good luck trying to find steady renters in these markets that are facing challenging economic situations.  Housing can only remain healthy if the overall economy is healthy.
The overall amount of housing making its way onto the market is slowly increasing on a day to day basis: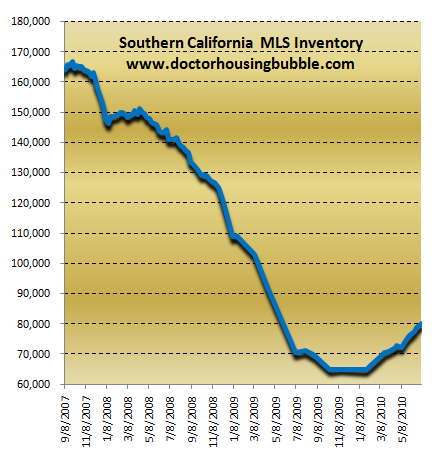 Since the low MLS inventory figure of October of 2009, MLS inventory for Southern California has increased 23 percent.  The trend shows no signs of stopping.  Much of this is probably due to many Real Homes of Genius and regular homes now entering into the public view as banks move more inventory.  Let us look at Pasadena for example: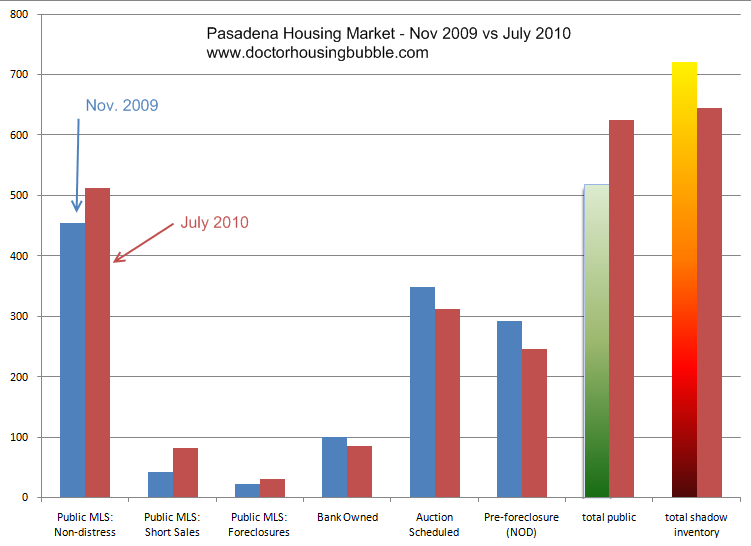 What we see is the public MLS inventory moving up while distressed properties move lower.  The amount of shadow inventory has moved slightly lower while MLS inventory has slightly moved up.  In fact, if we add MLS + distressed inventory there has been little change from November of 2009 to our data today in July of 2010; 1,239 for Nov. 2009 and 1,264 for July of 2010.  Keep in mind this trend was made completely possible by government bailouts and intervention.  The question will be whether prices can stand on their own now that every imaginable gimmick has been thrown onto the housing market.  It is also the case that distressed figures are kept lower as banks prolong the first step in foreclosure.
Even with the large amount of home sales from lower priced areas home sales for the region are far from peak levels seen in the bubble: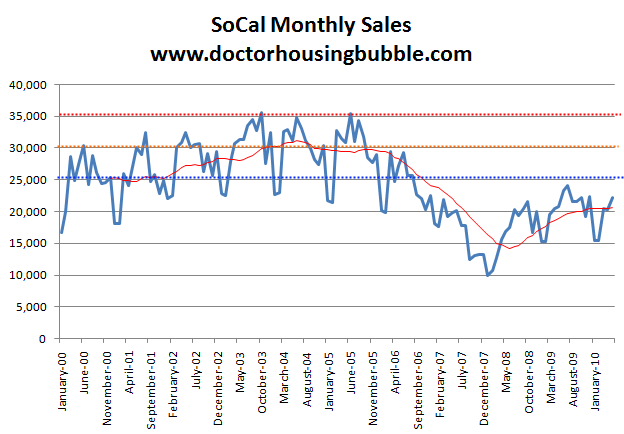 This gives you a good perspective of where we are at.  We have yet to have a 25,000 sales month since mid-2006.  We are nowhere close to a 30,000 sales month or the insane months of 35,000.  And keep in mind that at certain points over the last year 50 percent of sales were foreclosure resales in the market.  The previous peaks were all done with grade-A bubble herd buying (little distressed to be had).  We are still working through large amounts of toxic mortgages so it will be two years before we have any semblance of a normal market.
What can we conclude from the above?  Large parts of Southern California are still very much in housing bubbles.  It looks like starter home areas have seen a strong jump in price as people rush to suck up government intervention.  Prime markets like Santa Monica and Westwood have seen prices fall but are still high relative to local area incomes.  Lower priced regions seem to have steady sales and prices.  So the bubble is now in the hands of middle class home buyers that moved off the fence and were sold by the government easy money parade.  Yet will this hold going forward?  That is the next trend to follow in the second half of 2010.

Did You Enjoy The Post? Subscribe to Dr. Housing Bubble's Blog to get updated housing commentary, analysis, and information.