That smell in the air is housing delusion being pumped out through the clean exhaust of the new vehicles being driven off the dealer lots.  You might mistake it for the fall but housing perma-bulls are now coming back out of their journey into the wilderness to proclaim the housing bottom.  This climate feels familiar because this is how it was in 2005 and 2006 especially with some of the comments.  Some feel secure that the Alt-A and option ARM tsunami is conveniently sitting on the books of banks.  Does it bring you confidence that banks will now be landlords or some of the largest property owners in the country?  To some this might sit well.  But with over 1,000 homes entering distress in California per day, you have to wonder how much of the flood can they take?  Either way, those calling the bottom are now out in full force.
But let me tell you something.  There might be a bottom in the bottom of the housing market.  Take a look at areas like the Inland Empire:

San Bernardino and Riverside Counties are both seeing prices going back nearly a decade.  In these areas, you might find some solid bargains.  But look at the other counties.  People are using the massive drop and correction at the lower rung to justify stagnant or slightly declining prices in more prime locations.  And it is clear why we are seeing what we are seeing.  The Case Shiller Index has now seen two months of data pointing upward: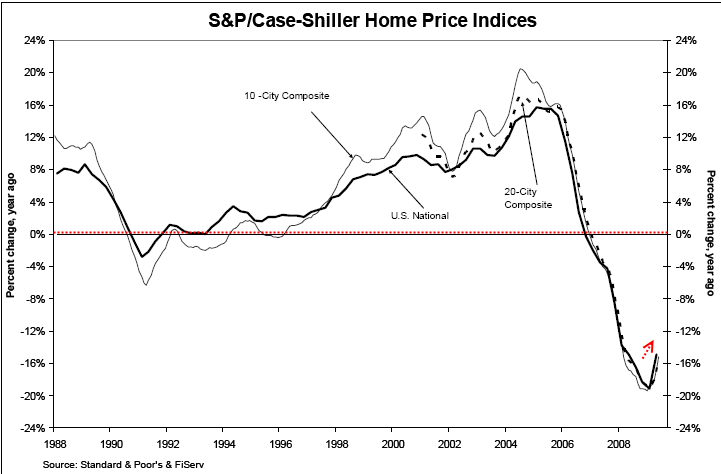 Nationwide the housing market has been pummeled.  Nationwide from peak to trough the market has fallen 33 percent.  The issue was always overpriced homes financed by slick Willy so it is no surprise that with lower prices, homes are selling.  Plus, incentives like the homebuyer tax credit have brought people off the sidelines.  This is what Calculated Risk had to say about the Case Shiller Data:
"Unlike with the unemployment rate (worse than both scenarios), house prices are performing better (from the perspective of the banks) than the stress test scenarios. I believe there will be further price declines later this year, because I think the Case-Shiller seasonal adjustment is insufficient, and because I expect the first-time home buyer frenzy to slow just as more distressed supply comes on the market – even if an extension to the tax credit is passed."
Same thing with cash for clunkers.  You get a burst of activity but then what?  Also, let us break out the Case-Shiller Data for a few major California MSAs: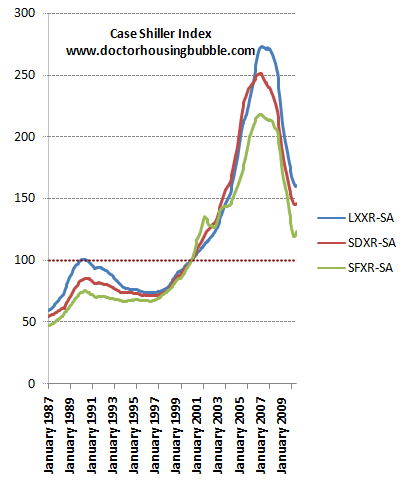 The three areas are Los Angeles/Orange, San Francisco, and San Diego.  All showed a slight uptick.  Does this warrant bottom calling?  In terms of sales we probably are there.  But the problem is people generalize the overall trend to their little niche markets in Pasadena, Palms, Culver City, and suddenly the bottom is in with these areas even though the major force pulling the trend is lower priced home sales in other areas.
It has been some time since I pulled up this chart but it warrants a look given the current climate: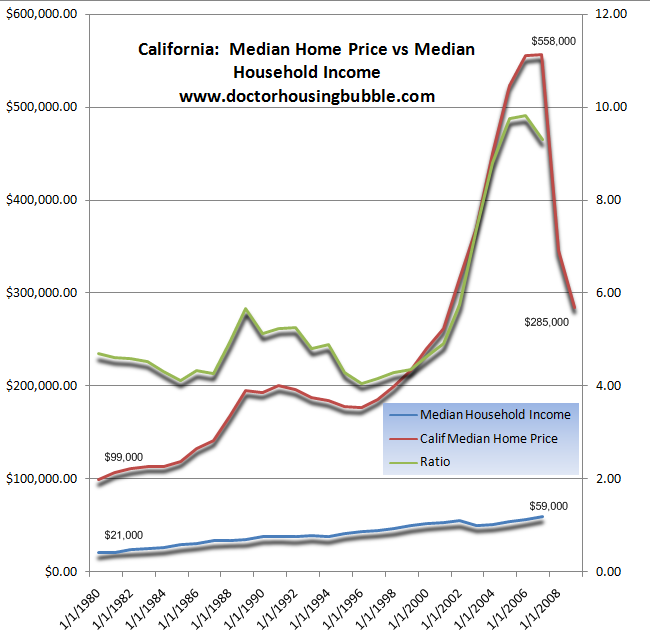 *Source:  CAR and Census
You ultimately need a job to buy a home.  You need a strong household income to buy in prime areas many that are plagued with Alt-A and option ARM loans. The above chart clearly depicts the housing bubble.  You can tell that around 1996 the California home price took off and didn't look back.  More importantly, the price-to-income ratio exploded during this time as well.  At the peak, the P/E of California housing was approximately 10!  Currently it is closer to 4.76 with statewide data.  This is in line with data from 1980 through 2000 where the ratio averaged 4.64.  So we are at the bottom then?  Not so fast.  You need to remember the bulk of the sales have occurred at the lower end (look at the chart above showing the Southern California counties) and you will realize which areas still need to fall lower.  This is also why the data looks more in line with historical standards.
I would also argue that California for 20 years has been living in two bubbles.  First with technology and now with real estate.  That 4.64 might be inflated.  Our 11.9 percent unemployment rate is the highest since World War II.  California has a stunning budget deficit.  The bottom is certainly not in for some regions of the market and California is one of them.  Would you like to see an Alt-A example?  Let us give you a concrete example of what is going on.
Culver City:  Mid-tier Over Priced
This home is a 2 bedroom and 1 bath home on a stunning 652 square feet of space.  Yes, 652 square feet is correct.  This home is in an area which is full of Alt-A and option ARM loans, Culver City.  When we pull up tax data, it looks like the last recorded sale occurred in 1974 for $14,000.  Not a bad deal.  But that is the last time this home saw prudence because it was housing ATM time with exotic mortgages:

The last first lien recorded is for $497,000.  The current owner had a NOD recorded in April for $7,023 with the NTS filed in July.  Now this seems to be a more typical case.  3 months after the NOD a NTS was filed.  Assuming the NOD was filed 3 months after the first missed payment (which might be accurate given the lower balance of $7,023) this is a more common path.  So this is listed on the MLS as a short sale.  Let us see what kind of generous offer the lenders are offering:
List Price: $489,000
Oh really!  So let me get this straight, the last recorded first lien is for $497,000 and this home is now being sold for $489,000?  Well thank you very much for that 1.6 percent discount in the most gigantic bubble state in the country.  See folks, the entire global economy came close to Great Depression 2.0 and all we get is a 1 percent discount in Culver City.  It would appear that the housing correction only applied to every other market except the mid-tier.  In fact, let us completely forget about the correction and what got us to this point.  You would think that some people in California would have learned their lesson but many are ready to jump back in to swim with the housing bubble cult.  652 square feet for almost $500,000.  Real Home of Genius style.
Let me show you how the lower tier gets things done.  Let us look at Temecula.
Temecula:  Lower-tier Priced Right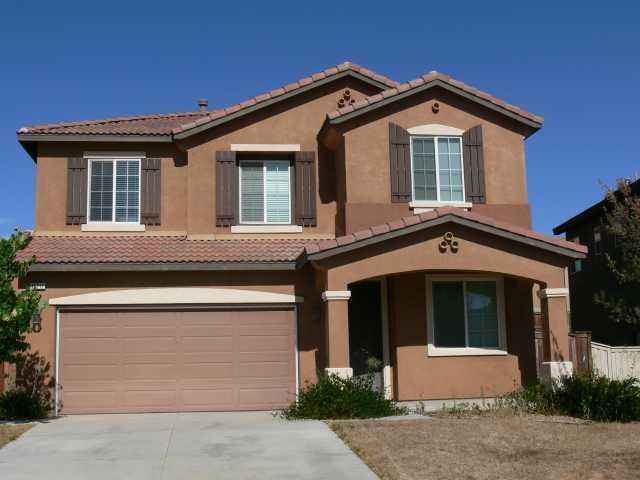 Riverside County has taken it between the eyes with this housing bubble bursting.  With employment and housing prices, the Inland Empire is trying to find its footing. This home was built near the peak in 2004 and is 2,204 square feet with 4 bedrooms and 2 baths.  A nice sized place as you can see.  Let us look at some sales history here:
07/29/2004:        $400,500
Sold at peak for $400,500.  But let us show you how the lower end gets things done.  What is the current list price for the short sale?
List Price: $150,000
Now that is how you move inventory.  A 62 percent discount will definitely get your attention.  If you are in this area and have a stable job, why not buy a place like this?  Might be cheaper than renting with all the money the government is throwing at homebuyers.  But the Culver City home?  Over priced for a 652 square foot home in distress.  1 percent discount or 62 percent discount?  This is how California is moving inventory.
And that is why this happened last month:
Culver City homes sold: 22
Temecula homes sold:   209
Today we salute you Culver City and Temecula with our Real Homes of Genius Award.
Did You Enjoy The Post? Subscribe to Dr. Housing Bubble's Blog to get updated housing commentary, analysis, and information.