Southern California is a vast housing region.  With 7 counties (let us not forget Imperial) it is home to the majority of those living in the state.  It is also home to subprime lending and every other toxic mortgage product like option ARMs.  I am fascinated that people think there is a tiny amount of shadow inventory floating in the market.  In some areas, the number is simply daunting.  We ran our estimate for Southern California and came up with a figure of 40,000 homes that are hidden on the bank balance sheet.  We might be a bit optimistic here.  I am glad that the Attorney General is now cracking down on shady loan modification operations.  Here is simple advice for California loan modifications; don't do it!  And it didn't cost you $3,500.  Today, we are going to examine one zip code in Riverside where officially on the MLS 459 properties are listed but on foreclosure records, we see 1,319 distressed properties!
The Inland Empire of California has taken a devastating hit during this housing implosion.  It was largely booming with construction jobs and finance jobs during the good days but has taken a major hit with the California housing bubble and budget implosion.  Before we move on, let us first take a look at the overall region: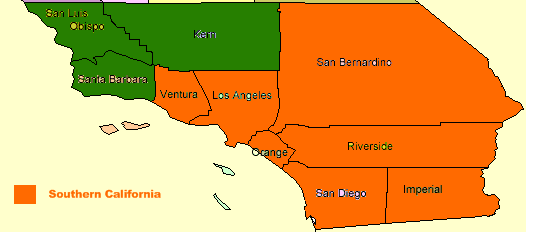 The hardest hit counties have been Riverside and San Bernardino.  People forget about Imperial County but this area has always been hit hard and this time is no exception.  It is small in terms of labor force but people would have a hard time believing that in sunny Southern California we would have a county with an unemployment rate of 27.5 percent.  Sadly, when most talk about Southern California they simply exclude this region that is part of our state.  Let us look at the employment data for the region before we look at three Real Homes of Genius properties in Riverside: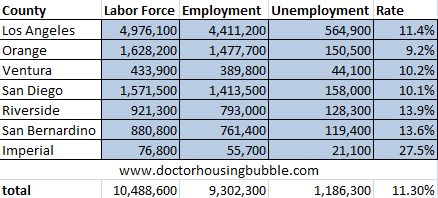 The Southern California unemployment rate is a tad bit below the statewide unemployment rate of 11.6 percent.  But make no mistake, some counties are taking the brunt of this housing bust.  Many investors are now rushing out to the Inland Empire and purchasing properties to either flip or rent out.  A few investors that I have talked to are going with hard money interest only loans and are planning to flip these homes in 5 years for "double the initial price."  I'm not sure about that.  I look at areas like Michigan or Ohio where some cities have been depressed for decades.  Both of these counties relied heavily on construction and finance for employment.  With California battling massive budget cuts, do we really think another housing bubble is in the works?
Today we are going to look at three homes that are potential targets for these so-called investors.  These homes utilize the time tested method of real estate marketing known as "Garbage Can Photography" that seems to be all the rage today.  Let us salute Riverside with our Real Homes of Genius Award.
Riverside – Three Homes and One Garbage Can
Home #1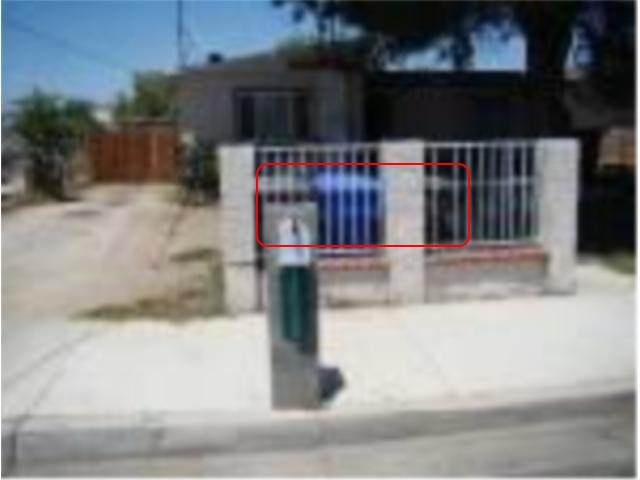 Our first home uses a unique blend of squint technology but even with that helpful camera technique, we are still able to see those nicely lined up garbage cans.  This home is labeled as an "Investor special!!!" (exclamation from ad) and is listed as 3 bedrooms with one bath although we are then told "1 bedroom is not permitted."  In the bubble days, who really cared about those pesky permits!  The home is fairly new being built in 1949 after World War II.  Let us look at some sale history here:
02/15/2002: $109,000
06/19/2001: $95,436
…
01/06/1994: $72,106
Now what is the current sales price?  $69,300.  We just went back to 1994!  This is a Back to the Future home.  Maybe that is why the photography is a bit blurred?  Time travel does a number on digital photos.  Get your investor cap on and move forward because as people are saying, this is now officially the bottom even though we have $1.1 trillion in Alt-A and subprime debt still floating in the market.
Home #2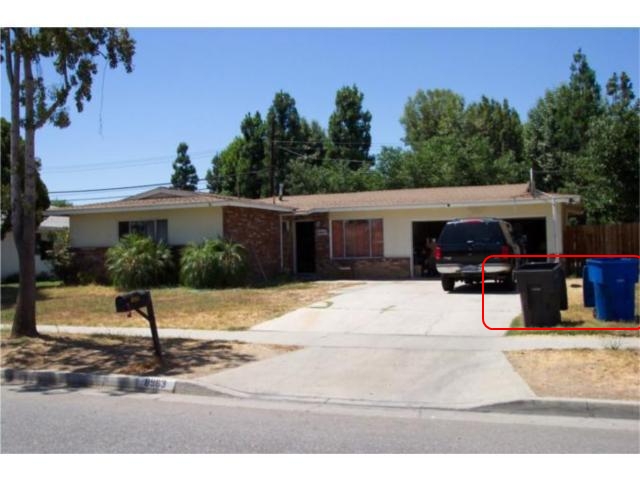 Sometimes you wonder if we shouldn't take the heads of the U.S. Treasury and the Federal Reserve on a mandatory caravan tour through these places.  Do you think they would be keen on dumping more money once they realize what they are making taxpayers bailout?  Aside from that, our second home shows us once again that REO listings have a knack for garbage can photography.  Common sense would tell you that taking a picture with a garbage can(s) on your lawn is not exactly the best way to market a home like putting up a picture of yourself with your ex on a dating site.  This doesn't exactly entice the clientele.  Either way, I have seen this technique enough that it tells me a couple of things:
(a)  Whoever is taking the picture simply does not care
(b)  They think this is the best picture they have
(c)  They are big fans of the school of garbage can photography
Aside from Oscar on Sesame Street, I'm not sure who enjoys being in garbage.  So this seems to be pervasive here.  You would think that banks would try to get the most bang for their buck especially since many of these banks are recipients of taxpayer money.  Let me ask you this, if this was your home would you market it a better?  Like, oh I don't know, moving the garbage cans before taking a picture?  Just a thought.
This home shows the lovable bubble mania of California.  Let us look at some sales history:
06/27/2006: $375,000
10/15/2003: $189,000
07/26/1999: $90,500
Quadrupling your home price in 10 years is incredible (insane).  It went from $90,000 in 1999 to the peak of $375,000 in 2006.  This is a 3 bedrooms 2 baths home built in 1958.  What is the current listing price?  How about $114,900.  We go from $375,000 to $114,900 in three years.  That is what you call a massive implosion, not a correction.
Home #3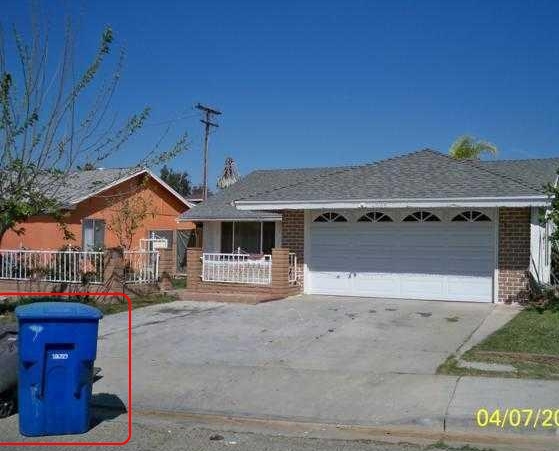 Our third and final home appears to fall into the home #2 category.  Peak bubble price and massive implosion.  You would think that someone would try to move those garbage cans out of the way but it would almost seem intentional that they are leaving these in the picture.  This isn't like you selling a pet rock on eBay for $5.  You are talking about tens of thousands of dollars here and the biggest purchase for many.  Digital cameras are cheap.  Manual labor to move the garbage cans is even cheaper.  Yet, here is another Real Home of Genius leaving these in the photo.
This home is a 3 bedrooms 2 baths home and is one of the newer places built in 1972.  Sales history shows us the bubble in action:
06/17/2005: $325,000
11/16/2001: $162,727
The current list price is $116,000.  Now these seem like good investments to many that are accustomed to hyper-inflated housing prices.  Yet look at the unemployment rate in these regions.  Will you cover your rent costs?  What about vacancies?  Keep in mind that unemployment is still going higher.  What if your tenant loses their job?  California has strict laws on evicting someone.  Do you have enough to cover the rent for many months as you battle it out in court?  Now, most of the time you will have good tenants.  But some think that becoming a landlord is as simple as subtracting the PI from your gross monthly rents.  They forget to factor in taxes, insurance, vacancy costs, advertising, cleaning, repairs, and other unforeseen expenses.  Sure, when you run the numbers like:
PI:           $900
Rent:     $1,000
Sounds fantastic on paper.  Reality is much different.  The Alt-A and option ARM implosion will largely steer clear from these areas and will have a bigger impact on mid to upper tier markets.  After all, the average Alt-A loan comes in at $443,000.
Today we salute you Riverside with our Real Homes of Genius Award.
Did You Enjoy The Post? Subscribe to Dr. Housing Bubble's Blog to get updated housing commentary, analysis, and information.