Managing properties is a hard business.  The days of flipping properties and television promoting this bubble exploitation are gone here in California but do seem to have an audience in Canada's ridiculous real estate bubble.  Here in the states however most investors have shifted their focus to buying properties to rent out.  Now this at least is more stable overall and many have to come in with large amounts of money to purchase.  Yet places like Las Vegas may be reaching a saturation point.  After all it is hard to determine the pool of renters especially in a contracting economic region.  I think the data on Las Vegas is fascinating and wanted to examine the current trends playing out in the market.
The massive amount of rentals on the market
I did a search on Craigslist for the Las Vegas market and found over 50,000 entries for rentals.  These are posts only going back to January but Craigslist has many multiple postings for the same property.  This might be considered the "desperation" postings where people keep trying to get their place rented out and higher up on the list.  So you can only use this as a gauge and not a raw figure.  If we look at another place with MLS data we find the following which doesn't cover the entire market:

4,700 rentals is a good amount but what I search for when looking at rental market health is how many places are offering free rent?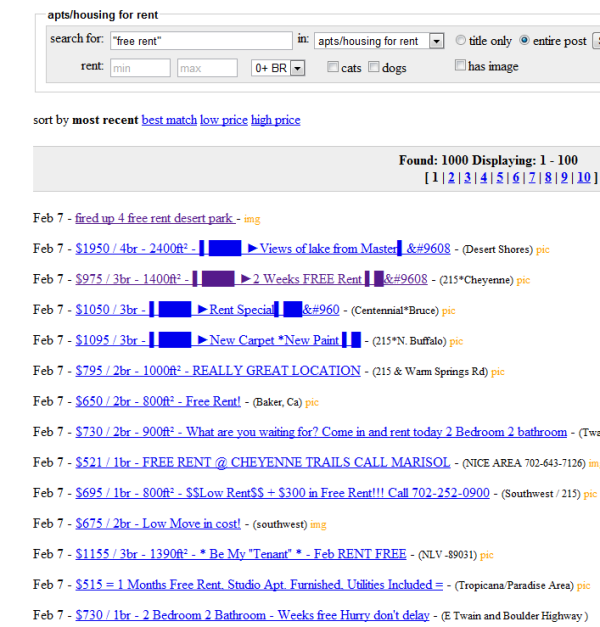 Over 1,000 recent postings on Craigslist for the Las Vegas market are offering free rent.  This ranges from two weeks to the entire first month off.  You don't need to have an MBA to realize that giving out something for free isn't exactly good business especially when you have expenses on the property.  Now look at the prices above.  There seems to be this misconception that people will dive in, buy an $80,000 to $100,000 property and have the best renter ever for years on end churning out $1,000 a month.  That is not the case and most who have been in the property management business for years understand this.  Also, if these people had a stable job don't you think they would buy themselves?  The fact that people aren't buying to live in these places in larger numbers should tell you something.
For perspective, over 50 percent of all purchases last month in Las Vegas have come from all cash buyers.  The median price paid was $80,000.  And many of these hit the market as rentals.  The number of people doing property management in Las Vegas is astounding.  What prompted this analysis was a post over at Patrick.net from a Las Vegas investor who has a property manager:
"(Patrick.net) I bought a 3br/2ba/pool home in the Summerlin area of Las Vegas in Feb of 2011 for $134k, as an investment/rental. The first tenant skipped out after 2 months, stiffing me for $800. Next tenant only wanted a six month lease, but did pay their rent on time. They vacated on Dec. 31, and since then the home has been on the market—over one month at this point—without even ONE rental applicant. I just got the following bad news info from my property manager:

"We know you are concerned about how long it is taking to rent your property. We are very concerned as well because we do not want our customers unhappy and just like you we do not make any money on a vacant property…the single family home market has drastically slowed down because of the influx of all the new properties put on by the investors. I have been tracking this for some time now. Listed below are the records showing this trend.

Currently there are 6,614 properties on the market for rent."
Sales have perked up but most of this is from investor demand.  At one point nearly 70 percent of all monthly purchases came from investors.  I don't think we have any historical precedent for something like this especially for an area with millions of people.  Investors rushing in aren't something new and what has told me something was suspicious with the market was the fact that prices continued to make new lows.  Think about it, the median price of all cash buyers paid was $82,000 which is down from $89,000 last year.  If rentals were doing so well, don't you think prices would be going up?
The economy of Las Vegas
I've followed Las Vegas closely because at these prices, it is hard not to consider the area for investments.  Yet the macro trends still don't seem favorable.  Obviously you need people with jobs from businesses and commercial property isn't doing well either: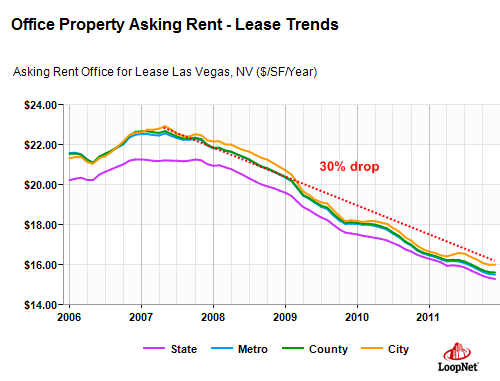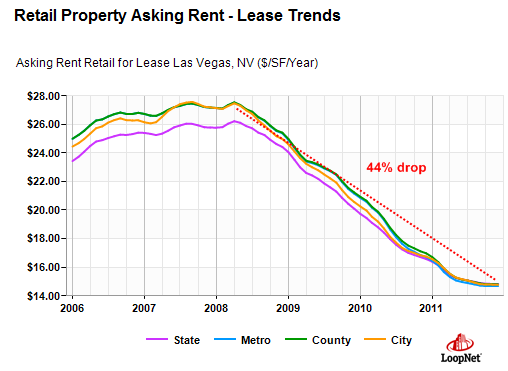 Keep in mind the above charts are looking at Las Vegas from a business perspective.  Lease rates are at post-bubble lows.  If jobs were flooding in and business was doing well you would see these rates go up because of demand.  This is usually the case for any turnaround.  But look at the above trend.
I know it is alluring to see homes for $80,000 and hearing sales pitches that you will be cash-flowing like Niagara Falls with $1,000 rental checks coming in until the cows come home.  Apparently this is the mini-trend in Las Vegas and has been going on for years now and tens of thousands believe this.  But rents are falling and when you start seeing massive amounts of "free" this or that you know there might be a problem.  Obviously Las Vegas is a big market with prime locations as well but I can tell you many of those $80,000 properties are not in solid locations and this is where investor money is flowing.
I'd be curious to hear about anyone investing or living out in the area.  Does the above data match with your own experience?

Did You Enjoy The Post? Subscribe to Dr. Housing Bubble's Blog to get updated housing commentary, analysis, and information.