As I stopped by my local grocery store to shop I happened to notice that for a weekend, the number of people was extraordinarily low.  Recognizing the cashier I observed, "it really seems empty for a weekend."  Her comment sums up the new feeling that many have.  "It feels like we are entering another like Great Depression you know?"  Talk of the Great Depression now seems to be mixed in like pasta sauce into talks of the incredibly unpopular $700 billion bail out for Wall Street and irresponsible lenders.  Not only has the economic Armageddon talk entered Washington D.C., they are threatening that should you fail to get onboard, your 401(k) will be held hostage.
I find it stunning and opportunistic that these same people who were cheerleading that all was well only a few months ago are suddenly coming hat in hand begging for the largest government welfare check in the history of this country.  What is even more pathetic is how they are threatening the debt addicted American public that should this bill not pass, they will need to go cold turkey.  No credit for you consumer hamster!  Incredibly, in some polls Americans realize the consequences of no bail out but simply do not care.  It is like a hamster that suddenly has an epiphany that going on the wheel doesn't take him anywhere but only gets him exhausted.  The prospect has scared the living daylights out of baby boomers who seem quick to jump on the bandwagon since they cannot stand to see any more Fannie Mae, Freddie Mac, A.I.G., WaMu, or Bear Stearns hurt their portfolios.  In a way, the cognitive dissonance occurring is that heads you lose (Wall Street and lenders get a corrupt and golden parachute bail out) tails you lose (Wall Street gets its comeuppance but you have to see your portfolio take a major hit).
Yet I am proud to say that people are now taking to the streets and protesting: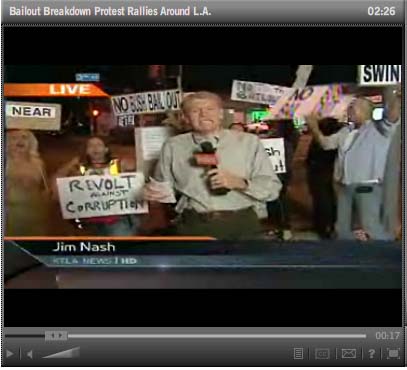 *Click to watch video
Los Angeles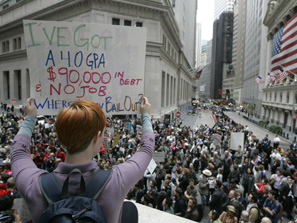 Wall Street
People don't like being given an ultimatum especially when that includes bailing out the same folks who actually created the system which is currently collapsing.  Wall Street created an addictive drug and pushed it on the American public.  Now, they want to ensure the government gives them more money to funnel their debt crack on more Americans.  I hate to tell you but people need to realize that not everyone in this country deserves to own a home.  These are things that should be earned.  Maybe we should take a lesson from history here: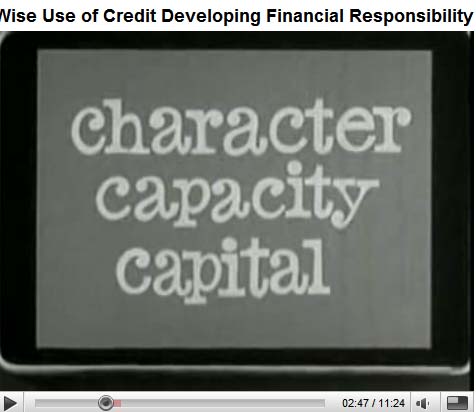 Click to learn what many brokers and lenders failed to learn
Bwahaha!  We flushed that model down the toilet!  Character?  Are you kidding?  Mortgage brokers were giving out loans virtually over the internet and never met the person on the other side.

"Shady Lending.  This is Slime Ball speaking can I help you."

"Yes.  I need a loan for $500,000."

"You got it!  Where do you work?"

"K-Mart."

"And how much do you make a year?"

"$200,000."

"You make $200,000 working at K-Mart?  I'll go for that!  Can you verify that income?"

"No.  Is that a problem?'

"Heck no!  We'll just go no-doc and we'll have this loan out to you in a few days so you can buy whatever overvalued home your heart desires!"

"Sweet."

"Indeed it is my precious friend."
Is that enough to judge someone's character?  Of course not.  Let us move on to the next 2 items, capacity and capital.  Bwahaha!  Well it almost goes without saying that nearly all the sub-prime, Alt-A, and option ARM crap was given to people that didn't have the capacity to buy a home with a 30-year fixed.  And forget about capital.  The definition of no money down means you come to the table with no capital whatsoever.  There were cases where you left the table with capital!  The system became perverted and putrefied like the sewage running down the San Gabriel River.
How can you go from no recession to the verge of another Great Depression in a few months?  You can't.  This system was developing over a decade long bubble with zero regulation or enforcement and rampant greed.  The majority of Americans who were prudent are rising up and saying no!  Brad Sherman, a Valley congressman is saying that he is receiving 300 to 2 phone calls against the bailout.  People know that they are getting absolutely shafted in this deal and that is why there is so much wrangling going on in Washington D.C. right now.
This is part XIX in our Great Depression series:
14. Bank Failures.
16. Items That Sold in the Credit Bubble.
17. The All Hat and No Cattle Nation
18.  Charity for Financial Deviants.
Tent Cities
Just because you don't see poverty in your immediate area doesn't mean that things are fine and dandy.  People who lost their home or simply cannot find affordable housing are now migrating to tent cities in certain areas of the country: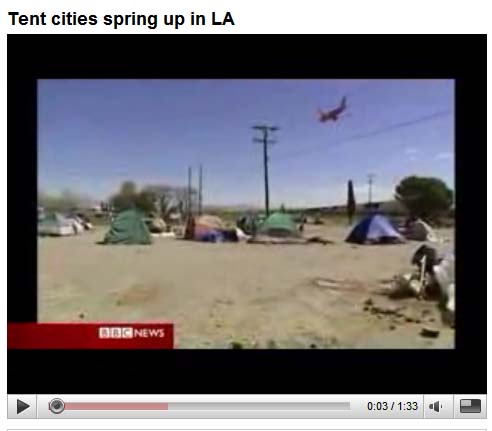 Tent city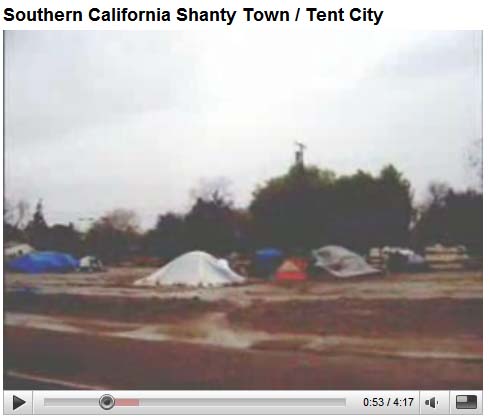 These designated areas are exploding with new residents and only reflect a decline in the overall economic climate.  Now you tell me how the $700 billion bail out is going to help these folks?  The way they are marketing it is through fear that if you don't get on board, you may end up with no job and you will lose your credit and sanity.  How many Americans are one paycheck away from being out on the street?  This notion of the Horatio Alger myth is finally breaking.  The idea if you work hard enough life will reward you.  What the current corruption on Wall Street is telling us is that if you screw enough people over, the government will be there to reward you whether you succeed or fail.  You simply cannot reward such behavior.  The new strategy from the banking syndicate is fear mongering and trying to get you to be so scared, that you will be willing to sign off on nearly $1 trillion!  Being lied to by our government?  I've never heard of such a thing.
Bank Failures
How quickly people forget that only a few months ago IndyMac Bank which failed spectacularly created bank runs and long lines of people simply trying to get their money: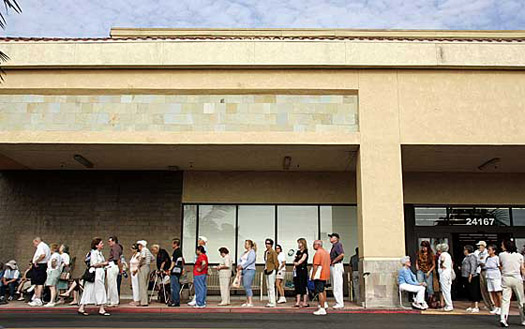 *Source: OC Register Eugene Garcia
This of course didn't simply happen over night but because IndyMac Bank participated in the toxic mortgage orgy and set itself up for failure.  Year after year even after warnings and caution was being voiced in the community, these institutions kept on going with their mania and ignored any financial prudence.  They screwed people over and karma got them back:
WaMu which essentially is similar to IndyMac except 10 times bigger recently failed.  The biggest S & L failure in the history of the United States.  I'm not sure if people think we are closer to a bottom but clearly many think that we have a long way to go.  Over the past few weeks, $16+ billion was taken out of WaMu forcing the FDIC to take action.  These are not signs that people feel confident in their financial system.  Why should they?  The financial system did not look at character, capacity, or capital.  Now they expect the public to have character, capacity, and capital to bail out these bandits?  Guess what?  People do not want a bail out.  Many are thinking that a hit on their 401(k) may be more manageble than being out of a job in a few years.
History Lessons
As much as some think they understand the Great Depression, they are proving through their actions that they are willing to sacrifice the middle class for their sacred Wall Street religion.  Let us see what occurred during the Great Depression:
"To understand what has happened it is necessary to look at the problem in perspective. In the first place all facts are relative. We cannot understand the menace of the mortgage situation unless we consider the cost of carrying our present mortgage burden in relation to our changed national income. In 1929 the national income for the United States was 85 billions of dollars. By the year 1932 this figure had fallen to 36 billions. The most conservative figure for mortgages that I can find shows that in the year 1929 the combined total of urban and rural mortgages in the United States amounted to at least 46 billions of dollars. It is difficult to determine how much this figure has changed between 1929 and 1932. The first effect of the calling of outstanding loans was to increased the amount of money borrowed against real estate. It is safe to say, however, that any general increase in the total of mortgage loans has since been erased by the calling in of outstanding mortgages and the constant demand for the reduction of principal. I, therefore, assume that the total present mortgage indebtedness is about 43 billions of dollars."
Many may not be aware that much of the larger problems from the Great Depression came from mortgages and housing.  Yes, the stock market crash set off the fuse which would lead to a decade long calamity but Main Street USA did not feel the bitter repercussion until a few years later.  You would think that we can learn from the past but clearly we cannot:
"But the prosperity of the nation depends upon its ability to make economic use of what is capable of producing; that is, it must either consume what it produces or sell it abroad. If because of fixed contracts, real estate levies too large a tool on the national income, the amount of income available for the consumption of commodities contracts also. As a result we have industrial stagnation, followed eventually by hunger and suffering.
Production cannot be generally resumed until credits are liberated to restore the purchasing power of the people. Credits cannot be liberated for the purchase of commodities, in appreciable quantity, so long as current funds are being drained off for the liquidation of capital obligations. Increased lending for refinancing purposes will only make matters worse, because on the one hand it draws off additional funds which might otherwise have gone into compensating producers, while at the same time it reestablishes debt burdens which we acknowledge we are unable to carry."
This is the current big push.  That is, the credit markets are frozen like a Klondike Bar and need some thawing to get going again.  Yet spending is the exact reason we are in this mess.  In fact, we are spending money on this bailout and we don't even have the capital available to do so!  Let us say the markets are unfrozen.  Then what?  People get back on the debt treadmill and spend again to another bubble?  If you have good credit and some capital you will be able to get a loan today!  Don't believe the damn propaganda that no one will lend to you.  I went to a local credit union and they actually are still lending and in fact, are seeing a jump in business because they didn't gamble their money on toxic crap mortgages.
Yet we should also look at how the Twentysomethings in this country are perceiving this market crisis.  There is a good Newsweek article talking with two interns in their 20s and exploring the current crisis.  Here are a few bits from the interview which is a quick and insightful read:
"Since I graduated from college, I've been pretty frugal, contributing to my savings account and my 401(k), and I keep an eye on those. I feel like if I keep doing that, I'm going to be OK. Do you think we should be worried?"
This is the first mistake that many do.  Many people when they are young, follow the advice of some Wall Street game of telephone and "diversify" their funds.  When you are young, they most likely put you into 80% stocks and 20% bonds.  But what stocks are you in?  Did they just put you into Fannie Mae and Freddie Mac?  They may put you into international stocks but have you even taken a gander at the international markets and the myth of decoupling?  In fact, people are pushing Treasury yields because people are flocking to safety.  At one point in the last few days, some of the yields went slightly below zero!  Why?  People freaked out and simply want to protect their money forget about maintaining an interest rate.  Let us look at some more from the article:
"Those are all things our generation is notoriously bad at, and buying things on credit (as I'm guilty of doing myself) is only going to make the crunch worse. When it comes to savings and all that, you're a generational anomaly. After all, you once told me: "I have no problems with money."
Exactly.  I can't tell you how many people I know that think they have no money problems because they are able to keep up with their car lease, credit card payments, and massive mortgage.  Many of them have recently asked for advice and they are simply one paycheck away from declaring bankruptcy.  How are they going to afford that $4,000 home payment?  Car payments alone run up to $1,000 a month with insurance adding another $200 a month.  Fuel is another $500.  So only with the home and the car they are dishing out nearly $6,000 a month and this is no anomaly here in Southern California.  Here is another fascinating insight:
"As for all the fluctuations in the market, like you said, we're probably not the most knowledgeable financial advisers. But from what I've been hearing, I should just be playing the long-term game-not watching my 401(k) go up a little, and then down a little, but just keep contributing and not get too nervous. And since we're in our 20s, insurance company meltdowns like AIG's don't seem to have much of a bearing on our lives. I definitely agree that our generation's credit addiction is an issue-but as long as I steer clear of that, aren't I setting myself up for a pretty solid future?"
Of course it has a bearing.  Do you purchase insurance?  Chances are premiums will go higher.  When the market collapsed in 1929 it took 25 years before it came back again!  Take a look at the chart: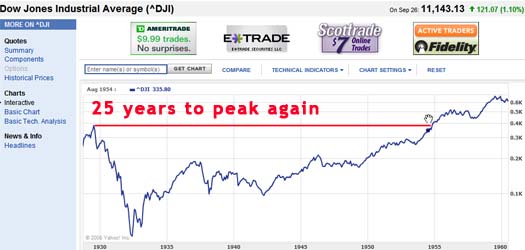 The point is, simply throwing your money at the market is not enough.  You have to do your own due diligence and really examine the balance sheet of certain companies and then invest accordingly.  This idea that you have "time" is absurd.  I rather spend a little more time, read a couple of prudent investing and history books and then invest.  This is your retirement after all.  But many boomers believed this get rich quick mentality and went aggressive in tech stocks in the 1990s and then jumped head first into real estate in the 2000s.  Time to watch that 3 C's movie above and understand what is at the core of any fundamental loan.  People in their 20s simply do not have that much money in their 401(k) accounts to worry about the market.  They are more concerned keeping their job.  In addition, in no other time in history have young people come out with so much college loan debt.
Yet now we are being asked to throw $700 billion to bail out the irresponsible lenders on Wall Street while many Americans without the help of the mainstream media decided to seek out information and lived a prudent life.  They did not lease luxury cars.  They did not buy McMansions with granite countertops simply to dust off every single day since many are too busy to cook at home.  Many had the artifacts of the "rich" yet lived a life of silent desperation.  They had the items of the rich yet deep inside they felt, "why do I feel so close to the edge?  I have everything a rich person should have."  Unfortunately we just had our own version of the Roaring 20s and everyone wanted to keep up with the Joneses including Wall Street.
The frustration of many is real.  The majority of Americans don't want a bail out.  Yet those in D.C. are voting once again against the will of the people.  Many of these politicians are the same folks professing to know very little about the economy!  Then why are you so quick to dump $700 billion into a plan that is only going to help Wall Street and lenders that gambled?  They ensured their own demise.
Since the peak of the bubble, residential real estate in the United States hit a peak of $24 trillion.  According to the most recent Case-Shiller Index data, we are now down, 18.8% from the peak price point.  What this means is this:
$24,000,000,000,000 x 18.8% = $4,512,000,000,000
What this means is that from the peak in July of 2006 $4.5 trillion in household equity has been destroyed.  Add to that the over $4 trillion in stock market wealth that is now gone: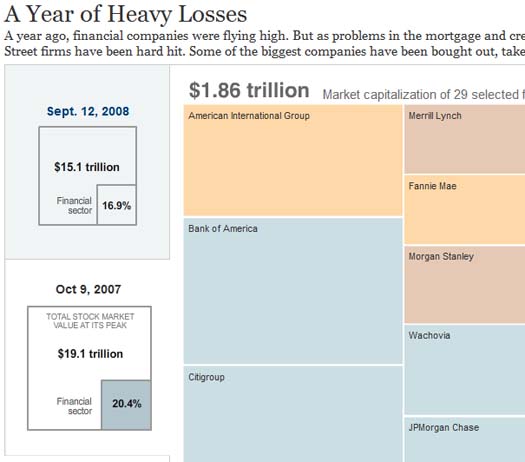 *Click to see excellent interactive chart
And you basically have approximately $9 trillion in wealth that has disappeared in 2 years!  Keep in mind the GDP of the United States is about $13.7 trillion.  In essence, when this thing is said and done we will have lost the equivalent of over one year of GDP.
Technically we are not in a recession.  We just skipped over that and put ourselves at the edge of economic depression.  Those same people that brought us here want more money to keep this system going?  If you want to tell them how pleased you are with this system contact your representative in this election year:
They've had years to talk about the economy and now that the election is nearing in November they are responding to Main Street?  Maybe someone else is feeling a silent desperation.
Did You Enjoy The Post? Subscribe to Dr. Housing Bubble's Blog to get updated housing commentary, analysis, and information.