AIG is the next in line for the Federal Reserve food stamp program.  As the Federal Reserve decided to stand steady on rates, the markets did an unusual move.  It actually moved up on a no move when everyone around the world was expecting a cut.  Now, it is obvious why the market dipped by triple digits briefly after the Fed announced the no cut and ended triple digits higher.  The market was extremely volatile today given the Lehman Brothers bankruptcy over the weekend and the unknown factor with insurance giant AIG – well as it turned out it was only unknown to the vast public since the Fed was getting ready to put more taxpayer money at risk.
For the past decade, we have become accustomed to the market having a brief rally after every Fed rate cut.  This became a Pavlovian conditioned response to a society addicted to easy credit.  Our society needs a major 12-step program on how to get off debt and given the current market conditions, this is going to prove extremely difficult simply because Americans are saddled with enormous amounts of debt.  Paulson just this weekend supposedly drew the line about allowing firms to fail.  That line was barely drawn and the Fed was back to their usual antics.  AIG will get a loan of $85 billion from the Fed.  Another firm that is supposedly too big to fail.  Haven't we heard this story already?  Moral hazard to the next dimension folks:
"(New York Times)  With time running out after A.I.G. failed to get a bank loan to avoid bankruptcy, Treasury Secretary Henry M. Paulson Jr. and the Fed chairman, Ben S. Bernanke, convened a meeting with House and Senate leaders on Capitol Hill about 6:30 p.m. Tuesday to explain the rescue plan. They emerged just after 7:30 p.m. with Mr. Paulson and Mr. Bernanke looking grim, but with top lawmakers initially expressing support for the plan. But the bailout is likely to prove controversial, because it effectively puts taxpayer money at risk while protecting bad investments made by A.I.G. and other institutions it does business with." [emphasis added]
We have hundreds of pieces moving currently and much of what is going in the economy is fluid.  Recently the U.S. Dollar has been rallying against other currencies.  Many claim this is an anomaly and the dollar will once again continue declining.  You have to put this in perspective first.  The U.S. Dollar was falling because all eyes were on the U.S. and our current economic problems which are very large indeed.  Yet the idea that somehow the world was going to do well in light that many of the other large economies ran on similar economic systems is mind boggling.  In addition, the U.S. Dollar is still a reserve currency and takes up 63.3% of all exchange reserves:

Now the myth that was floating around for many years was that the United States was going to go into its own abyss while the world somehow boomed on its own.  According to many of these people, the United States was contained.  Did Ben Bernanke give them his early 2007 speech about the subprime market being contained?  The recent turn of events are as follows:
(a)  U.S. Dollar rally
(b)  Commodities falling
(c)  Inflation moderating
(d)  Housing still declining
These events are occurring because the world has not decoupled.  That is, we are still very much intertwined and when the larger economies sneeze, the smaller economies get a severe flu.  In fact, in places like the U.K., Spain, Ireland, and Australia they have housing bubbles that are comparable or even larger in size.  Many of these countries are simply one or two years behind the United States so if we are in the third inning to use the baseball analogy these countries are barely seeing the players take the field.  This reality has taken the market over and many people are returning back to the perceived safety of the U.S. Dollar which is still by far the world's reserve currency.  Decoupling is a myth.
This realization has also pushed down commodities as many investors unwind previous trades.  The meteoric rise of oil this year was simply stunning.  When oil hit $145.29 the entire conversation in America seemed to revolve around oil.  "Hey man, did you see that gas hit $4.25?  It cost me $140 to fill up my Hummer with spinners.  I think I might have to ride with only one spinning rim and sell the rest off for fuel."  Now that oil is back under $100 a barrel and the subsequent Lehman Brothers debacle, the focus is now shifting to Wall Street.  It was fascinating to see that to most Americans, the difference between $4 $3.75 gas and $3.50 was the centerpiece of economic stability.  Yes, their home just lost $50,000 in equity but they just paid $15 more at the gas pump so let us focus on those $15.  Penny wise and extremely pound foolish.  This is more a psychological gimmick because we tend to feel things we interact with on a routine basis.  You buy gas often.  You shop for food often.  You don't buy and sell homes that often (unless you live in California and ended up flipping houses each time you filled up for gas).  If anything, this drop in energy should at least refocus the public's attention to the main issue of the economy.  That is, the suffocating debt of mortgages and the turmoil in the credit markets.  Make no mistake that the drop in oil is going to help the bottom line of many Americans but remember that the drop comes because the economy is in disarray.  That is, demand is falling and people are buying cheaper more fuel economical cars thus slamming the U.S. automakers into the ground.  Many of the big domestic cars were built on a model of $2 gasoline.  I'm not sure if we'll ever see that again.
Back to the decoupling myth, let us first take a look at GDP for the top countries: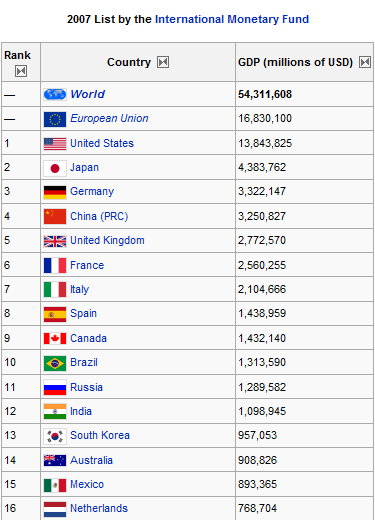 *Source:  Wikipedia

The United States makes up 25% of the world GDP.  If we combine the Eurozone and the United States, we then have 56% of the world GDP.  Throw in Japan and now we are 64% of world GDP.  Japan is in a recession.  The U.S. is in a recession.  Many countries in Europe are teetering on recession and given many regional housing bubbles, they will also tilt into recession.  How can anyone believe in decoupling?  But what about China, Australia, Brazil, or Mexico?  Let us take a quick rundown of the largest stock exchanges around the world:









In fact, the United States in relation to many of these other markets is fairing better.  You need to remember that the credit systems are now global.  Let us go back to AIG for a second.  AIG currently as of midyear had reported $441 in credit default swaps.  More that 75% of these were held by European banks.  Is that decoupling?  The financial innovations were spread around the world.  Fannie Mae and Freddie Mac which seem like wholesome American companies have enormous amounts of their debt floating around the globe.  Is it any wonder that China expressed "concern" when it looked like the government wasn't going to be bailing them out?  The fate of the current global economy is at hand and given the amount of debt floating out there, we can only guess what is floating out yonder.
Moral Hazard
The idea that the Fed will now be taking equities in exchange for Treasuries is simply another panic move.  The Fed in yet another extraordinary move announced that the "23A Exemption" that limits a 10% passthrough of financing to affiliates will be "temporarily" suspended.  Banks can now take stocks to the discount window.  This is outrageous given the fact that the Fed's balance sheet is already badly deteriorated from the ongoing credit crisis: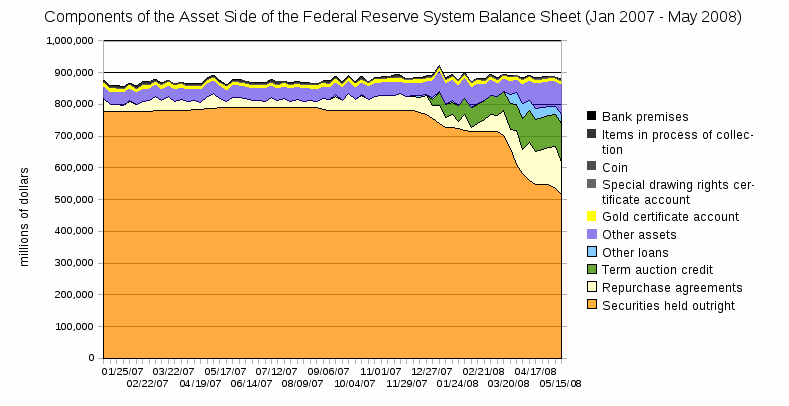 Source:  Wikipedia
With AIG getting a cool $85 billion we can only imagine how the above graph is going to look in a few months.  Since the Fed introduced the alphabet soup of facilities to exchange Treasuries to battered institutions in late 2007, you can see that the Fed is now in possession of billions of questionable assets.  Institutions took them up on this.  The fact that they are now willing to accept equities is baffling and against their own rules.  But the fact that they aided in orchestrating the Bear Stearns bailout back in March they have been making things up as they go along for a few years.  Some would rather not talk about moral hazard but that is avoiding the essence of what got us here.  If we don't address the foundation of the economic philosphy, we are bound to end up in similar situations over and over.  These folks are your "but Armageddon will be unleashed if we don't do [August rate cuts, Bear Stears, Fannie Mae and Freddie Mac, AIG…" crowd while they fail to confront the brutal facts and set the concrete for a better system.
The fact that the Fed allowed Lehman Brothers to collapse caught so many off guard because they have become used to the new economic philosophy of crony capitalism that is permeating the United States.  Before you get too excited that the Fed and the U.S. Treasury are now taking a hard stance, the fact that they are now taking equities should bring you back to this bipolar method of conducting business.  There is no rhyme or reason to what they are doing.  Why let Lehman Brothers fail but not Bear Stearns?  Frankly both should of failed on their own and the government should take on a role to protect the American taxpayer.  We are beyond the moral hazard argument.  With moral hazard, people that believe they are protected from risk will act differently as if they had no protection and all risk was assumed by the individual.  For example, say an accident costs a person $500 but insurance only pays $400 the person has an incentive to avoid the accident.  But say the same accident costs $500 but insurance will pay $700 then there may even be an incentive for the person to have an accident.
The housing market is a perfect moral hazard example especially with the innovation of all the toxic mortgage products.  Let us run this scenario out to explain.  Say you wanted to buy a home in California.  All you hear about is $100,000 a year appreciation for doing nothing except flipping homes and cruising on your Hummer while dreams of $1.99 a gallon gas float in your mind.  But you are cautious and are weary.  You open up your WaMu bank statement and see you only have $50.  Your dream initially is dashed.  You plop down at the couch and turn on the TV.  Low and behold, you see a fancy epilepsy causing mortgage commercial saying you can buy a home with no money down.  No money down?  You pick up the phone and make a call to setup an appointment with a "certified mortgage loan consultant."
You meet the broker and find out that yes, it is true that you do not need a penny to buy a home just a willing heart and a quick pen to sign.  There is a home on your street going for $500,000 which only last year, was selling for $400,000.  Your thought process is such:
Buy?
Plus:  Maybe $100,000 a year appreciation
Downside:  Home goes down and I'll just let it go since I put nothing down.  Cost is zero except for bad credit.  What are they going to go after?  The $50 in your WaMu account?  Bwahaha!  WaMu may not be around by that time anyways!
This is better luck than gambling on the lottery.  You buy the home and maybe you take in some wicked appreciation.  The home reverses, you only lose your credit which given the current market means absolutely nothing.  You basically had a call option on your home.  If the home went up and you were happy, you sold your option for a nice profit.  But what is happening is the price has gone down and as many of you know a large number of options expire worthless.  You're only out maybe the closing cost of the place.  Not a big price to pay for tens of thousands in "potential" gains.
Now take this to the next level.  Many of the investment banks where levered 30, 40, or even 50 to 1.  This was absolutely insane.  Even Fannie Mae and Freddie Mac were levered this high.  That is, for every $1 in capital they were able to control in some shape or form $30 in so-called assets.  That is why a place like WaMu with a market cap of $3.96 billion can have $309 billion in assets.  This is like having $20,000 in the bank but having $2,000,000 in assets and maybe $1,800,000 in debt (i.e., homes, car, etc).  Yes, you technically have a lot but you need to finance the monthly payments.  And say you are forced to sell which WaMu for example is gong to face with their stunning Pay Option ARM portfolio:
Now, you realize that those $2,000,000 in assets are only worth $1,500,000 yet you have $1,800,000 in debt.  You are essentially financially bankrupt if you cannot cover your payments.  Talk about a tremendous mess.
The Disappearing American Dream
I know that everyone has their own perception of what the American dream really is.  Yet for this past decade the real estate and financial industry captured the dream and turned it into homeownerhip.  This became the pinnacle of the dream for most Americans.  Since many people think debt and wealth are synonymous, they had no problem leveraging their future for this dream.  After all, it was ingrained in the psyche of nearly every American.  And let us be honest.  Most people do not follow finance.  They wouldn't know the difference between an option ARM and a 15-year fixed mortgage if it bit them on the rear.  In fact, simply by looking at the political debate, you would think that all Americans care about is gas, abortion, and no taxes.  This simplifies the debate to the most basic and unfortunately most trivial level.
I would argue that the current financial turmoil, the government entitlements, the retiring onslaught of baby boomers, and the failing housing market are the pivotal financial issues for the next 10 years.  Yet looking at the current discourse, you wouldn't know this.  In this article I highlighted the difference in the current tax plans of both Senator Obama and Senator McCain.  Yet if you listen to the mainstream media, you would get a completely different message.  The "no taxes" mantra is a bygone phrase from the Reagan era of supply-side economics.  That is old and outdated and simply does not reflect the current economic turmoil.  Things go full circle in history.  The Glass-Steagall Act of 1933 which appeared during the Great Depression which was designed to control speculation was repealed by the Gramm-Leach-Bliley Act in 1999.  The bills compromising the act were introduced by Senator Phil Gramm who said only this year that we are in a "mental recession."  Was the bailout of Fannie Mae and Freddie Mac and the bankruptcy of Lehman Brothers all in your head?
The pendulum today has swung much too far and these free market capitalist have turned out to be nothing more than crony capitalist and welfare recipients who want the government to stay out when they are manipulating the market for profit but when things go sour, want a government handout.  The same government handouts they rail against when they say "no taxes" and "cut government waste."  Blatant hypocrisy.  Both sides share in the blame but currently one team has many more strikes against them.  In the end what is assured if things continue as they are, our overall country will be financially poorer and that is definitely not a sign of progress.
It is unfortunate that the current financial system has been made a mockery out of.  Ultimately it is the average American citizen that will suffer.  Instead of having political and economic discourse it turns out to become a bread and circus theatre to appease the masses.  I think most Americans can feel the American dream slipping away because of the gambling and semi-laissez faire attitude on Wall Street that has raided the taxpayer's bank account which is already broke to speculate on absurd financial "innovations" which turned out to be snake oil dressed with calculus equations.  If we are to find a silver lining it is that the current economic turmoil has once again shifted the economy back as the number one focus for Americans.  Not talking about this is not going to solve it.  Silence is not golden here.
Did You Enjoy The Post? Subscribe to Dr. Housing Bubble's Blog to get updated housing commentary, analysis, and information.