RANT ALERT:  I'm surprised I haven't seen an article devoted to this subject but I think it is one of the primary reasons we are in this current mess.  People do not have a right to own a home.  Owning a home is a privilege.  I'm going to level with you.  The idea of an ownership society is the most nonsensical load of crap I have heard and frankly is the main reason we are in this deep abyss of credit (DEBT) sludge.  Somewhere in our collective societal psyche either through pop investment books or television shows people got the impression that real estate was the quickest way to turn a fast buck (that or hanging out at the corner pulling tricks).
Somewhere along the line society got this Newtonian idea that giving loans out to anyone to purchase a home with no collateral was somehow a smart financial move.  The rosy red idea was that everyone should participate in the American dream of homeownership regardless of whether you actually deserved it.  Basically many people arrived at the conclusion that owning a home was the equivalent to a free lunch.  At the rates that homes were appreciating, it looked like to the masses that the fountain of free money had been discovered.  As it turned out, it is one of the most boneheaded financial moves we have witnessed in the last century.
You really have to cut through the financial jargon of the peddlers to realize how fundamentally unsound this was from the beginning.  Make no mistake, they bet on the public's ignorance of never digging deeper.  "Trust me, I'm a [realtor, broker, i-banker, hedge fund, politician, etc] so what I say is correct."  To think, that somehow a $500,000 mortgage made to someone making $25,000 a year was going to turn out well is an exercise in financial stupidity that goes beyond the realm of anything many of us have seen even in Hollywood!  I'm not sure if a script writer could have thought of a plot so financially arrested in development.  "Tonight you will be amazed with the next Hollywood blockbuster that is sure to tickle your fancy.  Watch as a society is confronted with unlimited credit.  What will they do?  Build for the future or develop new technologies?  NO!  They'll blow it on granite counter tops, clear paneled showers, and central professional grade kitchen islands where they'll sit their KFC.  Come watch Free Money the Movie" Somehow as the decade went along, people collectively thought that homeownership wasn't a privilege to those who prudently saved and managed their finances wisely but suddenly became a speculation pit similar to trading pork barrel futures.
Many don't deserve to own a home.  You will not hear any politician ever utter those words but there it is.  That is a fact and the current foreclosure disaster on our hands is simply proving that theory out.  There is a reason for standards and the idea that combining a boatload of toxic mortgages into a security and somehow selling the tranches off is as stupid an idea as in the early 1900s when holding companies would buy company A and B and suddenly the combined stock of AB was worth more by some magical joining at the hips.  The formula looked something like:
Crappy Loan #1 + Mediocre Loan #2 + Prime Loan #3 = Mediocre Portfolio
The bailout of Fannie Mae and Freddie Mac is simply an extension of this idiotic mentality that everyone should own a home.  I have a newsflash for many of you.  You can get a good mortgage with historically good terms if you have a down payment and good credit!  Sound banks will lend to you even today but here is another revelation…there are very few people who qualify under these terms.  Take California for example.  Let us assume that you need 10% down to purchase a home in Los Angeles County:
July 2008 Median Price:       $400,000
Required Down Payment:    $40,000
2 Year Monthly Saving Rate for Down Payment:             $1,666.67
This simple qualification has exposed the sham which is the California housing market.  That is why California now as a state is down by over 40% from its peak price point reached last year.  Yet think about the above person or family above that needed to save $40,000 for a down payment.  What this means to a lender is this person or family had the discipline to focus and save a substantial amount of their money towards a goal which is a home.  In addition, this person is less likely to walk away from a home given that they had to save diligently for 2 years and are exposed to losing a nice chunk of change.  Yet lenders were just as irresponsible since they were playing with other people's money (OPM aka your money) and didn't care whether you could sustainably maintain the mortgage.
The bailout is simply a misconception of this housing entitlement mentality.  People don't deserve homes.  You EARN a home.  You WORK for a home.  You SAVE for a home.  It would appear that this must sound like a foreign language to many like Hank Paulson and Ben Bernanke who are simply perpetuating this Ponzi scheme for all.  It wasn't always like this.  In fact, there was a time when the majority of Americans didn't own their home and this wasn't too long ago: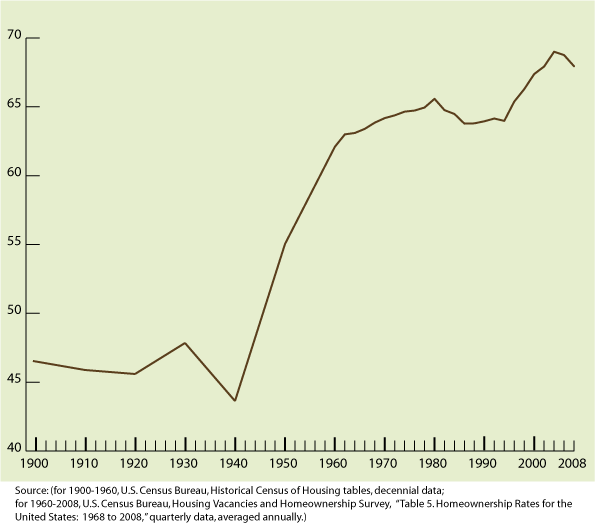 For nearly 30 years from 1900 to 1930 the homeownership rate remained steady at about 43.6 percent.  It dipped a few points during the Great Depression but then sky rocketed upward during the baby boom era.  Guess what was created in 1938?  Fannie Mae.  Initially Fannie Mae was created to provide liquidity to the mortgage market and morphed into the toxic mortgage hideout that is now in conservatorship.  The subsequent boom sent the homeownership rate over 60% and has remained above that level ever since.  The homeownership rate peaked in 2004 at 69.2 percent which in hindsight was an idiotic aspiration to have without any standards or regulations.  It was an obsession to increase the homeownership rate at any cost which now we realize is a horrific financial move.
The current bailout is wrong on so many levels.  First, it reinforces the idea that a high homeownership rate is good.  This is not always the case.  Let us look at some other countries and see their homeownership rates:


Ironically some of the countries with the biggest housing bubbles like Spain, Ireland, and the UK have similar or even higher homeownership rates than the United States.  Want to take a guess how their economies are going to do for the next few years?  In addition, it is not a requisite to have a high homeownership rate to be a "successful" economy.  Look at Germany and France for example.  Don't like France?  How about Japan at approximately 60%.  If a high rate of homeownership was the pinnacle of an economy, then Serbia would be number one with a homeownership rate of 88.2%.  The point of course is that simply chasing a high homeownership rate with no sustainable goal is counterproductive.  The current homeownership rate is 68.1% for the United States which is off from the peak point.
Or take a state like California for example.  For the last 28 years, the homeownership rate for the state has hovered around 55 to 56 percent.  All of a sudden in 2000, the rate bounced over 60% on this massive speculation: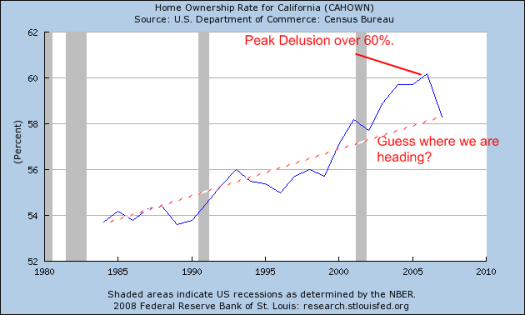 Now we are quickly correcting back to historical norms.  In fact, Los Angeles County with approximately 10,000,000 residents is a renting majority county.  The homeownership rate in Los Angeles County is 47.9%.  You can pinpoint this bubble to the moment people started eliminating down payments and went for all the blazing glory with interest only, option ARMs, and every other hybrid mortgage.
The bailout of Fannie Mae and Freddie Mac is also based on some Pollyanna notion that somehow we are nearing a housing bottom, which we are not.  Supposedly, common shareholders were going to get no protection but should things improve, they may have something left over.  What did the market think of that today?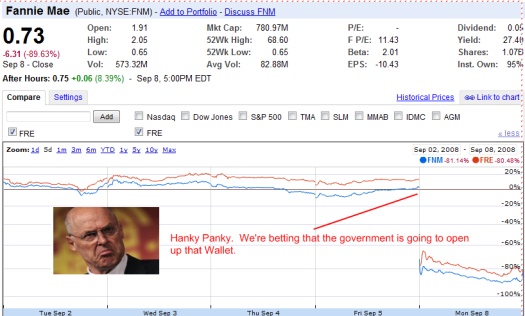 The market is having none of it.  This idea that the taxpayer will have first shot at any profit is absurd and disingenuous.  If the estimated cost was only going to be $25 billion as stated by the Congressional Budget Office, then why does Fannie Mae and Freddie Mac each have a lifeline of $100 billion individually plus wacky restrictions that will actually grow their housing exposure in the short-term thus putting them under further risk?  You can rest assured that it will cost at least $200 billion but I'm venturing to guess that when all is said and done, we are looking at close to $400 billion.  The most costly bailout known to humankind.  No hyperbole needed.
Bill Gross should be kissing and washing the taxpayers' feet since this bailout directly helps him since it buffers the bonds of Twiddle-dum and Tweedle-dee which he holds:
"(OC Register)  Before Sunday, Gross says his guess is that the home market might have had as much as 15 percent more price declines left. Now, it may be no more than 10 percent.
Gross admits it's hard to explain to the typical taxpayer why maybe $300 billion should go to prop up two stockholder-owned mortgage insurers.
"But Mom and Pop should be pleased," Gross says. "Not that their tax dollars are going … but that this money will be used to lower mortgage rates."
While Gross Sunday afternoon was making his rate forecasts without the aid of major trading markets being open for business, his guess is that loan rates should be between half a percentage point to a full percentage point below where they would have otherwise had been without the rescue." [my emphasis added]
Think of how moronic this is!  Basically we shelled out god knows how much of taxpayer money to help the market go down only 10 percent instead of 15 percent?  How does he know that?  He doesn't.  And the reason it is hard to explain to taxpayers is that you are trying to feed them manure and tell them that it will taste like prime rib with A1 Steak Sauce.  The money will be used to lower mortgage rates WHICH are already at historical lows.  They really think the public is this stupid.  Instead of the ridiculous equity sharing plan which Paulson put in place for Gross and foreign investors how about we get a piece of the $800 billion in fixed-income assets that Gross has his hands in?  When it comes down to it, people look out for number one and you aren't part of that crony capitalistic model so sorry my friends.   
Now long time readers know that this bailout doesn't come as a shock to me.  In fact, it was expected.  I just didn't think that they would bailout these two without slapping the living crap out of them or setting a stern example for the market.  At least give us a "we are going to make it illegal to ever bring back option ARMs or interest only mortgages."  Give me a break about the doctor with side income or the business owner with a 1099.  They can go to their local bank and get a loan from them directly with no federal backing.  If the bank wants to lend their own money so be it.  But for the government to fund the insanity that got us here is simply astonishing.  And make no mistake, Fannie Mae and Freddie Mac have questionable assets in their portfolios in the billions.  Forget the idea that they only have fixed 30 year conventional mortgages.  They have:
30 year fixed
Adjustable rate mortgages
Multi-family unit mortgages
Mortgage Backed Securities (some backed by Alt-A and subprime mortgages)
Don't simply take my word for it.  Pull up their most recently filed 10-Q.  I've highlighted some of the key points:
Fannie Mae 10-Q: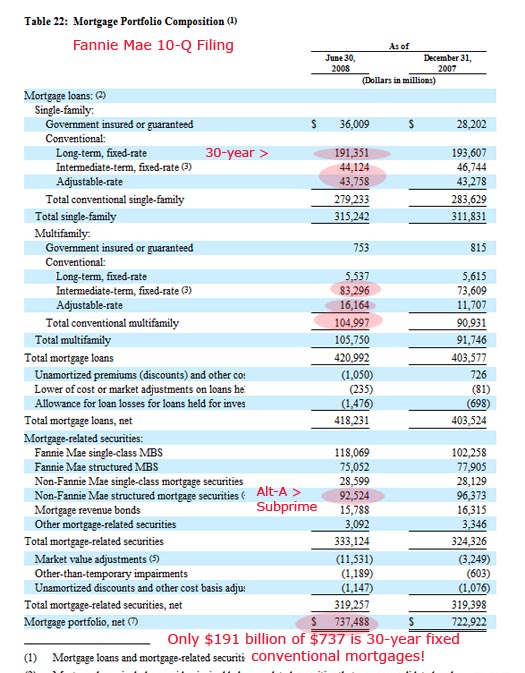 Freddie Mac 10-Q: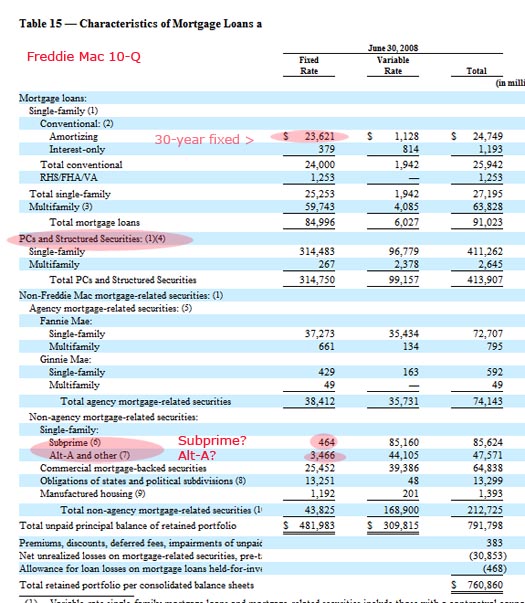 I've consolidated the image for easier viewing from the public Edgar Online filing to drive the point home.  So both Fannie Mae and Freddie Mac have a combined mortgage portfolio of  $1.5 trillion in which only $214 billion is what the public would think is your typical 30-year fixed single family residential mortgage.  Everything else is a concoction of mortgage backed securities, multi-family loans, adjustable rate mortgages, Alt-A/subprime products, and everything else you can imagine.  Losses on this are only going to amount to $25 billion?  Give me a break.  Here is the chart to give you a better sense of these two beyond the mortgage portfolios: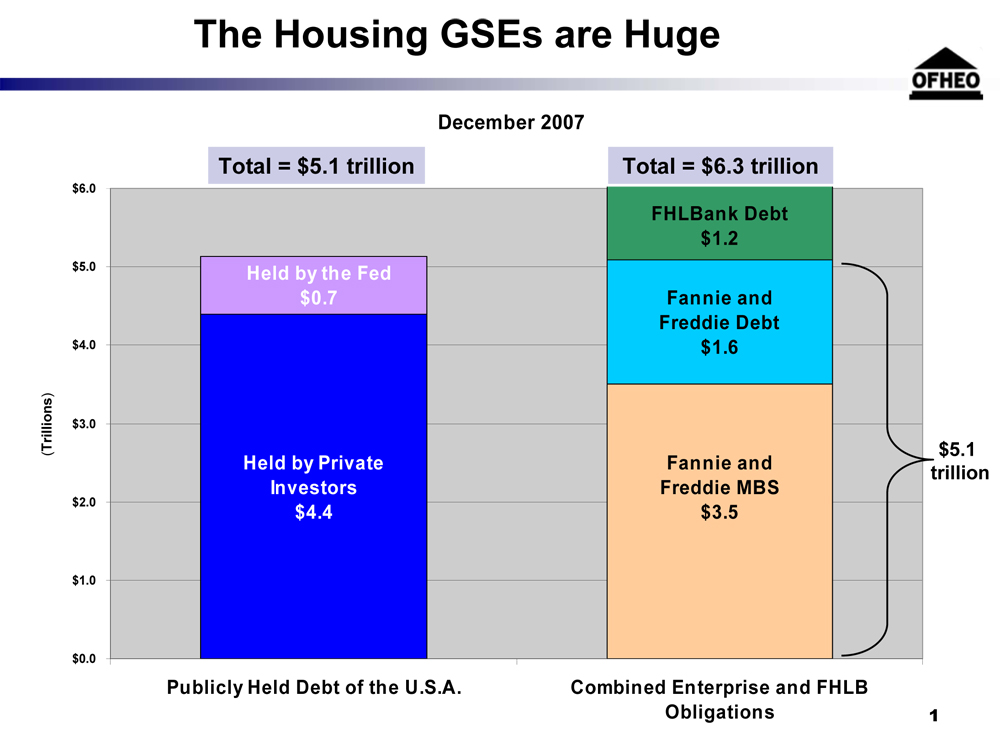 I haven't seen anyone come out and say on the blog world, "many don't ever deserve to own a home" but that is truly what needs to be said.  This isn't like eliminating insulin for a diabetic with no substitute.  You can rent!  Heck, nearly 50% in California do that and many do it because they rather rent/lease a nice home in a good area instead of buying a Real Home of Genius simply to play the housing blackjack game.  Choices.  Do we even have the desire to bring back fiscal responsibility to this country?  Maybe that is why there is such a whimper in protest regarding this bailout.  People frankly don't care.  The ownership idea is very apt because many just got owned royally and no one seems to mind.
Did You Enjoy The Post? Subscribe to Dr. Housing Bubble's Blog to get updated housing commentary, analysis, and information.