As it turns out, investor buying does have a massive impact on local real estate. Big money is slowly starting to pull away from the real estate market. We are seeing this in dramatic fashion in Arizona and Nevada. It is also happening here in the sunny Golden State. What is interesting in the last housing correction is that prices and sales fell on the outskirts first and slowly made their way inward. The marginal buyer is pushed out first before making its way up the economic food chain. We are seeing similar action happening in places like the Inland Empire and Central Valley where inventory is certainly up and prices are hitting plateaus. The momentum from 2013 is now running on fumes. We also have certain cities being dominated by investors and in many cases money is coming directly from China. Hot money is finding a home in the oddest of places. Yet one thing is certain and that is SoCal real estate is now entering into an inflection point. As this turn unfolds we are going to find out what areas are truly prime and what other areas are all hat with no cattle.
Investors slowly pulling away
After the bust in 2007, many of the investors buying California real estate were of a new breed. These investors were looking for rental properties. The previous boom saw mostly flippers making up the investor category. Flippers only re-entered the game in large numbers in the last couple of years. At this point, as a real estate investor looking for cash flow California is largely unattractive. For flippers, the game is still working but not like it was a couple of years ago. The figures highlight a clear trend. In SoCal for June we had 23 percent of all sales going to investors. While that is still high, this is the lowest number going back to 2011.
Sales volume also continues to show weakness in spite of all the rhetoric that housing is hot and now is the right time to buy. Take a look at sales and prices going back to 2000: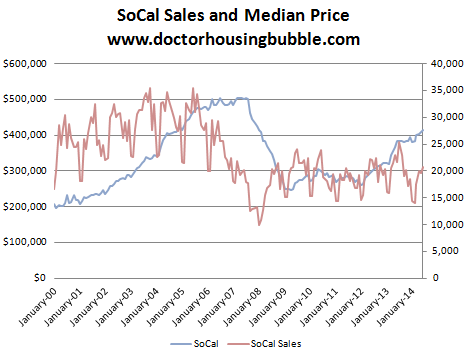 You will notice that sales volume never recouped the ferocity of what occurred during housing bubble 1.0. The current market is really a market driven by investors and big money. This market is also driven by minimal sales volume. This can be good in pushing prices up in a controlled environment. It can also turn quickly if you suddenly have more sellers accepting lower bids. At least when it comes to those looking to buy, it is a free market. You have a choice in what place you would like to make an offer on. No one is forcing a hand here. No one is forcing anyone to buy or sell here.
The median price for a SoCal home was $415,000 in June. Sales volume in June came in at 20,654. Compare that with the sales volume of 34,454 in June of 2005 when the median price was $465,000. If you are making a full offer on a house sans a mortgage, it is unlikely that this is all the cash you have at your disposal. So you are likely in a good financial position. And something tells me you are not buying these crap shacks that were built before World War II. Slowly, we are seeing sanity enter into the market. The public at large suffers from financial amnesia and thinks real estate is always a safe bet. The last crisis wiped out millions of home owners many right here in California! They couldn't even hold on. Can you make that $4,000 or $5,000 monthly nut for 30 years? Some people seem to think in our dramatically fast changing economy that the rules of yesterday will apply once again. "Real estate has always gone up!" Sure, so has the price of bread, cars, education, etc. What is your opportunity cost versus other investments? What is the financial cost of being locked into a massive mortgage in a market that is clearly still at the whims of investors? There are many variables to consider. The fact that inventory is up, sales are down, and prices are stalling out suggests that something else is going on. Some are paying outrageous prices for condos that in many cases, are glorified apartments with strict HOAs.
Inventory in Riverside is up well over 100 percent compared to last year. Sacramento has seen a massive increase in inventory as well. We are also seeing inventory increase in L.A. and Orange Counties. The state of California has more people and if it were such a simple decision, why are people not buying in mass? Real estate always goes up right? You have a shrinking middle class and those with money are becoming more hesitant in dumping it into cities with weak underlying economics filled with strip malls and liquor stores trying to justify $600,000 price tags. And that brings us back to the inflection point. I think we all realize that some areas are truly elite: Beverly Hills, Newport Coast, La Jolla, San Marino, etc. All other areas are subject to the whims of the economy. We've had a nice run in the stock market and California is heavily dependent on the stock wealth for real estate. Look at tech companies and the Bay Area.
I was grabbing a bite to eat and overheard a mortgage broker talking to the waiter on how hot the market was last year and how now was a great time to buy. This was in an area where starter homes go for $800,000 to $1 million yet the waiter seemed interested in buying in this area. It is also amusing to see California based Tesla mention they are going to come out with an "entry level" car in the low $30,000 range in a couple of years. Isn't everyone just rolling in the dough in California? Why do we need an entry level Tesla car? At least when it comes to buying cars, Tesla realizes incomes do matter and you need to realize where your customer base is going to come from in the future. Some in the housing industry are merely interested in what happened last week because in reality, housing rarely produces large amounts of jobs especially when you are flipping already built homes. A home doesn't create a job or pay a homeowner income. I've mentioned this in prior posts but I know people living in paid off homes yet continue to have monthly expenses. That million dollar home is not throwing off any cash. In other words, you better have some other sort of income stream to live off of. And for many that buy in this market by stretching their budgets they are foregoing saving for retirement just to squeeze into a home. Forget about the future, look at the next year or two. And these are the people that somehow have the crystal ball 30 years into the future.
Baby boomers came of planning age with the advent of the 401k and how well did that go? They didn't prepare in large numbers. Even those that bought in California and now have their homes paid off are having a tough time. Many are seeing their grown up kids move back home. The inflection point is happening because local households simply do not have the financial stability to purchase in this market. It isn't a question of desire as that waiter had a clear and deep hope of buying. If we had those American NINJA loans I'm sure that broker would have signed him up before the appetizers hit the table. The usually hot summer selling season did not materialize this year. We still have some time in July and August to turn this ship around.

Did You Enjoy The Post? Subscribe to Dr. Housing Bubble's Blog to get updated housing commentary, analysis, and information.