As we dig deeper into the summer selling season it is becoming more apparent that this summer is going to be a dud for Southern California. From Compton and Inglewoodto San Marino and Arcadia the insanity has reached another apex. Inventory is growing, price gains are stalling out, and sales volume has certainly fallen. Aspirations are certainly different from what your budget can afford. Whenever I see comments about "people are always willing to buy" I tend to agree. People are willing to buy a $700,000 McMansion while making minimum wage as we witnessed in the last housing bubble. Give buyers enough credit and they'll go hog wild. When it comes to housing, #YoLo seems to be the motto. The will to own a home will make people do some seriously ridiculous decisions. Need we remind you that 7,000,000 people rolled the housing dice and actually lost their homes via foreclosure just in the last decade?  You don't get any cable airtime for "This Failed Flip" or "Stretching our Budget for a Crap Shack." Who would you get as a sponsor? Maybe Fancy Feast for the baby boomers lounging in their granite countertop gold plated sarcophagus. The housing market is turning in SoCal yet again. But real estate cycles turn with the speed of a sloth. Will we see a minor correction or something bigger?
Looking at inventory
Current prices are too juicy for some sellers to ignore. Since banks have the option of ignoring mark-to-market, you are now starting to see organic sellers cashing in on those million dollar housing lottery tickets. Not a bad option. Even if you own a $1 million glorified tent in Pasadena, you still have to pay taxes, insurance, and maintenance. In the end, you are not generating any cash flow simply by owning a home. Sure, you can tap out equity or go with a reverse mortgage but then you are handing the place back to the bank. Not exactly the best retirement strategy unless your goal is to enter your grave with zero assets and leave a bag of stale Doritos to your heirs (which by the way, is the end game for many renters as well). And this strategy of tapping out equity or selling might be harder to employ when you have grown children coming back home with mountains of debt and crawling back into their Superman and My Little Pony themed rooms.
Inventory is rising because sales have plunged. This is happening during the typically hot summer selling season. Let us take a look at inventory for a few locations: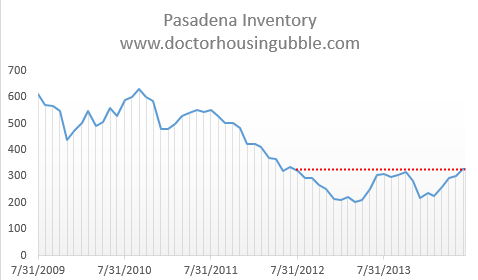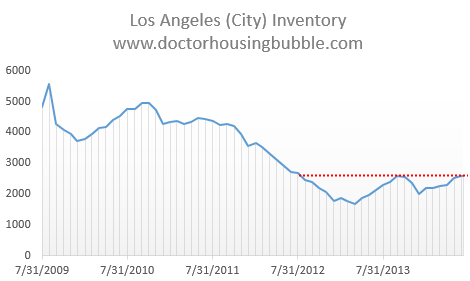 Pasadena has seen inventory levels rise to their highest level in two years. The same can be said for the L.A. City market. Even prime areas in Orange County are seeing inventory grow: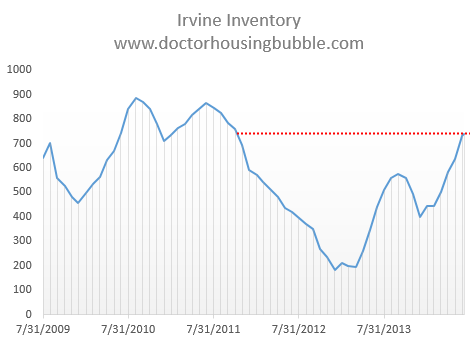 Irvine now has a three year high when it comes to inventory. This change has of course calmed the markets from the hordes of delusional buyers ready to ink away $700,000 for what amounts to a beat up Great Depression built property and essentially begging sellers to take their money. Prices are being driven by mania and this notion that because we are now verifying income and people are buying, that somehow this trend will simply continue. First of all, cash buying is still the dominant force here. We are already seeing investors pullback in many markets. This is why you are seeing sales volume being very low: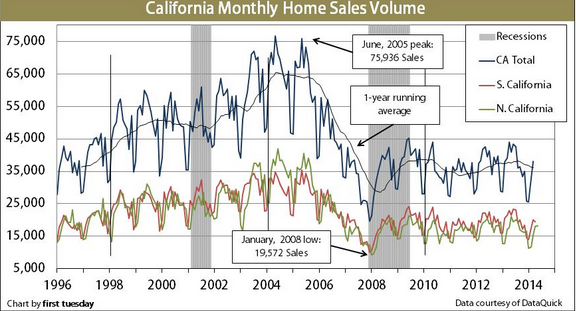 From 1998 to 2008 the 1-year running average of California sales hovered above 45,000. Sales in May crawled along to 37,734. Not exactly a booming market when you look at current prices. Current prices are simply a reflection of the low inventory over the past few years and insatiable investor demand.
Let us look at an example of current inventory right now in Pasadena: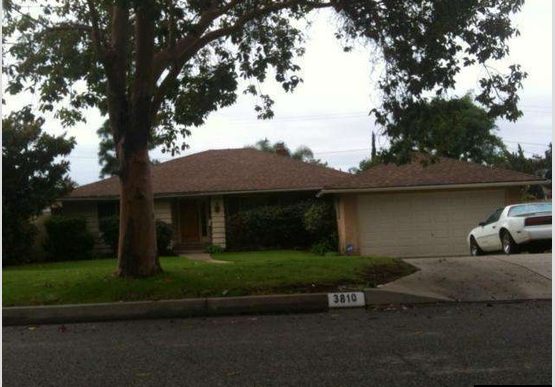 3810 Canfield Rd, Pasadena, CA 91107    
3 beds, 2 baths, 1,785 square feet
Well first of all, we at least get two bathrooms here. This place is a nice example of someone cashing in on their lottery ticket:

Current list price of $775,000. This home was purchased back in 1971 for $32,000. Before saying "see, housing is the best investment ever!" if you would have stuck that $32,000 into the boring S&P 500 you would now have $2.4 million. You can buy this house and have a cool $1.6 million left to avoid eating Purina Dog Chow into retirement. But Californians of course are hormonally charged to purchase real estate and they fail to run the numbers for alternative investment options.
And this is why the LA/OC market is destined for booms and busts: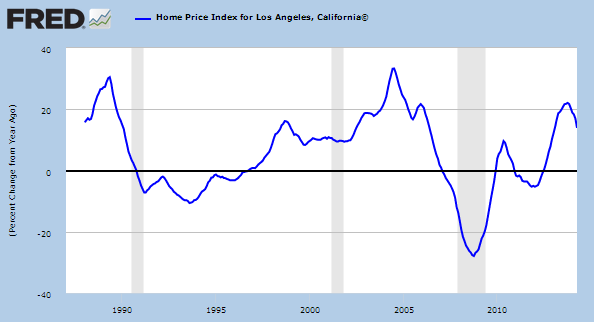 We just had a very nice boom. Going back to the 1980s, this pattern has held steady. So what comes after the boom? Or is it truly different this time because of large investor buying and the continuing gentrification of California into a renter state?

Did You Enjoy The Post? Subscribe to Dr. Housing Bubble's Blog to get updated housing commentary, analysis, and information.