SoCal housing is a blender of crazy aspirations, delusional thinking, poor quality building, and a market built around incredible hype. A boom and bust machine. When we show homes in San Marino, Pasadena, and Arcadia people begin to realize what they are up against. The argument to buy seems to revolve around the "values will only go up" regardless of your specific ability to pay. Opportunity cost is rarely factored into the equation as if real estate was the only investment out there. There is a flood of big money coming in and this is somehow reason enough to push you into a property that will stretch your family's budget into a position of crying out for mercy. A few people have e-mailed me with their actual budgets and I find it near comical that some people think that they somehow can afford to buy in Newport Coast, Beverly Hills, or Manhattan Beach with the incomes that I'm seeing. They are shopping with a Burger King budget and expect to somehow buy a very expensive sushi dinner. Instead of telling people that they are lusting at homes like a hormonal teenager, I will give you two cities in L.A. County where the "dream" of homeownership is very doable. It is also a useful example of how the housing mania has filtered into Real Homes of Genius territory.
The American Dream in Compton
Some argue that gentrification is happening in all parts of L.A. County. Okay, if this is the case then every area is the next "prime" market. If you are looking to buy you might have a taste for Pasadena or Santa Monica, but in reality you might be only able to afford something in Compton.
To show you how expansive this housing mania is, prices went up in the last year everywhere. In other words, the speculation is running rampant across the country and not only in prime areas. Let us take a look at a "reasonably" priced home in Compton: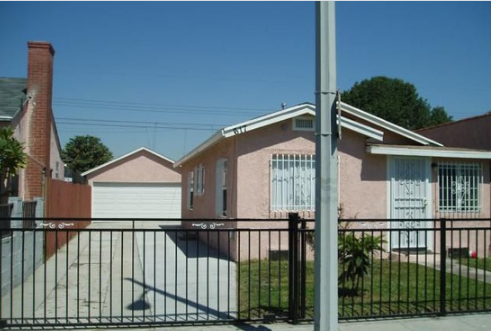 617 W Plum St, Compton, CA 90222
3 beds, 1 bath, 928 square feet
Built:      1923
This is another spectacular 1 bathroom home located in the heart of L.A. County. This place is 928 square feet and has nice bars over the windows to add for that HGTV aesthetic effect. Will we ever see the housing flipping shows with their nicely groomed hosts in this neck of the woods? You might be asking, "hey, I'm sold! How much is this place already?" I know, I know, but let us read the ad first:
"Standard Sale, Remodeled 2 years ago features 3 bedrooms and 1 bath laminated flooring living-room tile in the kitchen with laundry room garage for two cars, and a long driveway for 3 cars nice backyard."
Standard sale? As opposed to a foreclosure? This place can be all for you and your family if you are willing to shell out $259,000. Take a look at the price history here: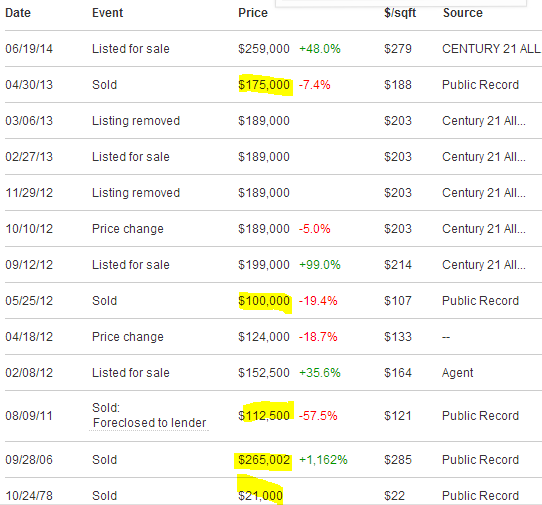 This home sold in 2013 for $175,000. So all of a sudden one year later the value of it went up $84,000 or 48 percent. Yes, perfectly reasonable pricing going on here. The more reasonable price was set back in 2012 at $100,000. This might be the perfect L.A. County home for you. Our next stop is Inglewood.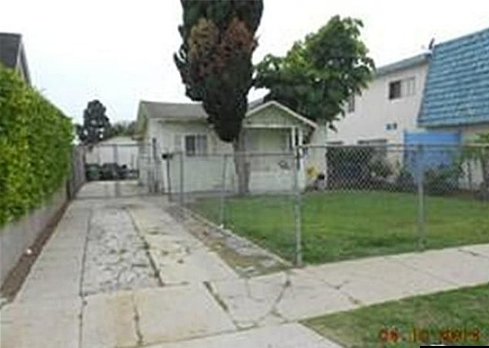 552 Hyde Park Pl, Inglewood, CA 90302
1 bed, 1 bath, 512 square feet
Built:      1921
Bam! Super in-depth perspective photography. Someone is using their NatGeo photo taking skills here. Look at how well kept that drive way is. Looks like a Nascar pit-stop. This place is listed at 512 square feet and built during the Roaring 20s. Let us look at the ad:
"Property is zoned INR3YY and great for a builder/developer. A copy of Plans for 2- New homes are in the Addendum. For property zoned INR3YY, refer to the City of Inglewood Planning Dept. for building info. of additional units. The assesor shows the property as a 1 Bedroom and 1 bath. Property is located near 405 fwy, airport and Ladera shopping. PLEASE DO NOT DISTURB TENANTS. Seller will consider all offers…."
In other words, you better have developer cash to tear down this place and build multi-family units since everyone is going to get rich on rentals now. To show you how out of sync people are with prices, take a look at some action here:

Back in April, they listed the place for $325,000. They must have got some interested because they then pushed the list price up to $365,000 in May. That obviously was too high for this majestic place and the price is now "only" $315,000. You can find much better properties for $500 in Detroit but of course, this is the great and glorious L.A. County and Inglewood is the next La Jolla.
See, you can have a reasonably priced property in L.A. County in today's zany market. Don't be too picky when you have a weak household budget. Shift your expectations. I mean $315,000 for 500 square feet in Inglewood is a great deal right? All of this is perfectly sane and reasonable and of course, never forget these mantras:
-Real estate never goes down
-SoCal housing only goes up
-Never a bad time to buy
-If you hold out long enough, everything goes up
-Incomes don't matter
-#alwaysbebuying
Welcome to the wonderful and wacky world of SoCal real estate. Don't say that we only show prime properties in locations for the elite. We also like providing you with options and reminding you that Real Homes of Genius are alive and well in this market.

Did You Enjoy The Post? Subscribe to Dr. Housing Bubble's Blog to get updated housing commentary, analysis, and information.