Apparently very few people need mortgages to purchase homes in the market today. One out of every three homes sold (at least those on the MLS) are going to those "all cash" buyers. Investors continue to dominate the percentage of all sales but the total number of sales is actually pathetically weak given the rise in prices. You would expect that somewhere in the rush to purchase regular buyers were the engine of this price increase. They are not. Even builders are not tempted to go out and build. Why build? For the younger broke generations living at home because of the weak economy? In California we have 2.3 million adults living at home. These people live at home because even a rental is out of reach let alone a $700,000 box with walls that are so thin, you can poke your finger through the crappy drywall and waive high to your other massively indebted neighbor. Looking at mortgage application data, it seems that people are simply not applying for loans. This is why in this housing "recovery" I'm not hearing the constant glee from mortgage brokers and real estate agents. Sales volume is low and mortgages are for the plebs in the streets trying to squeeze into these overpriced homes. Who needs a mortgage? Apparently traditional buyers but they are hard to find in this market. Even in high priced California, sales fell in May to 37,734 from 37,988 in April. This is a time when sales heat up. To put this in perspective, we had 67,958 homes sold back in 2004, a full decade ago.
Cashy cash cash
While investors slowly begin to pullback their suitcases of juicy Fed induced money, cash sales still make up a large portion of all sales. Going back to 2009, nearly 1 out of 3 purchases has gone to non-traditional buyers circumventing the mortgage process. It is actually higher because in the panic days, many big investors were buying in bulk off the MLS books via auctions and direct deals with banks. These were the best deals and of course, the public (the folks bailing out the banks) got no shot at these fantastic deals. Did you have access to borrowing rates near zero percent from the Fed? Of course not! You should be happy with the current 4 percent mortgage rates so long as you pay $700,000 for some Cracker Jack box with one functional toilet.
Here is the latest cash sales data: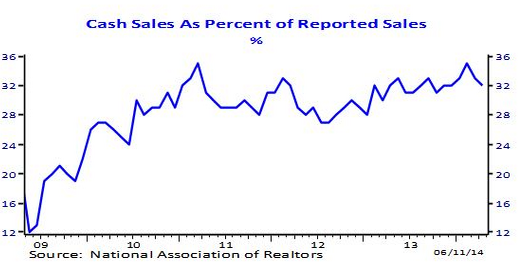 Cash buyers continue to be the biggest player at hand buying up 32 percent of all homes last month. Prices are overheated since incomes are not going up. Investors, many of them looking for cash flow actually need local families to generate enough income to pay rents. Some are flipping but good luck flipping when prices go stagnant as we are now seeing the plateau phase hit.
You would think with low interest rates that the public would be at it in terms of mortgage applications but they are not: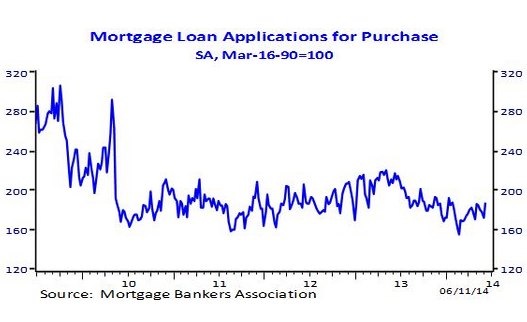 Mortgage applications remain at levels last seen back in 2000. In other words, people are not applying for mortgages needed to buy homes. Sales remain weak because the public is shut out of this game. And it is not for want of buying a home. Oh no. Rest assured the public if given the chance for toxic mortgages would be in the game the first chance they got. I constantly get e-mails about people saying things like "we overbid by [insert ridiculous tens of thousands of dollars] on this property in San Francisco and still lost out. What can we do?" This is part of the current game right now. Cash is still king yet slowly, people are starting to regain their senses.
Housing starts continue to remain weak: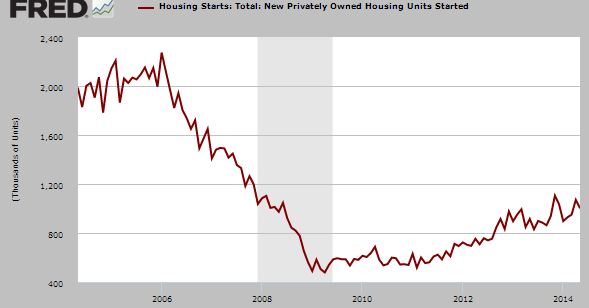 Why are builders not out building homes in this hot market? Newer homes typically go to your more traditional buying crowd and carry a premium, a premium that many income constrained households just cannot pay. That is very clear. What we have is a lack of affordable housing based on current financial conditions of US households. The market is largely manipulated and we all know this. The nonsense of "supply and demand" is for a kindergarten school books when you have the Fed buying up nearly 100 percent of all mortgage-backed securities, investor/dark pools of money crowding out regular buyers, mark-to-market fully stunted, and banks essentially dragging their feet like zombies on the foreclosure process only moving when it makes sense in their benefit (after leveraging every penny out of the bailouts). So yes, supply and demand matters if this were a fully normal economic system but alas it is not. House lusting sellers and buyers only care about one thing; what a house costs today. In fact, the epic housing bust we just faced is now a distant memory to them.
Optimism is running wild. Take a look at price expectations for the next year: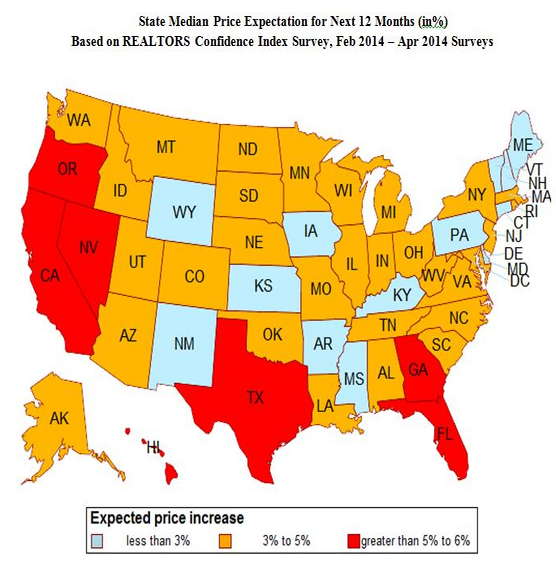 Source:  NAR
The kings of housing bubble 1.0 are back in it! California, Nevada, and Florida are expected to see price increases greater than 5 to 6 percent. Every state is expected to see price increases even though income is slated to remain stagnant and interest rates are likely to increase (although what does it matter if the mortgage buying pool of buyers is marginal in this market).
So who needs a mortgage? Traditional buyers. Yet they are the folks now trying to compete with investors and all cash buyers and using ARMs (doubling in California over the last year) just to stretch their household incomes to get into those crummy drywall crap shacks so they too can pay for a piece of junk for 30 years, only to have to eat cat food into retirement and pretend their box is "worth" $1 million even though they are unable to sell since they cannot envision living anywhere else. Yes, this is the current psychology of the market. Sure sounds like a new "normal" to me.
I'm curious for those actively selling and buying right now.  What is your current thought process on this market?

Did You Enjoy The Post? Subscribe to Dr. Housing Bubble's Blog to get updated housing commentary, analysis, and information.