The housing wealth effect is in full motion. There are many people in the market that see the rise in home equity and are now out buying bigger ticket items and also, upgrading their homes. You also have the flipper brigade being cheered on by house lusting cable television watchers. The Kardashians for the teens, the flipping shows for the Taco Tuesday adults. In California, a large group of "professionals" in the industry are disconnected from what it takes to build a quality home. Most have no sense of value and this is evident by the 1 or barely 2 toilet homes selling for ridiculous prices. On Main Street most people are brainwashed into now thinking real estate is a no brainer. You can only win, says the guy with veneers and pinstripe suit. The bread and circus is out in full fashion. Granite countertops, hardwood floors, and recessed lighting bamboozles the public from actually looking deeper into the bones of a property. If you look beyond all of this noise, the regular buyer is being screwed. Many can't compete and are leaving the state. We have 2.3 million adults living at home with parents because they financially can't even afford a rental let alone a home to purchase. A good portion of these folks are the BMW, latte drinking, iPhone crazed, and weekend partiers that want the L.A. nightlife but return after their escapades conclude to their parent's home. Although inventory has risen this year and the mania has slowed down, the fever is still hot. For California's shrinking middle class, you are seeing a state with a small section of growing affluence and a larger section of those struggling to hold on.
The shrinking homeownership rate
Historical amnesia is a trend to behold in California. I've seen the booms and busts come and go with regular fashion like an upcoming El Niño. Many of the people that lost their homes to foreclosure were too full of ego and pride to speak up in the state so now we have a new group of gamblers trying their hand at the good old California housing boom and bust game. You never saw "The Biggest Foreclosure" or "The Dumbest Flipper" on cable shows because people don't like to highlight their failures. But we know in California that hundreds of thousands of families lost their homes in epic fashion. Real estate is not a riskless play. Many got caught up in the mania but others were flat out greedy and simply did not have the stronger hands that Wall Street is afforded when the house comes crumbling down.
Just talking with people, the market is prime for ARMs, interest only loans, and other leverage bets. If we had access to these loans again, the market would go full on crazy at this point. Yet we don't. What is interesting is the modest restrictions placed since the bust are now being criticized for halting lending and stunting this run away delusion train. And that is why the homeownership rate is near generational lows: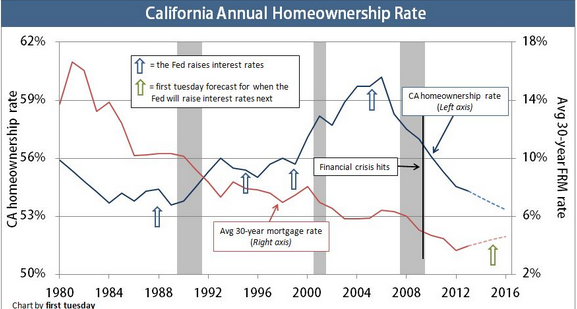 So why are home prices so high? Investors hungry for yield have been buying up properties since 2008. Banks have controlled supply for over half a decade courtesy of rewriting accounting rules and standards. That of course is the past. What of the present? Do prices make sense today? People make moves at the margins. The lower sales volume is still pushing prices higher. If you want to play in the game today, expect to pay. In California a large portion of housing wealth is also driven by stock market wealth. Just look at the Bay Area.
If this seems like a no brainer, why is the homeownership rate going down? Because the typical household is not exactly tearing it up on the income side. A state with more than 38 million people is going to have a large number of wealthy households. But that was the case a decade ago as well. Today you have many more being priced out to the point of merely affording a rental or living at home.
California affordability issues
Even though inventory is up and price increases have moderated this year, you still have only 1 out of 3 Californians being able to afford a typical California home: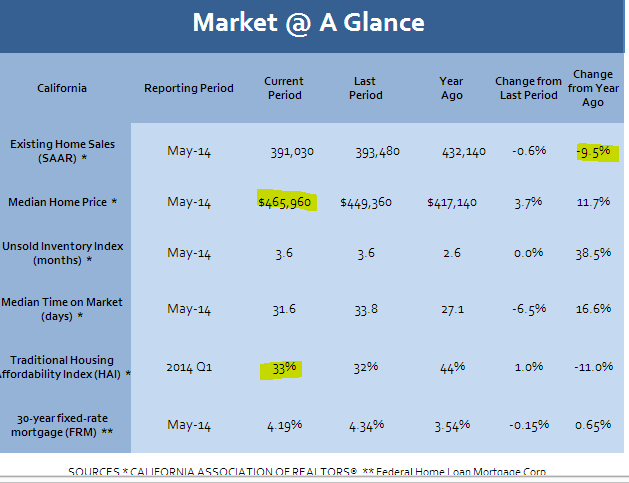 Of course those with higher incomes, think they belong in higher priced zip codes even if it means living in a piece of crap and having to share one bathroom with the entire family while forking over $750,000 or more. People forget how quickly time passes. Many also easily forget that you will have that mortgage payment for 30 years. I know a good number of boomers holding onto housing lotto tickets but scrimping by to have the SoCal lifestyle. Even a paid off home does not throw off cash short of a reverse mortgage. And good luck trying to convince the Fancy Feast eating crowd that slapping on a mortgage for cash is a good idea or god forbid, liquidating and freeing up some cash (although they are entirely fine with locking in for 30 years with a bank).
Investors have been pumping up the housing market for half a decade. They continue to do so. Today however, we have the stretching households using ARMs and other maximum leverage products to squeeze into properties. A perfect time to enter the game when the stock market is at a new peak and in some cities, housing values are near or making new peaks.
SoCal has a sizable number of swindlers, cranks, and con artists moon lighting as professionals. You usually don't see the hustle until the lights go on. This happened with the army of "professionals" that thought they were the next Trump because they attended one of those revival seminars which serve as a replacement for some sort of religious structure. The religion in SoCal is real estate and people are back to worshipping at it's alter. Sure, the homeownership rate is down, more adults are living at home, and incomes are not even keeping pace with inflation. In the end though, you simply have to believe blindly that home prices will continue to go up. Interestingly enough a good number of Californians have decided that they will try their hand at making it into the middle class in other states. For now, the cacophony of easy wealth down the real estate road is being preached again even though the stats show that it is becoming harder for regular households to own.

Did You Enjoy The Post? Subscribe to Dr. Housing Bubble's Blog to get updated housing commentary, analysis, and information.