The Pecora hearings have been making the rounds recently.  The United States Senate Committee on Banking and Currency was setup during the Great Depression to examine the causes of the Wall Street Crash of 1929.  The initial inquiry started in March 4, 1932 and was heavily politicized.  After all, we were talking about the Great Depression here and the public was outraged.  The actual investigation itself was launched by a majority-Republican Senate but was criticized by the Democratic Party as an underhanded way of gathering up populist anger.  The bottom line was the American public was suffering.  The suffering of the vast majority of Americans stood in stark contrast to the high rolling lifestyle of bankers and those on Wall Street.  The banking syndicate had brought the U.S. economy to the edge and took it over.  At first the initial investigation had very little traction.  That is until Ferdinand Pecora, assistant district attorney of New York County was hired to put together and bring forth the final report.
Ferdinand Pecora was appointed Chief Counsel in the last months of the Hoover administration.  The banking edifice of the United States was crumbling and even the house of Morgan (read The Lord of Money Speaks) was no longer strong enough to support the economy.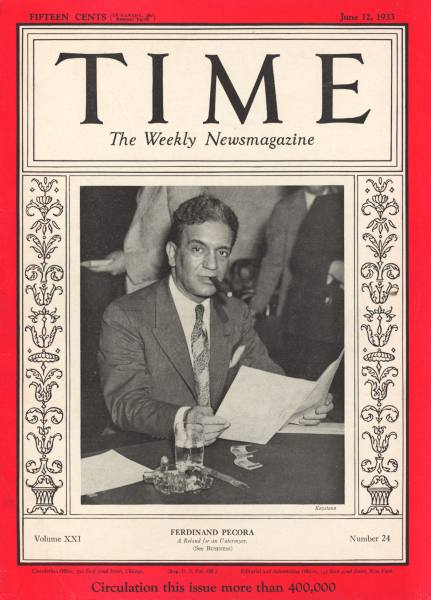 This is what a March 1933 issue of TIME had to say about Mr. Pecora:
"Ferdinand Pecora, most brilliant lawyer of Italian extraction in the U. S., finished public schools at 12. At 18, after loping through his brother's law books, he was managing clerk of a law firm. Even on the most complex cases (which he, tireless, likes best) he never needs notes, never forgets a word of testimony once it is on the record. One of his most famed convictions was that of former New York State Superintendent of Banks Frank H. Warder for his part in the failure of Manhattan's City Trust Co. in 1929. At 47, his black eyes flash, his black hair bristles.
Last week, sitting always at Chairman Norbeck's right, Mr. Pecora put on the show. His the right to question; Mr. Mitchell's the duty to answer no more no less than suited Mr. Pecora-and Senator Brookhart darkly hinted that a jail cell was ready if the banker balked. Banker Mitchell proceeded to say enough to damn himself to the satisfaction of the Committee, Mr. Pecora and a large part of the U. S. people by the following admissions."
This is part XXVI in our Lessons from the Great Depression series:
20.  The Four Horsemen of the Economic Apocalypse
21.  The Big Change
22.  The Infection of Consumerism and Living Fake Lives.
23.  The Worst Housing Crash in American History.
24.  Economic Crises Around the World in Synchronization.
25. Reconstruction Finance Corporation II
Mr. Pecora had an uncanny ability to put together complicated Wall Street jargon into a tangible and understandable argument.  Not only did he have this ability, but he understood what the public would be furious about.  We need to remember that at this time, it had already been over 3 years since the Crash of 1929.  If we want to put a date on our current crash, we can look at August of 2007.  If that is the start date, we are not even two years into this crash which is shocking to even think about.  So the public in 1933 had already had enough and was on the verge of populist anger.  The country ousted Herbert Hoover from office and brought in Franklin D. Roosevelt.  Roosevelt being savvy allowed Pecora more time to investigate the shenanigans of Wall Street.  So this was a bi-partisan fight.  Bill Moyers has an excellent talk which came out last week regarding the Pecora hearings: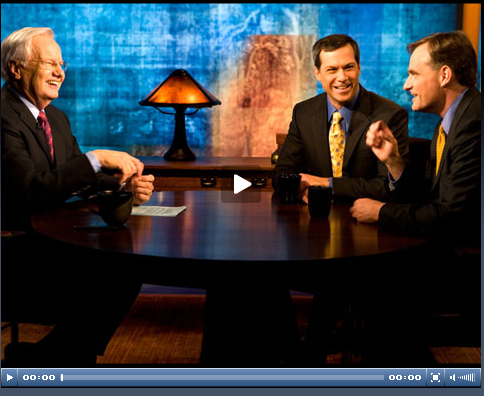 The reason this is important is here we are approaching 2 years of being in this crisis and we have yet to see a modern version of a Pecora Commission.  Who is going after Wall Street?  And I'm not talking about a congressional  toungue lashing and then cutting them a check.  We're talking about a deep investigation.  These are a few things uncovered by Pecora and his team:
"Pecora's investigation unearthed evidence of irregular practices in the financial markets that benefited the rich at the expense of ordinary investors, including exposure of Morgan's "preferred list" by which the bank's influential friends, including Calvin Coolidge, the former president, and Owen J. Roberts, a justice of Supreme Court of the United States, participated in stock offerings at steeply discounted rates. He also revealed that National City sold off bad loans to Latin American countries by packing them into securities and selling them to unsuspecting investors, Wiggin had shorted Chase shares during the crash, profiting from falling prices and Mitchell and top officers at National City had helped themselves to $2.4 million in interest-free loans from the bank's coffers."
Just to show you that even in 1929, people saw the corruption of the crony capitalist:
"Mitchell is the ideal modern bank executive."-Carlton A. Shively, Financial Editor of the New York Sun, May 1929.*
"Mitchell more than any 50 men is responsible for this stock crash."-U. S. Senator Carter Glass, November 1929."
That is Senator Glass from the Glass-Steagall Act which was passed in large part by the absurdity that was found during the investigations.  Of course, the Glass-Steagall Act was repealed in 1999 under President Clinton (D) which was largely rammed down the throat of the public by Senator Phil Gramm (R).  Can you believe Phil Gramm was the chairman U.S. Senate Committee on Banking, Housing, and Urban Affairs from 1995 to 2000?  Talk about having the fox guarding the henhouse.  Yet the point of this all is the de-regulation that setup the massive global debt bubble was supported by both parties.  And of course, back in the Pecora investigations the banking community was also vocal about bringing people to justice:
"There rested, over the weekend, the issue of banking morality and responsibility. With one other angle: bankers high & low throughout the land, while not condoning the acts of 1929, loudly proclaimed that last week the greater villains were U. S. Senators who would risk the credit of the U. S. by putting scandal into the headlines when Confidence had already received body-blows at St. Louis (TIME, Jan. 23), New Orleans (TIME, Feb. 13), Michigan (TIME, Feb. 20) and in many another state.
But the Senate Committee had succeeded in getting its man. On Monday morning at 9 a. m. Charles Edwin Mitchell, 66, resigned, and James Handasyd Perkins, 57, was promptly elected chairman of the nation's second biggest bank. Few hours later the directors of National City Co. accepted the resignation of President Hugh Baker. Mr. Mitchell and Mr. Baker returned to Washington for further grilling."
Talk about a different time.  Here we are 2 years into the crash and instead of looking for our own Pecora investigation, we are actually giving the 19 biggest banks unlimited access to taxpayer money via the Troubled Asset Relief Program (TARP) and also the flawed Public-Private Investment Program (PPIP).  In fact, even FDR was quick to bash the banks in his inaugural address!
"Yet our distress comes from no failure of substance. We are stricken by no plague of locusts. Compared with the perils which our forefathers conquered because they believed and were not afraid, we have still much to be thankful for. Nature still offers her bounty and human efforts have multiplied it. Plenty is at our doorstep, but a generous use of it languishes in the very sight of the supply. Primarily this is because the rulers of the exchange of mankind's goods have failed, through their own stubbornness and their own incompetence, have admitted their failure, and abdicated. Practices of the unscrupulous money changers stand indicted in the court of public opinion, rejected by the hearts and minds of men.
True they have tried, but their efforts have been cast in the pattern of an outworn tradition. Faced by failure of credit they have proposed only the lending of more money. Stripped of the lure of profit by which to induce our people to follow their false leadership, they have resorted to exhortations, pleading tearfully for restored confidence. They know only the rules of a generation of self-seekers. They have no vision, and when there is no vision the people perish."
I don't like the false analogy of, "well if your neighbor's home was on fire, you wouldn't wait to find out what happened before putting it out right?"  Essentially what they are saying is keep throwing $100 bills while you watch Benjamin Franklin disintegrate in the flames.  If that doesn't stop the flames, go buy some of the most expensive wine and start pouring it on the flames until the fire goes out.  This is their reasoning.  We need someone right now like Ferdinand Pecora who can say, "stop throwing expensive stuff to put out a flame when we can put it out with freaking water!"  Is it important to keep current management?  No.  Is it important to maintain bonuses.  Absolutely not.  But hey, your banker neighbor's 20,000 French Chateaux is on fire so let us use your money to put that flame out.  We can ask questions later.
As I have pointed out countless times, the majority of Americans are getting pummeled and fleeced while Wall Street and banks make away like bandits.  I should also clarify here.  We are talking about the investment firms and the top 19 banks.  There are hundreds of regional banks that actually operated prudently and have stayed away from toxic assets.  Yet these 19 banks make up two-thirds of the entire banking system in the U.S.  These banks grew into behemoths thanks to de-regulation which allowed them to be everything and anything.  Instead of packaging loans and selling them off to Latin America like some folks did in the Great Depression, people packaged mortgage backed securities and sold them off to anyone and everyone around the world.  The banking oligarchy is dictating the economic policy of this country.  One simple first step we should take is to start breaking up these gigantic banks and bring back modern regulation that will make banking more like a utility.  The riskier side of the business model can be spun off.
Yet who right now is pursuing this avenue?  Mr. Pecora was able to do this because he had experience breaking up bucket shops and understood the corrupt structure that had infiltrated Wall Street.  He managed to scour the books and present the information to the public in a manner that simply solidified the corruption on Wall Street.  Right now, all we get is a high tax rate on bonuses to AIG executives.  GM's CEO has been ousted and the U.S. government is taking a hard stance against the beleguered automaker.  What of Bank of America or Citigroup?  What of Goldman Sachs?  How exactly are they turning a profit in this market?  Instead of a hard stance we give them more money!
And if you think Wall Street will allow regulation to come without a fight, this is what Mr. Pecora had to say in his memoir:
"Bitterly hostile was Wall Street to the enactment of the regulatory legislation." As to disclosure rules, he stated that "Had there been full disclosure of what was being done in furtherance of these schemes, they could not long have survived the fierce light of publicity and criticism. Legal chicanery and pitch darkness were the banker's stoutest allies."
I must say that New York Attorney General Andrew Cuomo has put out a strong letter regarding Bank of America's acquisition of Merrill Lynch.  Not only does this put the CEO of one of the country's biggest banks on the hot seat, but it also puts a big question mark on former U.S. Treasury Secretary Hank Paulson.  Ben Bernanke comes up but only as a ghost because the U.S. Treasury and Federal Reserve do everything in the dark.  What is clear from the letter is this:
(a)     Ken Lewis thought he was going to make out like he found a Picasso at a swap meet by buying Merrill Lynch during those epic distressing weekends.
(b)   The deal was arranged.  However, after carefully reviewing the books, it turns out Merrill would have deeper losses.
(c)    Lewis wants out.  Lewis goes back to Paulson who basically tells Lewis, "Merrill was sold as is buddy!"
(d)   Ken Lewis tries to bluff and the U.S. Treasury and Fed pretty much convey to Lewis he and his buddies will be kicked out on the street if they try to break the deal.
(e)    Lewis is told to stay quite.
(f)    Merrill later records a ridiculous loss but the Treasury kicks Lewis down for his troubles.  By the way, the Treasury is taxpayer money.
(g)   All is well in crony world!
After reading the letter you will understand that the corruption runs deep here.  Is it any wonder that Americans have so little confidence in their banking system?  Enough of this.  We have plenty of proof and now it is time for investigations.  Ferdinand Pecora, where art thou?
Did You Enjoy The Post? Subscribe to Dr. Housing Bubble's Blog to get updated housing commentary, analysis, and information.