The market on Monday opened sharply lower only to quickly rebound on the early morning new home sales numbers.  This was short lived because after you dig through the journalistic rhetoric you will find that this was the lowest September since 1981.  It was hard to spin the report.  This includes what should be the end of the strong summer selling season yet the data was simply not there.  This in light of major price declines which gave home sales a modest monthly boost.  At the end of the day, the market was down yet again sending the S & P 500 to 848 or a whopping 45+% drop from its peak only 1 year ago.  These are epic numbers.  Wicked swings on the up and downside are not good.  This is massive volatility spurred by economic uncertainty.
If the technical definition of a recession is not met even in light of the entire economic calamity, then we clearly need to retool our measuring tape.  We are facing eerily similar circumstances from the Great Depression.  I will examine the four horsemen of the economic apocalypse in this article.  Many people assume that the Great Depression originated in the United States, which it did not.  Many also think the 1929 stock market crash was the source of the Great Depression when it was merely the most obvious symptom of a long-term and slowly growing global problem.  In fact, other global markets had already been declining even years before.  Charles Kindleberger in The World in Depression 1929 – 1939 (a must read) does an excellent surgical economic and historical dissection of the world economy at the time:
"To the extent that the depression was ushered in by the stock market crash, it was the crash in New York that was of consequence.  Canadian prices went higher from 1926 and declined further from their peaks, compared to New York.  They were the tail of the dog.  European security markets had for the most part turned down earlier:  Germany as far back as 1927, the United Kingdom in mid-1928, France in February 1929.  The Vienna stock market, which had led the parade in the crisis of 1873, was quiet, waiting for 1931.  The action was in New York.  It had its effect worldwide, but not through tightly parallel movements in security prices."
No doubt the spectacular collapse of the stock market in October must have been a stunning blow to many but it was merely reflecting difficulties across the globe in many areas.
In the 1920s Florida saw a massive real estate speculative boom and bust.  It makes for a fascinating read since it chronicles a large part of the psychology we saw during this bubble.  Much of swagger is gone from real estate pitchmen.
The 4 major issues we are seeing that reflect much of what occurred during the 1920s are: (1) Major housing distress, (2) Global stock markets crashing, (3) Commodities collapsing, and (4) Unemployment surging.
This is part XX in our Great Depression series:
14. Bank Failures.
16. Items That Sold in the Credit Bubble.
17. The All Hat and No Cattle Nation
18.  Charity for Financial Deviants.
19.  The Silent Economic Depression
Issue Number #1 – Housing Distress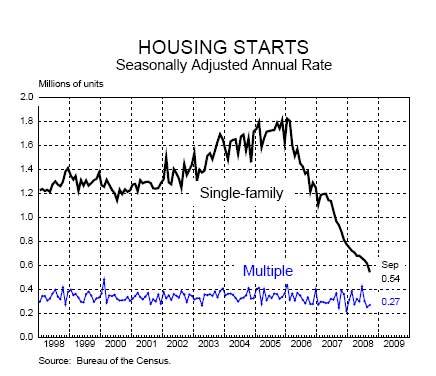 The above chart should be a dramatic demonstration of what has happened to the United States housing market.  It has simply come to a screeching halt.  A large number of relatively well paying jobs in construction, machinery, and financing of this growth all depended on housing starts growing for the foreseeable future.  Even if we are to look at current housing sales trends the numbers still reflect a serious problem: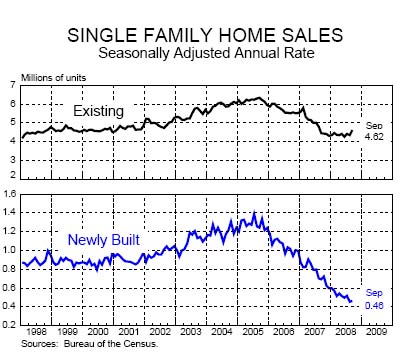 What you will notice is that lower priced resale homes had a slight jump while newly built homes which have more to do with construction growth and employment have fallen off a cliff.  But a more important point to note on both charts above is that you'll notice peaks in late 2005 and early 2006.  This was nearly 2 years earlier than the August 2007 credit meltdown.  Keep in mind, the stock market didn't reach peaks until October of 2007.  Once these leading indicators started trending lower it was only a matter of time that the economy came with it.  Why wouldn't it?  So much of the newly created industries since 2000 completely depended on the finance, real estate, and the insurance economy (FIRE).
The ultimate sign of pain is foreclosures.  These numbers are not encouraging:
September 2008:
Properties with Foreclosure filings:    265,968 
This was a 12% drop from the previous month but keeps us at a record shattering pace that will see 3 million foreclosure filings in 2008.  Some of this drop can also be attributed to new legislation issued in California forcing lenders to delay the foreclosure process.  This will only kick the can down the street a few more months.
Prices are still coming down hard.  The median California home is now down 41+% from the peak reached last year.  Overall housing is not healthy and an economy so dependent on this one industry will have problems.
Issue Number #2 – Stock Market Crashing

Global markets are suffering and this is hitting across every market.  What was propping up the emerging markets and many foreign markets was the notion of decoupling.  The idea with decoupling is somehow the world was large enough to withstand an economic recession in the United States without missing a beat in growing.  Not only is this notion wrong it is being proven utterly without merit.  Japan on Monday hit a 26 year low.  Iceland goes bankrupt.  Trillions of dollars, your dollars are injected into the system to nationalize banks.  We are a world couple whether we want to be or not.  The global financial system is too interdependent.
The issue at hand is going to test economic philosophies.  Many monetarists from the Freidman School believe problems like the one we are currently living through can be solved purely through monetary policy as discussed by Kindleberger:
"Monetarists, such as Milton Friedman, think that the depression of 1929 was no accident.  They find the origin in the United States rather than in Europe or the periphery; in monetary rather than real factors; in policy rather than in the nature of institutions or in the tasks required of them; in a national economy rather than in the operations of the international system.  Within the limits of U.S. monetary policy, moreover, which excludes the villain of many another analysis – structural dislocation in Europe after the First World War or the failure of the United States to act like a creditor nation, particularly the imposition of the Smoot-Hawley Tariff Act of June of 1930 – they rule out stock market speculation and the delay in passing the Glass-Steagall Act of 1932, which overcame a domestic shortage of monetary gold by allowing the Federal Reserve System to substitute government securities instead of gold for the lacking eligible paper needed as backing for the central bank's liabilities…
…But Freidman's explanation of the 1929 worldwide Great Depression is national, monetary, and related to a policy decision.  It is unicausal.  In my judgment it is wrong.  Recently, starting with Allan Meltzer, monetarists have been admitting one international aspect to their analysis: the Smoot-Hawley Act.  The concession is slight, however, and the analysis remains almost wholly dependent on the quantity theory of money."
Current Fed Chairmen Ben Bernanke comes from the monetarist school of thought.  In fact, much of his often quoted "helicopter" analogy of dropping money from above comes from this idea.  He is a student of the Great Depression and I imagine if he is a true monetarist would adhere to this idea.  He is having a chance to put his theory to work and clearly, it is failing.  It fails to address the systemic problems infecting the global markets.  It also has little impact in commodities collapsing as they currently are.  In addition, flooding the system with money would require solvency on borrowers which does not exist.  That is why I lean a bit more to the neo-Keynesian model of economics in that at present, if we are to inject money into the economy it should be into to strategic job creation for a larger portion of the population.  Many will argue that this is interfering with the market but what the Fed and U.S. Treasury are doing is intervention.  We simply have differing philosophies of how to use the funding.  I think having one dogmatic philosophy is also dangerous since it misses the scope of the entire situation.  Even recently, Ben Bernanke mentioned it may be a good idea for more stimulus checks, a clearly Keynesian point.
Honestly, I am not for stimulus checks.  This amounts to a quick jolt into the economy which is quickly sucked dry.  I would rather see the funding go to strategic development of new industries and sustainable jobs.  Where will this money come from?  The same place the $700 billion in easy money for corrupt crony capitalistic banks came from.  At least in this move, the larger public will benefit instead of a few corrupt Wall Street banks and lenders who led us into the abyss in the first place.
Issue Number #3 – Commodities Collapsing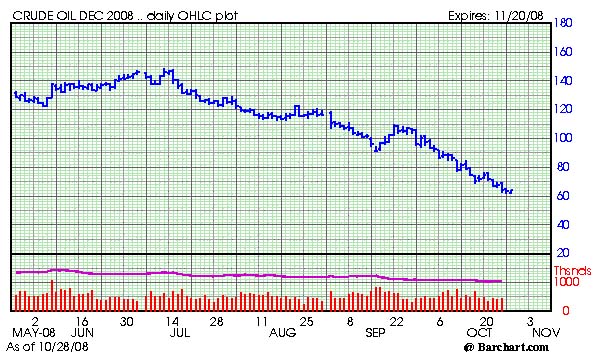 Commodities are collapsing across the board.  The above chart of oil should give you a major idea of what is happening in the market via demand destruction.  When you go from a peak of $147 to $62 within a few months, you can safely say that the market has collapsed.
You'll also notice that people aren't too focused on oil anymore.  Remember a few months ago when most were clamoring about oil being the number one issue?  Well this was simply a distraction from the number 1 issue which is the entire economy is being bombarded from multiple fronts and oil was simply part of the multi-faceted problem.  If oil was the main problem, then this current price should be sending stock markets soaring.  In fact, the opposite is happening.  Take a look at a couple of other charts: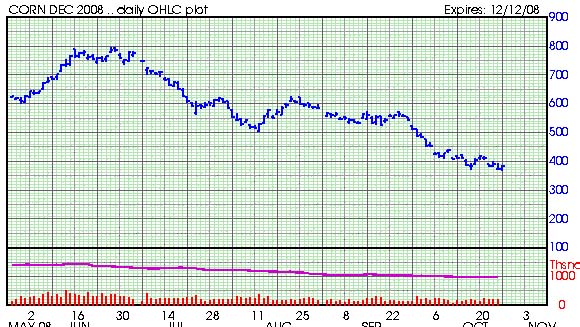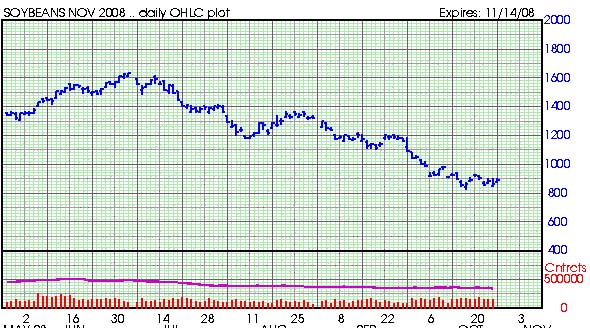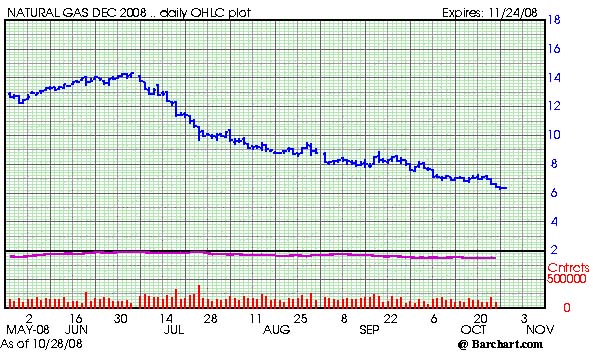 This is demand destruction on multiple fronts.  What the Fed and the U.S. Treasury are trying to do is avoid deflation at all costs even if it means sacrificing the dollar.  Chances are the Fed will lower rates again which is not good for the dollar.  Incredibly, the only advancing item in the last few weeks is the U.S. Dollar: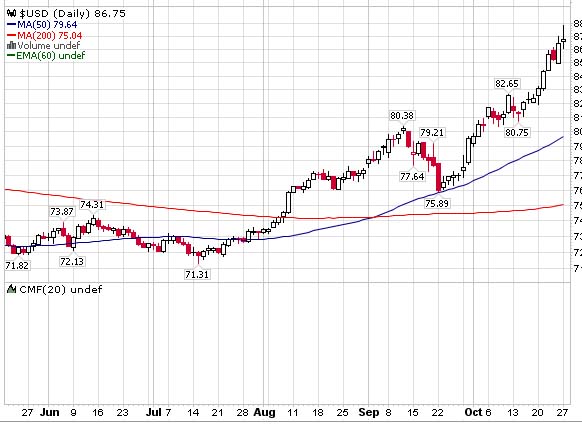 I would imagine this quick run up is massive deleveraging of those who made large bets on the decoupling theory and need a safe place to stay for the moment.  In the end, when you have 60+% of the world reserve currency you still carry a bit of weight around.
A couple of things.  Commodity prices sharply declined during the Great Depression as well.  They started their decline before the stock market crash.  Much of the decline was due to demand destruction.  This may pose even a bigger threat to exporting countries.  Look at what happened to Russia for example when oil collapsed this year.  They had to shut down their market a few times.
Issue Number #4 – Unemployment Surging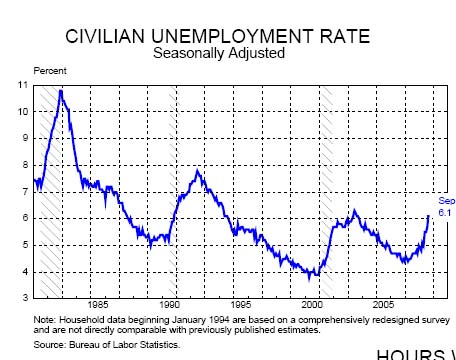 Unemployment is growing at a feverish pace although the above chart will not show it.  The true current unemployment rate is more like 11% which also includes part-time workers looking for full-time work and those who have given up looking for work altogether.  As a frame of reference, unemployment in early 1929 was 3.1% with slightly below 2 million people unemployed from the work force.  In 1930 the number went to slightly above 4 million.  1931 saw the number increase to 8 million.  By 1932 the number was at 12 million.  In 3 years, the unemployment numbers went up by 10 million people.  This was a staggering number even by today's standards.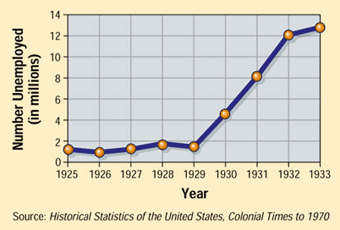 This year alone not one job has been added in the aggregate.  Last month we saw 159,000 jobs lost: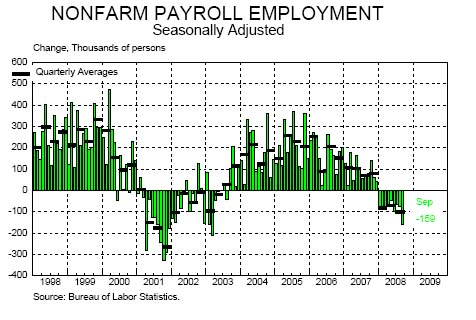 We are teetering here.  It wouldn't take much to push this over the edge.  Already we are seeing massive layoffs across many industries.  Yahoo!, Bear Stearns, WaMu, eBay, and other companies are cutting back.  The government which employs a large number of people is also cutting back.  The few industries that are hiring are simply not big enough to absorb the glut of workers.
This crisis has now spread into every area of our global system.  It is important at this point that policies that are taken do not usher in another Great Depression.  If we are to fling money at the problem, we should at least ensure that the money is spent on behalf of improving the overall status of the economy and not simply maintaining a failed banking system.  We clearly need to rethink things before we launch anymore money into these industries.  Calling for price supports is absurd.  This was tried in the past and failed.  It sounds good but is a gimmick.  What we need is a comprehensive new vision of what we expect out of our economy.  Blowing one bubble after another feeding on speculation and greed simply breeds a market psychology of greed and instability which in the end, the middle class (should it continue existing) usually has to bailout.  Is this really how we want our system functioning?
Did You Enjoy The Post? Subscribe to Dr. Housing Bubble's Blog to get updated housing commentary, analysis, and information.