Robert Shiller of the famed Case-Shiller Index came out only a few days ago stating that housing may not recover for over a decade.  As dire as this may sound, we have a similar example to look at in Japan.  It wasn't like he stated this just to cause a stir but talked about compressed household wages, record low mortgage rates, and a large pipeline of distressed inventory.  Even though real estate values are now down 35 percent from their peak taking values back to 2002 (a lost decade) we would need to increase housing values nationwide by 50+ percent to get back to the peak.  This is what he was discussing about home values not recovering to that price point.  Japan has had well over two decades of a depressed real estate market and values today still do not approach the peak values reached in the early 1990s in spite of their central bank pushing rates even lower than the Federal Reserve.  In fact, prices are holding closer to the trough.  Examining the data we already find ourselves into one lost decade.  Is another possible?
The nationwide housing market
For the little coverage it received, we did have a double-dip in the real estate market: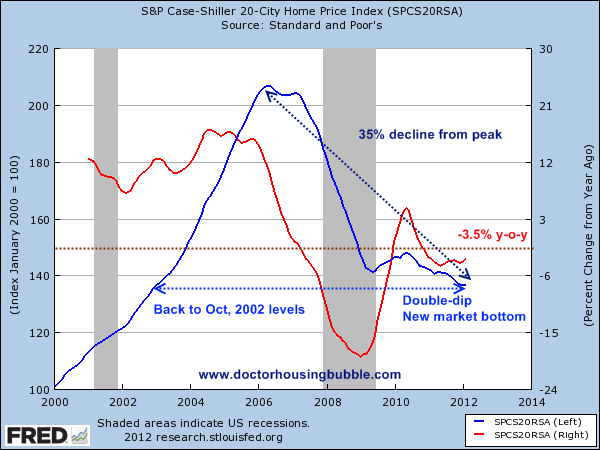 You can see that in 2009 prices hit a trough, went back up into 2010, and today have made new record low.  Prices are now back to levels last seen in 2002.  The year-over-year price change remains negative and markets like Atlanta and Las Vegas continue to see massive price declines.  People may forget given the insanity of the housing market for well over a decade that housing is a utility that typically tracks inflation over the long-run.  Rental parity makes sense if you have stable employment markets.  A recent survey found that rental rates are not exactly soaring in mid-tier markets: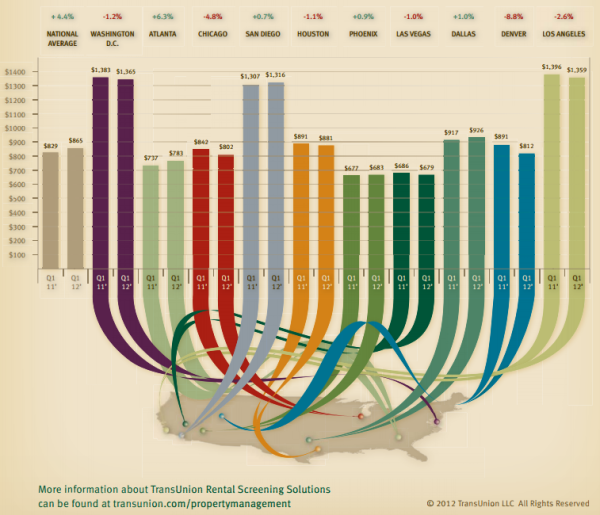 The above is an interesting perspective on the rental market.  Denver has seen rental rates fall by 8.8 percent in the last year and Los Angeles has seen rates fall by 2.6 percent.  The strongest market?  Interestingly enough it is Atlanta that saw home values fall by 17 percent.  Why would that be?  It largely has to do with a flood of people losing their homes and becoming renters in the short-term.  Yet this isn't necessarily a positive sign.  Las Vegas, a big investor haven has seen rental rates fall by 1 percent and this is probably because there is a glut of rentals as investors have bought massive amounts of properties for the last couple of years.
Employment matters
The news coming out on Friday reflects a weak economy: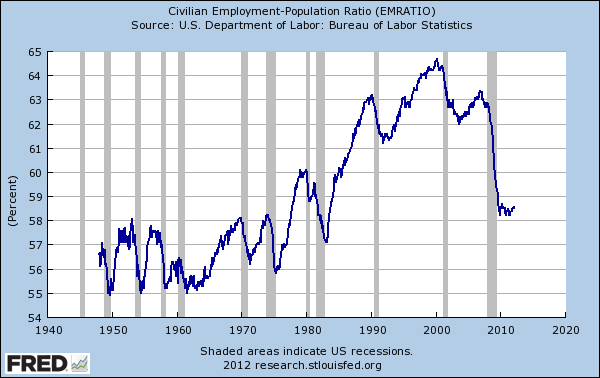 We have an employment-population ratio that is similar to that from the 1980s.  How is this good for household formation?  More importantly, this reflects a troubling demographic reality for housing.  You have 75 million baby boomers that as a group, are wealthier than their student loan indebted children but who will boomers sell their properties to?  To other baby boomers?  Over 10,000,000 properties today are in a negative equity position.  Many younger Americans have no savings and because of the weak economy are 5 to 10 years behind their parents in terms of starting their careers.  They also start out with a significant amount of student debt that was not really an issue for any previous generation (certainly not to the level we are seeing with student debt far surpassing credit card debt).
This weakness in employment markets is reflected in the underemployment rate: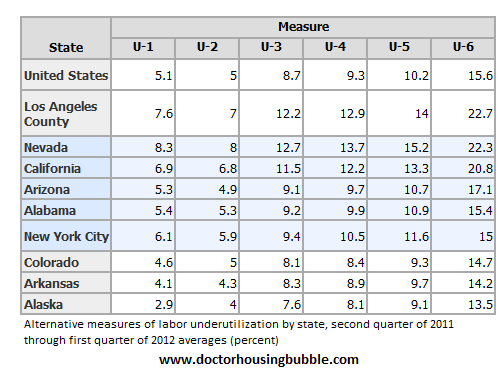 This data might be surprising.  Los Angeles with mid-tier market prices has one of the highest underemployment rates in the country.  The underemployment rate in Los Angeles is 22.7 percent while economically hard-hit Nevada is at 22.3 percent.  California overall has an underemployment rate of 20.8 percent.  Employment absolutely matters.  The last couple of years the housing market has been held together with FHA insured loans that bring back low-down payment mortgages and the Federal Reserve buying trillions of dollars in mortgages to keep rates artificially low.  If you didn't notice, rates made another record low this week.  Yet rates are not truly reflecting the real risk in the market and you already see that rates do not have the power to suddenly increase home values because people still have to document income to take out a loan.
This does boil down to a household income issue and consequently an employment issue (it always did).  From 1997 to 2007 the bubble in home values did not reflect solid wage increases but a flood of easy to get loans where a pulse was the only requirement to buy.  With all of that removed, we have had 5 million completed foreclosures and trillions of dollars of faux equity evaporated into thin air.  Prices are back to levels last seen a decade ago and 10,000,000 homes are underwater with another 5.8 million in foreclosure or with at least one missed payment.  All of this in spite of historically low interest rates and low down payment products like FHA insured loans.
Take a look at Japan and compare it to the US: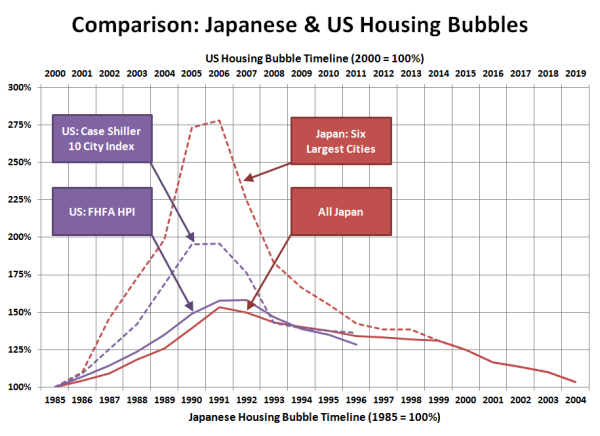 Source:  Seattle Bubble
Nothing plays out exactly the same but we do have many similarities with Japan:
-Massive number of zombie banks

-Central banks artificially keeping interest rates low

-Giant real estate bubble followed by a bust

-A younger generation that will likely be poorer than the current generation selling
Nothing in history repeats exactly.  Yet for home values to recapture that peak, housing prices would need to rise by 50+ percent.  When are we ever going to capture that price again unless wages rise?  Interest rates are reaching levels that are below inflation and we risk more dramatic problems because of this just to support bank balance sheets.  Ultimately home values will once again become a boring local commodity that provides shelter.  In many markets that already seems to be the case.  In many other markets tiny bubbles flourish and people keep saying "it is different here" until clearly it is not.

Did You Enjoy The Post? Subscribe to Dr. Housing Bubble's Blog to get updated housing commentary, analysis, and information.