US home prices have once again made a post-bubble low in spite of all the artificial intervention and massive bailouts to financial institutions.  The bottom line unfortunately is that US household incomes have been strained for well over a decade.  You can slice it up by nominal or inflation adjusted data but household incomes have been moving in a negative direction during the 00s and continuing into this decade.  Keep in mind there is a massive pipeline of problems still in the housing market with over 5.5 million mortgage holders in some stage of foreclosure or simply not paying on their mortgage.  This is more than a housing crisis but a crisis of quality job growth.  At the core, that is truly the problem.  There are markets in the US that are still correcting severely even after record breaking declines from their peaks reached in 2006 or 2007.  Some of these markets are approaching two lost decades which seems stunning but again, this reflects weaker household balance sheets.
Correction still hitting major metro areas
While the US housing market overall did make post-bubble lows, there does appear to be some bottoming out in certain areas.  For example, Detroit saw year-over-year prices move up by 1.5 percent.  Then again, the median home price in Detroit is in the $60,000 range.  But overall the correction seems to be continuing as the large shadow inventory works its way through the market.
When looking at the hardest hit areas, it is interesting to see a mix of low price metros and two very expensive metros taking the biggest annual declines: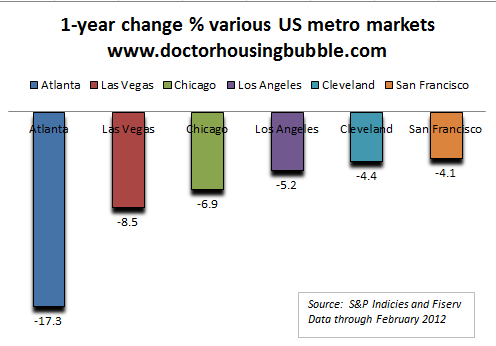 Atlanta was absolutely slammed in the last year.  Home prices have fallen by 17 percent only in the last year driving home values back to 1997 levels!  This is for a very large metro area plagued with massive numbers of foreclosures.  Atlanta was the only large Case-Shiller tracked metro area to have a double-digit annual decline.  The second biggest hit came to Las Vegas.  I've talked about this market in the past and cautioned people from diving in before doing careful due diligence.  The market has fallen another 8.5 percent in the last year bringing the total decline from the peak to a whopping 61 percent without even adjusting for inflation.
You also see a handful of large mid-tier markets with Chicago, Los Angeles (including Orange County), and San Francisco falling yet again in the last year.  For real estate in California, the economy continues to be weak and mid-tier home values are still inflated relative to local area incomes.  The mid-tier markets are taking the biggest hits.  For example with L.A. the mid-tier is down over 5 percent for the year but interestingly enough, the high tier has made a new post-bubble low.
The weakness is being driven by the large number of distressed properties being sold.  Even though foreclosure sales are trending lower, this is being over shadowed by a larger number of short sales being ushered through by lenders.  In other words, properties are exiting quicker from the system but they are still distressed.  Lenders have a front row seat to what is going on and essentially what they are saying with a swarm of short sales is they believe home prices in the intern will be going down.  Why else would you want to exit at this moment if you believed home prices would be soaring shortly?  Bank balance sheets are still inflated with poor performing properties and what the Case-Shiller report shows is there is likely to be little support for higher prices anytime soon.
Take a look at the nationwide data here: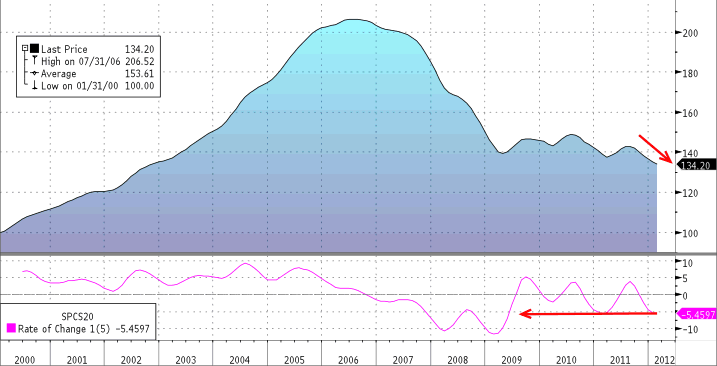 Source:  Zero Hedge
If you look at a chart like the above, what is the major impetus to rush out and buy in 2012?  The trend to the contrary is showing weaker prices and lenders are openly discussing that more shadow inventory will be leaked into the market.  Certainly short sales are not going to prop prices up.  Here in Southern California, the number of MLS short sales is growing and this has been a big story for 2012.  I also realize that some folks think they are going to get a Beverly Hills property for $200,000.  That is not going to happen.  The biggest long-term driver for housing sustainability is going to be local area incomes and prices in places like Corona Del Mar for example will remain high for the average person because people do have high solid incomes in these markets.  A $4 million home going to $2 million is not exactly going to open the floodgates.  Those that pretended and over extended will be washed out of the market in the next few years but make no mistake, there are pockets of high priced housing that justify a high price simply because local incomes are able to support prices.  The mid-tier markets are the areas that are subject to the biggest shocks in the next year or so.  The issue is that many in mid-tier markets somehow believe they are in some of these tiny luxury markets (they are not).
Not sure if it got missed in all the news coverage but the California unemployment rate is back up to 11 percent meaning the underemployment rate is above 21 percent: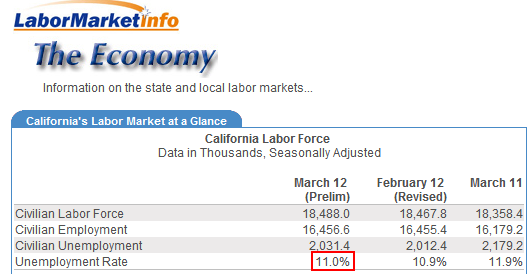 If you want to see leading indicators for solid potential growth look at unemployment but also the quality of jobs being added.  No use in having everyone working at K-Mart and trying to buy a $500,000 home.  The crashing markets of Atlanta and Las Vegas simply show that economic growth is not able to support current home prices even in cheap metros.  The lower prices in Chicago, Los Angeles, and San Francisco reflect the correction in the mid-tier markets.  What impact will 5.5 million distressed and foreclosed properties have on the market going forward?  So far, it has been to push prices lower which isn't a surprise.

Did You Enjoy The Post? Subscribe to Dr. Housing Bubble's Blog to get updated housing commentary, analysis, and information.