The US housing market is one of the most heavily subsidized and controlled sectors of our economy.  Where Fannie Mae and Freddie Mac had an implicit guarantee for decades, until we took them over, the FHA insured loan segment of the market is fully backed by the government and consequently, the public.  Increasingly high default rates with FHA loans is now problematic since this is one of the key financing tools used to keep the market afloat since the bubble popped.  It is good to take an elevated view of the housing market across the country and also look at the California market to get a sense of where things stand today.  Is the market fully recovering?  Are we near a bottom?  Have lower rates really spurred home sales?  We'll try to examine all these questions.
Chart 1 – new home sales and mortgage rates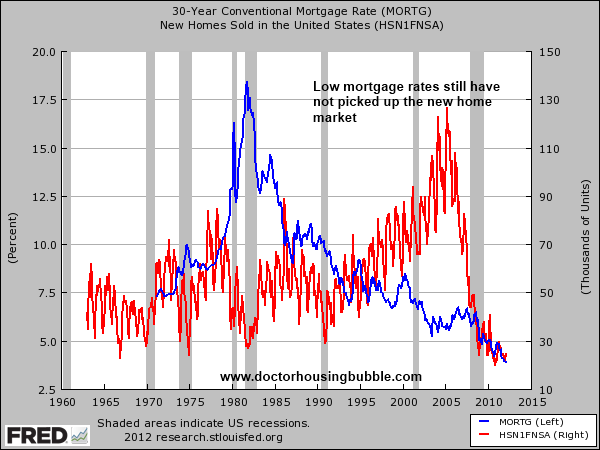 Mortgage rates are at historically low levels.  But as you can see from the chart above, this has done very little to help the new home market.  Low rates have largely helped many to refinance and for others to stretch into homes they otherwise could not afford.  The Federal Reserve over the last few years has grown its own balance sheet to nearly $3 trillion in a mix-mash of items including other mortgage backed securities.  No one in the open market is willing to finance these loan products including the too big to fail banks.  We are seeing fractures in this already.  The Fed has slowed down with MBS purchases and FHA loans will become more expensive because of staggering default rates.
Low rates, lower prices, and still new home sales are at historically low levels.  If we simply look at the chart above lower interest rates did not aid the new home sales market.
Chart 2 – home vacancy rate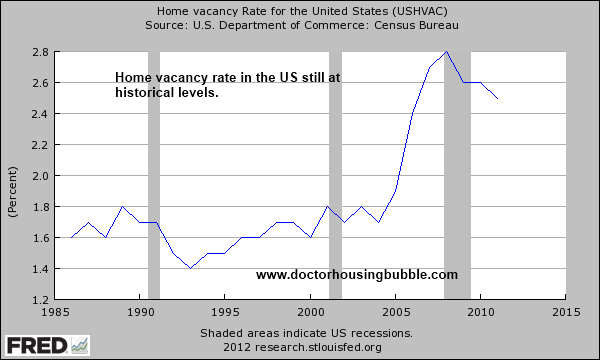 The US still has a large number of vacant homes.  It will take years to get back down to a more normal vacancy rate.  Part of this comes with the shadow inventory.  The vacancy rate is being artificially boosted up because the market has been controlled by the Fed, government, and banks.  The demand right now from the public with their incomes is for lower priced homes.  New home sales, with higher price tags, are not selling as the first chart highlights.  People would buy if prices made sense based on their household incomes.  The risk of subsidizing the market with the ballooning Fed balance sheet and subsidizing the housing market is we misplace our focus on other competitive parts of our economy.  Are we really going to be that much stronger of an economy with trillions of dollars pushed into the housing market simply to bailout the too big to fail banks?  Certainly it did not help to keep home prices at peak levels but we will find out in the years to come because this is the exact policy we have engaged in.
Chart 3 – construction and new home sales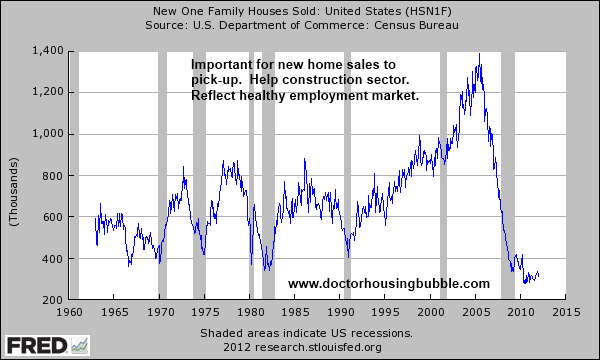 I think it is important to examine how bad things are in the new home sales market.  We keep hearing how little inventory there is on the market and some preach this as if it were a gospel and don't bother to point out the obvious.  But realize that low inventory is completely artificial.  Why?  First, big home builders are in the market to make money.  They are quick to respond to market trends.  Don't you think that new home construction would be rising if this were the actual case?  Low inventory would be like a siren call for new home builders.  Yet housing starts are still near record low levels.
The low inventory comes from the shadow inventory and suspension of mark-to-market accounting.  So in truth, the bailouts were about giving too big to fail banks full control of manipulating the market and stunting market forces.  That seems to be rather clear.  Yet this full control has failed to help home prices rise or more importantly, help household incomes rise.  To get sales overall to increase the tactic has been artificially lower rates, questionable mortgages via FHA insured loans, and severely restricting inventory.  Funny how the banking "capitalists" suddenly become U.S.S.R. wannabes when it comes to their own balance sheets.
Chart 4 – California home prices and jobs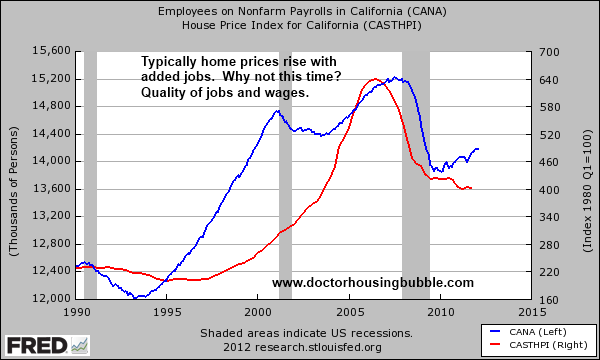 California home values are now in a lost decade.  The above chart highlights total nonfarm employment and home price growth.  You'll notice the early 1990s bubble which looks like a tiny blip on the radar compared to the current bubble.  Employment fell and so did home prices.  In 1995 employment started picking up and home prices followed.  Keep in mind all the high paying tech jobs that were added during this time as well.  In the 2000s there were many high paying jobs tied to the housing market.  The bubble burst first and employment followed.  California has been adding jobs now but home prices still are moving lower.  Why is this different today?
I think a couple of reasons are playing out.  First, many of the added jobs today are in lower paying fields.  Second, there is the shadow inventory steadily dripping out a stream of distressed properties.  The tech bubble and housing bubble have provided high paying jobs to many for two decades.  There is no bubble anymore in any large enough sector to sop up this lag in employment.  Many of the jobs being added today come in the lower wage fields.  So this is why we are seeing home prices trickle lower and employment slowly moving up.
Chart 5 – California home ownership rate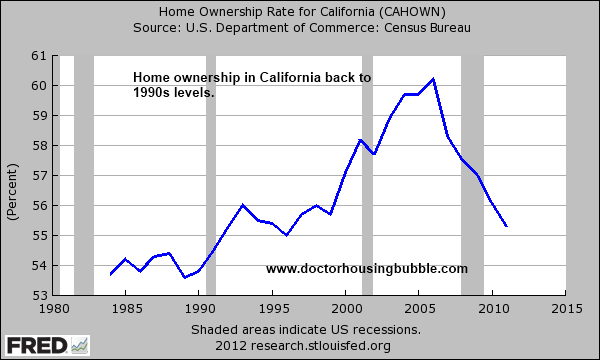 The California home ownership rate is now back to early 1990s levels.  It is important to note that the market is still heavily subsidized via FHA insured loans that make up roughly 1 out of 3 home purchases in California.  New guidelines starting this month will make FHA insured loans much more expensive through mortgage insurance and premiums that need to be added because of rising defaults.  So this main entry point is going to get more expensive and incomes are still stagnant.
Buying a home is not a simple decision.  When it turned into a decision like purchasing a banana people started diving in with little thought.  A low down payment with current loans is going to cause additional problems and likely, another bailout.  I'm not sure if people realize all this has long-term consequences for our nation.  Diverting incredible amounts of money to protect the financial sector is costing us in many profound ways and more importantly, will hit us down the road.  After all, low interest rates are a product of the Fed buying up trillions of dollars in MBS and now that the market is conditioned to low rates, will they continue to do this forever?  Their balance sheet is already approaching $3 trillion when in normal times, it didn't even crack $1 trillion (and the assets they had before were typically high quality US Treasuries).
Housing nationwide with a median home price of $160,000 is much more reasonable.  And maybe that is the point.  Stabilize the nationwide housing market and allow a methodical price decline in mid-tier markets across the country as we are seeing here in Southern California.  The mid-tier markets are heavily dependent on the low interest rates and manipulated inventory.  We have seen signs in the last couple of months that this is changing.  Ironically, these small markets will not even make a dent in the nationwide stats if housing throughout the country picks up.
Spring and summer are the big selling seasons so we'll see how things begin to trend out shortly.  What are you seeing in your local markets?

Did You Enjoy The Post? Subscribe to Dr. Housing Bubble's Blog to get updated housing commentary, analysis, and information.