It might be hard to believe that home prices have been falling for half a decade now.  What some have a harder time grasping is the idea of lower home prices in the defiant face of a Federal Reserve pushing interest rates into artificially low levels.  The truth of the matter is many regions especially in California remain in bubbles and these areas are entering a second round correction as more distressed properties are brought to market.  We have some troubling data coming out showing a reversing trend nationwide for home prices but also a more significant correction in bubble states.  Wishful thinking would like to believe that home prices will simply move up because that is how things were done for decades and some wish to relive the days of Leave it to Beaver.  Yet we are truly in a new paradigm and household income in the United States has actually fallen for more than a decade and with interest rates at record lows, the only thing that can give is the price of a home.  Let us examine some of the trends currently hitting the market.
Bubble states entering a strong correction
One of the recent changes I have noticed in California has been the aggressive pricing of short sales.  This was not the case even one year ago.  Even in the summer of 2010 when tax credits and other gimmicks were used, many of those on the fence decide to take the plunge based on short-term artificial dynamics.  That short boost has now completely evaporated: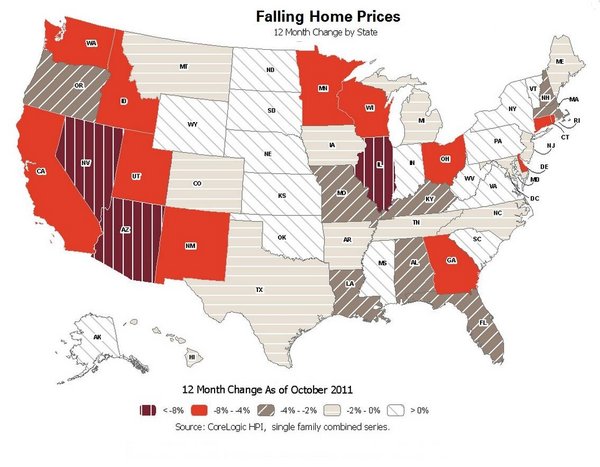 Source:  CoreLogic
The above chart was released this week and shows home price declines over the last year.  The west is not exactly doing well.  This loss is compounded with the first round that hit after 2007.  I would argue that home prices are still inflated in many California cities and we are starting to see more aggressive pricing coming from banks moving short sales and REOs.  If high prices were the name of the game banks would not need to work with distressed inventory since sellers would simply be able to offload properties at a higher price.  Of course the non-distressed inventory is plastered with inflated home prices and many markets in California are simply adjusting to more realistic measures and this is why lower priced distressed inventory is largely dominating the market for sales.
A new shift in income and housing economics
It is amazing how some people will argue simply to justify their own high priced home purchase.  Consumer behavior is fascinating and it reminds me of the conversations I had with people back in 2005, 2006, and 2007 who couldn't stop talking at cocktail parties about the equity they were gaining each month as if they suddenly had the Midas touch for real estate.  Some that bought in the last two years seem to justify their purchase based on low rates and a lack of understanding of housing economics.  Let us look at hard data here: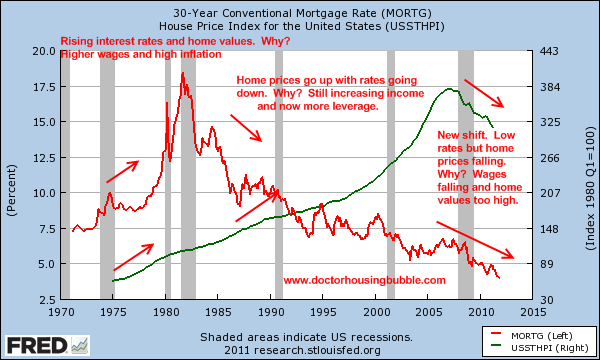 I went ahead and annotated the chart above to make it abundantly clear what was occurring.  From 1970 to the early 1980s home prices and the 30 year conventional mortgage rate all went up.  Why?  Inflation was rampant but also household wages were going up.  In the end it was a wash.  Then, in the 1980s through 1990s you see mortgage rates move lower and home prices still move up.  For these 20 years, you had a bigger comfort at taking on more leverage with bigger and bigger mortgages but also, incomes were moving up.  Then, the bubble takes a hold in the late 1990s and wages did this: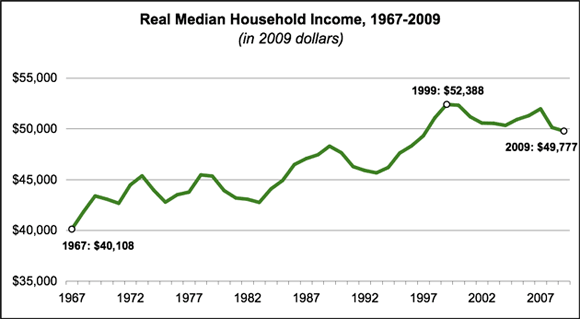 So while interest rates kept going down thanks to the Federal Reserve household incomes contracted strongly all the while home prices kept going up.  For some it didn't feel like a contraction because they were putting it on the credit card, taking out an auto loan, or flat out tapping into home equity.  In essence it was papered over with debt but you need to pay it back!  Of course this peaked in 2006/2007 depending at what we are looking at and since then home prices have been going down.  Interest rates are at record lows.  The Fed is underpricing risk yet again just like Greenspan did in lowering rates and actually igniting the housing bubble.  Two things can happen here:
-1.  Household wages go up and home prices remain or increase (this would require healthy job growth in good paying jobs and not putting people to work at Wal-Mart and Dollar General).

-2.  Household wages remain stuck or fall and home prices go lower (this is the pattern that has played out over the last 12 months.  The big wildcard is if risk ignites and interest rates shoot upwards and this can push home prices lower much faster).
These are the only two options with rates at historically low levels.  I heard a couple of people argue that higher interest rates will make home prices move even higher!  This is like saying the poorer you get the bigger your paycheck.
Housing has been contracting now since 2006:
Aside from the little bump in the summer of 2010, home prices have gone negative year-over-year since 2007.  Anything under that red line means lower home prices.  Home prices cannot operate in a closed arena.  That was the mistake of the housing bubble.  Toxic mortgages and blindly following decades of slow but steady rising home prices gave way to an orgiastic rise in home values even while in the background Americans were getting poorer and poorer.  It was all an illusion built on unsupportable debt and that popped.  Europe is dealing with this right now and we will be dealing with it sooner than many think (i.e., remember the debt ceiling circus?).  The only thing that can change this is a growing real economy yet this is not occurring.
Making predictions in the short-term is a losing game unless you have inside connections.  But on a longer scale, we can derive a few things if we know a bit about history.  From here on out, there will be sizeable defaults and attempts to increase inflation to wash away trillions of dollars of debt.  Yet people are waking up and realizing that the game is largely rigged and money is only as valuable as people are willing to believe.  Think of the $300,000 home in Las Vegas now selling for $80,000.  What physically changed in the structure in the last few years that made the home fall so dramatically?  Confidence.  The same psychology is playing out all over the country.  People rarely think twice about diving into debt if they feel an asset will appreciate.  But what if the odds are it will fall?  What if money is harder to come by?  Now you have a tougher investment decision and the charts above reflect this change in perception.
I have yet to see any solid forecast showing why home prices will go up in the years to come.  To be a contrarian just because you read this in a fortune cookie is nonsense.  This is a new paradigm.  Household wages, demographic trends, and unsupportable global debt point to tough economic times in the next few years and the last 12 months only confirm that.  Oh yeah, and what about the 6 million distressed properties that are still floating out in the market?

Did You Enjoy The Post? Subscribe to Dr. Housing Bubble's Blog to get updated housing commentary, analysis, and information.