I'm not sure why a few are looking at real estate as some safe haven from hyperinflation.  Do they even know what hyperinflation looks like?  Let us set aside the reality that since the crisis hit with a full frontal attack and the bubble popped in 2007 we have been living through a debt destruction deflationary period.  All the Federal Reserve gimmicks and banking bailouts, trillions of dollars of digital funds, have largely gone to the financial sector with little relief to households.  The data is rather clear and what we have seen is a shattering of household net worth primarily with real estate while bailout funds have gone to plaster over the Swiss cheese like balance sheet of banks.  As absurd as the hyperinflation argument is, I think it is worth examining as a thought experiment what may happen to U.S. real estate going forward under various scenarios.
The hyperinflation allure of real estate
As bad as things are in our economy some people need to look at the data and figure out if we are dealing with a duck or a dog.  Hyperinflation as defined by some economists is a cumulative inflation rate over three years approaching 100%.  There is absolutely no current evidence of this happening in the U.S. and in fact, if we look at the last decade we are closer to seeing a deflationary pattern similar to the lost decades of Japan.  So we might as well speculate what would happen to real estate values should Martians land in California and suddenly find Malibu the place to be.  Yet I think this thought experiment holds merit and also demonstrates how little real estate would matter should hyperinflation take hold.
Let us examine one of the most extreme cases of hyperinflation with the Weimar Republic: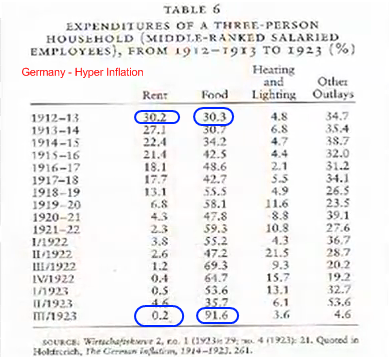 In 1912-13 a typical German family was spending 30 percent on rent and 30 percent on food.  The typical American family today spends roughly 40 percent on housing and 15 percent on food as a comparison.  Yet as you can see from the data, housing is largely irrelevant once hyperinflation started taking a hold from 1915 to 1923.  By 1923 this typical family was spending just 0.2 percent on rent while food consumed 91.6 percent of household expenses.  Why does this occur?  When you have a currency that is largely becoming worthless housing takes a back seat to more pressing expenses like food.  We are clearly far away from a scenario like this in the U.S. but those who use hyperinflation as some kind of loophole for housing values largely miss the entire bigger picture should hyperinflation ever take hold (we have absolutely no evidence even remotely showing this of course).
Think about it, who would even be thinking about housing values should something like the above occur where food is consuming the bulk of your wages and the currency is in full turmoil?  Talk about delusional housing pundits and those who recently bought trying to justify their purchase by bringing up hyperinflation!  Now that takes some psychological power of selective information.
Wages for last decade
Back in reality, household wages have gone negative for the past decade: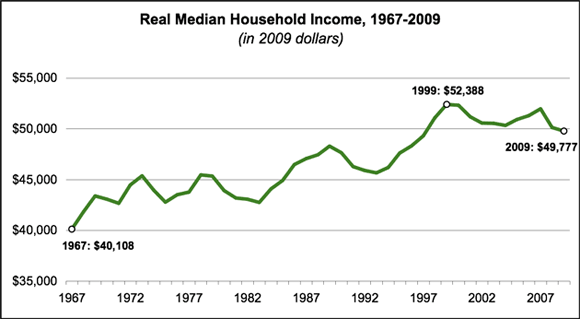 And the large growth from the 1960s to 1999 was largely based on the two income household expanding: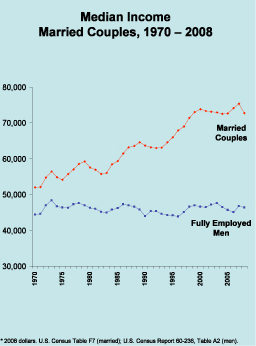 So now with both partners running at full blast household income is still shrinking.  The only reason home values don't move lower is because of the Federal Reserve strangling rates lower and banks flat out aggregating properties in the shadow inventory.  Yet households would be better off with more affordable housing to reflect lost wages.
The irony of the situation is that the banks and the government are actually keeping home values unaffordable for many.  If wages are dropping in a wealth destruction deflation then this is what would normally happen.  This is why with trillions of dollars in quantitative easing, mortgage buy backs, bank robbery, and other toxic waste in the financial system real estate values have done this: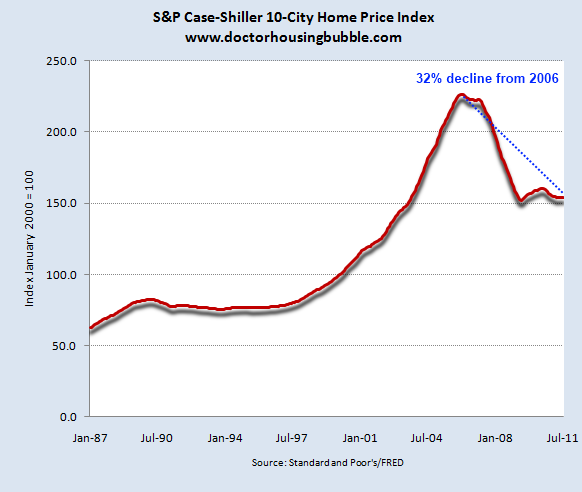 Sure looks like inflation or hyperinflation to me in the real estate sector!  Home values across the country are down over 30 percent from their peak.
Household wealth destruction
At the trough in 2009 of this crisis U.S. household wealth fell by a stunning $16.4 trillion dollars.  With the stock market recovery the loss is now back to over $7 trillion but guess what?  Real estate values, the store of most American's net worth, are still near the trough.  Stocks make up the bulk of wealthy household balance sheets, not real estate: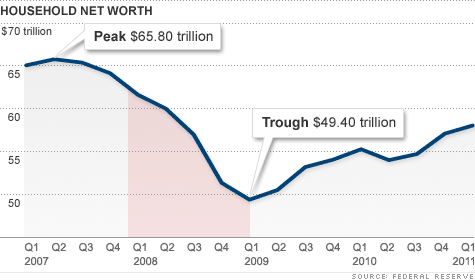 Source:  CNN, Fed Flow of Funds
With all this destruction in debt, which is another form of money in our modern day system, U.S. households are still much poorer and are looking like they did over a decade ago.  Wage growth is virtually non-existent so where will the power to push real estate values higher come from?  I'm not sure some people have thought this through.  And with local governments and municipalities hurting, you can rest assured taxes will be going up.
The data show a case more similar to Japan for our current trajectory.  But let us examine the inflationary argument.
1970s and today
Some people point to the 1970s as a time where real estate values raced higher in conjunction with high inflation.  The 1970s also had the rise of the two income household and the flood of baby boomers buying houses.  Let us look at inflation and home values during this time: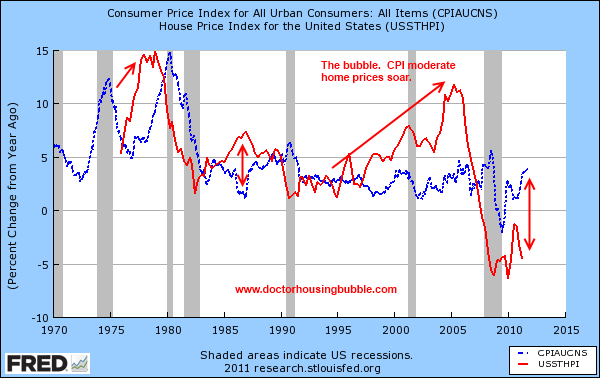 What you will see is that inflation and home values tracked each other during this time even with double-digit inflation.  What the graph doesn't show is that wages were also growing during this time.  That is something we do not have for this decade: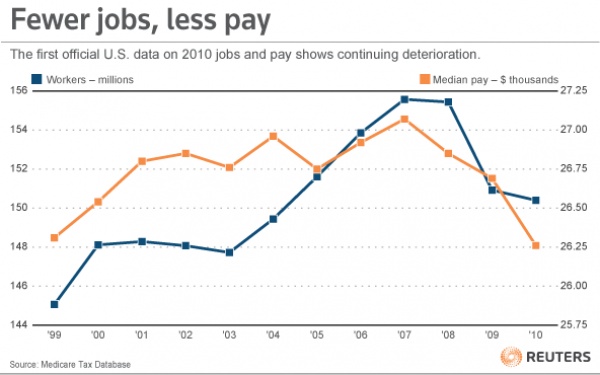 Source:  Social Security, Reuters
But going back to the previous chart, you will notice in the mid-1990s home values completely disconnect from the inflation rate and this peaked out in 2006.  After this period home prices cratered and for the first time in many generations did we see national real estate values fall on a year over year basis.  The last time this happened was during the Great Depression.  But look what we now have.  You will see inflation is slightly ticking up but home prices are still anemic or going lower.  Why?  There are multiple reasons for this trend but first, wages have gone negative and the job market is still weak.  We are 7 million jobs in the hole since the recession started and wages reflect this pain.  The U.S. dollar is being devalued by the Fed so imported goods increase a bit in price, food certainly has gone up, and so have other items like the bubble in college and fuel.  Yet home values remain stagnant.
So even with slight inflation, unless wages increase home values will likely move lower.  More to the point, many markets are still largely in housing bubbles and have yet to even correct in any noticeable fashion.  Some make the absurd argument that they will buy and simply walk away should home values move lower again.  It may not be so easy down the road and deficiency judgments may be more common down the road especially when the dust settles.  Keep in mind the majority of those losing homes in foreclosure don't have much to their name in resources. Those that make the assertion that they will simply walk away have a few nuts stored away like a squirrel.  Think the banks and government won't come after that especially when you strategically default?  What an odd corrupt system we currently have.  You have scammers on both ends of the spectrum and the prudent segment of society is getting squeezed dramatically.
With the above evidence we can say that deflation or low grade inflation seems to be the path forward.  Hyperinflation is just another dubious argument trying to scare folks into buying with very little rationality.  Remember the "homes are going up 15% a year!" or "it has never been a better time to buy" arguments?  For some it is always a good time to buy even when they make up history and have no grasp of basic behavioral economics.

Did You Enjoy The Post? Subscribe to Dr. Housing Bubble's Blog to get updated housing commentary, analysis, and information.