This week the 30 year fixed rate mortgage entered into supernatural territory breaking the 3 percent barrier.  The Federal Reserve is getting its desired result of pushing mortgage rates into the absurd.  Yet rates have been low throughout the entire housing crisis and for most of the last decade.  Access to cheap debt is not some kind of Holy Grail of housing.  This year we have seen mortgage rates break records almost on a weekly basis.  So why is the housing market not reviving?  In spite of all this cheap debt households in large measures have lost their insatiable appetite for housing but more importantly, with consumer debt.  Some are simply trying to make ends meet.  For the past five years the obsession has been on banking policy and forcing mortgage rates low.  The only true winners with this policy move are the banks who continue to hoard millions of properties in the shadow inventory so they can inflate their gluttonous balance sheets.  Housing is likely to experience weak performance deep into 2015 for a variety of reasons.  Let us lay the case out and you be the judge.
Artificial demand can only hide so much
The housing market is largely being held up on the back of the Federal Reserve.  Since the crisis hit, the Fed has bought up over one trillion dollars in mortgage backed securities: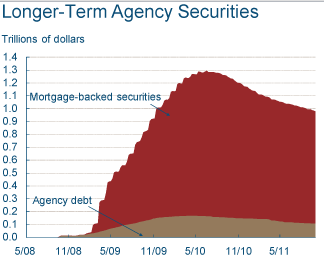 Why would the Fed do this?  To keep mortgage rates artificially low.  At the same time, it also inflates home prices since it allows home buyers to leverage without taking on the true risk of their purchase.  The most disturbing thing here is the Fed is setting up a disastrous future.  Markets become accustomed to low rates.  The initial injections and programs were meant to be temporary.  Clearly it is more than temporary as we have gone from TARP, TALF, Maiden Lane, QE1, QE2, Operation Twist, and a multitude of other programs to essentially bail out banks.  Banks have a front row seat as to what they have in their gloriously inflated balance sheets.  The fact that the shadow inventory is still over 6,000,000 properties tells us a lot.  Even with mortgage rates at comical lows, there are still over 10,000,000 properties with negative equity.  A Pinto with a zero percent loan is still a Pinto.
Another telling sign that banks know things are worse than expected from their nicely printed and collated 10-Ks is the amount of mortgages that are now government backed: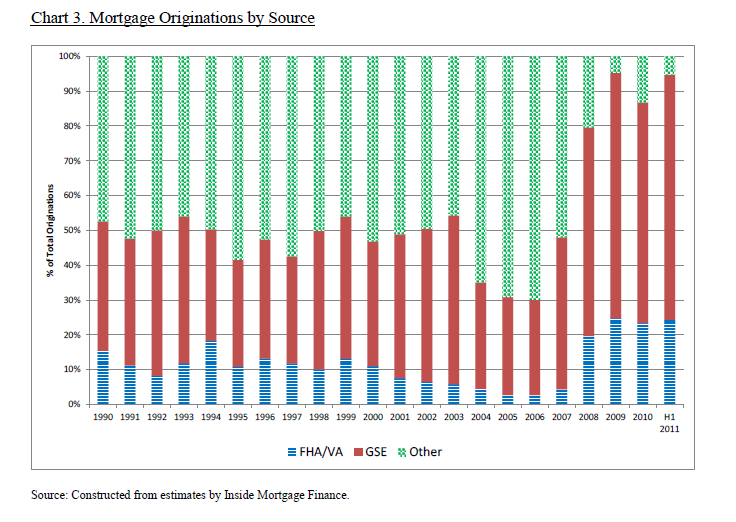 This is a fascinating and telling chart.  In 1990 FHA/VA and GSE loans made up roughly 50 percent of all loan originations.  This remained the story for the entire decade.  The private sector got incredibly hungry with their toxic loans in 2004, 2005, 2006, and 2007.  But look at 2008 up until today.  For the last three full years, government backed loans made up over 90 percent of all loan originations.  This is simply unsustainable.  We saw what happened when banks took on too much risk in the housing market.  Since banks are still originating these loans yet pushing them off to the government balance sheet, why are we suppose to feel comfortable?  At the same time, what use is there having these middlemen when virtually the entire market is cannibalized by government loans?  Banks for the last three years have been absent in the mortgage market.  So what were all those bailouts for?
The bottom line is that banks do have loans to offer if you have excellent credit, solid household income, and a sizeable down payment.  Yet the vast majority of Americans do not have this and need to be enticed with low down government backed loans with artificially low mortgage rates just to buy a home.  This is like offering a coupon to buy a Mercedes.  Even with this inspiration home sales continue to languish.
The lack of construction jobs and new home growth
There isn't exactly a good or bad time to have an economic bubble.  Yet having this massive housing bubble on the cusp of millions of baby boomers downsizing has been a recipe for disaster.  There isn't the large new household formation demand that some would have expected.  We also built out for a trend that never came: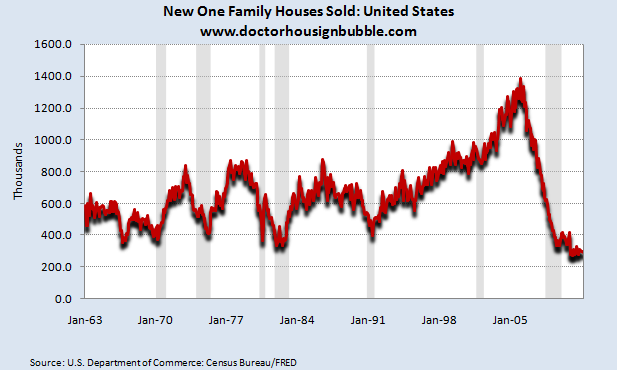 The new home market has completely imploded.  Even with all the above intervention from the Fed and banks storing shadow inventory in their taxpayer funded pockets to make it look like supply is really smaller, there is little demand for new homes.  Why?  First, new homes tend to be more expensive and right now buyers are price conscious and demand is coming from the distressed side of things.  Distressed properties sell for much cheaper.  As the chart above highlights, things have gone south from 2006 and haven't turned back for new home sales.  It certainly isn't because of high interest rates: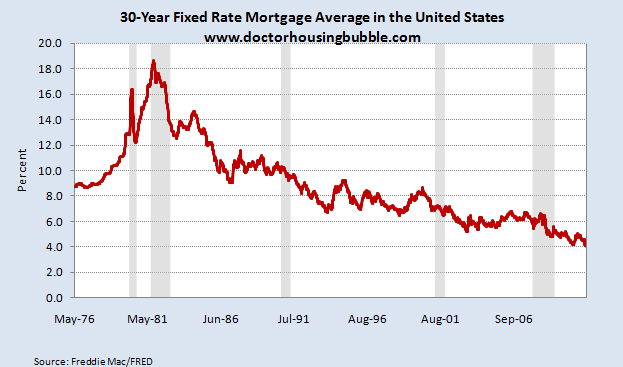 The 30 year fixed rate mortgage broke into the 3 percent range this week.  Great news right?  Well as we all know there is no free lunch.  The Federal Reserve makes no secret that they are artificially pushing rates lower.  Rates have been negative, meaning they are under pricing true market risk, since the crisis hit in 2007.  For five years they claim that this is to help home buyers and home sellers but the data only shows that this has gone to help the largest banks.  Why?  What has this done for the over 10,000,000 underwater homeowners?  Millions have already lost their homes.  These policy measures don't help because they don't create better jobs or larger paychecks.  That is the bottom line.  It also keeps banks from facing the ills of their decade long bad bets on the housing market.  Markets run well when transparency is open.  Today, the housing market is very asymmetrical.  What you see on the MLS for example, is not the true supply of housing on the market.  Psychology is a big player here since many potential buyers realize this.
Home prices are pretty much stuck and may make a move lower: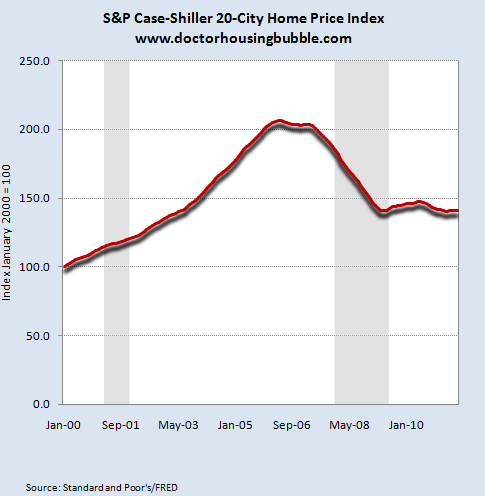 There has been some recent movement on the shadow inventory front.  Home prices have been moving sideways for nearly three years and are getting closer to an official lost decade.  It is safe to say that home prices will either go lower or move sideways deep into 2015.  Why?  First, household formation hasn't been as high as one would expect.  The recent Census data shows that between 2007 and 2010 household formation has been running at roughly 500,000 units per year.  This is much lower than the 1.3 million average per year from 2000 to 2010.  The recession has shifted people into doubling up or simply from forming new households.  In the 1990s this rate was at 1 million.
Someone sent over a great analysis by Laurie Goodman with Amherst Securities.  Ms. Goodman testified to Congress on September 20 and has excellent data on the shadow inventory: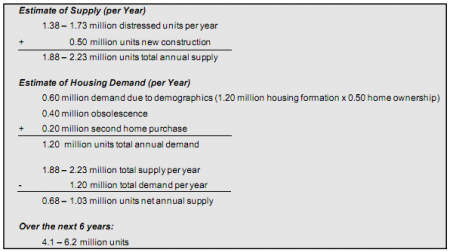 In essence, because of the slow household formation, distressed inventory, and construction figures we are looking at adding 680,000 to 1 million properties to overall inventory each year.  In basic economics this means we have more supply compared to demand.  When this occurs prices get pushed lower.  Given the size of the shadow inventory I simply do not see us clearing out the 6,000,000 distressed properties over the next four years without prices taking a hit.
Affordability versus denial
The added jobs came as a positive although digging deep in the report, we find a couple of continuing problems.  The bulk of jobs come from lower paying fields and you have many people simply entering the part-time labor market but looking for full-time work.  Will these people pick up the jumbo shadow inventory properties of $500,000 to $1.5 million?  Of course not.  Even low rates on debt are not enough to make up for weak household income.  That is why in some markets prices are simply entering their next major correction phase while prices for the overall country may move lower but not so dramatically since prices have already cratered.  In other words markets in Nevada and Arizona that are selling at a blistering pace but with 60 and 70 percent price cuts may reach an affordability bottom much quicker while places like California and New York are in solid bubbles still.  For example, I've seen condos and even some homes in Nevada going for $50,000 or $60,000 and even with a retail job and a 3 percent mortgage this is doable.
What about our educated work force?  As a nation we are more college educated but deeper in debt as well.  In the past boomers were able to enter a healthier workforce with virtually no college debt and simply buy a home that was already moderately priced because no insane bubble was in place.  Today the next generation is buying homes with giant student loan debt and home prices that are still inflated in many places.  And the return on education in terms of salary isn't really carrying the power it once did: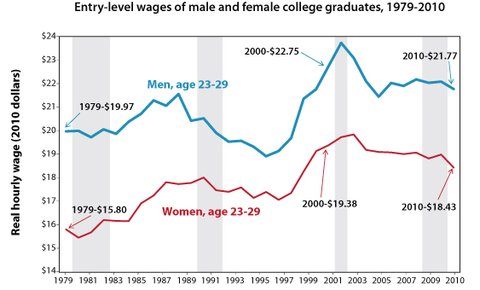 Source:  NY Times
You can see that the hourly wage peaked somewhere around 2000 for college graduates.  And we expect these people to pay top dollar for homes?  Even if they wanted to they couldn't.  All these factors combined point to a weak housing market for years to come.  I wrote an article over three years ago talking about the coming lost decade for California real estate.  Back in August of 2008 I wrote an article stating that Los Angeles and Orange County would not reach bottoms until May of 2011.  At the time there was still no vision that the shadow inventory would balloon to such an incredible level and we were also looking at those very popular reset/recast charts for toxic loans.  All of that happened except behind closed doors with banks.  But guess what?  Prices are at the post-bubble bottom as we write.  Yet in these markets prices will go lower while nationwide prices may only move slightly lower.  When we wrote those articles the unemployment rate in California was 7 percent!  Today it is above 12 percent.
Banks will try to leak out properties as the grim realization that no bubble era part two will emerge even with three percent mortgage rates.  Ultimately jobs and good pay will revitalize home prices but what evidence do we have of that?  Instead we have those in the 25 to 34 age group moving back home many times with large student debt!  This is the peak household formation years.  For all these reasons I really see housing as a drag on the overall economy deep into 2015.  As it turns out, my analysis over three years ago turned out to be optimistic.  How will things look in 2015?

Did You Enjoy The Post? Subscribe to Dr. Housing Bubble's Blog to get updated housing commentary, analysis, and information.