The California housing market is mired in problems.  Listening to pundits and those fixated on the arguments used during the bubble, you would think that California never faced any sort of correction.  In fact, you would think that the biggest housing bubble bursting would have only minute ramifications on the long-term trends of the market.  California was at the heart of the toxic mortgage craze and many odd mortgages like the option ARMs were founded right here in Southern California.  There is absolutely no reason to buy in today's market especially in areas that are still inflated.  But as we have learned buying for many is emotional rather than economic.  Only this time, people have to document their income to enter into a foolish bet.  Even last year, with tax credits and other gimmicks people started betting that it was a solid bottom instead of a sophisticated head fake.  Our argument was that the Federal Reserve and other juicy coupons like tax credits suckered enough people off the fence to give the market a little breather.  The data is now out and it is clear that the market was simply operating on fumes from these fence sitters.
Did the bounce of 2010 hold?
The summer of 2010 seemed to be a bottom if you followed the pundits.  Prices only stabilized because of a few factors:
-1.  Federal Reserve pushing mortgage rates lower

-2.  Enough people on the fence decided to jump back in

-3.  Tax gimmicks
Even with all this rocket fuel the market has burned out: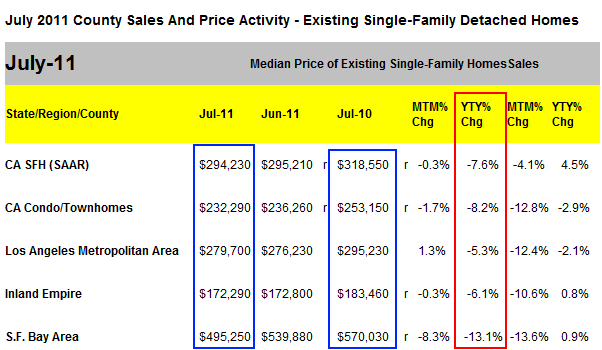 Source:  CAR

Overall California home prices based on the California Association of Realtors data are now down over 7 percent from last summer.  Condos and townhomes are down over 8 percent.  In more inflated markets like the Bay Area home prices are down 13 percent from last year.  What this means is that for the tens of thousands who bought last summer with FHA insured loans they are now part of the ever growing class of underwater homeowners.  Many of these people bought saying, "I don't mind if home prices drop because I want to setup roots for my family."  But deep down many of these people were itching to see bubble prices come again!  I had a couple of people like this e-mail me a few months later in the summer of 2010 talking about the "appreciation" their home gathered in a few short months.  Of course, that kind of discussion is now over in the summer of 2011 as that "equity" has evaporated into thin air.  Just because toxic mortgages are now a sideshow doesn't mean people won't overpay for a home.
I understand the psychology behind buying a home.  But what I don't understand is that there is little evidence for buying right now based on economic fundamentals.  If you want to buy because you are being pressured or need the status of being a homeowner, go for it.  Yet trying to argue that prices are a bargain right now is wishful thinking.  I've argued that if household incomes were rising and the California underemployment rate weren't over 23 percent then we can make a reasonable argument to purchase.  Yet over this time incomes have shrank and unemployment is sky high.  What the unemployment stats don't show is the number of people who left high paying jobs in the bubble housing market making six-figures, for example pushing toxic mortgages, are now working full-time in jobs paying much less.  Either way, the trend in home prices is rather clear: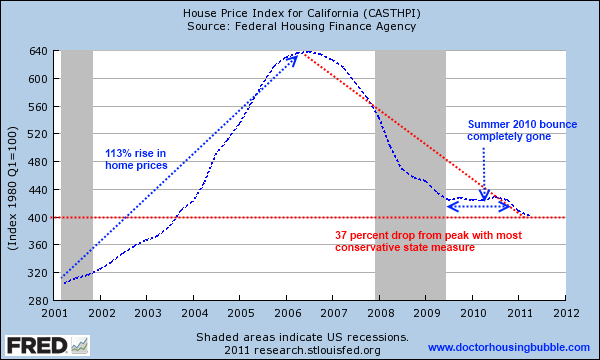 The conservative HPI measure registered a stunning 109 percent rise in home prices for California from 2001 to 2006.  In five years home prices soared by a whopping 109 percent with no correlation in rising household incomes.  There is absolutely no other explanation than it being a bubble.  Yet some want to justify this rise and purchase today even with residual bubble prices permeating many markets in California.  According to the data in the chart above California home prices are now down 37 percent from the peak in 2006 taking home prices back to levels last seen in 2003.  Keep in mind in 2003 the unemployment rate was in the six percent range and the state budget was not experiencing the trauma it is facing today.  What justification is there today for buying a home in inflated markets?  That mortgage rates are at historical lows?  We had lower rates with 1.25 percent teaser mortgages but how long can that last?  Not long because it is unsustainable.  Even if we look at new home sales with historical mortgage rates we realize we are in a different market today: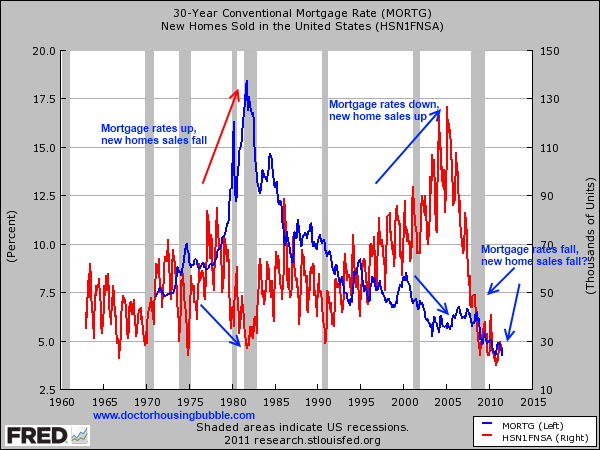 The pattern is typical in that you see mortgage rates rise and new home sales fall or vice versa.  This pattern has held up since the 1960s.  Of course, this pattern has been broken today.  What you see is 30 year fixed rate mortgages hitting record lows yet new home sales are also at record lows.  Why?  Because people are broke or have become poorer than even a decade ago!  Home prices should be a function largely of the household income of Americans.  We are in new territory and given the big events around the global markets buying today is a big bet.  You also have the seasonal factors that fall and winter are typically the slower selling months.
Japan revisited
There are many differences and similarities with the Japanese post-real estate bust market.  What no one can mistake is the price changes after both bubbles burst: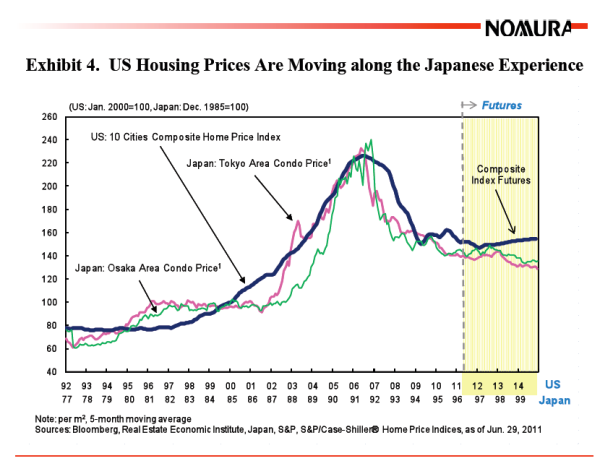 Source:  Richard Koo, Nomura
We are looking at Japanese home prices from 1977 to 1999 versus U.S. home prices between 1992 up to 2014 with futures included.  Those who deny this pattern are flat out delusional and are simply choosing to see what they want.  The data does not back up a miracle rise in home prices.  Keep in mind this is data for the 10 cities of the Case-Shiller Index and if we look at some metro areas in California the bubble is still going on and will pop like it did in Tokyo.  There is little reason to buy in California just like there was little reason to buy in the summer of 2010.  Many of those who bought only one year ago are now fully underwater.  They should be comfortable in the home they purchased because it is unlikely that home prices will be moving up for years to come.
Those that argue that inflation will make home prices more expensive forget the fact that unless we see wage inflation this is not going to happen.  Where is the evidence that households in California are getting richer?  P.T. Barnum, the American showman, once said "there's a sucker born every minute" and this was said over a century ago.  Some things rarely change.  What many also fail to realize is that interest rates can only remain this low as long as the world has faith in U.S. Treasuries and is willing to accept incredibly low rates.  This can go on for a few years but we are already scraping the bottom of the barrel here.

Did You Enjoy The Post? Subscribe to Dr. Housing Bubble's Blog to get updated housing commentary, analysis, and information.