Negative equity is a polite way of saying a homeowner is underwater on their overpaid property.  This is similar language from the financial industry rewording junk bonds into high yield bonds.  Sure sounds better right?  Would you rather be broke or income inclined?  Mr. Orwell would be proud.  Negative equity is now pervasive in our country because home prices continue to make nominal post bubble lows.  There is no mystery as to why home prices continue to decline.  Home prices are inflated relative to the actual income of American households.  As incomes decline further and become eroded by daily living inflation, home prices will come down further as buyers demand lower priced options that meet their household budgets.  Zillow recently came out with a report showing that 28 percent of all homeowners with a mortgage are in a negative equity position.  In other words, they owe more on their mortgage than what the home is worth.  If there is any doubt why the shadow inventory will remain high for years to come, you can look at negative equity as the number one reason.  Yet simply saying negative equity is the main reason for such a high number of distressed properties misses the bigger picture.  Let us examine the negative equity problems permeating across the country.
Underwater nation
The Zillow report was fascinating and I think one of the main things that were missed from the report was the fact that metro areas still in bubbles actually look healthier than they are: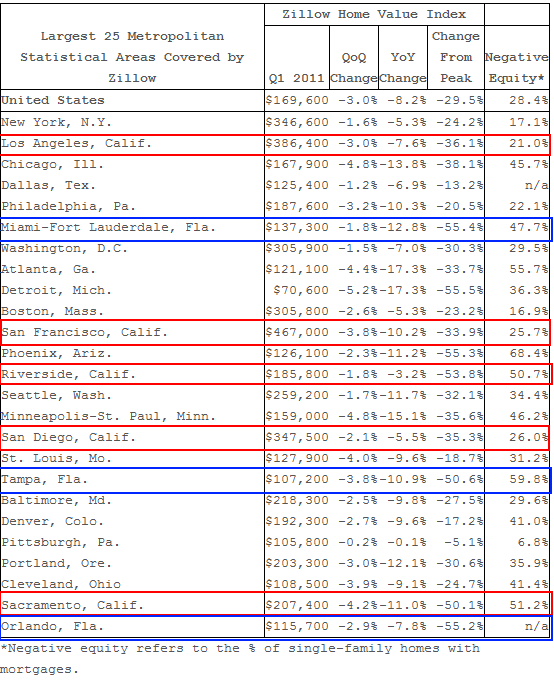 Source:  Zillow
Let me explain more carefully what I mean that some areas on the surface appear healthier than others.  For example, take a look at Riverside California out in the Inland Empire.  The median home price according to Zillow is $185,800 down 53 percent from the peak.  Even with this correction 50 percent of current mortgage holders in the area are still underwater.  Now measure that up with Los Angeles.  Los Angeles has a median price of $386,400 down 36 percent from the peak yet only 21 percent of homes show up as being underwater.  What I would argue is that Los Angeles is more poised for a correction moving forward than say Riverside. Why?  The negative equity is based on recent sales and the bulk of the sales have not occurred in bubble markets like Culver City and Pasadena.  These areas have large numbers of distressed properties that still do not show up on the MLS.  Yet they are now trickling out little by little and these are usually properties that push the median price lower.  As these homes sell, the median moves down and just by this fact the number of homes in negative equity subsequently gets bigger as comps get adjusted.  In other words, we already know Riverside is in bad condition because banks are moving on the shadow inventory at a much faster pace than say homes in Los Angeles.
Or look at the blue boxes above that show prices for Florida.  Nearly every region has seen 50 percent price drops from the peak and current mortgage holders are underwater by 50 percent, similar to the Inland Empire.  Even with the big drop, prices fell by 10 percent or more in the last year!  Does that mean things are in better conditions in Los Angeles or San Diego?  Absolutely not.  What this means is that the bubble is popping in various stages.  We still have pockets of markets where you have delusional sellers and buyers thinking that the days of the housing bubble will be back again.  Remember that this entire housing bubble was driven by a psychological mania.  It was flat out economically irrational.  Trying to bring people to sanity is a hard objective especially when many are addicted to the easy credit days.  Will home prices soar in California?  I doubt it: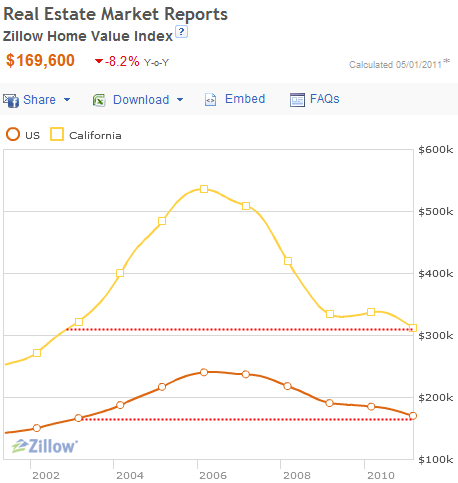 According to the above chart, we are making new lows and home prices in California are back to 2002 levels.  The lost decade is coming up rather quickly.  This is happening because household incomes are not moving up and if you factor in higher education costs, medical care costs rising, fuel, and food you realize that more of the current income is being diverted.  Since being underwater is the biggest indicator of future problems, let us break down the entire California market: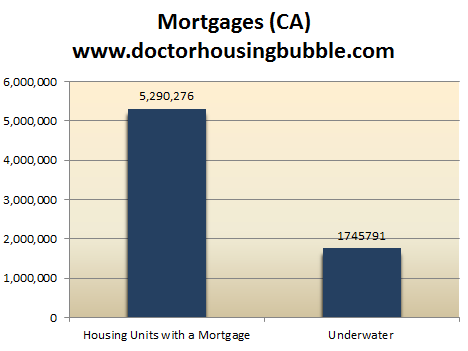 Source:  Census, Zillow
Over 5,000,000 homes in California have a mortgage.  Since the most conservative estimate puts 33 percent of homes underwater in the state we have over 1,700,000 homes that are carrying mortgages higher than the home is actually worth.  Keep in mind that this figure is likely to be higher because many bubble markets like Culver City or Pasadena are still inflated and thus make the negative equity position seem healthier.
Nationwide epidemic of negative equity
This pattern of new lows is not occurring simply in California but across the country: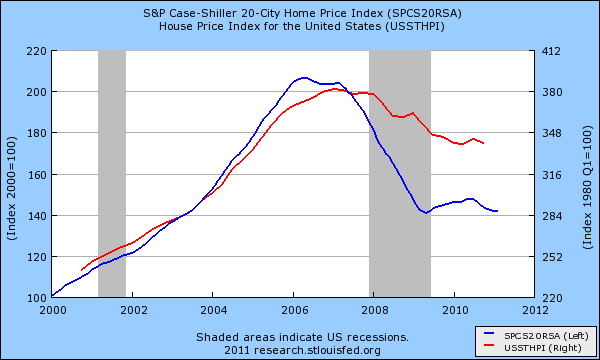 According to various reports home prices have fallen by 7 to 8 percent annually across the entire country.   Did we not hit a bottom in 2010 with all the tax credit shenanigans and the Federal Reserve artificially lowering mortgage rates by buying up securities?  All this did was sucker more people in and given that in places like California where 30 to 40 percent of all purchases are made with FHA insured loans and a 3.5 percent down payment, we just yanked in more people into the negative equity category.  Just run a quick scenario to show how quickly money was flushed down the toilet here:
Purchased in early 2010 California:

Price:                                     $250,000

Down payment:                               $8,750

Try to sell today in 2011:

Price:                                     $230,000              (modest drop of 8 percent)

Commission:                      $13,800

Total net:                             $216,200
This person is now underwater by $25,000 because people forget that you actually need to pay a commission when you sell your home (this is paid by the seller).  And what of the people that jumped into overpriced markets where homes are selling for $500,000 and higher?  No wonder why the economy is still stalled and showing signs of weakness.  The recent jobs that we are adding are largely in lower paying sectors.  How does that keep home prices inflated?  We can add 500,000 jobs a month but if these are lower paying jobs home prices will still come down.
The income side of the equation is largely what is missed in all the banking bailouts that we have pursued in the last four years.  So what if banks have trillions of dollars to lend if you do not have a population with adequate income to service the debt?  That is exactly what we are facing.  The housing bubble especially in California was a self-feeding machine of delusion.  We had job growth in high paying finance and real estate jobs because of the mania so this in turn helped to push home prices further.  Home prices went up thus pushing commissions up and creating more funny money.  It was one giant Ponzi scheme and everyone was making money doing nothing except trading homes back and forth and pretending that a granite counter top and a bucket of paint suddenly made a home "worth" $50,000 more.  When this popped the California economy went down further than many other states.  Keep in mind we have had two decades of bubbles.  We had the 1990s with the technology bubble followed by the 2000s housing bubble.  These created high paying jobs (even if they were bubbles) and thus kept revenues flowing into the state coffers.  What other bubble do we have in store to push home prices up?
In the end negative equity simply is reflecting the tide going out and folks realizing that household incomes are actually stagnant for over a decade.  Even with low interest rates and home buying coupons people can only afford so much.  Banks would rather speculate with taxpayer bailouts on the global stock markets (the returns are better).  In 2010 many were chiming in that the housing bubble had reached a bottom in California and failed to miss the artificial support that was propping the market up. Today at new bubble lows, we are moving down again to a new bottom.  When will we hit the ultimate trough?  Hard to say but not any time soon.

Did You Enjoy The Post? Subscribe to Dr. Housing Bubble's Blog to get updated housing commentary, analysis, and information.