Our current economy is facing unique circumstances.  In no time in our past have we had such a large number of American retiring and living many years post-work.  Average life expectancy in 1900 for a male was 46 and today it is up to 73 (for females it is 48 and 79 respectively).  The baby boomer generation will draw on retirement plans, pensions, and Social Security.  It is also the case that we have never had a housing market like the one we face today.  Never had we had such a widespread bubble and we have never had a market where shadow inventory is actually larger than normal inventory.  That is actually where we stand on housing as of this moment.  It is also the case that we have never gone through such a painful crash without any serious reform to fix the system.  Nothing has changed and this is the biggest financial crisis since the Great Depression.  Speaking of the Great Depression let us walk through significant events over the 1920s and 1930s and see if we can learn any lessons for our current economic predicament.
This is part 31 in our Lessons from the Great Depression series:
26. Pecora Commission Where Art Thou?
27. Current Net Worth Drop of $13.8 Trillion Equivalent to 21 Percent Drop.
28. The Gospel of Economic Prosperity
29.  New home sales fell 80 percent from 1929 to 1932 and fell 82 percent from 2005 to 2011.
30.  Economic déjà vu from the 1937-38 recession
I found a wonderful basic Great Depression timeline here.  My background on the Great Depression comes from economics courses on the topic but also reading roughly 20 books and 50 articles/journals on the matter.  I'm fascinated by an economic event that touched the lives of all and the stories behind the boom and bust.  Let us walk through some key events and relate them to events in our current crisis.
1924
"The stock market begins its spectacular rise. Bears little relation to the rest of the economy."
This can apply to the stock market after our current recession: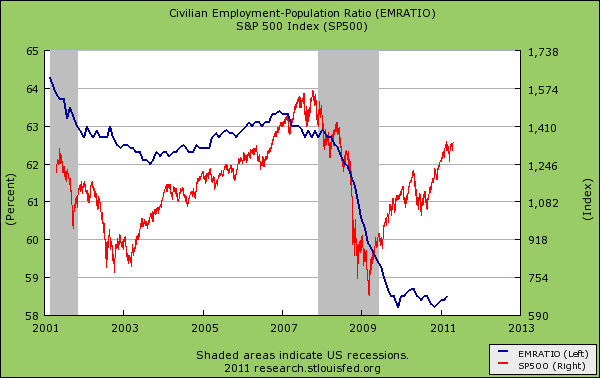 Most of the jobs lost since the recession are largely still gone even though the recession officially ended in the summer of 2009.  Yet the S&P 500 is up over 100 percent from the lows reached on March 2009.  What is pushing the market up to these current levels?  The push is coming from bank bailouts providing easy access to those with connections to the capital markets and employers cutting wages and shipping jobs overseas to cheaper cost centers.  In other words the overall American family is not seeing the benefits at all.
1925
"The top tax rate is lowered to 25 percent – the lowest top rate in the eight decades since World War I."
I know some people go nuts when they hear the word taxes.  But it is useful to see past experiences in this area to our current rates: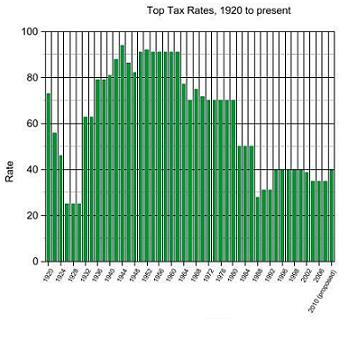 Keep in mind that in 1925 the top rate was lowered to 25 percent and this is currently in one of the proposals being pushed by folks in Congress.  The 1920s were one giant speculative party while the majority of Americans simply sat out the bubble.  The problem with our tax system isn't so much the rates but that many people avoid paying what is currently stated thanks to sophisticated loopholes not available to the public.  The politics center on scaring the public on the top rate yet rarely is this rate ever paid.
For example, in 1980 the wealthiest in the country paid 34.5 percent on their personal income taxes while in 2008 this fell to 23.3 percent.  This rate is even lower than that the speakeasy happy days of the 1920s that led to a mega bubble in market speculation.  If anyone is serious about getting our budget balanced or toward that end we have to talk about taxes and spending cuts.  The data is rather clear but right now politics cloud the actual conversation with one line slogans.
1928
"The construction boom is over."
This is one area where we have clear parallels: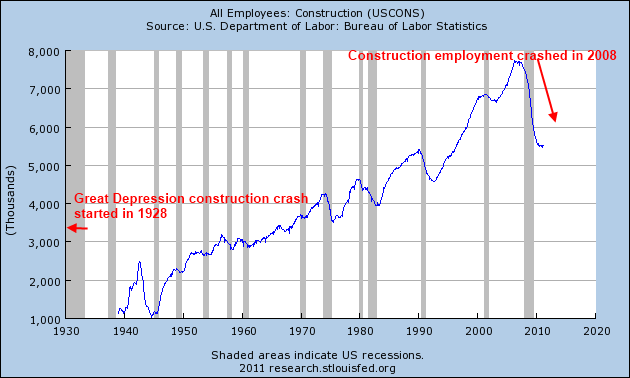 The only time construction has contracted this severely was during the Great Depression and our current Great Recession.   Because of overbuilding and lost wages, the price of housing cratered back during the Great Depression as well.  Take a look at the current U.S. median home price: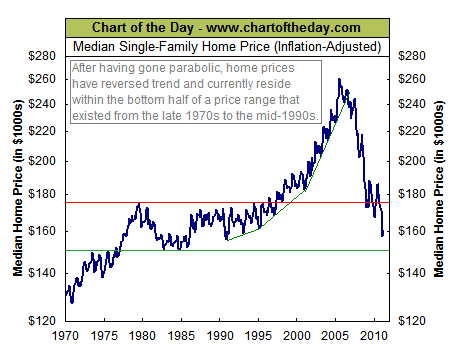 Now looking at the above chart you would assume that home prices are cheap or near their bottom nationwide.  Yet I would argue that we would first need to see wage income growth to justify the above.  If we only add lower paying jobs how are home prices going to maintain their current price level?  It is clear that the giddy era of the 1920s and that of the happy real estate era of the 2000s led to massive construction booms that burst badly.
1929
"Organized labor declines throughout the decade. The United Mine Workers Union will see its membership fall from 500,000 in 1920 to 75,000 in 1928. The American Federation of Labor would fall from 5.1 million in 1920 to 3.4 million in 1929."
This is a trend that is definitely happening right now:
Source:  Vote Now
It is a fascinating case of human psychology and consumer behavior dominating the markets and politics.  People are voting against their own economic interests in many cases today.  It seems like a large portion of our population is okay with having no working protections, no access to reasonable health care, fine with dolling out trillions of dollars to the banking sector, all the while having no tangible results to their own bottom line.  Most Americans do not want to get caught up in a race to the bottom.  Because of this we are seeing income inequality similar to that of the days that led up to the Great Depression:
"By 1929, the richest 1 percent will own 40 percent of the nation's wealth. The bottom 93 percent will have experienced a 4 percent drop in real disposable per-capita income between 1923 and 1929."
Today the top one percent holds 42 percent of the nation's wealth and income inequality is back to the 1920s level: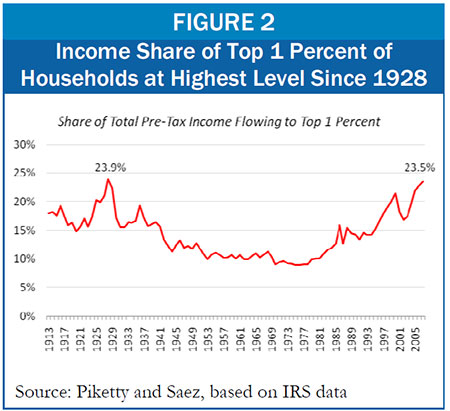 Now in any economy regardless of politics or economic system you will have income inequality.  That is simply a normal process.  Some workers are much more productive than others.  Most of us accept this reality.  We also accept that to live in a modernized society it dose cost money to have certain services (i.e., roads, public safety, schools, military, etc).  The problem with our current system is that much of the money is made from the rentier class.  That is you have investment banks using Federal Reserve money to speculate in global stock markets that add no value domestically although it is the domestic taxpayer that shoulders the burden through a weaker dollar, higher fuel costs, more expensive health care, and a quality of life that sinks.
While in 1933 the Glass-Steagall Act passed to separate the casino nature of our capital markets today it has gotten stronger with the too big to fail banks getting bigger.  So it is hard to say where we are on the timeline because we had our banking collapse brought on by massive speculation and no enforcement or restraint and today we are still there.
Workers rarely see a benefit of this because the rhetoric is "we are broke and there are billions of people around the world who will work for $1 a day" – in other words be happy you have that job at Wal-Mart while we get free handouts at the Federal Reserve:
"Individual worker productivity rises an astonishing 43 percent from 1919 to 1929. But the rewards are being funneled to the top: the number of people reporting half-million dollar incomes grows from 156 to 1,489 between 1920 and 1929, a phenomenal rise compared to other decades. But that is still less than 1 percent of all income-earners."
This is interesting and also plays along the lines of many Americans voting against their own pocketbook: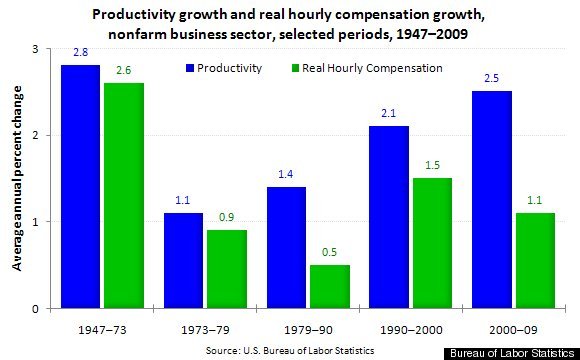 Source:  BLS
Interestingly enough during a time where real wages have gone stagnant or declined the American worker has become more productive.  The reason the S&P 500 is up over 100 percent in a short time is because the profits are flowing all the way to the top.  Some will say invest in the stock market but the market is still a casino and most Americans (because of stagnant wages) barely have enough to invest in after they pay their bills.  Plus, the system hasn't changed with flash crashes of 1,000 points (still no solid explanation) and high frequency trading that the typical investors simply becomes chum for the hedge funds who won't even take your call unless you have $1 million in liquid assets to invest.  Take a look at how income has grown over time: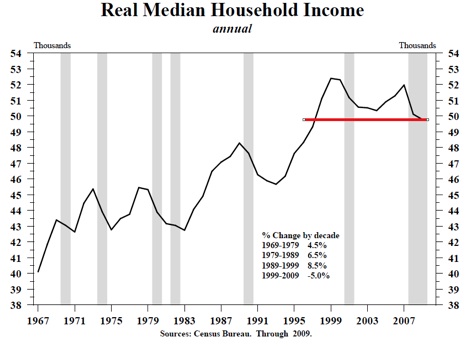 Source:  Census
Not exactly a promising picture.  Add into the mix the massive problems in housing and it is hard to understand how some believe home prices will simply run back up in price.  Even during the peak year of 1929 many Americans were merely getting by:
"More than half of all Americans are living below a minimum subsistence level."
Today it isn't as bad certainly but this is thanks to programs like food stamps and unemployment insurance.  One out of every seven Americans is receiving food stamps today.  This is a large piece of our society in a time where the stock markets are now up 100 percent in a very short time.
1930
"By February, the Federal Reserve has cut the prime interest rate from 6 to 4 percent. Expands the money supply with a major purchase of U.S. securities. However, for the next year and a half, the Fed will add very little money to the shrinking economy. (At no time will it actually pull money out of the system.) Treasury Secretary Andrew Mellon announces that the Fed will stand by as the market works itself out: "Liquidate labor, liquidate stocks, liquidate real estate… values will be adjusted, and enterprising people will pick up the wreck from less-competent people."
This is where things diverge.  The Federal Reserve was slower to act during the Great Depression but it did act.  The Fed this time wasted no time and injected money into the banking system.  Yet this merely has accelerated the problems that got us here in the first place.  The too big to fail are now bigger.  Their bank balance sheets are still opaque and hidden from scrutiny even though they are leveraging taxpayer dollars and pushing costs via inflation and other hidden taxes onto the public.  The public will pay through inflation that we are now seeing in daily used items.
What it feels like is we gave a golden parachute to the banking and financial companies while the public is still left dealing with the realities of the recession.  While the investment banks garner record profits thanks to this easy money and pay no market retribution because of their gambling on housing the public is led to believe the story that they are overpaid, that taxes in every case are bad, and that telling the government to stay out of Bank of America or Goldman Sachs books is good for them.  How people believe this argument is illogical but just like during the bubble, herd psychology is very powerful.
1932
"Congress passes the Emergency Banking Bill, the Glass-Steagall Act of 1933, the Farm Credit Act, the National Industrial Recovery Act and the Truth-in-Securities Act."
It took three years before any serious action and reform was taken after the 1929 crash.  Keep in mind that this happened with the hands off President Hoover who delayed action for a few years.  If the market started tanking in 2007 we have surpassed that timeline and what serious reforms do we have?  None!  It is absolutely amazing how no serious reform has occurred so to think that the system is "fixed" is insane.
In fact we have accelerated the consolidation of financial power even more.  This is simply a fact:
Bank of America – swallowed up Countrywide Financial and Merrill Lynch

JP Morgan Chase – swallowed up Washington Mutual and Bear Stearns

Wells Fargo – swallowed up Wachovia
Don't you think if the issue was too big to fail that we would have split the banks up instead of making them into mega monsters?  The Federal Reserve follows the St. Augustine way of dealing with things:
"Lord, Make me chaste, but not yet"
1937
"Economists attribute economic growth so far to heavy government spending that is somewhat deficit. Roosevelt, however, fears an unbalanced budget and cuts spending for 1937. That summer, the nation plunges into another recession. Despite this, the yearly GNP rises 5.0 percent, and unemployment falls to 14.3 percent."
Of course much of the help during the Great Depression came from government spending.  The one thing I will say is that millions of people were put to work.  The benefits of government spending did largely go to the typical American during this time, even if it was very little.  Today the massive bailouts have largely aided those who really don't need the funds especially the investment banks.  And much of this is coming on the back of debt leverage: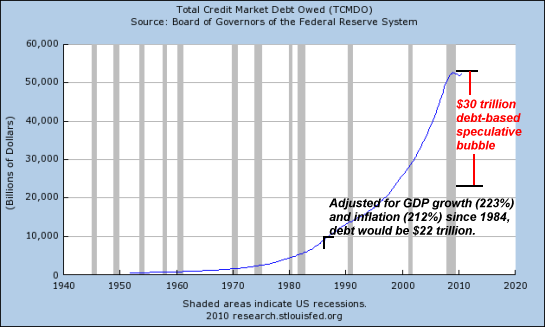 Source:  Of Two Minds
In comparing the two situations, of course very different in many ways, we can conclude that in today's bailouts and recovery intervention that most of the money and aid was directed to the financial sector.  The typical American has seen no wage growth for over a decade and their worker protections are largely being thrown out the window.  There is a two story narrative: the financial industry uses corporate welfare and government handouts while chastising the public to deal with survival of the fittest in the free market.  The only reason these banks stand with no reform is because of their political connections, not because of success.  They were weeks away from being eliminated by the free market because of their massive speculation and bad bets during the bubble.  Yet to bail them out is to reward bad behavior so today, are we to expect anything different?  There has been no Pecora Commission aside from the FCIC inquiry which came out with excellent findings but no action!
These are interesting times and to think that real estate will recover while most families are seeing no actual income growth is absurd.

Did You Enjoy The Post? Subscribe to Dr. Housing Bubble's Blog to get updated housing commentary, analysis, and information.