America's largest bank is now offering a hint at how long it will take to off load the shadow inventory.  In a shockingly under reported story Bank of America announced plans that they will be splitting off 6.7 million mortgages with a face value of $1 trillion into a bad bank model.  The aim at least from some reports is to sell the portfolio out over 3 years.  Now on the back of this, we also received information from RealtyTrac that nationwide foreclosure activity plummeted in February.  This is interesting given that there is little success in saving loans but speaks more to the new strategy banks will be undertaking in dealing with the large shadow inventory.  The bad bank model might also be a reason why we've seen more action in the market with banks leaking out properties in a methodical effort.  Could this be a way to test the water?
Exhibit #1 – Total distressed inventory

Source:  Lender Processing Services, LPS
The foreclosure pipeline is full.  At the end of January 2.2 million homes were in foreclosure.  A total of 6.9 million homes were non-current.  Although this is significantly lower than the 8.1 million in 2010 the actual number of foreclosures is peaking.  Why?  These are the properties moving through the shadow inventory pipeline.  This is why we are seeing more and more homes hitting the market with lower prices as banks get more active reducing their inventory.  The backlog is still too high.
Exhibit #2 – Foreclosures increase across all loans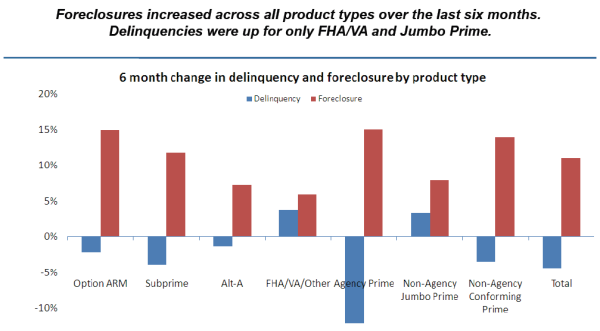 Source:  LPS
Every single category of loan has seen a sizeable increase in actual foreclosures over the last six months.  This pretty much coincides with the data we are seeing in the California housing market. What is troubling is the increase of both delinquency and foreclosures for FHA loans.  What this means is the distressed inventory for these loans is increasing and these are incredibly popular in California.
Exhibit #3 – Repeat foreclosures soar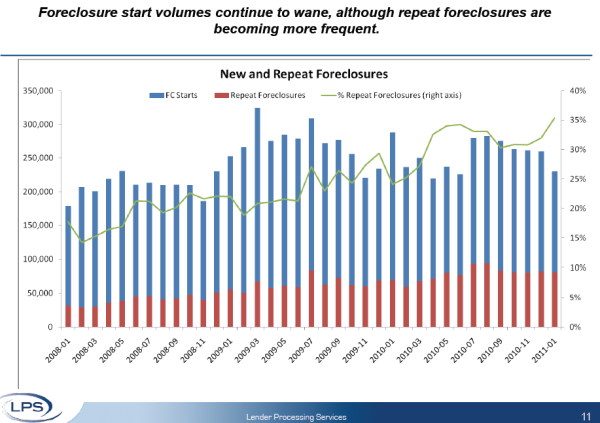 The failures of HAMP and other modification programs are highlighted above.  There is very little that can be done for someone who took out a $750,000 mortgage with a $75,000 annual income via an option ARM.  Many of the homes that enter into modification programs usually end up re-defaulting.  What this tells us is that the home price and mortgage balance is too high even after modifying the loan.  The solution?  Lower home prices and solid wages.
Exhibit #4 – Average days delinquent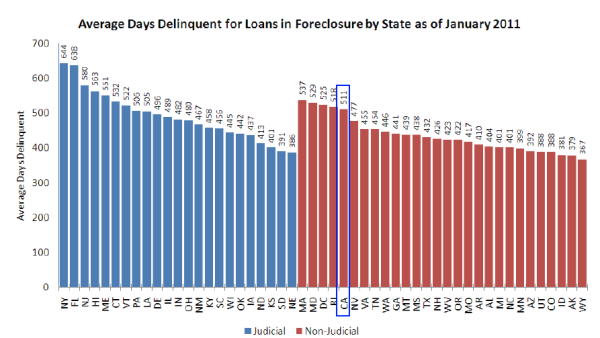 This is a troubling chart.  The average number of days a loan is delinquent in California is 511 (New York is up to a whopping 644 days!).  The reason we are seeing the above is because of the massive Ponzi scheme banks were operating.  Foreclosures usually follow a common pattern over a set number of months.  Here we are looking at over 17 months before the process concludes on average so you know there are loans that are 2 years in the process.
Exhibit #5 – Total foreclosure by state
[total foreclosure by state]
The above chart is useful in telling us how many homes are in distress.  Let us run the numbers for California:
Total mortgages:                              5,374,216  (Source:  U.S. Census)

Delinquent (9.3%)-                          499,802

Foreclosure (3.5%) –                       188,097
I ran a query for scheduled auctions and bank owned homes and found 195,189 so the figures seem to be aligning.  More and more of the shadow inventory is coming out into the open.  The bigger pipeline remains with the delinquent loans and with the bad bank model we may start seeing a more steady stream of these homes hitting the market.
Exhibit #6 – Option ARMs still causing havoc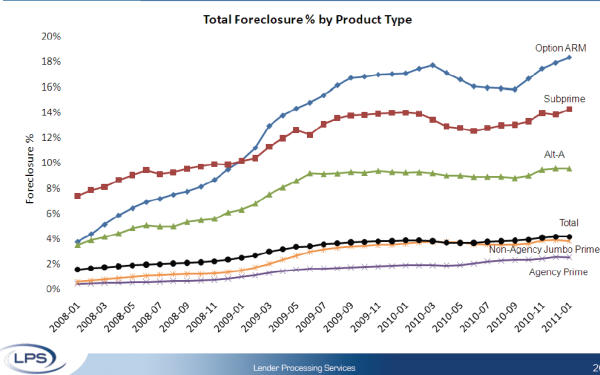 As we speculated a few years ago the option ARM would end up being the worst performing loan on the market and that has come to fruition.  The option ARM, with 50 percent of all outstanding loan volume in California, is by far the most toxic of the loans.  According to the data roughly 1 million loans are categorized as option ARMs (out of 52+ million). So the question we should ask is how much of the current California shadow inventory includes higher balance option ARMs?  Given the bad bank model and Countrywide Financial's fascination with Pay Option ARMs the amount can be significant:
"(NY Post )Bank of America is ripping a page out of Citigroup's playbook in an attempt to salvage its own mortgage fiasco.

The nation's largest bank will separate some 6.7 million souring mortgages — many of which it inherited from the acquisition of Countrywide Financial — and place them in a "bad bank" with an eye towards selling them over the next three years.

The toxic loans, which have an outstanding principal balance of $1 trillion, represent about half of the bank's 13.9 million mortgage portfolio.

BofA executive Terry Laughlin is expected to manage BofA's so-called legacy assets, which consist of a mix of loans that are 60 days or more delinquent."
Exhibit #7 – Government owns the mortgage market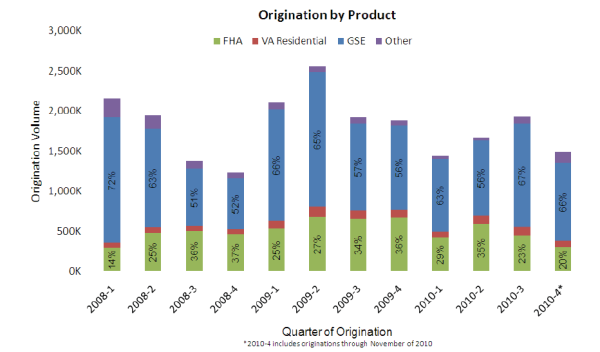 Source:  LPS
The government by far is the biggest player in the mortgage market.  Last quarter it stood at 86 percent of all loans originated.  In Q2 of 2009 it was at 92 percent.  Make no mistake, the government is the housing market right now.  However with FHA insured loans defaulting in larger numbers guidelines will tighten up.  We're already seeing signs of that and the housing market is slowing down yet again.
What do the above charts combined with the bad bank model show us?  The shadow inventory will be leaked out into the market over the next few years and prices are likely to move lower all along the way.  At least that is the ideal plan while the quality of life deteriorates since this doesn't happen for free.  The Federal Reserve keeping rates artificially low and bailing out the banks has a longer term cost.  We are seeing it creep out in many different arenas.  An unforeseen crisis can throw a wrench into this slow housing deflation model and we are seeing problems hit again in Europe.  Spain for example has recourse mortgages where people cannot walk away.  It seems we have the opposite where anyone can walk away from any mortgage without a second thought.  Maybe a middle of the road approach is better like asking for a 20 percent down payment and then you have the right to walk away.

Did You Enjoy The Post? Subscribe to Dr. Housing Bubble's Blog to get updated housing commentary, analysis, and information.