Simply because people continue believing in something does not make it true.  Last week a few readers sent over an article from the New York Times discussing that nearly 9 in 10 Americans still say that homeownership is an "important" part of the American dream.  I always find these surveys to be fascinating since they target emotion rather than data.  Of course, nowhere in the survey was income discussed but then again we are in the debt bubble delusion machine here.  Interestingly enough lower in the survey 58 percent believed that lenders should require the standard 20 percent down.  Do these people have any clue what is going on with FHA insured loans and their near nothing down 3.5 percent down payments?  First, the question about homeownership does not reflect the ability to own a home at current income levels.  I bet if you asked people "do you think education is important" you'd probably get a similar result but does that justify $50,000 a year for college?  Yet this kind of psychological reasoning is what brings in the buyers into inflated areas like Culver City where yes, prices have fallen but are still solidly in a bubble.  Today we'll carefully examine why it makes sense to rent in many of these bubble cities.
Culver City bubble going strong
The first thing we should do is get an over arching view of the city: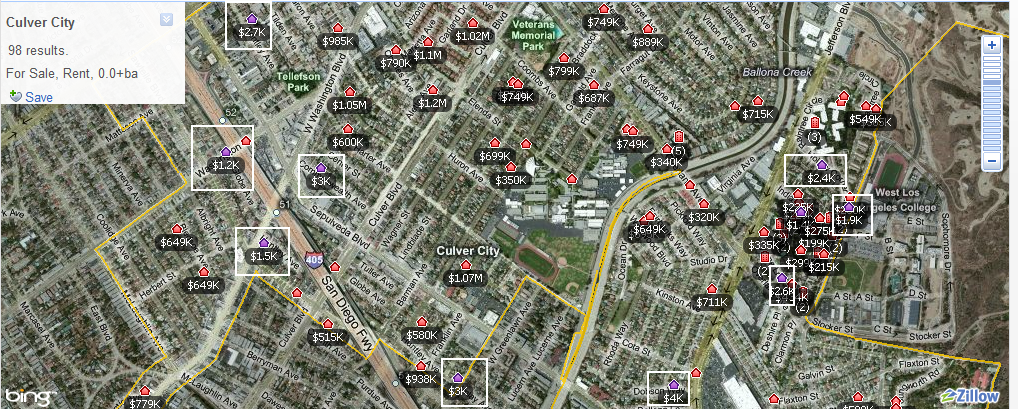 The purple colored properties are those available for rent while the red colored homes are those for sale.  Culver City has seen prices decline but still remains in a bubble.  To remind people about what a bubble is, prices are disconnected from underlying fundamentals (i.e., household incomes, etc).  Sure, based on the survey regarding the American dream you have enough people silly enough to dive into hundreds of thousands of debt for cookie cutter homes but this isn't news.  In fact, this is the exact reason why the housing bubble gained so much steam in the United States.  The emotional desire to buy did not coincide with a decade of lost incomes.  Remember this ad?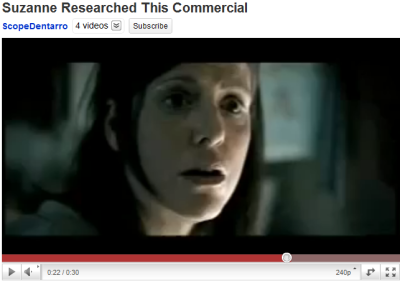 Of course there is no mention of incomes.  Back to the above map you'll notice that rental prices are rather reasonable in a good city.  Let us pull up an example and run the numbers.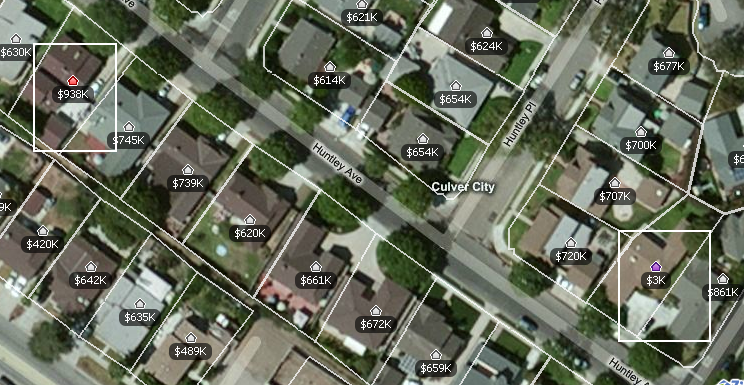 Above we have two similar properties.  The home for sale is this place: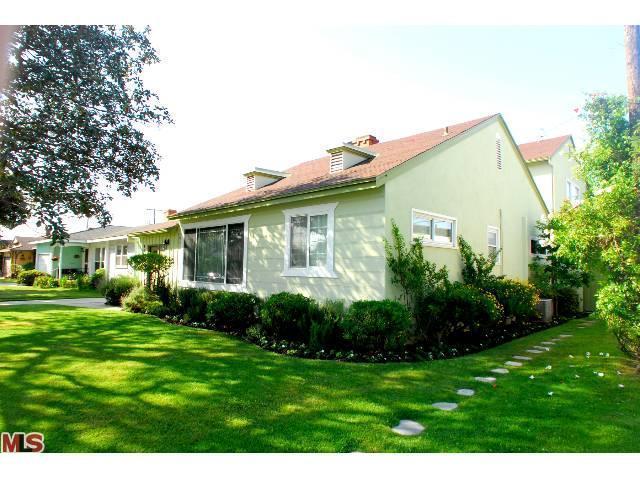 4473 HUNTLEY AVE, Culver City, CA 90230

Listed    05/05/11

Beds      4

Full Baths             3

Partial Baths       0

Property Type   SFR

Sq. Ft.   2,488

$/Sq. Ft.               $377

Lot Size 5,869 Sq. Ft.

Year Built             1952
The current list price is $938,000.
4 bedrooms and 3 bathrooms home listed at 2,488 square feet.  Okay, let us take a look at the rental: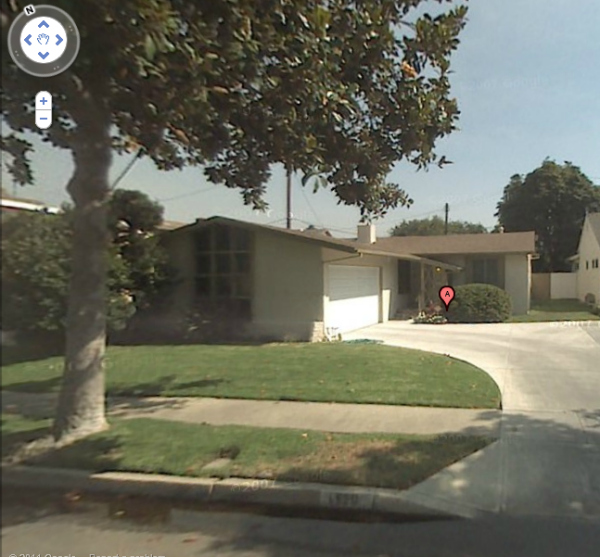 This place also has 4 bedrooms and 3 bathrooms and is listed at 1,800 square feet.  The current monthly rental rate for this home is $3,000.  So you have a home that is a solid substitute for the home that is currently selling for close to one million dollars but is renting for $3,000 per month.  This is a perfect example of a city in a major bubble.  Take a look at the sales history for the home that is selling:

The place sold for $370,000 back in 2001.  Keep in mind that over this decade household incomes have gone stagnant.  So what justification is there for this home appreciating nearly $600,000 in 10 years?  When you run the numbers you see why renting the home in this area makes so much more sense than buying:
Purchase price:                              $938,000

Down payment:                                               10%

Total monthly payment:                              $6,500 (principal, interest, taxes, insurance @ 6.5%)

Case needed to close:                   $121,112
Buying this home will eat away $6,500 per month while the rental will take $3,000.  $3,500 a month in extra cash is a big deal.  Whenever we present an argument like this you will always get the argument that you also get the interest deduction for buying a home so the cost is lowered.  But this is like spending one dollar to save thirty cents.  With that additional disposable income you have, you can find creative ways to lower your income like funding an IRA, putting more into your 401k, or how about using that extra cash for a business where you will find similar deductions?  The bottom line is that if you buy this home in Culver City you will be paying out of your monthly budget $6,500 in housing payments.
Any way you slice it buying in this area makes no sense at current price levels.  To comfortably afford this mortgage a household would need to be grossing $280,000 or more per year.  For the 90230 zip code in Culver City the average adjusted gross income is $62,972.  Let us be generous and say that homeowners have an adjusted gross income of $120,000 or twice the average.  There is no way that it comes even close to $280,000.  In fact, in California only 6 percent of households make more than $200,000 and I assure you they are looking at more prime properties.
Again the mainstream press fails to examine household incomes because it counters any of their fluff pieces.  The most important factor in having a healthy housing market is the underlying economic situation for households.  Stagnant incomes and 16 percent underemployment (23 percent in California) do not bode well for home prices.  Why is this fact under-reported?  When the bubble was raging there was no focus on stagnant income growth yet we found every absurd article on why home prices would keep rising.  Now, we see articles trying to justify a bottom.  Where is the detailed analysis showing that many cities are flat out in bubbles still?  No wonder why alternative media is finding a home because very few bother to do the mathematical work to show that psychology can only keep dreams alive so long until math has to bring it back down to reality.

Did You Enjoy The Post? Subscribe to Dr. Housing Bubble's Blog to get updated housing commentary, analysis, and information.