Professor Robert Shiller, one of the founders of the Case Shiller Index has made recent headlines by stating rather calmly that home prices will likely fall another 10 to 25 percent in the upcoming years.  Of course, this can happen either through a nominal drop or through an inflation adjusted drop where prices may remain the same but inflation eats away housing value as the years go rolling by like a tumbleweed.  Now for the agitated nation, I do believe that we will see a further decrease in nominal values but more of the adjustment may come in real terms.  However in states like California prices remain extremely inflated that a nominal drop is all but assured.  A 10 to 25 percent drop in nominal terms for California seems optimistic.  In the U.S. we seemed to pre-programmed to assume that just because prices fall that a strong rebound is assured.  I'm always struck in U.S. movies how the hero always wins no matter what.  If you watch foreign movies you realize this isn't always the case (or just look at life in general).  Although we can find many cases of markets rebounding after hard falls, you also have places like Detroit or the NASDAQ where we are eons away from peak prices both in real and nominal terms.  Many do not care if things rebound in 30 years especially if they are looking to buy in the next few years.  Although Shiller's statement seemed to be taken as apocalyptic by the media I believe he is being too optimistic.  I'll go into a few reasons moving forward.
Case Shiller and inflation measures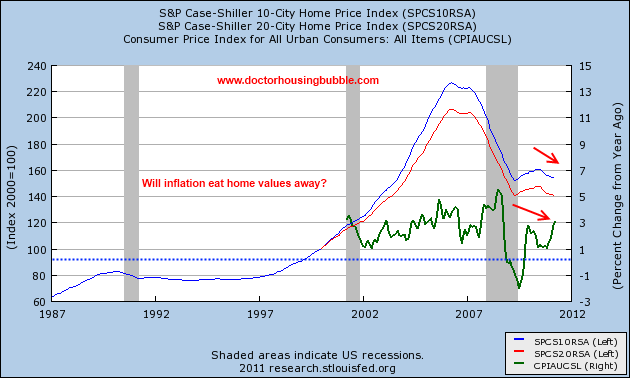 The Case Shiller Index tries to reflect home prices after adjusting for inflation.  This is a good measure as well because it exams repeat home sales so you get a better sense of home prices moving through the channels of history.  Looking at the median price tells you about what is selling today and is crucial as well but the above index gives you a broader sense of what is happening to the housing market.  From the peak in 2006 home prices have fallen by over 31 percent.  Another 25 percent drop would put prices back to the mid to late 1990s in real terms.  This would make the fall in prices nationwide come in at over 50 percent.
Professor Shiller has a recent example in history which may be a model:
"(Bloomberg) A model for the U.S. may be Japan, where home prices fell for 15 years after that country's real estate bubble burst in the early 1990s, Shiller said.

"They lost close to two-thirds of their value," Shiller said. "Then they went up for one year in 2006 and then they started going down again."
Can Americans stomach a second decline in the housing market?  There really is little choice given income growth (or lack of it):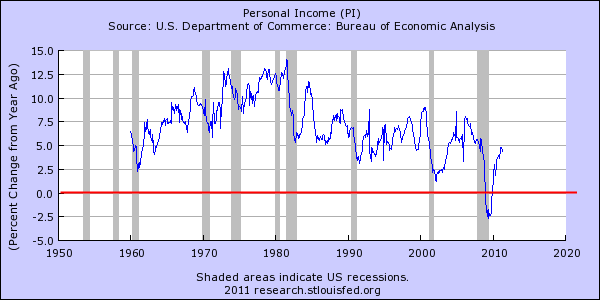 For the first time during this recession did we see personal income decline year-over-year since record keeping started.  How do people pay their mortgage?  From actual earned income.  So this is an important point here.  Household income has been negative for well over a decade.  Some of the charts on income or wage growth only measure those working and as we know we have a large number of people in the shadow employment sectors.  And for those that are saying that "big" cities in Japan did not track nationwide prices they should look again: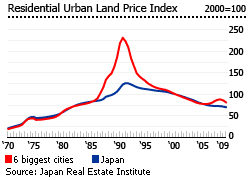 Land prices in Japan in 2009 are back to levels of the 1980s in real terms.  Is this our future?  So far it seems likely with the government allowing the banking sector to go into zombie mode with a massive amount of shadow inventory.  Japan also attempted to create inflation by massive fiscal and monetary measure but nothing really happened in terms of home values except a slow and steady decline from their peak.  As a result their GDP has been slow moving since: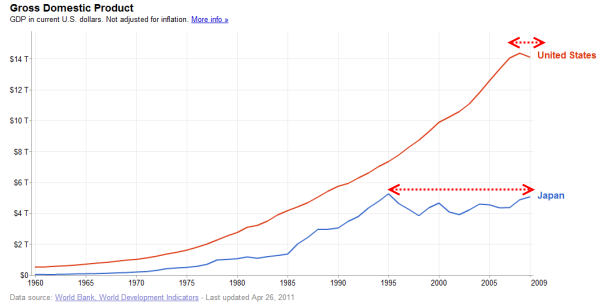 There was troubling news this week that for the first time since WWII Federal debt will exceed actual GDP:
"(Chicago Tribune) A recent Treasury report noted that national debt will exceed the size of the economy this year — a first since World War II. A year ago, the Treasury had estimated that notorious record wouldn't be hit until 2014.

Now the expectation is that total debt to GDP will top 102 percet this year, up from the earlier estimate of 96.4 percent."
It is clear that the Federal Reserve will continue bailing out banks even if it requires magical tricks like buying up mortgage backed securities or simply suspending mark-to-market.  The Fed is holding trillions of dollars in assets on their balance sheet, many of those assets are questionable to say the least.
Why Shiller may prove to be optimistic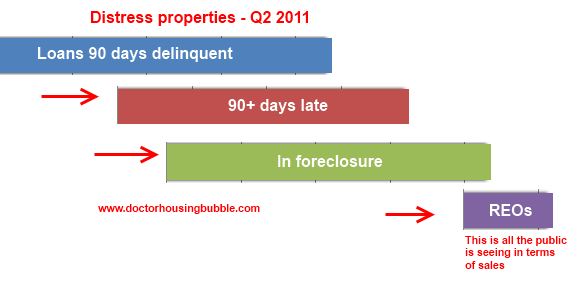 I believe Professor Shiller will prove to be optimistic in his assumption that home prices will fall 10 to 25 percent in real terms over the next few years.  First, as we just mentioned our debt is becoming increasingly large and a burden on society.  What is rarely mentioned is that after World War II Europe's industrial sector and also Asia's sat in ruin.  The U.S. had a near monopoly in terms of manufacturing and a massive competitive advantage for decades to come.  Today, we have wars that are just as expensive (large parts of the wars remain off balance sheet like shadow inventory) yet will do very little in an economic sense aside from drowning the nation in debt.  This I think will be a major point moving forward.
Next, relates to the chart above.  There is an incredible amount of shadow inventory.  Unlike Japan where culturally there was more internal pressure to pay debts Americans are more prone to walking away and strategically defaulting on mortgages.  Take the below: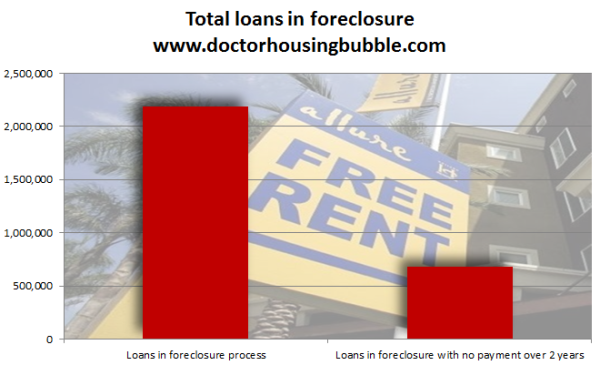 Of the over 2 million loans in foreclosure currently over 675,000 people have made absolutely no payment in over 2 years!  You might be thinking how absurd this is but that is how things operate today in the Bernanke Matrix.  You will also notice in our first chart that actual foreclosures are only a small piece of the pie in terms of distressed inventory.  Over 6 million properties are delinquent or in a state of actual foreclosure.  REOs, that is banks now owning the property, are a tiny amount since banks don't want to hold properties on their balance sheet passing homes off like hot potatoes since they will now be forced to mark-to-market (aka come to grips with reality).
Why I think Shiller might be too optimistic is that foreclosures are selling for over 30 percent price reductions and in many areas including California foreclosures are a large part of the market.  And what is more important is household income:
Household income is the most important factor and there is little data showing it going up.  So home prices will come down because the only inflation that will help home prices even out is income inflation.  It is amazing that all these "grim" predictions are coming in what is usually the beginning of the hot selling summer seasons.  30 year mortgage rates are at historical lows yet needing to show income justifying home purchases even with FHA insured loans where a pathetically low 3.5 percent is all that is needed to buy is proving harder and harder.  How many McDonald's jobs does it take to purchase an overpriced California home?

Did You Enjoy The Post? Subscribe to Dr. Housing Bubble's Blog to get updated housing commentary, analysis, and information.