"I wasn't  worth a cent two years ago, and now I owe two million dollars." Old newspaper anecdote.  Financial manias in the last century have occurred all across the world.  The interesting nature of this current financial crisis is how widespread it has become.  More and more over the years these manias have focused on real estate as their core speculative vehicle.  Take for example Japan and the Asian economies that experienced widespread real estate bubbles.  You also have the Florida real estate boom of the 1920s.  The ending is always the same but the cause of the bubble bursting typically varies.  Yet one central tenet is the inability to service current debt.  That is why in the United States the inability to pay for a mortgage with actual income was a bursting point.  We went from normal finance in housing (that is paying for the mortgage with current income), to speculative finance (where paying for the mortgage was based on cheap financing tools and projected incomes), to Ponzi financing where current income was unable to pay for even the servicing of debt.  The mania ended for a variety of reasons but the long-term outlook is bleak for United States real estate.
Can inflation save the housing bubble?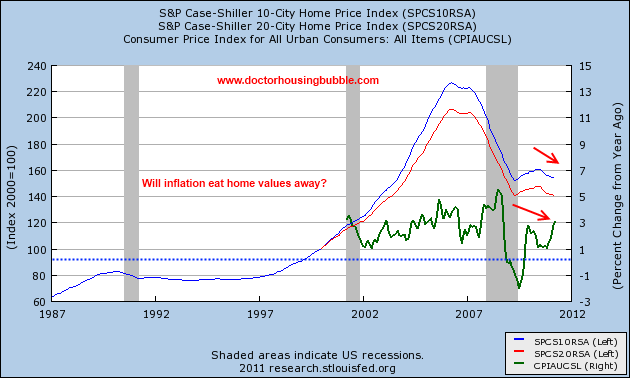 Source:  Case Shiller Index, BLS CPI
I have seen the argument that inflation will somehow save housing prices.  This argument is flawed and some have even pointed to the 1970s and early 1980s when inflation was running wild.  Yet the main caveat here was that inflation was also occurring in worker wages (aka the money you use to pay your mortgage).  Max Keiser and Stacey Herbert covered some of this from a previous article we posted: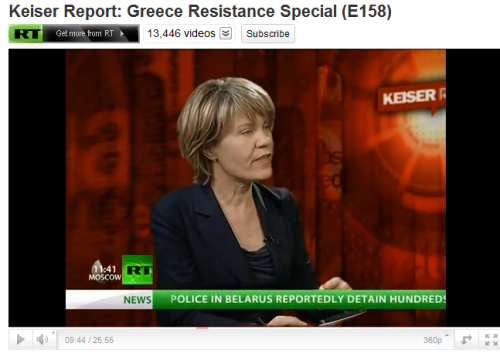 Source:  Max Kesier
The segment is worth watching and starts around the 9:00 minute mark but the main point to take away is that household incomes are not moving up so why would home prices?  To the contrary household incomes have fallen in the last decade.  This is interesting because the housing bubble occurred in the midst of this falling in income.  Access to credit became a substitute for real income.  The ability to service the debt came from:
-Low interest rate mortgage

-Teaser rate mortgages that lasted a few years to hand off to the next speculator

-Multiple mortgages and home equity loans

-Complete financial irresponsibility from the banking sector in exercising due diligence

-Government desire for all households to own a home instead of focusing on increasing income
The government and banks throughout history have been focused on short-term profits especially when they have a synergy as they do today.  Housing bubbles are not unique but the really different thing this time is the magnitude of the people and the mob psychology it placed on the global culture.  You still have raging real estate bubbles in Canada (peaking), Australia (popping), and China (peaking).  Take a look at what happened in an earlier time in Southern California (from the always fantastic Manias, Panics, and Crashes by Charles P. Kindleberger):
"The market in just-built and unfinished houses in Southern California, sold from one person to another at ever-increasing prices with the help of an active market in second mortgages, peaked in 1981 and then collapsed, with price declines of 40 percent.  There was a condominium 'craze' in Boston in 1985 and 1986; 60 percent of the buyers intended to sell the units.  The condo market turned soft in 1988, in a pattern to the 'flat craze' in Chicago in 1881.  A similar boom and dip occurred in the apartment market in Chicago in 2003."
As CPK clearly puts it, real estate bubbles in the United States have been around for a very long time.  The stories of those standing with the bag and losing a large part of their savings are rarely recounted in the mainstream press or are kept silent by those who encounter the financial shock.  No one wants to admit they got caught up in the mania and announce they were the last one to enter the game.  Yet one thing is clear and that is the underlying asset in manias suddenly takes on another form of money.  It becomes like a casino chip to exchange for real money at a later time (assuming the bank has the money).  No longer is the home merely a place to live in but something that is speculated on.  Referring back to the above Case-Shiller chart, prices are down 34 percent from their peak nationwide.  In bubble states like California, Arizona, Nevada, and Florida this drop is deeper.  Yet prices are still inflated in many markets meaning the bubble is still going on at some degree.  Inflation is occurring in many consumer goods like food, energy, education, and healthcare.  Interestingly enough since the bubble burst housing has been going down but this is expected because it is reflecting the decline in household incomes through the weak economy.  Food and energy have global markets so the increase in their cost is expected especially with a weaker dollar.  Yet a home is now reverting back to its historical use, a place to live for local families.  You will have unique niche markets where investors buy second homes or beachfront property but these were never communities for the middle class.  The 99 percent of the market where working people live will face a correction where price comes in line with local area earnings.
Shadow inventory reflection of end of Ponzi financing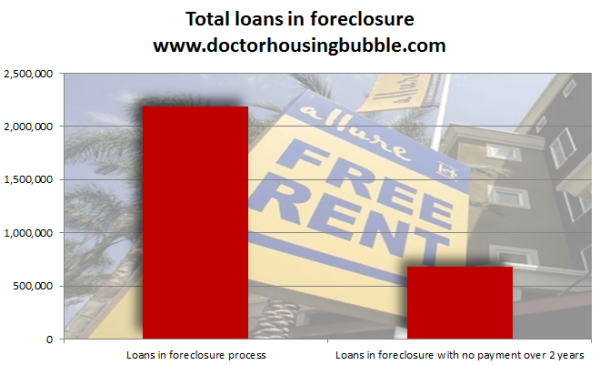 The shadow inventory pipeline is still extremely full:
"That is a large number of homes.  Now keep in mind many foreclosures are now starting to make their way onto the MLS since banks are actually taking full possession of the homes (although the reality that 675,000 people have not made a single payment in two years tells you where things stand).  Think about the above data; you have roughly 600,000 to 800,000 as current REOs (all the way through the foreclosure process) but you also have 675,000+ people in foreclosure who haven't made a payment in two years."
You have close to 700,000 mortgages with no payment in over two years.  Why would banks allow this to happen if the market is supposedly turning around?  Only the banks know the exact book value of these properties and they are clearly not happy with what the reality based market is providing.  Otherwise, these banks would simply unload the properties.  You need to keep in mind however that each month is a loss for the bank now because these households are no longer servicing the note.  You also have the loss of income from a household living in the place actually paying the mortgage.  Yet the reality is newer buyers now have to reflect real earned income and receive mortgages based on this.  The Ponzi financing era is over yet banks want to pretend that it will come back soon.
For this reason we have an enormous pipeline of shadow inventory properties: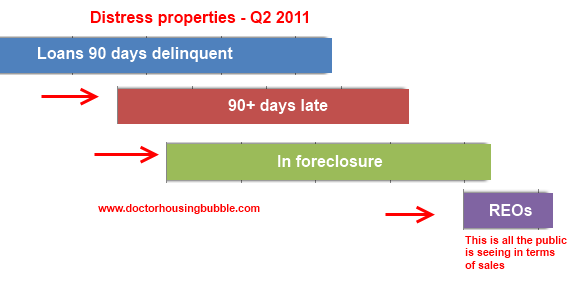 Source:  Calculated Risk
According to CR we have the following:
-2.24 million loans less than 90 days delinquent.
-1.96 million loans 90+ days delinquent.
-2.18 million loans in foreclosure process.

-For a total of 6.39 million loans delinquent or in foreclosure in April.
Housing in the U.S. has reached a debt spiral.  No longer can people use Ponzi financing to service their debts.  We had many in California using home equity loans simply to pay the monthly nut on their first and second mortgage.  This can only work so long as the mania continues.  The mania ended in 2007.  Now reality is setting in.  These shocks to the system can cause long lasting changes to the economic fabric like John Law in France so we shouldn't expect a sudden shift.  The only factor I see causing home values to rise is higher household incomes.  Do we see that?  Here in California the underemployment rate is close to 23 percent.  We also have a troubling budget deficit.  What other places are dealing with massive deficits?
Greece reaching end of speculative stage
I find the Greece crisis troubling in many ways because the reality is, Greece in no way shape or form is going to be able to service its debts.  That is what this entire bailout talk is about.  They need money to simply stay current (otherwise they default, which is going to happen anyways).  The Ponzi finance industry that has overtaken many global bankers is simply looking for ways to pawn off the Greek debt to other suckers before jumping ship.  This is the issue at hand really.  Let us look at the 10 year bond in Greece: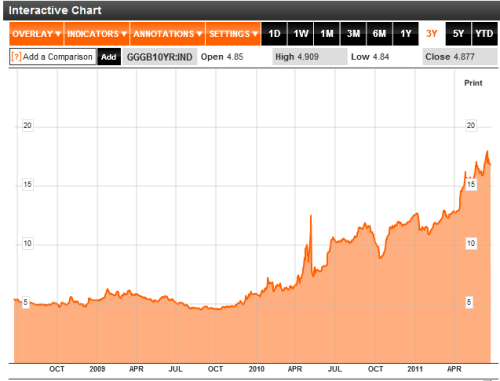 Greece GDP                       =             $310 billion

Greece external debt    =             $532 billion
How can anyone look at the above figures and think that this is sustainable?  It isn't and by definition it will need an adjustment (aka default).  This is similar to households unable to pay their mortgage.  When the Ponzi finance era ends, these types of things happen.  Yet the bailouts continue to go to the financial sector and keep draining resources from actual things that can remedy this situation.
The good news is the vast majority of Americans are recognizing how bought out both political parties have become to their financial overlords:
"(Bloomberg) At the same time, the poll found that most Americans aren't swayed by the arguments Republicans and Democrats make to advance their competing remedies for debt reduction and strengthening the financial stability of entitlement programs, viewing them as empty rhetoric. Among the rejected assertions are that either spending cuts or tax increases would cause a double-dip recession or would lead to continued joblessness.

"They always spin things one way or another and you can't really trust it," says Richard Klimczuk, 58, an independent voter living in Cleveland. "Democratic and Republican sides are both doing it. We have real problems in this country, but they'll just say things to get people worried so things turn out the way they want them."
Bottom line is you will need both revenue increases (tax hikes) and spending cuts.  Both parties currently stand to protect the wealthy financial class.  Yet Americans are largely catching on to this fine tuned orchestra of financial swindling.  This is why the "housing bailouts" have done very little in actually boosting home prices.  They have boosted banking profits however.  Ultimately a good like housing, which is very niche specific, needs to rely on local area incomes to arrive at a market price.  Long-term Ponzi financing is not the option similar to multi-generation loans in Japan that reigned supreme during their bubble or centuries ago in French bankruptcy law that pushed debts to future heirs.  The only answer is to clear the inventory and move on without protecting the "too big to fail" and their scare tactics.
Consequences of institutionalizing Ponzi finance
For those who doubted the Japan scenario, four years in we are following a very similar path: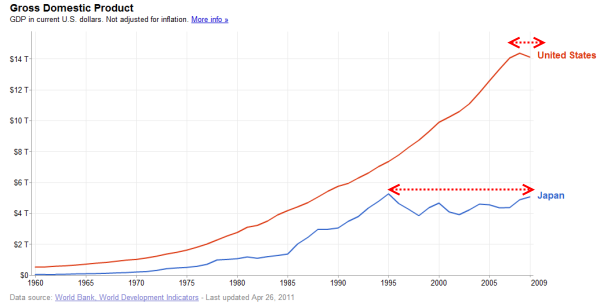 Some thought that we were the entrepreneurs with quantitative easing but Japan did this first with their massive banking bailouts.  Called zombie banks because these banks were barely alive but needed constant money to keep them going.  Ultimately you see what it did to their overall economy.  In the end they have endured two lost decades (and the economy is still in trouble).  The amount of money required to keep the too big to fail going is incredible and shows no signs of stopping.  The Fed balance sheet is now inching closer to $3 trillion!  This is because they have bought trillions in mortgage backed securities and have shifted assets over from banks that are questionable.  In the end like all manias a price needs to be put on these assets by the market.
The fear of course is of doom but ironically flooding the market with cheaper homes will actually bring in new buyers that actually can afford the properties with the new lower range of American incomes.  This will also free up more disposable income to spend on other goods that keep the market moving.  The 'doom' scenario is merely for the banks.  We agree that banks are a necessity but more so like a utility, strictly regulated (for checks, savings, and regular retail banking).  Investment banking can do what it likes but failures will fall completely on the shoulders of their banking enterprise.  The commingling of these two functions, retail and investment banking has been disastrous for the typical hardworking family.
The scenario in Japan is playing out here in the U.S. so far.  Slow growth, stagnant household wages, a large transient part-time workforce, and zombie banks that continue to devour productivity and money from the workers in the country.  No matter how you slice it, the era of Ponzi finance is over.

Did You Enjoy The Post? Subscribe to Dr. Housing Bubble's Blog to get updated housing commentary, analysis, and information.