In the last couple of weeks, there seems to be a renewed interest in home equity loans and home equity lines of credit (HELOC).  I think many people have put this mutant mortgage out of their mind because in the last few years there have been very few originations with these kinds of loans.  You would expect the renewed interest given that many homeowners, especially here in California are massively underwater.  These usually come out during the foreclosure discovery process.  Yet HELOCs were the virtual credit card that turned a home into a modern day money piñata.  If you needed money just take a swing over to the bank and they would cut you a check.  I remember colleagues driving up in new cars and taking vacations courtesy of the wonderful HELOC.  As we will examine today, these loans are as toxic as they get and when combined with an Alt-A or an option ARM, will cause further deterioration in the housing market especially for California.
HELOCs and California
I've had a few good talks with Keith Jurow from the Real Estate Channel regarding the issues facing the California housing market.  He has put together an excellent article covering the nuts and bolts of the history of HELOCs especially when it comes to California.  I highly recommend taking a look at his article.  During this same time I have had countless e-mails from Californians asking about HELOCs on their neighbors homes.  Where did the money go?  First, let us examine the market in detail:

Source:  Equifax
Currently $649 billion in HELOC active debt is floating out in the market.  This is an enormous amount especially when you consider a large portion of it is worthless yet banks would like to leave it on the asset column at full face value.  To put this in perspective, the outstanding credit card debt in the U.S. is approximately $826 billion.  Since the crisis has started and homes have fallen from their peak, banks have reduced HELOC access by $122 billion.  That in itself doesn't do much for that $649 billion still outstanding.  These loans are secured by real estate that is likely worth less than the total loan balance even with only the first loan.  HELOCs are junior liens and in foreclosure are usually wiped out.  What some people also forget is you have some banks being the first and second note holder.  These toxic loans were the fuel that kept the economy going for the housing bubble decade especially for California.
Just take a look at how many of these loans were originated in California during the bubble: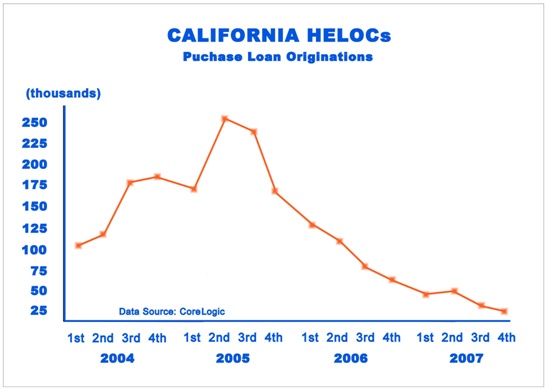 Source:  CoreLogic, Real Estate Channel
California was pumping out HELOCs like donuts at Krispy Kream.  I'm sure anyone that lived in California saw the real world effects of the home equity ATM.  Some in middle class neighborhoods suddenly saw their neighbors with nice toys because of the housing boom and all the debt access it provided:
"(L.A. Times) Bernie Doyle, 54, just wants to get back on a building site.

Before he was laid off in 2009 he made nearly $90,000 a year as a construction supervisor on high-end apartment projects in San Diego. He bought a 26-foot boat that he and his wife, Suz'Ette, took out nearly every weekend. He had a sense of pride each time he finished a job on schedule."
And this wasn't only a California problem.  People didn't refinance to save the money.  Look at this 2006 article from the New York Times:
"Borrowers no longer "ask me what is the quickest way I can pay off my mortgage," said Jack Williams, the president of the California Association of Mortgage Brokers and a broker in Orange County. "I haven't heard people say that for 15 years."

Many home buyers, however, say they have used adjustable-rate mortgages to manage their finances in the short run with the expectation of going to a fixed-rate loan."
Manage meant "I need money because my car is two years old and I've only taken one cruise this year."  This is at the core of the problem.  People for decades used to view equity and paying off the mortgage as a goal to go after.  The home equity loan is only a recent phenomenon.  In this last decade, Americans not seeing real gains in income decided that they still wanted to maintain a growing standard of living and used homes as piggybanks.  California was the guiltiest of all the states.  Cars, vacations, pools, home upgrades, and those ubiquitous granite countertops all seemed like a new financial right.  All that was being done was flushing away any equity that was built in the home.  Take a look at the average HELOC data between California and nationwide stats: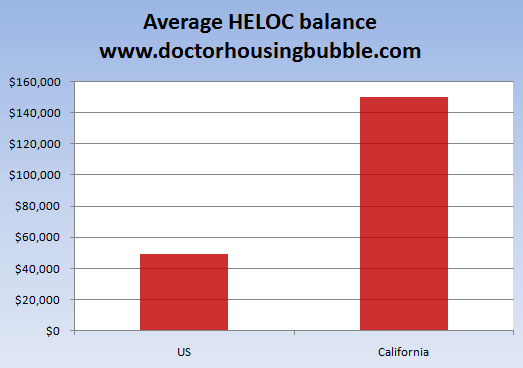 The average HELOC balance in California is three times the size of the nationwide average!  This is incredible.  In fact, the average balance of a HELOC in California is close to the current median price for a U.S. home.  HELOCs are probably reason #15 why banks are dragging out the foreclosure process as long as possible in places especially like California.  Where other first lien mortgages can be funneled into the trash bin that is Fannie Mae and Freddie Mac, second mortgages are usually valueless and reside in the balance sheet of banks.  Many of the too big to fail banks have these sitting on the balance sheet at full face value.
Let us put a real world example out there to see this in action.  Let us take a look at a few homes, two in Culver City and Pasadena that played the home equity loan game:
Culver City condo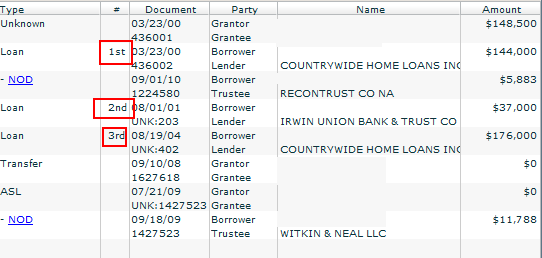 The above is for a small 849 square foot condo in Culver City.  The place was last sold in 2000 for $148,000 (that is the first mortgage).  Someone needed a bit of cash in 2001 and took out $37,000.  Not that big of a 2nd mortgage right?  But then three years later a third mortgage was put on the place for $176,000!  The place now has over $350,000 in mortgages while the property is probably worth the original purchase price.  You notice who the lender for the 1st and 3rd mortgage is?  Yup, good old Countrywide Financial.
Or take a look at this person that serially refinanced their home: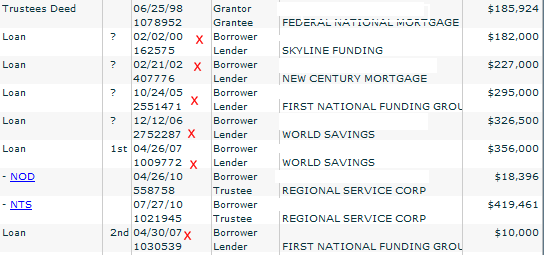 It looks like every two years, a refinance occurred and approximately $50,000 was taken out each time.  Why work when you can earn the median nationwide household income by simply refinancing?  Of course that pozni game isn't going well as you can see above.
Pasadena Home Equity Action
Here is an interesting case of someone paying $600,000 for a home in 2006 and it appears from the note that they initially went in with 30% down.  Yet what use is it if 8 months later you yank it out?

This home is a 2 bedroom home with 1 bath.  It is listed at 1,169 square feet: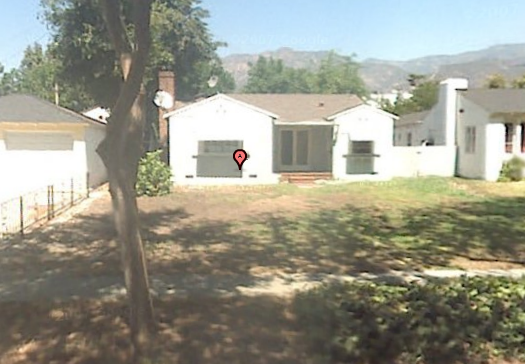 Does that look like a $600,000 home?  According to the current default notice, the market doesn't believe it either.
California as the toxic mortgage supercenter also dominated the jumbo loan market: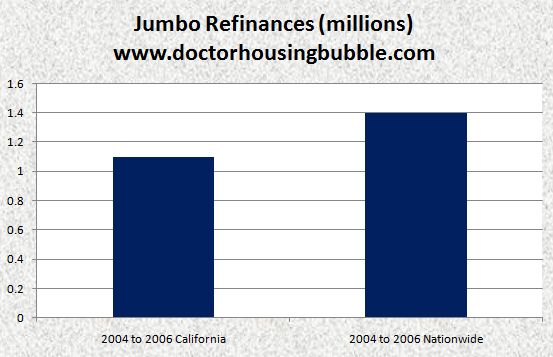 The above chart leaves me stunned.  From 2004 to 2006 nationwide there were 1.4 million jumbo loan refinances.  Yet 1.1 million of those were in California!  California has the largest nominal amount of toxic loans and when I look at shadow inventory it now crystallizes why banks are moving as slow as molasses on foreclosing.  It is a simple crony game if you think about it.  Banks have borrowed trillions of dollars from the Fed for close to zero percent and have parked them in U.S. Treasuries.  This was bailout money that was supposedly designed to lend to Americans but this is what happens when you trust banks.  So the yield on Treasuries is low partly because banks are crowding out the market as a safe haven.  2 to 3 percent might be low to you but this translates into large amounts of money when trillions are at stake.  So while HELOCs and jumbo loans fester away, banks are skimming money off the interest and gambling on the stock market to make profits.  There hope is that in time, inflation will cause home prices to rise again.  That won't happen because incomes are not rising.  Interestingly enough those who have looked at hyper-inflationary cases of Weimar Germany and Chile for example realize that real estate actually goes down during these times even if other items are soaring in price.
Going back to home equity loans and the housing ATM party because this is a big issue for the state.  Many ancillary markets like Arizona and Nevada benefitted from California equity giants buying second or even third homes out in the desert:
"(Durango Herald) Phil Satre, chairman of both slot machine maker International Game Technology and utility NV Energy Inc., said he thinks Nevada is at the "bottom of the food chain" in terms of financial recovery, depending on other states like California to drive tourism spending in Las Vegas and other destinations.

"I'm not very sanguine about the prospects of recovery in the near term," Satre said. "In my view, we have a giant umbilical cord to California."
At one point in the boom 4 out of 10 homes purchased in Las Vegas came from California money.  Since California's income has been stagnant, it came from home equity funds.  People forget that many bought homes with 80/20 or even 90/10 combinations during the toxic mortgage days: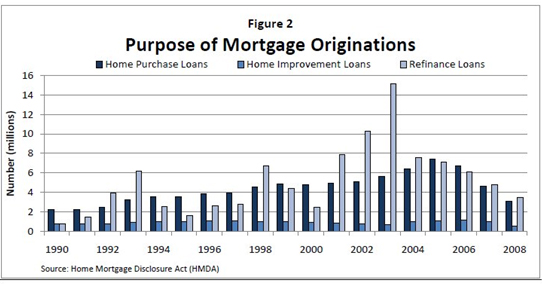 I find it funny how little actually went to home improvements.  This is at least on the front end.  Yet many did tap out equity and purchase cars, boats, and fancy vacations.  That money is gone.  That was money that fueled the economy for a good while.  Mr. Jurow gives one stat that shows how quickly the HELOC game has come to an end.  In June of 2005 nearly 92,000 purchase HELOCs were made.  In March of this year only 22 were closed in California.
The fact that $649 billion in HELOCs still remains tells us that we have some major problems ahead.  Since most are here in California, you can expect more price corrections for the state and more banks having to make giant write-downs.  The toxic mortgage problems will linger unfortunately for years to come.
Do you have any interesting home equity loan stories?

Did You Enjoy The Post? Subscribe to Dr. Housing Bubble's Blog to get updated housing commentary, analysis, and information.