The rise and fall of Bernard Madoff is a tipping point for the current market.  The market may be captivated next week with the automaker bailout but make no mistake, this will turn out to be a big case rivaling anything we have seen in this current climate.  Why?  Madoff actually admitted to the existence of fight club.  The first rule of investing fight club is to deny its existence.  He not only broke this rule but flatly stated that his investment strategy was nothing more than a Ponzi scheme.  This case will be important because so far, all we have had is a theatre of bread and circus from our politicians giving lip service to CEOs only to let them go off after a verbal lashing to collect their million dollar golden parachutes.
This case has the potential to cement a generation of distrust.  Here you have a market maker and former chairman of the Nasdaq.  A market maker is essentially a firm that both quotes a buy and sell price.  The profit is made on the turn which is the spread.  Now this of course requires at least some integrity but here you have a huckster making it to the top at one of the "big 3" markets in the U.S.; the Dow, Nasdaq, and S & P 500.
How big is this?  The Enron scandal, one of the biggest of the decade destroyed more than $60 billion of shareholder value.  Enron at its peak in 2000 had about 22,000 employees.  We already know that Madoff has put up to $50 billion at risk.  And from all reports we are now getting, it appears most of it was done with his own hands!  It is absolutely stunning.  Yet what is equally stunning is how complicit people were to believe his strategy.  Welcome to mania, a part of consumer psychology where people want to believe in fairy tales and easy street.  As the days go on, more and more reports are coming out with early warning signs being issued yet no one in any enforceable arm of the government wanted to act.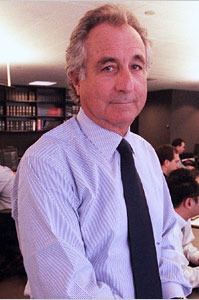 It is important to understand a bit of Madoff's history to gain a bigger perspective of one of the biggest swindles of our time.  Madoff was the chairman of Bernard Madoff Investment Securities which he founded in 1960.  His firm was one of the top market makers especially in the Nasdaq.  Madoff was born in New York in 1938 during the end point of the Great Depression.  He has homes in Palm Beach, France, Roslyn New York, and an apartment on Manhattan's Upper East side with a street value of $5 million.  Not to be out done, he has a 55-foot fishing boat with the aptly put name of "Bull."  I think he forgot the last name of the boat that goes very nicely after bull.
Madoff tapped into the elite social circles of the east coast.  Most of his clientele grew from word of mouth.  He had consistent returns although most of his investors had little idea how he was able to yield such consistent returns.  I would imagine many didn't care so long as the money came in.  How can they know?  It was a Ponzi scheme.  Many knew that something was amiss.  He either had inside information (illegal) or had some other connections to gain the upper hand for his investors.  Instead, we now find out that he was basically stealing from Peter to pay Paul.
Many of his investors trusted him to the point where the New York Times had an anonymous quote from a hedge fund executive who nicknamed him the Jewish T-Bill.  I'm not sure you want to use that nickname anymore given that some T-Bills are returning zero percent.
The criminal complaint filed against Madoff alleges that investors lost $50 billion because of the scheme.  That is right.  $50 billion.  He now faces 20 years in prison and a fine of $5 million if convicted.  Madoff did something different.  You mean run a $50 billion Ponzi operation?  Nope.  He confessed.  According to the S.E.C. Madoff told the F.B.I. agent that there was "no innocent explanation" for his behavior and here is the kicker, that he "paid investors with money that wasn't there."  This is the reason this story will gain traction.  Not only is it the biggest swindle in U.S. history if things play out like they are going but it will also be the first major player simply admitting criminal activity.  The public wants justice and we now start down the painful road of discovering what really went on in the cellar.
Why will this have such a big impact?  Because on a macro level, collectively the public has been yearning for someone to simply admit to what is going on.  We all know that each time some crony capitalist from the big Wall Street firms makes his way to Congress, all we are going to see is some Kabuki theatre.  They'll get nicely dressed up and entertain us for a few hours and then that is it.  No one admits any guilt or responsibility.  They get a verbal lashing and that is the extent of the punishment.  The American public needs some representatives with a stronger spine.  With Mr. Madoff, we have our first opportunity for a cathartic societal release of pent up retribution.  Make no mistake, this is only the first of many.  There is never just one roach.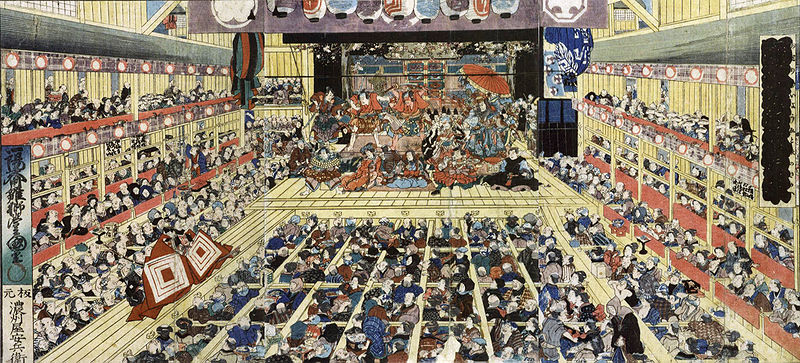 So what is a Ponzi scheme?  Named after the lovable Charles Ponzi, it is a fraudulent investment that pays a very high return to investors out of money paid in by subsequent investors.  There are no true net revenues or money generated from a legitimate business.  Sort of like injecting more and more into banks pretending they actually have valuable assets on their books.  Charles Ponzi, went from a nobody to a Boston millionaire in six months in 1920 promising returns of 50% in 45 days in an international postal reply coupon scheme.  Approximately 40,000 people jumped on the bandwagon with a total of $15 million.  When it collapsed as all Ponzi schemes do, only a third was recovered.  He went to jail but got out in time to gamble again in the middle 1920s Florida real estate speculation bubble.  Went to jail again and was deported to die broke in Italy.
What Madoff did isn't new.  In fact, if you remember the 1920s was a roaring time.  People want to believe in the free lunch and that they somehow have privy knowledge that no one else can obtain.  The power of Ponzi schemes is they suck in even "bright" people.  Think of going to a casino.  You sit at a slot machine.  You put in a quarter and right off the bat, you win $200.  You put in another quarter.  Bam!  Another $200.  Another quarter and a $300 win this time.  After a few times, you are conditioned to believe that somehow this machine is lucky or you have some secret skill.  You then decide that you are going to put all your winnings in the machine for one max payout play.  The machine doesn't pay out.  Game over.
I'll leave you with this great summary from John Kenneth Galbraith that sums up the stage of the collapse we are in:
"In many ways the effect of the crash on embezzlement was more significant than on suicide.  To the economist embezzlement is the most interesting of crimes.  Alone among the various forms of larceny it has a time parameter.  Weeks, months, or years may elapse between the commission of the crime and its discovery.  (This is a period, incidentally, when the embezzler has his gain and the man who has been embezzled, oddly enough, feels no loss.  There is a net increase in psychic wealth.)  At any given time there exists an inventory of undiscovered embezzlement in – or more precisely not in – the country's businesses and banks.  This inventory – it should perhaps be called the bezzle – amounts at any moment to many millions of dollars.  It also varies in size with the business cycle.  In good times people are relaxed, trusting, and money is plentiful.  But even though money is plentiful, there are always many people who need more.  Under these circumstances the rate of embezzlement grows, the rate of discovery falls off, and the bezzle increases rapidly.  In depression all this is reversed.  Money is watched with a narrow, suspicious eye.  The man who handles it is assumed to be dishonest until he proves himself otherwise.  Audits are penetrating and meticulous.  Commercial morality is enormously improved.  The bezzle shrinks.
…Just as the boom accelerated the rate of growth, so the crash enormously advanced the rate of discovery.  Within a few days, something close to universal trust turned into something akin to universal suspicion.  Audits were ordered.  Strained or preoccupied behavior was noticed.  Most important, the collapse in stock values made irredeemable the position of the employee who had embezzled to play the market.  He now confessed."
Human behavior rarely changes.  The crash of 2008 will force many people to reveal their losses.  We will be "shocked" at what we find.  I am still stunned by crony capitalist calling for a freeze to mark-to-market accounting hoping their nepotism can continue.  They want to keep their corrupt internal system hidden.  They would like us to believe Madoff was an exceptional case but he is simply the tip of the iceberg.  The secret of fight club is now out.
Did You Enjoy The Post? Subscribe to Dr. Housing Bubble's Blog to get updated housing commentary, analysis, and information.