The foreclosure solution, if we can even call it that, is based on banks foreclosing on lower priced homes and allowing higher priced delinquent borrowers to sit in their homes payment free.  The tragic aspect of this all is that agencies like the FHA, Fannie Mae, and Freddie Mac were specifically designed to help lower to moderate income home buyers yet the opposite is occurring.  In mid-tier markets like Culver City, what you see is a handful of foreclosures on the MLS while higher priced foreclosures sit hidden in the shadow inventory.  There is no denying this and the reason for this is apparent.  Banks are merely buying time until they can lobby the government to setup a virtual trash bin to move off their books the giant underwater homes.  Today we'll take another deeper look at Culver City which serves as a good example of a mid-tier city.
First, let us take a look at Southern California MLS inventory versus distressed properties: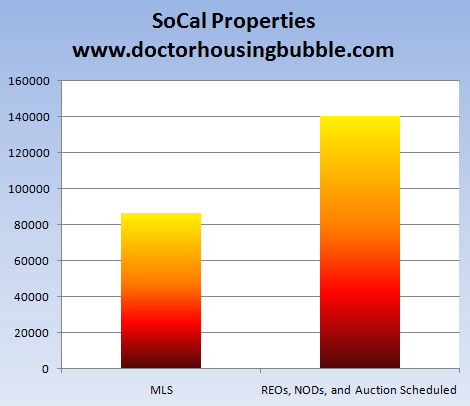 Source:  MLS, foreclosure filings
While inventory is growing on the MLS docket, the properties that enter view for public consumption are usually handpicked lower quality homes for that specific market.  It is interesting to note that a market like Florida, where home prices have absolutely collapsed, there is now a McDonalds like court system to clear foreclosures as fast as possible:
"(New York Times) Florida law requires that banks argue their cases before a judge if they want to recover property from borrowers in default, and 471,000 such cases were pending in Florida at the end of July, according to the Florida State Courts administration.

Setting up discrete foreclosure courts statewide was seen as a way to help deal with the issue; consumer law experts say they aren't aware of any other state that has set up a temporary court to work down such a backlog.

But it is paradoxical, say lawyers representing homeowners in the cases, that Florida's attorney general acknowledges problems in the cases while retired judges, intent on reducing caseloads, seem unconcerned about those same problems — like flaws in the banks' documentation of ownership."
The article is worth a full read.  What we find out is that the system is one giant mess and those making out like bandits are banks and lawyers.  Yet the essence of the measure is clear and that is to clean out foreclosures as quickly as possible even if documentation isn't clear (think of the mortgage broker loan mills except this involves judges and foreclosures).  Here in California, it looks like we are clearing out the low hanging fruit as quickly as possible but banks are holding off on those higher priced homes even if people have flat out stopped paying on their mortgage.  The above chart looking at Southern California is representative of the state.  The MLS shows 86,000 homes while the distressed inventory is up to 146,000.  Yet let us look at the data for Culver City in detail: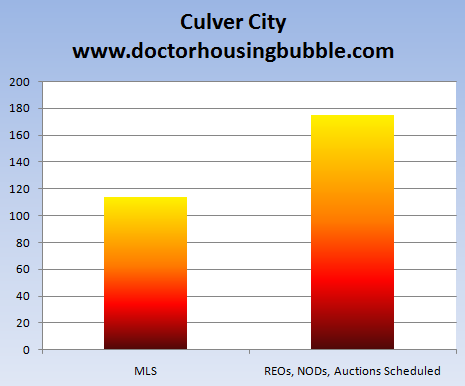 Culver City lists 114 homes on the MLS but 175 homes are listed as distressed properties.  These are not easily seen by the public without access to foreclosure filing data.  You might say there is overlap between the two.  You want to see how many foreclosures show up on the MLS for Culver City?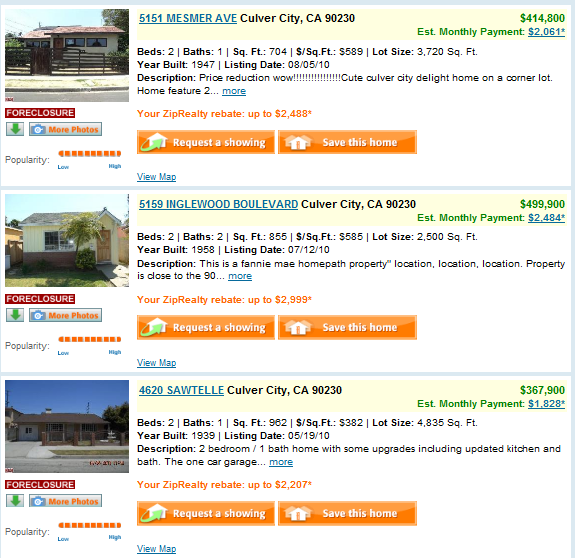 Only three homes show up!  And the price range for these foreclosures are from the mid $300,000s to the mid $400,000s.  This for an area with two zip codes with the following median prices:
90230:                   $569,000
90232:                   $749,000
But take a look at this home that is nowhere to be found except in the shadow inventory: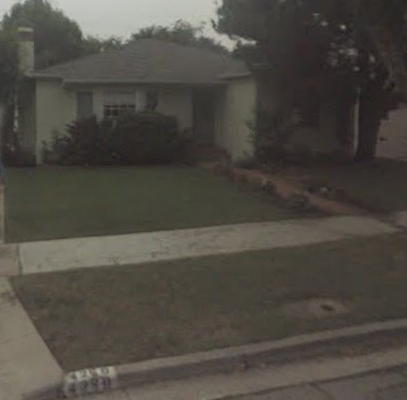 Bedrooms:          2
Baths:                   1
Square ft:            1,157
Year built:            1941
Zip code:              90232
Sales history:
4/1/1996:                             $245,000
8/31/2006:                          $800,000
The home is now wildly behind on payments because the home was purchased with 100 percent financing back in 2006:

The notice of default was filed and shows back payments of $30,000.  For the sake of argument let us assume a 7% blended mortgage payment at 30 years fixed.  The monthly payment hovers around $4,500 and $5,000.  So we're talking about 6 months of back payments for the first NOD to be filed.  Yet this property shows up nowhere except deep in foreclosure filing records.  Interesting that on the MLS no property from the higher priced 90232 zip code shows up for Culver City.  Yet this zip code has 31 distressed properties.  This is deliberate and completely on purpose.
It is interesting that while the obvious is being seen here, over the Labor Day holiday the government is planning to take on more toxic loans:
"(WSJ) The Obama administration on Tuesday will launch its most ambitious effort at reducing mortgage balances for homeowners who owe more than their homes are worth.

Officials say between 500,000 and 1.5 million so-called underwater loans could be modified through the program, the first initiative to target homeowners who are current on their mortgage payments but are at risk of default because they have no equity in their homes. Some experts are warning, however, that the same knots that tied up prior initiatives could do so again.

Under the new "short refinance" program, banks and other creditors that write down mortgages to less than the value of the property can essentially hand off the reduced loan to the government. The process involves refinancing borrowers into loans backed by the Federal Housing Administration."
It is interesting that in the article we are given an example from of course, California:
"The White House hopes to reach borrowers like Irene Gerloff, 62 years old, who was turned down for a loan modification because she can afford her payments. While she owes $292,000 on her two-bedroom condominium in La Habra, Calif., the property is probably worth less than $200,000.

She is worried about what happens in five years, when her "interest-only" loan begins requiring much larger payments. "If things don't improve between now and 2015, I'm going to have to let this house go," said Ms. Gerloff, a secretary."
La Habra is a bubble market out in Orange County.  Did you notice that we'll be helping someone with an "interest only" loan?  In other words, a dumping ground for toxic mortgage waste.  They should have used a higher priced home to drive the point further.  Banks are playing hardball with the government and after three years nothing has changed because what banks want is to have a way to unload their previous sins onto the taxpayers.  The reason this person can't refinance is because she can actually afford her payment.  When the note resets in 2015 it will be game over.  But banks are betting on two things:
-1.  Either the taxpayers are apathetic enough to allow our government to take on these junk loans and allow banks to continue the looting of the American public

-2.  The bubble will re-inflate by that time and Irene will be able to sell her home to another ponzi player
By the way, carrying a mortgage payment is insane at 62 years of age.  But that is another story all together.  The banks are idiots for making this loan in the first place and this person should have never bought with that mortgage.  Yet this story has played out tens of thousands of times over.  What isn't being covered is those mega defaulters in places like Culver City that are sitting in homes without making payments.  Why are banks moving on lower priced homes while letting the higher priced homes sit without action?  I think you can put two and two together and figure that out for yourself.
Today we salute you Culver City with our Real Homes of Genius Award.

Did You Enjoy The Post? Subscribe to Dr. Housing Bubble's Blog to get updated housing commentary, analysis, and information.