Some people forget how economic corrections occur.  Stock markets usually get hit first while real estate comes limping along.  Real estate is like turning around a giant ship in the middle of the sea.  Once it is on course, it usually stays on the path for some time.  Here in California, we've been enjoying one of the biggest bull markets in our generation and a big part is being driven by tech company valuations.  Just look at San Francisco for the idealized example.  Yet an odd thing has happened and much of the young talent is priced out of the market when it comes to buying.  You have old timers that purchased years ago or you have non-local buyers chasing after properties.  Millennials are getting sucked into the rental Armageddon trend.  The most unaffordable location is Los Angeles not tech driven San Francisco.  Let us take a look at what happens when large metro areas become unaffordable to actual young workers.
Unaffordable to rent
People usually think that San Francisco or New York would lead the pack when it comes to unaffordable housing.  Yet overall these markets are more affordable because on average, people make more money.  In Los Angeles there is a lot of all hat and no cattle households.  You have people addicted to debt and the perception of wealth.  Many try to run some sort of con-game in trying to talk and pitch things.  You definitely see this in real estate when people try to talk up crap shacks across multiple areas.
For the last six years we've had a good bull market in stocks.  The run-off has filtered into real estate.  We are now experiencing a slow down.  But before this recent action, take a look at the numbers for unaffordable areas: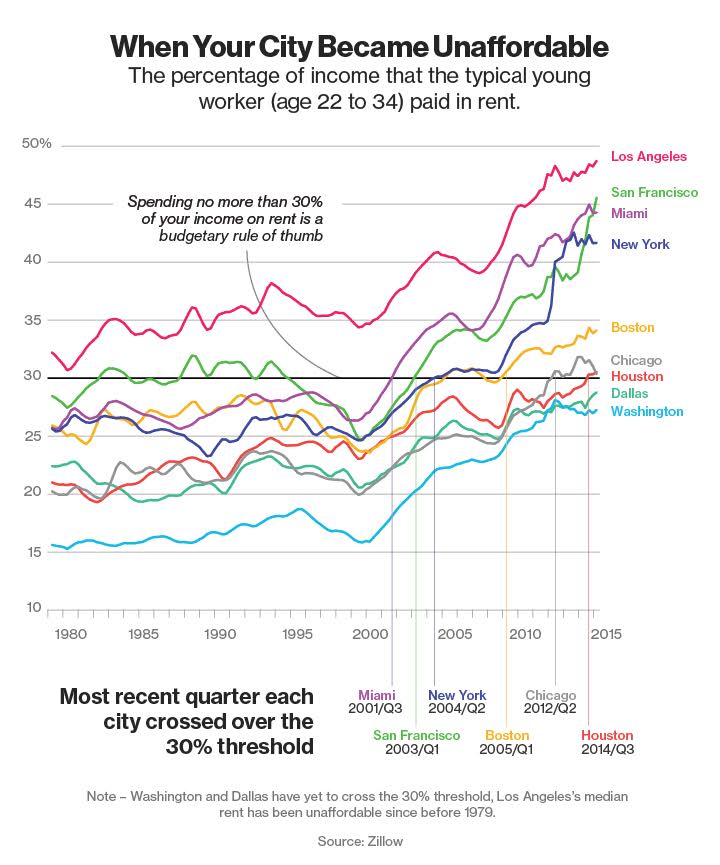 In Los Angeles your typical 22 to 34 year old is spending close to half of their income on rent.  This is higher than many of the cities on the list.  While cities like Dallas and Houston allow young workers to spend about a third of their income on rent thus allowing them to save for a down payment on a home.
In California we have 2.3 million adults living at home with their parents.  Somehow, those that can't foresee any correction have come to deify the Fed even though the Fed couldn't stop prices crashing just a few years ago!  They have forgotten about the graveyard of 7 million foreclosures.  They also say "no more liar loans" but those were a small part of the graveyard.  Most of the foreclosures happened on 30-year fixed rate mortgages where households just couldn't cover the monthly nut.  Unfortunately many people have bought the hype.  And these people think that the Fed is looking after their crappy stucco box home when in reality, they are more concerned about protecting elite financial wealth (i.e., bonds, stocks, currency).
So far, with this bull market we have yet to see the young home buyer come out and now we are seeing some deeper changes in the market.
Renting or living with parents
First the homeownership rate for young Americans has collapsed: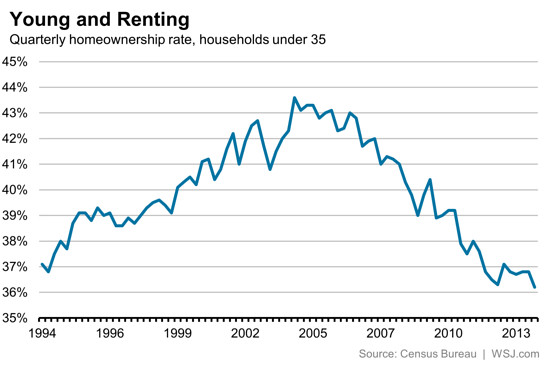 It has gotten even worse in places like California.  This is why even in recovery, we have many more young adults now living at home: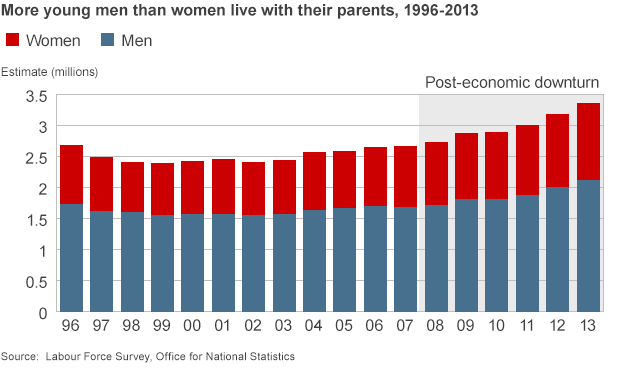 The official end date of the recession was in the summer of 2009.  Yet somehow, this recovery has done little to improve the homeownership rate for the young.  Part of it has to do with stunted income growth but also, home prices soared merely because of:
-Juiced up debt markets
-Big investor demand
-Low inventory
-Hunger for yield
Yet young household buying is simply not a big factor here when in past recoveries young buying was a big deal (it signified healthy incomes for young workers looking to start families and settle down). What is troubling is you have seen at the tail-end many lemmings dive into the market leveraging to the max assuming the bull run in stocks and real estate was going to continue for another six years.  As usual, markets boom and bust and they seem to have deeper volatility as central banks get more involved espousing stability.
Student debt with the young
But another issue with buying homes for the young is the massive student debt they now carry, over $1.3 trillion.  Most of this debt is with the young: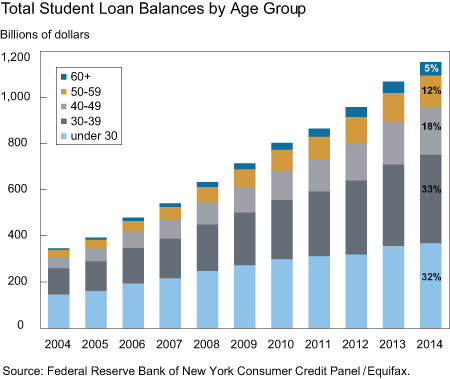 65 percent of all outstanding student debt is carried by those 39 and younger.  This is causing massive changes to the homeownership rate dynamic in the country.  Those laser focused on housing usually have an odd belief that real estate is a sacred cow that will never be left to correct, even though recent history shows the opposite.  They have some sort of odd belief that the Fed is keeping rates low so crap shacks can be inflated in value.  Last year alone oil was at $100 a barrel and the status quo was that oil would never dip below $100 again.  I'm seeing $39.36 a barrel right now on Sunday night futures.  The Shanghai Composite hit a high of 5,178 recently and supposedly was going to 6,000 in no time.  Right now it is at 3,250.  And keep in mind the central planners in China are doing everything they can and their real estate markets are well into correction mode.  Yet somehow, a crap shack is only going to be "allowed" to fall within a tiny range because of some odd fetish for real estate?
Young Americans are priced out of buying homes and many are priced out from even renting.  And somehow this is the group that is going to buy all the crap shack turnover once baby boomers decide to downsize either by choice or by nature.

Did You Enjoy The Post? Subscribe to Dr. Housing Bubble's Blog to get updated housing commentary, analysis, and information.