The state of California has a tax structure that is inherently in favor of stock and asset bubbles.  The biggest sources of income tax for the state include personal income tax, corporate tax, and sales tax.  These sources are completely dependent on the health of the overall economy and can turn on a dime.  Compare this to a state like Texas that relies much more heavily on property taxes that tend to remain more stable even in recessionary times.  But when times are good, the state of course manages a way to spend the money that is coming in.  The current housing market is pushing out the middle class but money is flowing into central coffers so all is good.  The Board of Equalization shows the big jump in real estate values across the state.  Total state and county assessed property values are up to $4.918 trillion, up 6 percent from last year.  By the time it all implodes, "I'll be gone and you'll be gone."  How stable are the tax sources for California?
The main sources for tax revenue
The state of California collects taxes on virtually everything.  We have a relatively high personal income tax, sales tax, and corporate tax rate compared to other states.  Of course we have one of the lowest property tax rates in the entire country with legacy programs like Prop 13 which aid in pushing property values even higher.
Yet the state relies on three main sources for revenues: personal income tax, sales tax, and corporate tax: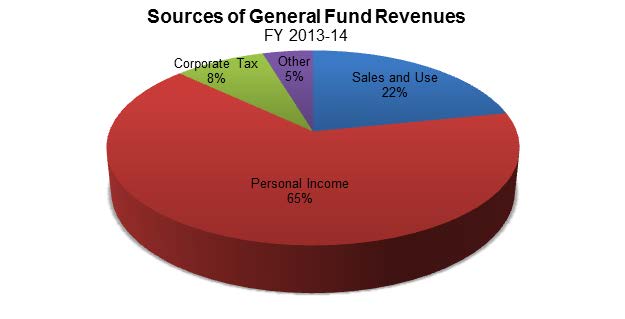 You can see how reliant the state is now on personal income tax.  You can thank the many tech executives paying massive tax bills since the top 1 percent in California pay half of all the state income tax: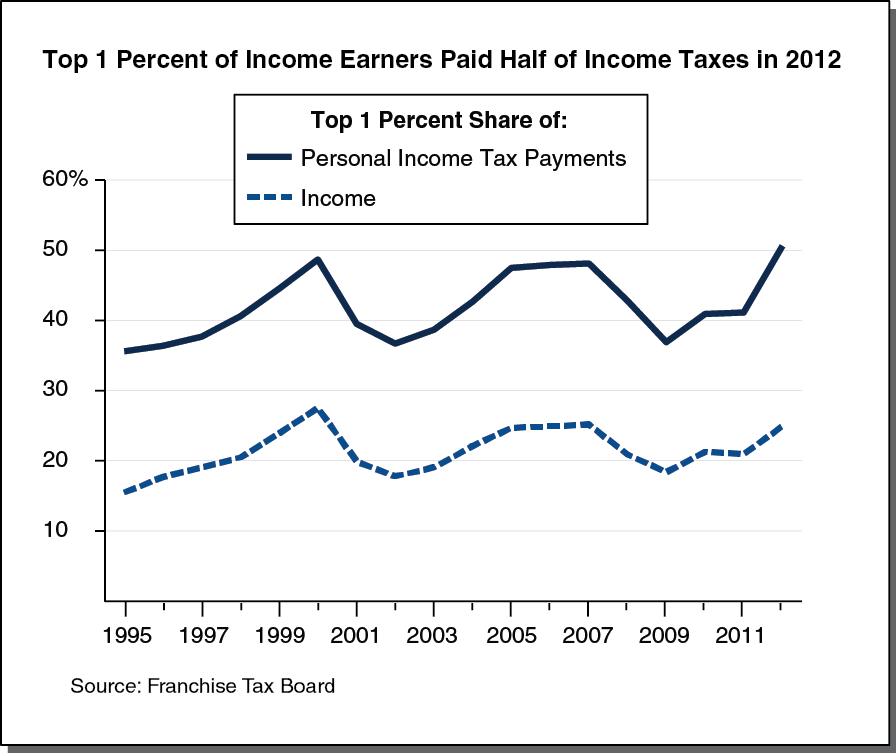 But of course this is highly dependent on things like the current stock market bull run.  Property values tend to follow in tandem.  Just look at the Bay Area which can attribute a large part of their mania to the runoff of tech money.  We are in year 6 of this major stock run.  This year the market has moved sideways.  Valuations are massively frothy and venture capital money is running out of "novel" ideas to fund.  Large investors have already pulled back in big ways from buying up single family homes.
The mantra of California taxes should be things are good until they are not.  Planning for a rainy day?  Unlikely.  The state is now relying much more heavily on individual income taxes to fund its budget, a rather volatile source: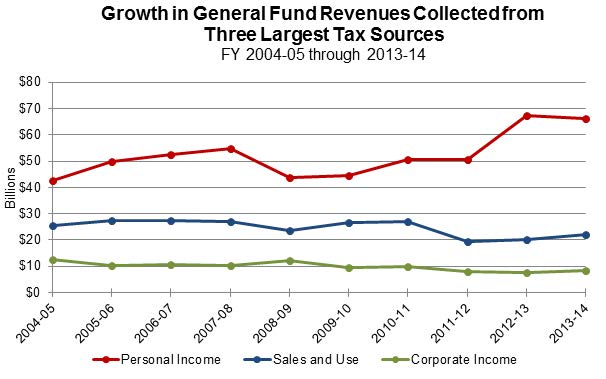 While sales and corporate tax collections remain relatively stable personal income tax has soared since the Great Recession hit.  The state is relying more on this as a source of income.  And as we noted, the top 1 percent pay half of this tax bill.  And where is much of their wealth coming from?  The stock market mania.  You better hope this stock market bull run continues.
And the localities are already betting on real estate values being high: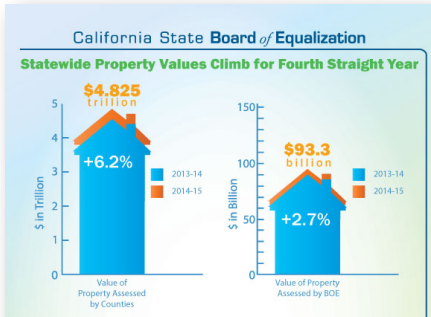 This increase of 6 percent in real estate values means higher property tax assessments.  We've noted many times when a crap shack with a Prop 13 gift card sells, the new owners usually pay up to 10 times more in property taxes for all of the same services offered to the previous owner.  Does that even make sense?  This is why a place like Texas where property taxes are high but personal income tax is non-existent also has less volatility in their real estate.  It also makes sense to be assessed on property values for what they are in the current market today.  This helps to show why the homeownership rate in Texas has fallen at a much slower rate than in California's rental Armageddon scenario: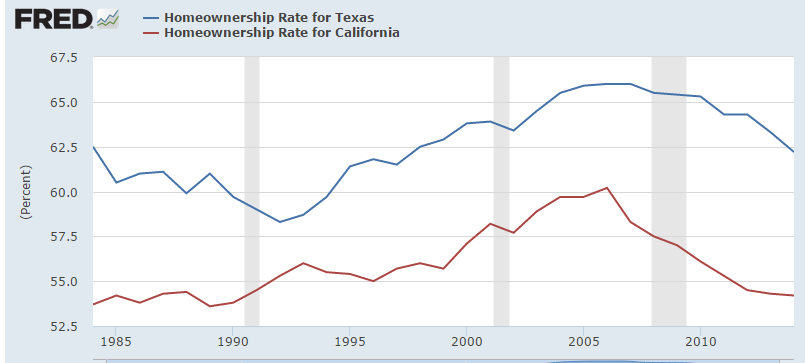 In a way, people should be thankful for those new crap shack buyers.  They are going to be paying much higher property taxes to help keep the state afloat.  And all they need to do is float that 30-year housing payment for a World War II stucco box.  Then you wonder why $1 million buys you squat in the Bay Area.

Did You Enjoy The Post? Subscribe to Dr. Housing Bubble's Blog to get updated housing commentary, analysis, and information.