It is safe to say that the momentum of 2013 has fizzled out in the housing market. Sales are down and prices are reaching a plateau. Part of this has come from the slowdown of investors purchasing homes in the state. An interesting end of the year study by the California Association of Realtors (CAR) found that 82 percent of investors that bought in 2013 had the intention of turning the home into a rental. The other 18 percent were giving the old flipper lottery a try. This helps to explain why inventory continues to remain lowbecause in more typical markets, a person selling the home would usually also buy another home in the ragtime favorite trend of property laddering your way into a bigger home. In other words, two transactions with one move. Today, you have many investors buying foreclosures from banks with a one and done deal (buy the home from bank and then put it on the market for rent). Yet from contacts in the housing industry, the lack of first time home buyers is dramatic. In 2013 the argument was that pent up demand for young buyers was going to give housing another dramatic run higher. In reality, 2013 gave us a massive run from investors and with them slowly pulling back, the market is already entering into a tipping point. Flippers buy for appreciation so what happens when prices stagnant or turn lower which is typical in these boom and bust cycles? In reality, first time buyers are absent because they can't afford to buy in California.      
First time buyers pushed out
First time home buyers are largely missing from the game in the current housing market. First time buyers in California are at levels last seen in 2006 when the housing market was in full out mania. Of the 7,000,000 completed foreclosures since 2005 1,000,000 of those happened in California. But screw them and screw history right? This is about getting on this party bus right now before we have another 2013. The foreclosure number is especially high when you get the dogma that housing is always a sure bet. You have a large number of variables at play here and first time buyers in California are being smashed.
Take a look at the trend here: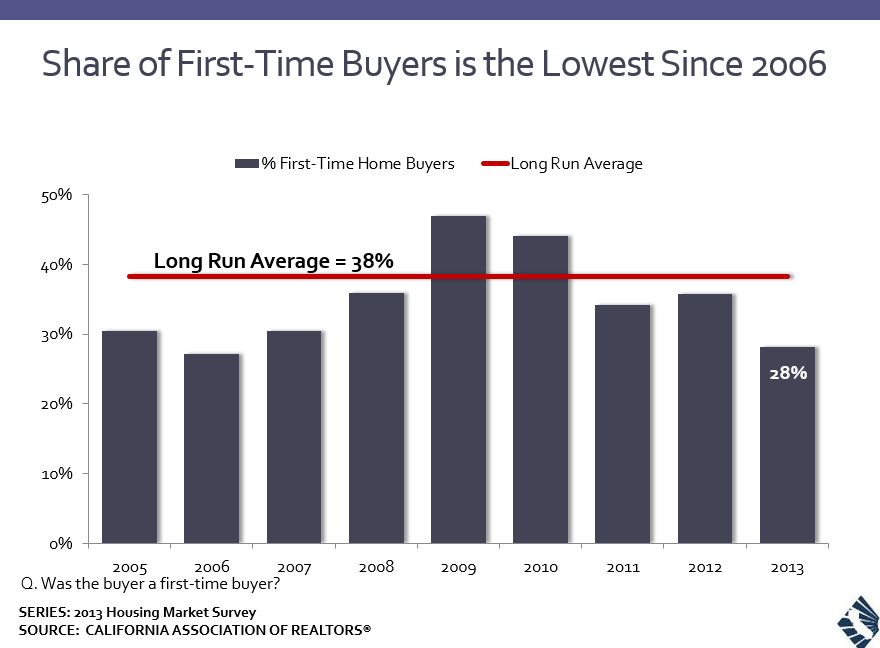 The long run average is 38 percent and we are nowhere close to that. Why is this so low? Because first time buyers simply do not have the household income to compete with large pools of investor money.
Minimum income required to buy
This data is from the annual CAR report so keep in mind this is from a group that is typically favorable to housing. Take a look at the numbers here in terms of being able to afford a home: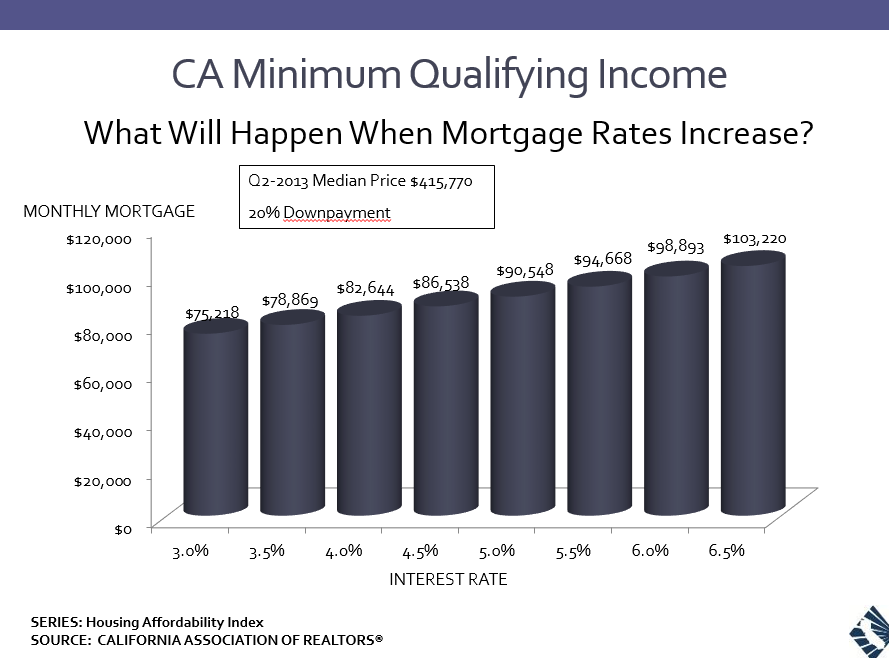 At an interest rate of 4.5 percent a household would need an income of $86,538 for the median priced home of $415,770. Since the report was published, the median price based on CAR data for California is now up to $457,160. Even if rates modestly move up to 6 percent, this household would suddenly need a $100,000 household income just for the median priced home in the entire state. Forget about the crap shacks in various areas around the state. You can get a great starter home in Compton or Inglewood. I'm sure young professionals are just itching to take the vanguard of gentrifying these cities. Instead of liquor stores you now have a Starbucks so don't worry about that price tag.
More to the point, good luck finding a large pool of young buyers with $80,000+ for a down payment. For first time buyers, incomes absolutely matter and the CAR even realizes this.
Investment buying with cash buyers
Of course the crowding out of first time buyers has come from investor buying: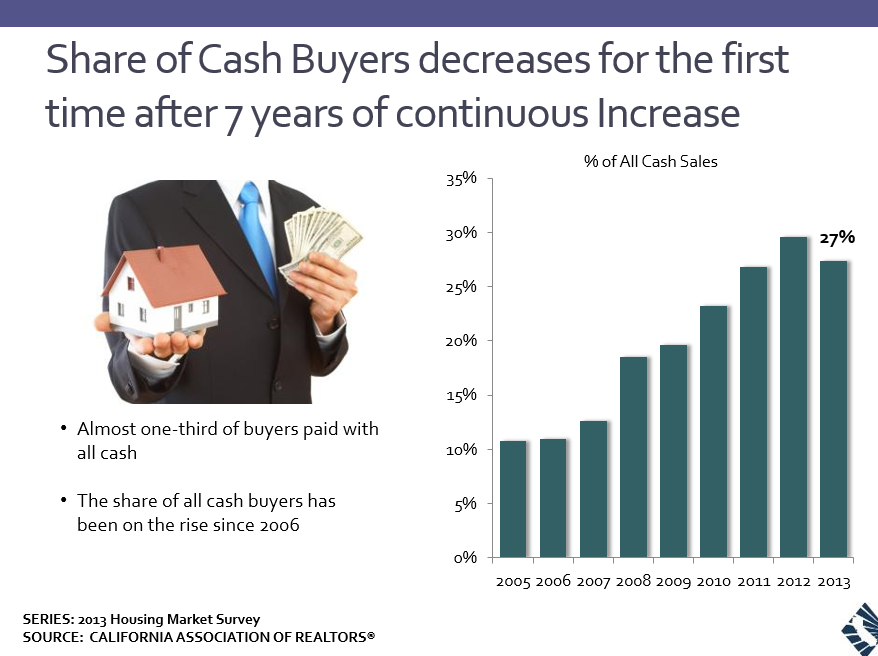 You'll notice that investor buying actually dropped a bit in 2013. It has dropped significantly in 2014. It is important to note that 82 percent of investors planned on turning their purchase into a rental. How many properties since 2008 have been pulled off the market for a decent amount of time? This is an interesting point to examine and absolutely helps to explain the low inventory hitting the market.
For those thinking that everyone that sells in California is making out with big bucks, take a look at the median net cash gain to the seller data: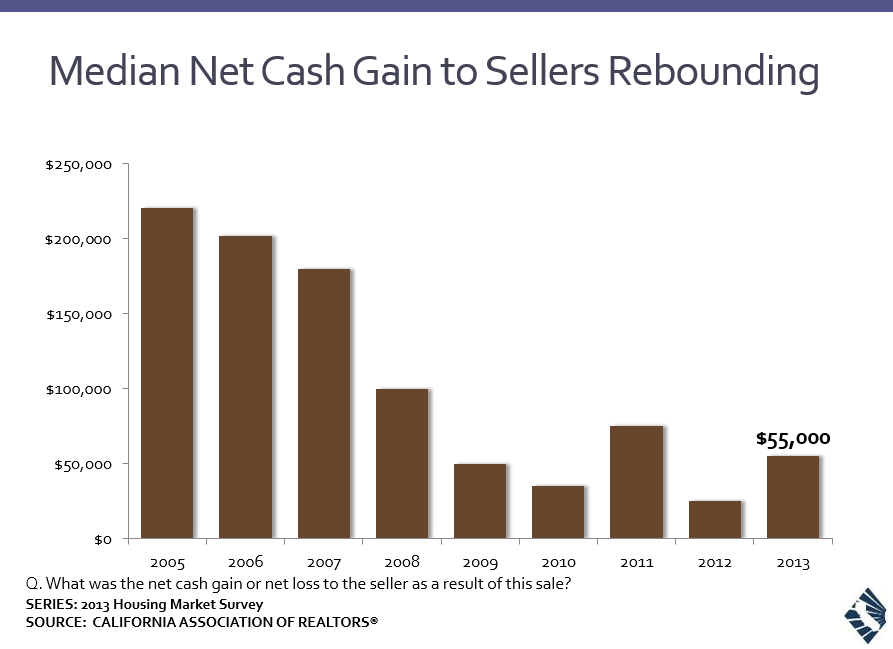 Even in the very lustful 2013, the net cash gain to sellers in California was $55,000. Enough to buy you a basic foreign car outright.
Adults at home
So the young are not even players in this market. I would argue that many can't even afford current rentals in more expensive areas. The data backs this up:
"(UCLA) For a variety of reasons — lack of a job, job loss, divorce, home foreclosure — more than 2.3 million adult children in California were living with their parents in 2011, 63 percent more than in pre-recession 2006. There were 433,000 older adults, age 65 and over, who housed approximately 589,000 of those adult children.

"A college degree is no guarantee of a job today, and an unprecedented number of families have been forced to return to a multi-generational household," said Steven P. Wallace, associate director at the UCLA Center for Health Policy Research and a co-author of the study. "Until the economy provides the kinds of jobs that allow all adults to be self-sufficient, families will need help."
AKA, incomes suck for many young workers in California, even those with college degrees. How are these adults going to afford those $700,000 pizza boxes when they can't even afford a higher priced rental? The young buyer is getting smoked in California. So what many are left with is stretching their budgets to compete with these cash flush groups of hot money. 14 percent of SoCal buyers used ARMs in the last month of sales data. Compare this to 1.9 percent in May of 2009. Why? Because ARMs allow for higher leverage even when fixed rates are at near historical lows and the Fed continues to point at higher rates in the near future thanks to the end of tapering.
The mentality rarely changes and that is think for the short-term. Forget about retirement planning, just buy a home with the other lemmings and future income will come from somewhere. Maybe we'll find some in the La Brea Tar Pits. And this also brings me to the point that 1,000,000 Californians flat out lost their home due to foreclosure since 2005! They bought at a high price and couldn't sustain their payment. Heck, we still have some legacy owners deep in foreclosure still living in their property as banks continue to drag out the foreclosure process. This is also another reason why the median cash gain to sellers in 2013 was fairly low. Someone overpaid in the last bubble, held on, and is riding this game again so the gains are fairly low when you consider the current median price.
The psychology of the California home buyer and seller is fickle. In the last bubble, every justification was made for high prices. Today, we see similar justifications again but first time home buyers are being squeezed out. So then who will buy? Baby boomers with their golden sarcophagus? Probably not since many of them have their grown kids living at home. First time home buyers? Look at the stats. Not exactly promising especially when you look at incomes. Limitless foreign buyers? In some cities this will have an impact but for how long? It should be clear why there is a drought in first time buyers in California. Given the weak summer selling season, some folks missed the memo on housing being the safest and greatest investment in California. Don't run the numbers, just buy. Those 1,000,000 households that lost their home don't know as much as you do.

Did You Enjoy The Post? Subscribe to Dr. Housing Bubble's Blog to get updated housing commentary, analysis, and information.