In most open markets a steady stream of demand will usually trigger a counter response with supply. This of course assumes open channels and healthy competition. Unfortunately this is not the case with heavily subsidized and often politically motivated real estate. The overall theme of housing in the U.S. recently has been one where more Americans are simply being priced out of the market and millions are becoming renters because of financial necessity. There is a simple formula when thinking of true household formation as it pertains to real estate: in a perfectly balanced market you would have home supply in new completions plus excess vacant properties for sale plus manufactured homes being in balance with housing demand in household formation plus demolitions plus second home purchases. Of course this assumes that builders can adequately predict future demand which they cannot. But builders are betting on many future households being renters and they are putting their money in the multi-family housing market. You would think with the big spike in prices in 2013 that builders would be rushing out to build homes to meet this demand. Yet this demand is coming from a fickle group of investors looking for deals rather than a "home" which is typical for most traditional buyers and prices are being pushed up on very low inventory. What happens if household formation doesn't get back on track?
The never forming families
There are many new trends emerging in this housing market that are bucking historical trends. For example, seeing spiking prices with the homeownership rate plummeting. Another example would be having incredibly low housing inventory yet people battling it out like hyenas over a rotten piece of carcass. Most baby boomers have seen a national housing market that had a fairly good handle on household formation equilibrium. As housing demand grew supply was added in a manner that kept prices in line with actual debt availability and actual income growth. Today people seem to think that having investors (domestic and foreign) dominating the bulk of sales in some markets is somehow the new normal and will remain sustainable for long periods (i.e., 5 to 10+ years). In small markets this can be a big change but the U.S. is a nation of 318 million people so at some point actual Americans are going to need to pick up the slack in the housing market.
We simply are not seeing households being formed at a healthy pace based on actual population growth: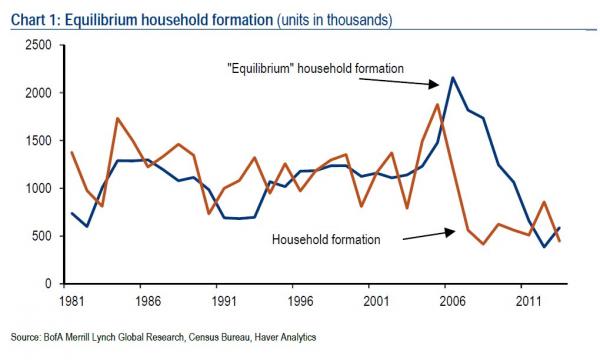 Household formation continues to be weak. It is so weak in fact that we are seeing it at its lowest level in a generation. In places like California we have 2.3 million adults living at home with parents because they are financially unable to buy (or rent in many cases). Some think this is pent up demand but unless these "kids" have incomes to support $600,000 stucco crap then we have a big change in the wings. The current meme is that prices will remain infinitely high because investors around the world have an insatiable demand for real estate. So far, this has been the wind keeping this housing bird up since 2009.
Yet builders are not so anxious to dive into this game: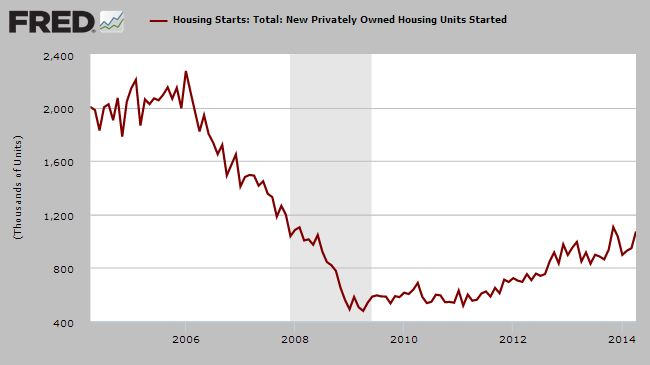 For the first time since 2008 we have hit the 1 million mark in housing starts. Keep in mind most of this building is happening in more fairly priced states and we've slowly worked through nearly a decade of excess building. Investors have been the large buyers since 2008 and this is heavily reflected in the falling homeownership rate.
Household formation by Americans has been the engine for housing growth starting after World War II. The system is built on this predictable ebb and flow. This entire system is virtually shut down. You have people convinced that homes should sell at current prices but locals can't afford them. So you have investors buying up what little inventory is out there, for now. Locals are left to either rent, live with others, or pony up and take on a sizable mortgage (we see people stretching budgets by going with ARMs for extra monthly payment support).
Household formation for young Americans is at generational lows: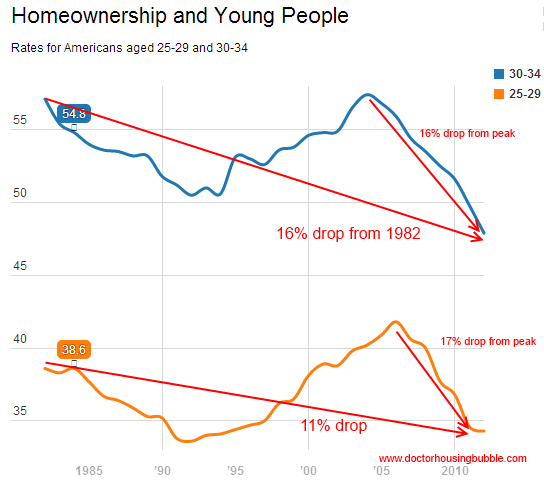 If prices in 2012 were already too high for these households, what of the prices of 2014? The push for higher prices is coming from a fickle group and we are already starting to see demand wane. Some seem to think that investors are going to sink their money into a piece of crap home simply because they are investors, either domestic or foreign. While some of these investors are the house horniest of them all, they are not going to chase a money pit with no future. Some will simply follow the herd like a lemming marching to the newest rendition of "it is different this time" by the trendiest DJ.
Yet overall, sales volume is weak. This is why existing home sales are still pathetic in spite of this perception that investors can cure all: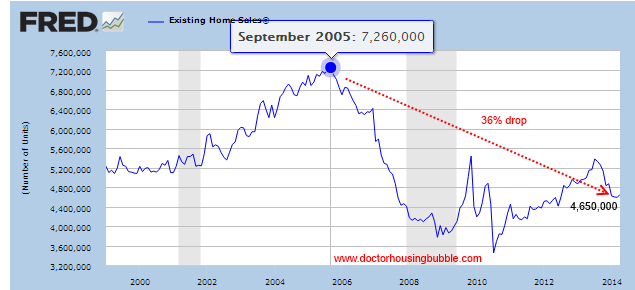 Housing prices are up on thinly traded volume, market manipulation, a non-market with the Fed buying up virtually all mortgage backed securities, and household formation not occurring because younger households are simply too poor to buy or rent in many cases. All of us are left to speculate what the black box of the Fed is thinking. Yet some are waking up looking at current prices and gaining their marbles and foregoing a life of debt servitude for an otherwise crap shack for an outrageous price. The financial system is trying to get this mania to spread into the mainstream but it appears the regular Joe and Jane is priced out even with record low interest rates. The only way to get that household formation number picking up at any sizable pace is to bring back the NINJA loans and given the rhetoric I'm hearing, we might not be too far away from hearing these boneheaded ideas being thrown around.

Did You Enjoy The Post? Subscribe to Dr. Housing Bubble's Blog to get updated housing commentary, analysis, and information.