You knew it was only a matter of time before home flipping shows made it back to the reality circuit.  No longer are people watching Canadian real estate bubble shoppers and having people edit out any reference to the city (or country).  2012 brought out a furious jump in California real estate activity.  A perfect artificial market with the Fed as puppeteer has boosted the market for the short-term.  Remember however that the Fed was also instrumental in setting the stage for the first housing market boom by lowering rates and essentially ignoring the nonsense going on in the global mortgage markets in the early 2000s.  So those that put all their faith in the Fed need only look back a decade or so.  Yet the force of flippers in California is so intense that you can see it in the eyes of some investors that "this time is really different and we are back in the game!"  In Highland Park, we see an expert flip but also examine the current state of the housing market.  To buy or not to buy, that is the question.     
California home sales
First let us examine home sales in California: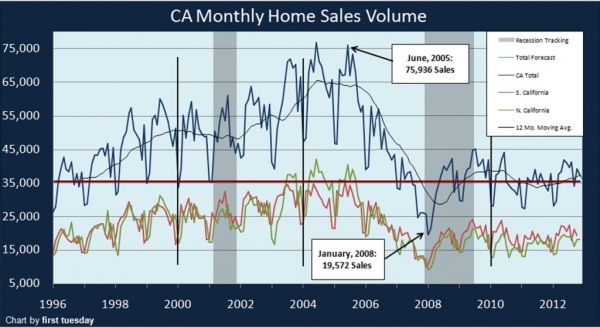 While home sales look like they are surging, they are surging from a very low point.  We are essentially having the same level of home sales as we did in 1996 and 1997 with a much larger population.  So in essence what is going on is you have a much larger pool of buyers contending for a very constrained amount of inventory.  We can see this especially with the underwater segment of homes in California: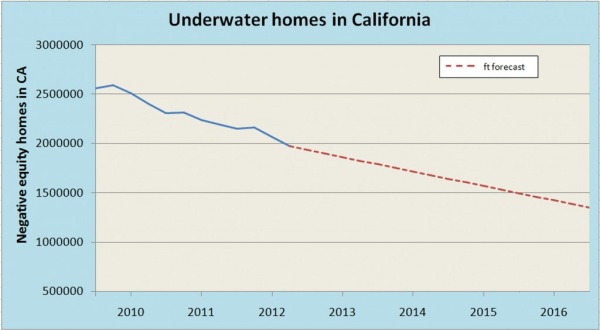 Source:  First Tuesday
You have about 2,000,000 homes in California that are underwater.  This is incredibly important.  Why?  First, you have slightly above 5 million homes in the state with a mortgage.  So of those with a mortgage on their home, 2 million are underwater (that is nearly 40 percent of mortgaged Californians are still underwater).  When we factor in those with a paid off mortgage the figure drops below 30 percent but you understand why inventory is constrained.  Many of these underwater homeowners are still paying on their mortgage diligently and many would like to sell but rather not go through the short sale process.  And many others are staying put while not paying a dime courtesy of the bank moratorium on foreclosures in certain areas.
The number of mortgages that are delinquent is still high: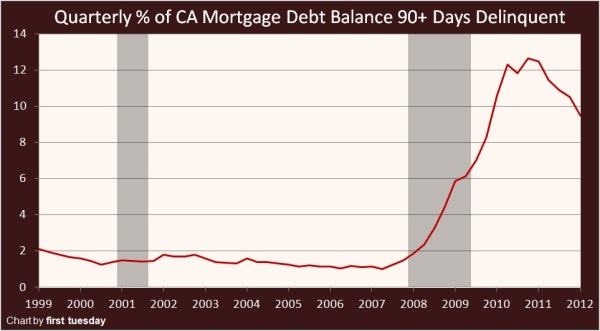 While the rate is going down, we are far from the 2 percent baseline.  Yet some areas of the state are now seeing fierce competition from flippers and other hot money. Take a look at this flip in Highland Park: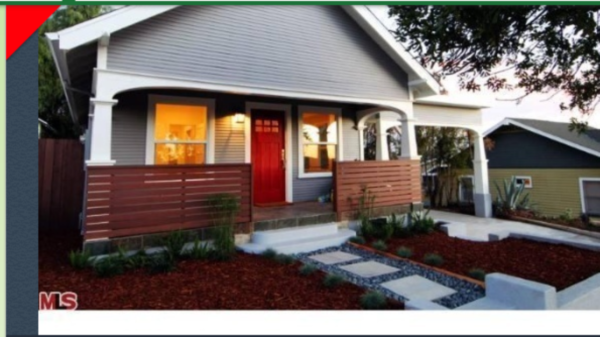 1132 Le Gray Ave, Los Angeles, CA 90042
Bedrooms:3 beds
Bathrooms:3.0 baths
Single Family:2,334 sq ft
Lot:6,839 sq ft
Year Built:1924
This is an interesting flip because of the quality put into the place.  Also, it looks like the initial place was listed at 2 bedrooms and at 684 square feet so a lot of work was done here: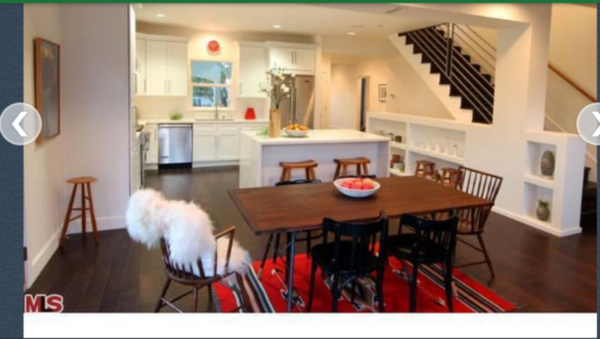 This was no fly by night flip.  This was done by experts.  And take a look at what price they got this place for: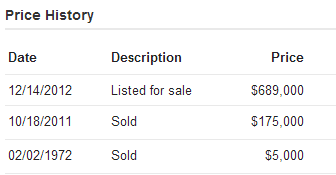 The home was picked up for $175,000 only one year ago and now it is listed for $689,000.  What is even more astounding is the home was listed on the 14 of this month and now has a pending sale.  This flip required a lot of money to be put in but with a $514,000 gain in one year, I'm sure there are profits to squeeze.  And I spotted this over at Redfin and take a look at this post:

Get your DVR ready because the flipper shows are coming back to SoCal!  And why not?  Flipper activity is intense now and there is plenty of this going on in various hipster neighborhoods.  For example, last year 3.7 percent of all homes sold again within a six month window.  Today it is up significantly at 6.2 percent.
Fed policy makers come out against current policy
One of the biggest arguments regarding buying today revolves on the all powerful Fed.  But even within the Fed there are now those disagreeing with current policy:
"Reuters: – "I do not believe that tying the federal funds rate to a specific numerical threshold for unemployment is an appropriate and balanced approach to the FOMC's price stability and maximum employment mandates," he said in a statement, referring to the Federal Open Market Committee."

"Reuters: – "Deliberately tilting the flow of credit to one particular economic sector is an inappropriate role for the Federal Reserve," he said, adding that trying to influence credit allocation within the economy was a function of fiscal policy."
Dallas Fed President Richard Fisher is calling the policy a Hotel California policy which is very appropriate.  We've talked about this where the market is now addicted to ridiculously low rates.  They now have no choice but to continue down this path regardless of symptoms and spillover effects that we are already seeing.  Even if interest rates went back to 6 percent which is much lower than the 8 percent 40 year trend line, the housing market would find itself moving lower yet again.  In places like California, the impact would be dramatic.
But let us play a little bit of devil's advocate here:
3 Reasons to Buy Now
#1:   Record low interest rates
#2 :  Federal Reserve fully focused on housing market
#3 :  Buying into momentum
Two of the top three reasons to buy right now involve Fed action.  The assumption is that this can go on for a very long time.  We have many potential Black Swans over the horizon with our fiscal situation, our state volatile budget, and the higher education bubble.  Those aspiring to be part of the middle class in California seem to have no choice but to go to college: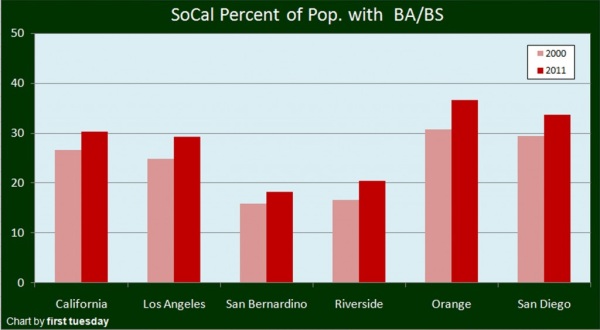 In California nearly 30 percent of the adult population has a 4-year college degree.  This has gone up in the last decade and there is little reason to doubt the momentum has changed recently.  Yet what has happened over the last decade is college tuition has soared.  So you have those future young home buyers straddled by high levels of debt.  Another reason given to buy right now is you would be buying or selling into momentum.  Yet to play today's game, you need to realize you are diving into a very low inventory market with multiple players trying to get a piece of the pie.  One investor e-mailed me regarding short sales saying that whatever you see hit market is the crumbs left over after insiders took their bids on good properties.  Short sales are a big part of the market but the best is not what is hitting the MLS.  There are countless articles on short sale fraud and how the game is manipulated.
Let us look at the other side of the argument:
3 Reasons to Avoid Buying
#1 :  Artificially low rates and low supply
#2:  Fiscal changes and taxes
#3:  Speculation in current market
The low supply is making things look more competitive than they should be.  As we highlighted before, nearly 40 percent of all homes in California with a mortgage are underwater.  So the vast majority are simply sitting this one out.  Low rates with FHA insured loans are increasing the pool of potential buyers to almost anyone:
-Those with a low down payment and stretching their budgets
-Conventional buyers
-Flippers
-Big money investors (i.e., Wall Street funds)
-Foreign money
If we refer back to the first chart in terms of sales, overall sales volume is simply back to levels last seen in 1996 and 1997.  Yet it appears more constrained because the demand side is much higher and supply is extremely low (those 2 million underwater and banks just leaking out properties and manipulating the market).  They are hoping Fed momentum continues deep into 2013.
Yet many of the younger home buyers simply do not have the resources to compete.  We already see this via their income potential and their debt levels with student debt.  You have many parents in California gearing up to gift their homes to their children locking in Prop 13 tax rates which creates an odd sort of legacy program.  At the core of the US storyline is that you earn your success by your own merits, not some odd form of aristocracy that you gift properties to heirs like in European nations.  Yet that is what you see here.  So it should be no surprise that Prop 13 is now back under the radar for policy.  And that is another factor that would sway some from buying.  The state is largely half owners and half renters.  So it is easy to see how the politics can sway to open this back up.  We just showed that we are willing to raise taxes on everyone in the state.  So why is it hard to envision taxes going up for half of the state?  When Prop 13 initially passed it was done by portraying grandma being kicked out of her home because of rising taxes.  Yet that can easily be fixed by exempting those cases.
To buy or not to buy, that really is the question.  Flippers are diving in with a full head of steam and the shows are back to glamorize.  How long can this go on?  Hard to tell but with household incomes not rising they better hope that hot money continues to pour in.

Did You Enjoy The Post? Subscribe to Dr. Housing Bubble's Blog to get updated housing commentary, analysis, and information.