The hipster mania continues in Silver Lake.  Southern California is such an interesting place especially when you roam around Los Angeles.  The entertainment industry being so close must create a slow moving cloud of manic optimism and apocalyptic failure whenever bubbles emerge.  The oscillation between decline and bewildering dashes to purchase has been going on for well over a decade.  People again seem to be fine that household incomes are stagnant yet somehow rents and home prices are all rising up.  Did you notice gas prices in SoCal?  They're inching close to record levels.  Notice the cost of the quality colleges in the area?  Not exactly cheap.  Of course all of this is being financed with easy money courtesy of Big Ben Bernanke.  I had to post this property in Silver Lake because it shows the madness of the current market.  Today we salute you Silver Lake with our Real Homes of Genius Award.
Gas prices and hipsters
First of all gas prices are near peak levels in California: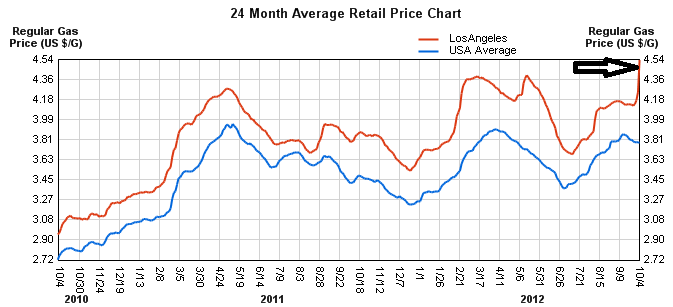 For commuting obsessed Southern California this is definitely going to put a pinch on the wallet.  Yet when access to debt is easy, it doesn't really matter that the cost of living is moving up because people are desensitized to go into massive debt.  And by the way, we still have over 5 million Americans that are in distress on their mortgages: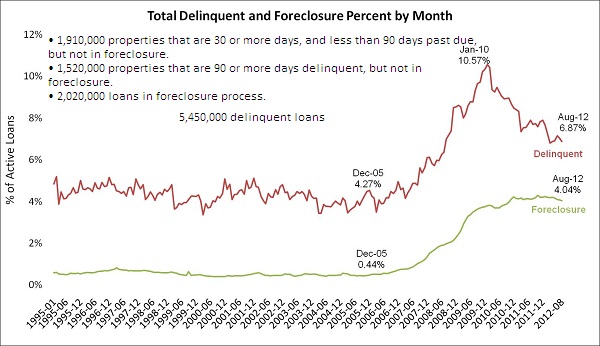 Of course thanks to the Fed going all in on lowering mortgage rates, households are once again going into massive leverage to buy.  FHA insured loans with the tiny 3.5 percent down payment requirement are the option of choice for maximum flexibility (aka households with little cash).  They provide insane 30x leverage.  What I sense in the market right now is capitulation.  People get that incomes are stagnant.  People get that the debt is out of control.  Most understand that we have major demographic challenges ahead and many young Americans are struggling to launch their careers.  Yet psychology and tribe mentality trumps most of this.  People hear the stampeding herd, see a tiny shift in the wind and now are thinking they are going to be left out of California housing boom part two.
Let us go back to hipster Silver Lake since I am seeing properties hit the market with prices that bring back the memories of the mania.  Take a look at this place: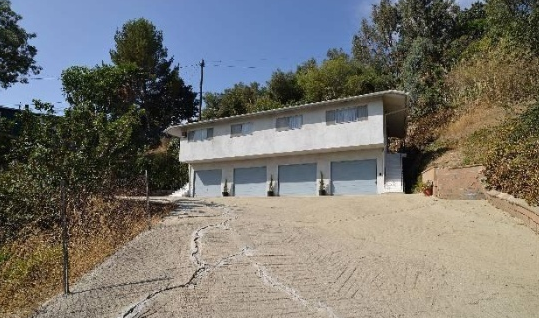 2256 Earl St.
Los Angeles, CA 90039
Built 1961 – Square feet 1,344 2 beds 2 baths
This property was only put on the MLS a few days ago.  I absolutely love the ad:
"Endless possibilities located up a long drive way on a large 9,000 SF lot. Resting atop 4 garages this unique offering features 2 bedrooms, 2 baths and wood floors both showing and beneath carpet. Purchased from the original builder some 40 years ago the current owner occupies the entire property as a SFR while tax records identify it as 2 units. A very comfortable home as-is or a great opportunity to think creatively and reap the benefits."
Bwahahaha!  Endless possibilities along a long drive way.  I mean this is like reading Hemingway if he were to craft ads for the MLS.  So what is the going price?  $750,000.  A very comfortable as-is home?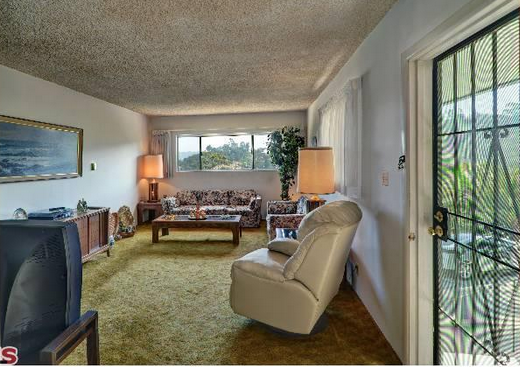 Think creatively buster!  Say you turn this into a duplex.  How much are you going to get each month?  Certainly nothing close to justify the $750,000 price.  This is inching closer to ONE-MILLION-DOLLARS!  People in California are so accustomed to nonsense pricing based on leverage.  People have forgotten what it is like to save.  A 20 percent down payment would require $150,000.  How many people in SoCal have that saved up?  Not many and those that do are unlikely to have this property on their radar.
In the midst of all of this, there is one group that is winning big:
"Bloomberg: – Margins on sales of mortgages have widened by about 50 percent since the Fed's announcement from the average level this year, which already was elevated, said Kevin Barker, an analyst at Washington-based Compass Point Research & Trading LLC.

"It's very good to be a mortgage originator right now," he said in a telephone interview."
No wonder why I'm not hearing from mortgage lenders that often anymore.  They are busy churning out refis, loan mods, and sales.  Just like the early days of the boom, the big winners are in the finance industry and others are just trying to get some crumbs before the tide goes out again.  Today we salute Silver Lake with our Real Homes of Genius Award.

Did You Enjoy The Post? Subscribe to Dr. Housing Bubble's Blog to get updated housing commentary, analysis, and information.