Flippers have targeted favorite areas like Silver Lake and Culver City for many years.  Silver Lake in particular has brought in a larger number of flippers that are catering to the hipster crowd.  One big change I have noticed in the past decade is the lack of consideration for a down payment.  There was a time where a person or a couple actually tightened their belts for a few years to come up with the 10 or 20 percent down payment required to purchase a home.  Today, with low down payment loans like FHA insured products I rarely hear this conversation.  You buy when you feel like it.  Think about it.  For a $500,000 home you would need $17,500 for the FHA portion.  That is it.  So this part of the market has certainly transformed.  Yet I'm noticing flippers all over the place now including Burbank.  The asking prices are now very similar to what we saw during the mid-2000s.  Today we salute you Burbank with our Real Homes of Genius Award.
Flippers in Burbank
Today our example leads us to Burbank.  I saw this home pop up on my radar because when it sold in August, it went for $415,000 and had four bedrooms: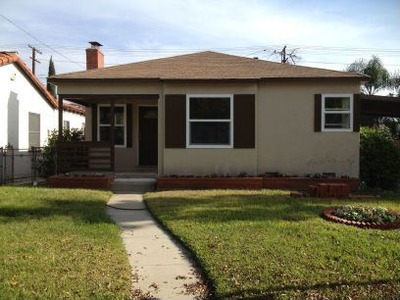 1510 N Pepper St

Burbank, CA 91505

Beds:                     4

Baths:                   2

Square feet:       1,235
Given the size and the current market, it was no surprise that it sold in August.  Yet it popped back on my radar recently.  Take a look at the pricing history: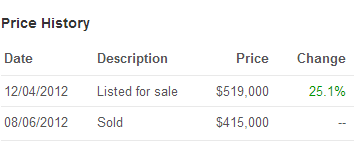 The home was listed only a week ago and is now priced at $104,000 higher.  By the way, the typical household income for this zip code is $60,000.  So what exactly was done on this place to justify a $100,000+ hike in a matter of a few months?  Let us look at the ad first:
"PRICED TO SELL!!! Celebrate New Year's Eve in this newly renovated fabulous home!!! Great open floor plan. Granite counters, stainless appliances, dark floors and cabinets give this charming home a modern feel. New energy efficient windows and doors. Large covered deck is perfect for entertaining all year long. Wood burning fireplace in living room for cozy winter nights! Fourth bedroom converted to den. Check out the competition and see what a bargain this property is ! WON'T LAST LONG!!!"
Well we can check-off the granite counters and stainless appliances.  Seems like standard upgrades.  It also shows two things about Los Angeles.  The first is how incredibly high construction costs are and/or how out of touch people are with actual middle class family income in the state.
We can take a look at the place prior to the upgrades: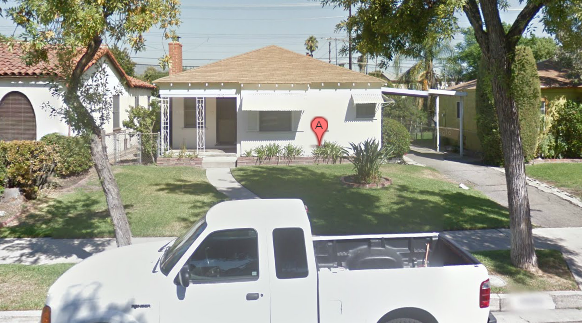 We can also take a look at the kitchen here: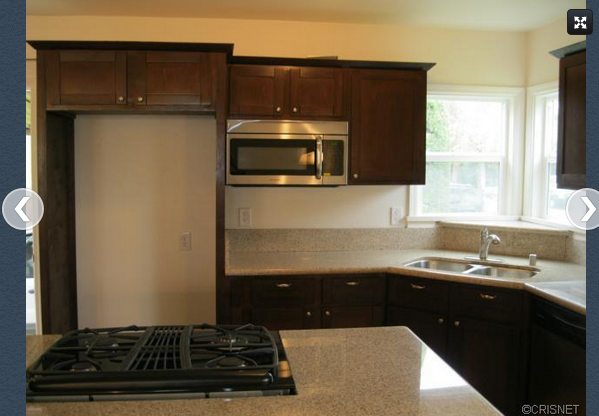 And this is definitely a flip (if you had any doubts) because the stove still has the sticker on it: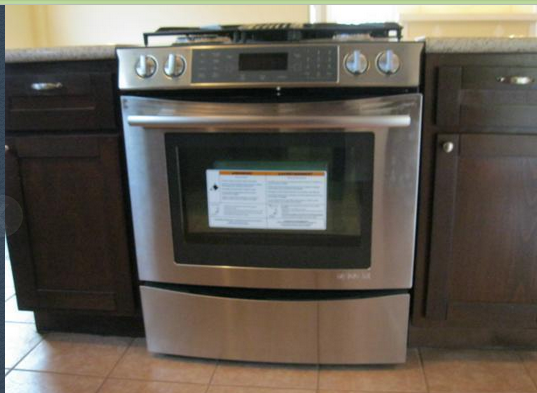 Now this is a fairly standard entry level home.  Nothing special.  Certainly nothing dramatic.  Yet it is priced at well over half a million dollars.  Or, over 8 times the annual gross income of a household in this specific market (versus 3 or 3.5 in the US).  People have lost a tremendous perspective on the value of money because they are betting that the Fed can keep interest rates low deep into the future.  People also comment that you have to live somewhere.  As we discussed in a previous article many Californians have moved out of the state.  Those wishing to stay are now competing with very little inventory, flippers, big money investors, and also foreign money.  What is happening is that more and more income is being consumed by housing in California.
In this particular zip code of Burbank, the median price is $471,000 and is up 17 percent from the previous year.  Now assume you buy this place with a FHA insured loan: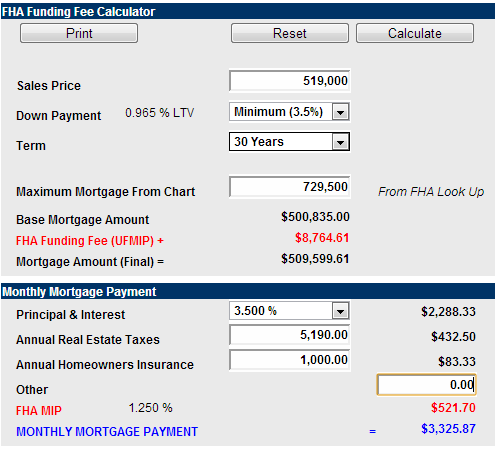 The monthly payment is going to run about $3,325 for this place.  Unless you go in with 20 percent down ($103k for this place), these FHA insured loans are now becoming expensive.  This is a hefty sum and I doubt the $100k crowd is looking for these places or is willing to go through the years of saving $100k (the sales trends point to this especially with financing).  Yet leverage is the name of the current game.  When it comes to housing in SoCal we are meeting the new boss, very similar to the old boss.
I've also noticed more frustration in the comments.  This is merely a reflection on the data of middle class Californians leaving the state.  I've always viewed this from an economic stand point.  Even when I received e-mails during the bubble about people looking to buy with various scenarios, there were some that simply had a massive itch to buy even if it meant going into deep financial leverage.  The same applies today.  Capitulation is happening but this trend is all depending on low rates and low down payment products.  I think what is now a stark realization for many is that it is tremendously difficult to be middle class in California at least when it comes to owning a home in certain counties (Riverside and San Bernardino actually have some decent figures but these have been pushed up courtesy of investors).  In the status driven SoCal many people are driven by this.  Most of the country with nice sized median priced homes going for $180,000 a working couple can plant their roots very quickly.  That is simply not the case here.
At the same time, this is a choice.  People are willing to leverage here in California.  We are a boom and bust state.  So is Florida.  We are in another boom here.  Income has not gone up but what it is doing is eating up a larger portion of a household's income.  Those FHA loans as we highlight above are adding tons more beyond the principal and interest.  Taxes?  The state benefits from higher valuations.  The fact that FHA loans are facing such high defaults simply reflects the fact that many people were not ready to be homeowners.  The down payment itself isn't the mission but what it makes people do financially.  You have to have your financial house in order to save up for a sizeable down payment.  But when you tell people that all you need is 3.5 percent down and you can pay higher premiums just to squeeze in, then you are essentially providing maximum 30x leverage.  As many of you know you can easily walk into a luxury car dealership today and walk out with a new car with a giant loan payment with very little down. Yet your disposable income is locked for years to come.  We've already pointed out that buying at this point makes sense only if you plan on staying for a long time and data shows the current US homeowner will stay 6 to 8 years.
One rule of thumb to always follow is this, "can you comfortably afford your total housing payment for 15 years?"  This is probably a good rule to follow for a variety of reasons but also, make sure you factor in new changes (i.e., shifts in income, owning a home expenses, etc).
Interesting to see flippers going for $100k gains in a few months in Burbank.  This brings back a lot of memories.  Today we salute you Burbank with our Real Homes of Genius Award.

Did You Enjoy The Post? Subscribe to Dr. Housing Bubble's Blog to get updated housing commentary, analysis, and information.