Part of the long-term sustainability of the housing market will come from future young home buyers.  There has been a massive boom for current homeowners who have refinanced and have subsequently had an increase to their own disposable income.  The economy has really benefitted from the low interest rate environment but how much monetary bang do we have left?  Those that place all their faith in the Fed forget that Alan Greenspan laid the foundation for the greatest housing bubble known to humankind.  Younger Americans are facing dramatic challenges not faced in previous generation and are coming out with incredible levels of debt, many with student loan debt.  It is important to examine the perceptions of this group since in many parts of the country it actually would make sense for younger families to purchase but many are not.  So what gives?
The young and debt saddled
Rutgers University did a really interesting study with their recent graduates.  Some of the perceptions shared in the research are enlightening: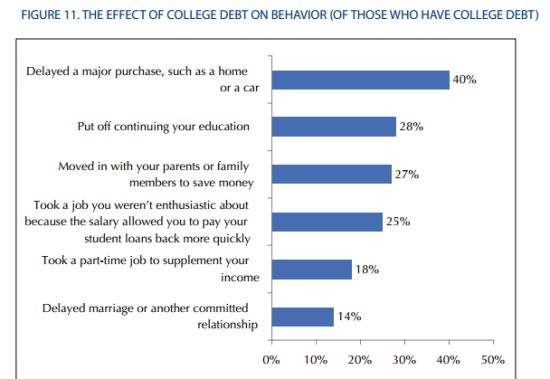 Source:  Rutgers University
The item that stands out the most is the delay of making a major purchase.  40 percent stated they have put off buying a major item like a home or a car due to their college debt.  This is a new phenomenon.  Never had we had such an indebted young population with student debt now towering over $1 trillion.  It is impossible to suggest that this level of debt is going to have little impact on people and how they view future purchases.  Also in the above chart, you see that 27 percent indicated that they will move back home to save money.  This data coincides with Census figures showing millions of young Americans have moved back home during this recession instead of going out there and starting a new household via renting or buying.
Perceptions are important in the economy especially for buying a home.  The baby boomer generation really blossomed in line with the apex of middle class America.  The two were intertwined.  After World War II the US was left with a dramatic competitive advantage globally and this setup the largest middle class the world has ever witnessed.  It was common for a one-income blue collar family to purchase a home, find secure employment, and essentially live in a low unemployment environment.  This kind of environment created a boom and laid the foundation to the massive consumer driven economy that we now have.  The culmination of all this peaked with the housing bubble where people bought into the perpetual bubble machine and had no problem yanking out, $50,000, $100,000, or even $200,000 of equity from their home to fund car purchases, vacations, or expansions to their money machine.  None of this was sustainable and we are now seeing a shift.  Those that think youth are out of touch really need to look at the research more carefully: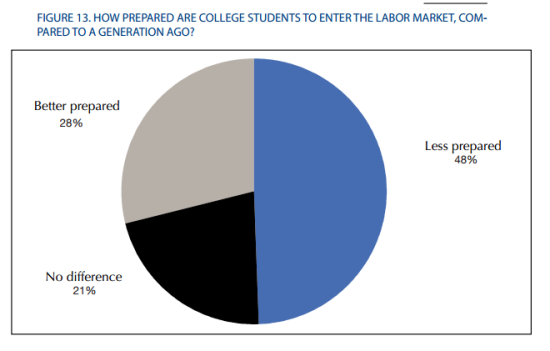 Almost half of recent college graduates felt they were less prepared to enter the labor force compared to previous generations.  This is stunning.  Keep in mind we now have the most college educated population in the US yet the economy is still mired in long-term problems.  The underemployment rate is incredibly high and many younger Americans are facing the brunt of this economic drag.  Salaries are lower and long-term security is virtually non-existent.  The long-term security that was available for many boomers setup a perfect environment to purchase a home and set roots in one specific location for decades.  As you can see from the above figures, many do not feel that.
The connection between high student debt and the economy is now being explored much more carefully:
 "(FT) Proponents of such schemes say high student loan burdens are hindering the US recovery. Studies show that recent graduates from US universities are delaying purchases of cars and homes, inhibiting near-term economic growth.

Rohit Chopra, the official responsible for student loans at the Consumer Financial Protection Bureau, added his voice to the debate last week, telling the FT that the student debt problem was hurting the US economy. "Student debt may be more intertwined with the housing market than we realise," he warned."
Agreed.  Student debt is going to be a major impact on the economy for years to come.  The short-term burst of lower interest rates has helped current home owners and those underwater that qualify for refinances (many do not).  These two groups are the largest beneficiaries.  The large pool of Americans on fixed incomes, not so much.  You would think given the 3.6 percent 30-year fixed mortgage interest rate that many would be diving in and buying homes.  New home sales are picking up: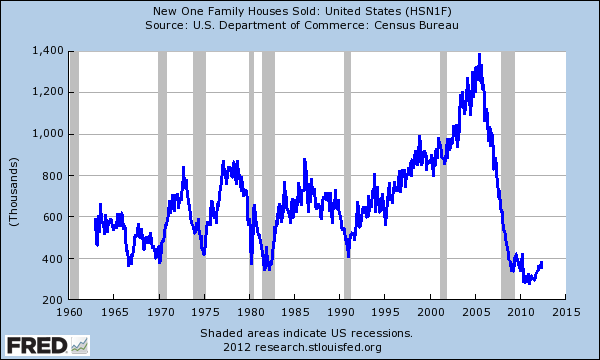 We are barely inching back to more normal levels.  More of the buying is still with more affordable homes.  Home prices are leveling off but much of this is because of the dramatic decline in interest rates: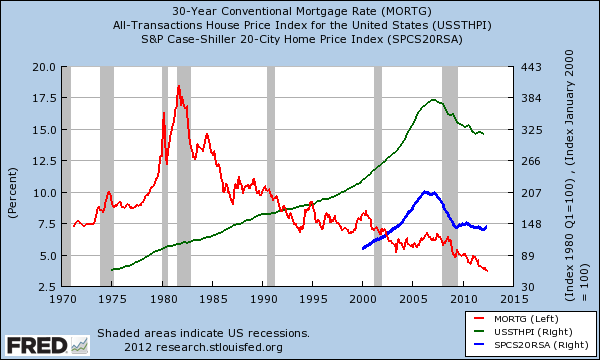 From 1970 to 2000 the 30-year conventional mortgage was above 7.5 percent most of the time.  Even until 2010 anything below 6 percent was rare.  Only since the recession hit and the Fed massively restructured the system have rates gone ultra-low.  The juice is running out and young Americans already have big levels of debt for their college endeavors.  Many are not willing to dive into another big debt commitment and we are seeing this with homeownership rates for younger age groups.  You need to have a healthy market for younger buyers to have a sustainable system.  So far, we are simply dealing with problems as they crop up like pulling weeds and long-term planning is crucial for a sustainable system.  Many of the younger buyers jump in with low down payment FHA insured loans and default rates are soaring for these loans.  Too much debt with a weaker economy is not a recipe for good times ahead and the young seem more in tune to this reality.

Did You Enjoy The Post? Subscribe to Dr. Housing Bubble's Blog to get updated housing commentary, analysis, and information.