A market dominated by investors, low down payment buyers, and government loans in need of a bailout.  This might sound like a recap of the housing crisis of the 2000s but this is actually the face of the current market.  FHA insured loans are inching closer to the predictable bailout we have been talking about since 2009.  What a stunner that allowing people to dive in with only a 3.5 percent down payment and squeezing them in during a weak economy was a smart move.  This is the scenario at hand and FHA insured loans for the last few years have been a big part of the home buying equation making up roughly one third of all mortgage originations.  The average down payment is 4 percent.  Defaults are surging.  At the core mission FHA backed loans are about affordability yet in many markets the cap is $729,750!  How is it even remotely an option when the median household income in the US floats around $50,000 and the median US home costs around $180,000?  The FHA structure is simply a symptom of a bigger problem.  Hide the underlying structural issues of our housing market, ignore the obvious, and continue inflating the price of homes even though the market clearly demands lower prices to go with weaker incomes.
The unsurprising deterioration of FHA loans
While delinquencies in other loan products have fallen, FHA delinquencies are surging: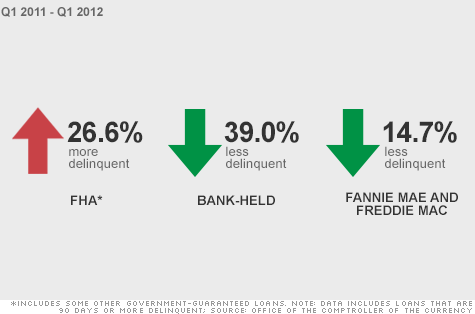 Source:  CNN Money
This is a big issue because FHA loans are now a giant part of the housing market.  FHA delinquencies are up a whopping 26 percent from last year.  And the housing market is supposedly recovering?  So how is the FHA dealing with this?  They are simply making it more expensive to get loans with mortgage insurance premiums.  For example, the upfront mortgage insurance premium (UMIP) is now up to a large 1.75 percent.  On a $500,000 loan this is $8,750.  Next, you have the annual MI that is tacked on and this will add 1.20 percent annual MIP to your loan payment.  In other words to shore up the short fall with the fund the FHA is simply making these "affordable loans" more expensive by making the monthly nut and upfront cost more expensive.  Don't you think it would be easier to up the minimum down payment requirement and actually make the monthly payment lower?  Yet that would reveal that most households don't have the ability/income/desire/diligence to save up even a modest 10 percent down payment.  The number one predicting factor is negative equity for foreclosures and by default, anyone that buys with a FHA insured loan with the standard down payment is already underwater given the minimum 5 to 6 percent upfront cost in selling a home.
The naïve belief that only low priced markets US FHA
Contrary to the silly notion that only low priced markets are using FHA insured loans, very expensive counties like Orange County are using FHA loans as staple of their originations: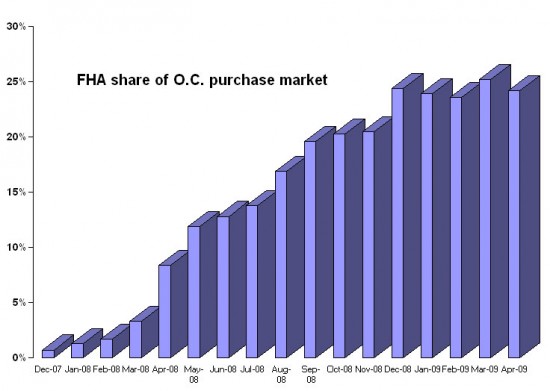 Source:  OC Housing News     
Since 2008 FHA loans have made up 1 out of every 4 loans in Orange County (versus a handful before this time).   I know this is hard to believe for many but people are simply leveraging up to the maximum and are facing additional problems.  It is amusing when you read "well at least they are looking at income" as if this was the only predictor in paying your bills.  Obviously not since these FHA loans that are defaulting had incomes verified with careful diligence.  The premise is screwed up.  A low down payment is a big risk factor with NINJA loans and with carefully verified loans.  At the very least, put the cap of any FHA insured loan to the nationwide median home price.  Why should people in Oklahoma or Kansas need to fork over money when these mega FHA loans default in California and New York?  In Orange County with condos selling briskly, you have people buying homes without doing a careful analysis of HOAs, Mello-Roos, taxes, and insurance premiums.  They are blind and only look at the principal and interest which looks very tasty with the Fed forcing mortgage rates to record lows.  But once people are in, especially the FHA insured variety, many are becoming delinquent in large numbers.
Foreclosure starts are outnumbering sales 3:1 in the current market: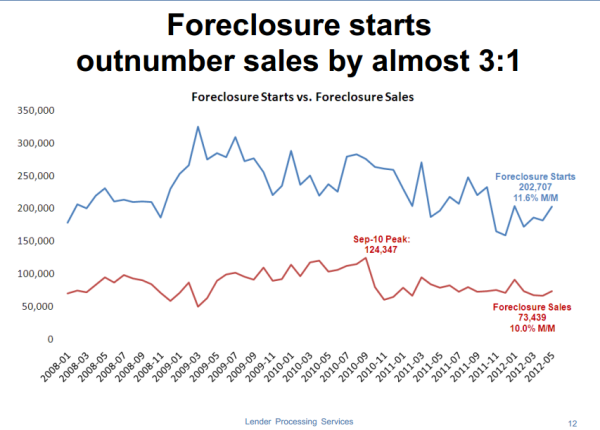 And you wonder why the distressed pipeline is still massive?  Where is the inventory?  Ignore all these current issues and just focus on what is being fed to you via the MLS listings.  Pay no attention to LIBOR scandals or lack of change in the financial system.  There is nothing behind the curtain except another government bailout and fresh foreclosures.

Did You Enjoy The Post? Subscribe to Dr. Housing Bubble's Blog to get updated housing commentary, analysis, and information.