One of the biggest reasons I see given for people buying a home today is the rent versus buying calculation.  However, it is rather clear that people are overstating the benefits of the tax breaks.  Many of these assumptions are based on a sizeable down payment.  In California the down payment is a very large chunk given the high price for homes in many desirable markets.  You have your FHA buyer that is diving in with barely 3.5 percent down or your investors going in all cash.  The sweet spot number of someone with a high down payment, solid household income, and a high credit score is not exactly a big portion of the current sales market.  A few readers ran these calculations and I appreciate the thorough analysis from both sides.  It is actually a good sign that people are breaking these numbers down but we should examine it from all sides.  In many areas like the Inland Empire, the numbers are supporting buying over renting.  However, in more expensive markets the numbers are not exactly so clear.
The $500,000 home example
The California median home price is $287,000 but most of the discussion about buying versus renting comes at a much higher price point (nearly twice as high).  Let us assume that someone is buying a $500,000 home with 20 percent down and has stellar credit and qualifies for a 3.25 percent down payment (APR is more likely to be above 3.5 percent but we will be generous here).  Let me provide three boxes below.  The first was an ideal scenario followed by calculating deductions, and finally the actual true payment: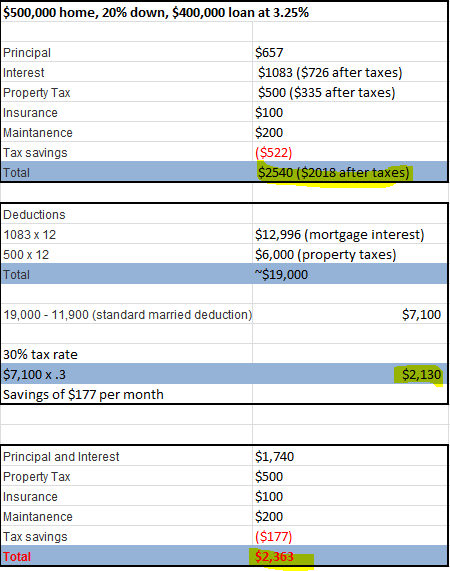 First, what can you write-off when you own property?  You can write-off the interest and property tax.  The first example was very generous but also did not calculate the typical standard deduction.  The vast majority of home buyers are married couples (not all, but many).  Also, many that do plan to buy are planning on having a child and pausing household income for a short period (or paying for childcare but the bottom line is a big cost is added).  So we are going with the typical deductions in the second box.  In 2012 the standard deduction for a married couple is $11,900.  What this means is you will need to itemize and have deductions larger than this to even benefit.
Some quick numbers:
-Less than 10 percent of those in the bottom 40% of incomes itemize

-Top 20 percent of incomes average an itemized deduction of $38,000

-Top 1 percent averaged $170,000
In fact, most Americans don't itemize and the majority of households own their property.  As you notice above, the big write-off on the $400,000 mortgage comes from the close to $13,000 in interest paid each year.  Given the fiscal cliff that is coming up, this is one tax deduction that is primed for capping out at certain ranges.  Think about it.  For a typical mortgage on a US home interest is $4,500 to $6,000 (mortgages around $150,000 to $200,000 so we are even being high here).
So back to the example.  Overall the monthly nut is $2,540 in the first case with a monthly tax savings of $522.  As you can see once we actually factor out the standard deduction into the equation, the real tax savings comes out to roughly $177 per month.
Since the argument is about the monthly nut, you have the following net payments:
$2,018 versus $2,363 (a difference of 17%)
I think this is crucial to understand.  Also regarding the principal reduction, in the case above it is $657 per month.  In one example a similar rental was $2,000.  So you have:
Principal pay down:         $7,884/yr

Savings from renting:     $4,356/yr
Also, this only works assuming you don't sell quickly.  The average transaction cost in selling a home is still 5 percent even with all the available tools out there.  People talk about lower cost options but the bulk of sales still carry this high cost.  This alone will make it hard to sell in less than 7 years and make a sizeable profit.
Let us take a look at the California tax break down for a married couple: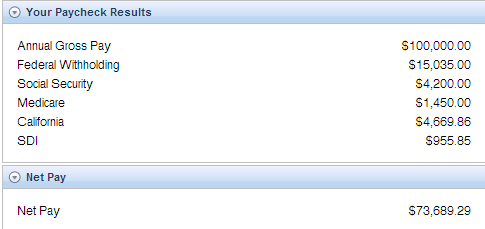 The above scenario is a married couple with no kids pulling in $100,000 a year.  According to household data 25 percent of California households make $100,000 or more.  Once you factor in the entire tax picture, that $100,000 gets boiled down to $73,689 (or $6,140 a month).  For this household even the $2,363 payment is roughly 38 percent of take home pay.  This is why so many people in this category are looking to buy yet sales figures aren't jumping up dramatically because this pool is so small.
And keep in mind this is the ideal couple with at least $100,000 to put down and stellar credit that found a $500,000 home that is suitable.  Last month in SoCal these were the sales metrics:
FHA insured:                      25.2 percent of purchases

All cash:                                31.5 percent of purchases

Jumbo loans:                     21.1 percent of all purchases (carry a higher rate)
So if these numbers seem to make sense, why isn't everyone moving off the fence?  First, as we noted, only a small percent of households even make enough to get into the game in certain areas.  Plus, how many households actually have $100,000 saved up ready for a down payment?  Not many.  The all cash buyers are not looking to sit down.  They are looking to flip or rent the place out.  Those buying with FHA insured loans face a very different picture.  Now let us run the numbers with a 3.5 percent down loan: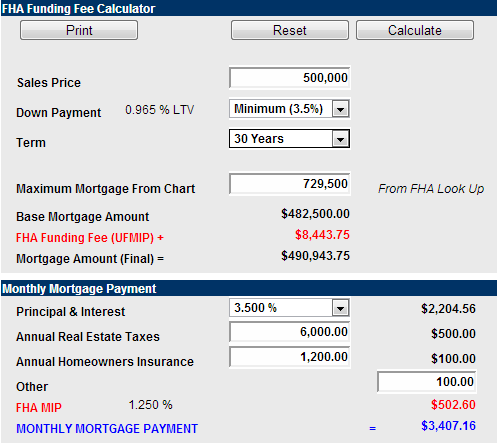 Suddenly the scenario only makes sense if you have a sizeable down payment.  $3,407 would be the monthly nut minus the $177 in tax savings and you are down to $3,230 for the monthly net payment.  This adds on nearly $1,000 per month just by going with the very popular SoCal FHA insured loan.  FHA used to be much cheaper to finance but since this fund is going bust they have jacked up insurance premiums.  So in the end, you still end up paying for the cost of all those low down payment risky loans.
Why the $100,000 factor is big
To plunk down $100,000 is a big deal.  In California the vast majority of people blow through most of their money very quickly.  Let us take that $100,000 couple again.  Let us assume they rent a nice place for $2,500 a month: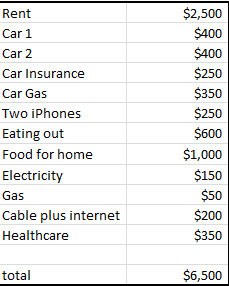 This is a very rough example but given the cars you see out and around, the monthly nut of $400 per car is realistic.  Remember the monthly take home of the couple making $100,000?  It was $6,140.  So this couple is already going into the red and isn't even planning for retirement here.  Keep in mind you see much more nuttier behavior with people leasing cars with monthly outlays of $600 and higher.  Let us assume this couple manages to cut out $1,000 in spending here.  Now they are spending $5,500 per month.  That leaves them with $640 per month to save.  How long will it take them to save $100,000?
$640 x 12 = $7,680/yr

$100,000 / $7,680 = 13 years
Let us even be more generous and assume they save twice as much per month (so it now takes them 6.5 years to save for this down payment).  The hard thing here is that someone that is diligent enough to save $100,000 is not likely to let go of it that easily.  Even for the $100,000 household you can see how tough this is.  This household is essentially saving one year of gross salary.  For the US in general with a median home price of $170,000 and a median household income of $50,000 the 20 percent down payment is $34,000, 68 percent of annual gross salary.   Plus, someone that can cut down more dramatically is unlikely to easily let go of this for a $500,000 shack in SoCal.  This is why the market is largely dominated by low down payment buyers and all cash investors crowding each other out.
Rates would only need to go up by a few percentage points to wipe out that $100,000 equity.  How so?  Since the monthly nut is the argument.  Let us run a couple of scenarios:
$400,000 mortgage

@3.5 percent:                   $1,796 (principal and interest)

@5.5 percent:                   $2,271 (principal and interest)
What would the mortgage have to be to get it back down to $1,796 at 5.5 percent:
$316,400 @ 5.5 percent = $1,796
Keep in mind that 5.5 percent for a 30 year mortgage is ridiculously low anyway.  So some I believe are balking at dumping $100,000 to see it evaporate in a few years simply because of the giant unknowns coming up:  fiscal cliff, taxes, incomes, Europe, less affluent youth, student loan bubble, bursting real estate bubbles in China/Canada etc.  And as we pointed out, going with an FHA insured loan will jack up your monthly payment so much that the rent versus buy examples will largely favor renting in more prime locations (where most commenters are looking to buy and compete with hipsters and flippers).  $100,000 is a big bet plus you also have to factor in the opportunity cost of this from other investments (i.e., bonds etc).  In most of the US where the typical home costs $170,000 the risk of buying with a low down payment is more like a call option.  However, in California's mid-tier and prime areas the numbers pencil out only if you go in with a good down payment (and good means six-figures).  That call option (FHA insured loans) is going to cost you money for an expensive state.
I want to thank readers from both sides for providing numbers and insight into this.  If things were so clear cut the market would be booming with organic purchases and not a crowding out by flippers and low down payment buyers trying to squeeze in.

Did You Enjoy The Post? Subscribe to Dr. Housing Bubble's Blog to get updated housing commentary, analysis, and information.