FHA insured loans are now a major part of the mortgage buffet available to home buyers.  This insured mortgage product has allowed many buyers to go in with 30x leverage when purchasing a new home.  So it should come as no surprise that the FHA is now inching closer to a bailout.  If we look at the actual FHA standing however, we begin to realize that the FHA is putting the screws around recent buyers for their lax products.  First, mortgage insurance premiums are soaring to make up for the capital reserve account that now finds itself $16 billion in the red.  Although on the surface you would think that over half a decade into the housing crisis, some would realize that low down payment products were a problem here we are relying heavily on the one insured mortgage product that allows cash strapped Americans to once again go into massive debt with very little skin.  That game is however changing and this article will go into some more technical details regarding FHA insured loan products.
Subsidizing the past with future Americans
What is occurring in the FHA is symbolic of what is now part of our economy.  Essentially we have turned into a massive moral hazard economy.  Major subsidies to hide losses and pushing problems down the road.  That is why the problems with the FHA which we have documented for years are now boiling over.  Delinquencies for FHA products are horrific going back to 2008: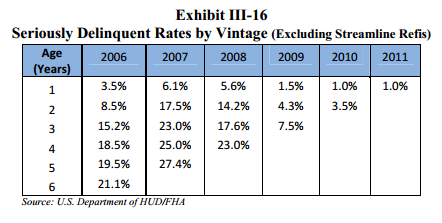 You'll notice however that even vintage 2009 loans are going bad three years in.  What is troubling is most of the originations came from 2008 onward: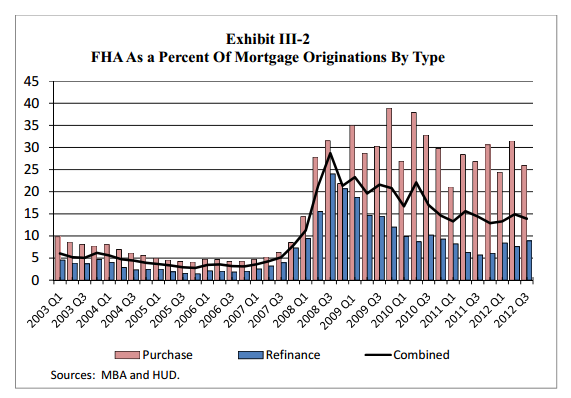 It is rather apparent that the FHA insured loan market boomed right in line with the decline of the toxic mortgage market.  At one point in 2009 FHA insured loans made up nearly 40 percent of the market!  That is, Americans are so cash strapped that the only way they can purchase a home is with a 3.5 percent down product providing insane 30x leverage.  This is on par to Lehman Brothers right before it imploded.  Then again, we like repeating history like a chorus in a viral pop song.
What is even crazier is the volume of FHA loans in states like California: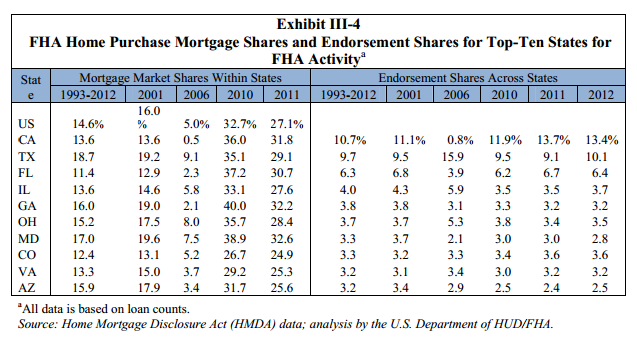 In 2010 36 percent of the California mortgage market was dominated by FHA.  So contrary to the made up idea that everyone is flush and buying with 20 percent down, you have the glaring reality that the middle class is going massively into debt, investors are buying other properties, and then you have foreign money purchasing in certain enclaves.
Guess who will be paying for all these failed loans?  Those looking to buy at today's inflated rates.  The FHA is massively increasing mortgage insurance premiums: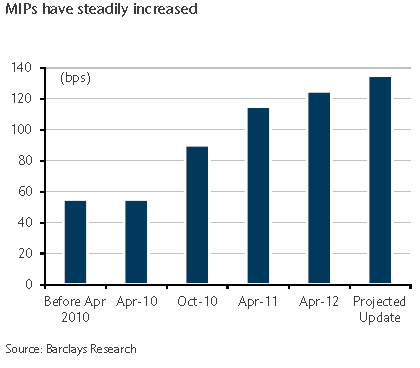 What is essentially happening is current buyers are now having to pay a larger monthly nut because all the failed loans of yesterday.  There are major changes hitting FHA loans but let us address few items:
"Tax and insurance (T&I) defaults: For many homeowners, taking all eligible cash upfront results in insufficient cash flow in later years for property upkeep, taxes and insurance. This impacts program performance by increasing defaults resulting from borrowers being unable or unwilling to make tax and insurance payments. The incidence of T&I defaults has increased in recent years and is incorporated into the Actuarial valuation."
Did you know you have to pay taxes and insurance when you buy a place? Shocking, I know.  Yet people going with FHA loans many times do not have budget flexibility.  So as taxes and insurance go up, they become more cash strapped and defaults rise.  States would love nothing more than to keep home prices inflated since tax revenues are assessed on the price of the property.  Courtesy of Prop 13, the state loves each new person that purchases at current market rates for those fresh new assessments.  The above is from a FHA report.  Another major change regards mortgage insurance premiums:
"Under a policy change made in 2001, FHA has been cancelling required mortgage insurance premiums (MIPs) on loans for which the outstanding principal balance reaches less than 78% of the original principal balance. However, FHA remains responsible for insuring 100% of the unpaid principal balance of a loan for the entire life of the loan, such loan life often extending far beyond the cessation of MIP payments. As written, the timing of MIP cancellation is directly tied to the contract mortgage rate, not to the actual loan LTV. The current policy was put in place at a time when it was assumed that home price values would not decline, but today we know that LTV measured by appraised value in a declining market can mean that actual LTVs are far lower than amortized mortgage LTV, resulting in higher losses for FHA on defaulted loans. Analyses conducted by FHA's Office of Risk Management projects lost revenue of approximately $10 billion in the 2010-2012 vintages as a result of the current cancellation policy. The same analyses also suggest that 10%-12% of all claims losses will occur after MIP cancellation. Therefore, beginning with new loans endorsed after the policy change becomes effective later in FY 2013, FHA will once again collect premiums on FHA loans for the entire period during which they are insured, permitting FHA to retain significant revenue that is currently being forfeited prematurely."
Did you get that?  MIPs are likely to become permanent right when these suckers went through the roof.  Of course the FHA is simply trying to shore up their capital reserves but you have to ask why this is happening.  Fiscal cliff?  Another debt ceiling?  FHA $16 billion in the red?  Household incomes back to 1995 levels?  Sure sounds like a booming market to me!  This is happening for all the mistakes made only recently so those now buying with FHA loans are seeing massive jumps in their monthly payments.  Take a look at a brief history here:
Mortgage insurance premium (MIP) increase and adjustments to upfront/annual MIP relationship
a. 1/12/2010 – Increased Upfront MIP to 2.25%
b. 10/4/2010 –
i. Lowered up front MIP to 1%
ii. Raised annual MIP to 85 to 90 basis points
c. 4/18/2011 – Increased annual MIP by 25 basis points
d. 4/9/2012 –
i. Increased upfront MIP from 1% to 1.75%
ii. Increased annual MIP by 10 basis points  (up to 1.25%)
e. 6/11/2012 – Increased annual MIP for loans in excess of $625,500 by 25 basis points
So in reality, people need over 5 percent of the purchase price just to get in even though it is only covering 3.5 percent of the actual principal.  Let us run the numbers here: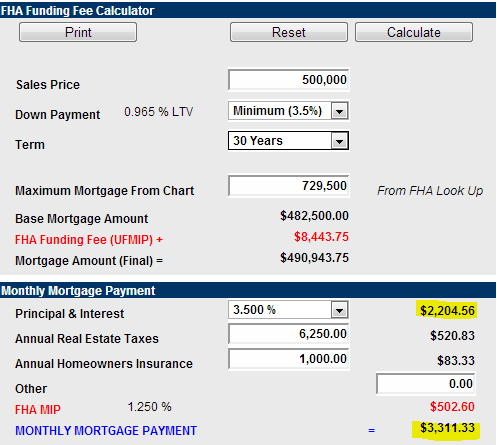 I continue to see people only referring to the principal and interest here.  In reality, when you add everything into the FHA loan for a $500,000 home purchase your monthly nut is $3,311.  The FHA MIP is $500 alone and adds almost $8,500 in the initial closing costs.  So you are looking at $26,000 for the 3.5% down payment and the 1.75% upfront UFMIP.
Now with the FHA running low on cash this is a cash cow for them but the burden is now placed on current buyers to make up for the mess created in the last few years (does this sound familiar?).  Welcome to the current economy.  And how many people actually have the $100,000 for a down payment?  As we highlighted in our heavily commented California middle class article, not many because many are going with this much more expensive FHA insured loans product.  Like an expensive credit card, people are stretching their wallets to purchase that home because incomes are certainly not rising.

Did You Enjoy The Post? Subscribe to Dr. Housing Bubble's Blog to get updated housing commentary, analysis, and information.