The Bay Area tech driven frenzy continues to march forward with no stopping in sight.  If you thought $1 million was too much for a crap shack then $1.3 million is going to be out of your price range.  The tech gentrification is getting more aggressive and is pricing out people at an astonishing pace.  We've noted the out migration of native Californians to other states is much larger than people suspect.  Foreign money and high income households are the power players in these niche markets.  This is simply a fact but also is tied to the bull market that has now entered into its eight year.  There are now signs that we are reaching a plateau but this system only understands two states: boom and bust.  There is nothing calm about the way our real estate system is now structured.  It is about fast gains or big losses.  All or nothing.  You are either riding the big wave or crashing in fantastic fashion.  People forget cycles and have the long-term memory of a gnat when it comes to these things.  The Bay Area continues to drink from the cup of housing mania.
San Francisco hits another peak in price
The housing market in San Francisco continues to accelerate at a dramatic pace.  Of course if it was expensive last year for your budget these higher prices are likely to do little for you.  Incomes are certainly not keeping up to these dramatic shifts.  The purchases are being driven by fast money and foreign cash.  You also have zero down loans back in the game.
Take a look at how the Bay Area is doing: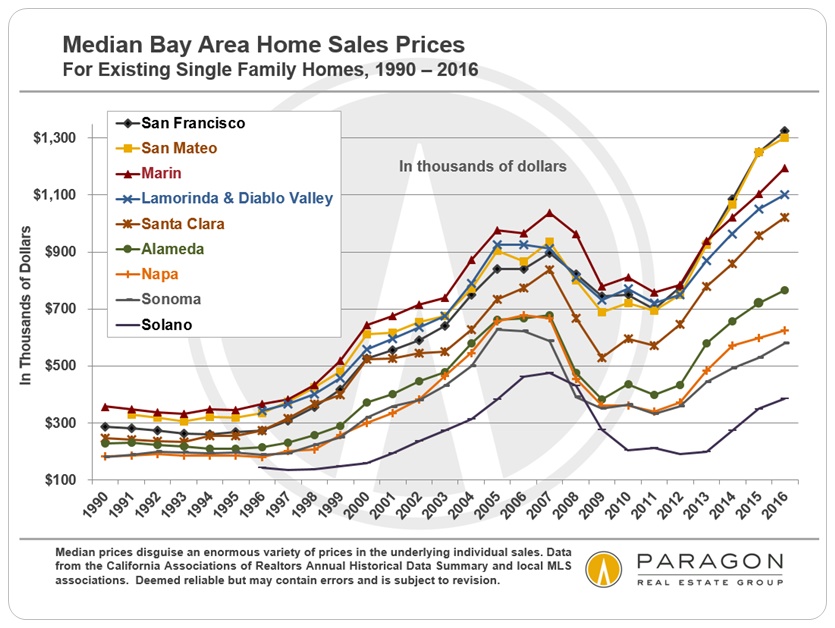 The last peak which seemed unsupportable to many now looks like a tiny molehill.  This is probably a large reason why so many of the recent purchases are being driven by condos because this is all people can afford:
So you want a home.  Only a home will do.  Here is what you get for $1.3 million: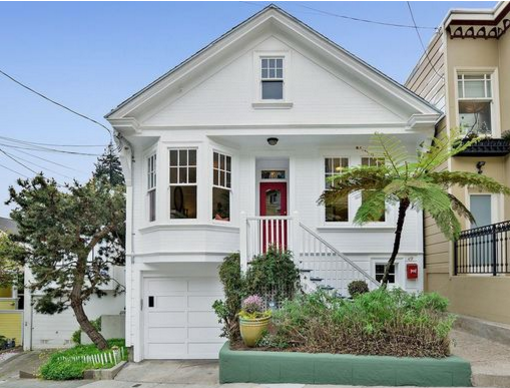 49 Ord Ct
San Francisco, CA 94114
2 beds 1 bath 844 sqft
"Nestled at the end of a quiet cul-de-sac in Corona Heights and just steps away to the famed stair walkways of Vulcan & Saturn, and The Castro Village center, this Victorian cottage captures a great sense of community in place – Wild Parrots soar overhead the magical rear garden – the quiet and stillness of this home are a precious thing in the middle of a city". 2BR/1BA single-family home with one-car garage plus storage on a garden oasis for indoor/outdoor living and green-thumb enjoyment!"
Look at the price history here: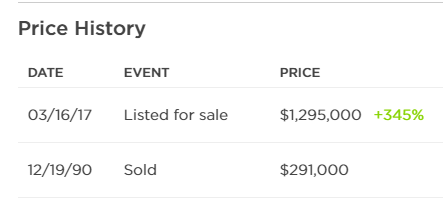 The new homeowner is going to be paying 3 times the level of property taxes for the exact same place and services.  Again, Prop 13 is a reason for this even though it is pitched under the guise of "kicking grandma to the curb" type rhetoric.  They never mention that grandma is going to have over $1 million in equity if she chooses to sell which will put her in the top 1 percent of households globally.
So there you have it.  844 square feet for $1.3 million.  Everything is moving right along in tech driven San Francisco.

Did You Enjoy The Post? Subscribe to Dr. Housing Bubble's Blog to get updated housing commentary, analysis, and information.