Being a hipster in Los Angeles is like being a drop of water in the ocean.  Apparently one of the requirements of being a hipster is living in certain enclaves.  Now in Los Angeles, a renting majority county, living in the right neighborhood is important.  The HGTV housing erotica that is pumped out to the masses has conditioned many to accept the "fixer upper" world of crap shacks.  Now typically when I say crap shack a bunch of Taco Tuesday baby boomers get offended but just remember that many hipsters actually want a crap shack.  They are actively looking for "personality" in a property as if they were swiping right on Tinder.  The market capitulated fully last year and now we are in the stage of euphoria.  You can do no wrong with housing and Echo Park is home to many lovable hipster homes.
Echo Park
It is definitely an interesting time to be alive.  I find it surprising that many people think that because Trump is a real estate guy that somehow he is going to enact policies that inflate California crap shacks.  That is how distorted things have gotten.  If Hillary would have won, it would have been "real estate will go up because the status quo remains."  With Trump winning the narrative is "he is a real estate guy so therefore he is going to try to influence prices higher."  If Kanye West ran and won it would be "Kanye mentioned in his song that crap shacks were only meant to go up in value so therefore things will got up."  We've already noted that 2.3 million adults live at home with parents in California because of sky high real estate prices (both in rentals and housing).
Sellers are trying to cash out of this epic mania.  Take a look at this gem: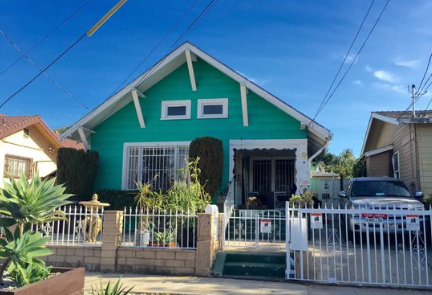 840 N Rampart Blvd, Los Angeles, CA 90026

2 beds 1 bath 970 sqft

"Prime location in Echo Park, one block south of Sunset Blvd. One mile to Echo Park Lake, one mile to Silver Lake Reservoir, walking distance to popular restaurants and nightlife!"
Nothing screams hipster villa like bars on the windows.  The short description is tailored for hipsters.  Go to the lake, eat some food, and get plastered.  And all for $699,000.  What is interesting is that the sellers realize they got a cash cow on hand: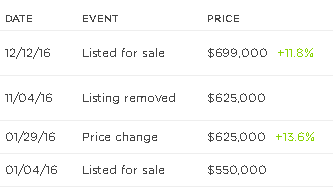 The place was listed for sale in January of 2016 for $550,000.  They realized they priced it too low and then upped it to $625,000 a few weeks later.  It didn't sell so the listing was removed in November of 2016.  The sellers realize that there are still plenty of house horny people out there and have listed the place for $699,000 back in December of 2016.  So basically over the year, this small place had price adjustments of $149,000.
The market right now is still in a mania stage.  The herd is foaming at the mouth to purchase properties even if it means mortgaging their lives.  It doesn't matter the quality of the place but the important thing is to get in.  You don't want to miss this train before it leaves the metro station.
It is interesting to see the older generation raking the younger generation over the coals if they have doubts about real estate.  It seems like they are trying to justify their own purchase as the ultimate milestone in their lives.  So what if a young professional doesn't want to buy and would rather invest in the stock market and travel the world?  Oh no!  You have to follow the Taco Tuesday baby boomer pattern of buying no matter what.  There are generational differences here by the way.  Sometimes it makes sense to buy, and at other times it doesn't.  You can't use dull catch phrases like "real estate never goes down" or "renting is flushing money down the toilet" because those are simple deflections that cloud the much more complicated picture here.  We are talking $700,000 for a place with bars on the window!
But what is true is that the housing lust is very real in this market.  Crap shacks look beautiful, freeway traffic looks like a deep tissue massage, and a 30-year mortgage looks like chocolate covered strawberries falling from heaven.
How long can hipsters support this market in Echo Park?

Did You Enjoy The Post? Subscribe to Dr. Housing Bubble's Blog to get updated housing commentary, analysis, and information.