City centers from Los Angeles to Miami to Seattle have all seen a massive revitalization thanks to hipster loving Millennials that enjoy good restaurants and access to nightlife versus the white picket fence McMansion propaganda brought on by the baby boomer generation.  Zero lot condos and homes make up the new housing demographic where builders try to max out every square inch of their buildable land so they can pack new buyers in like sardines and you can hear your neighbor's sleep apnea roaring at 3am.  This is the modern day dream.  Being able to waste your entire paycheck at Whole Foods and eating organic falafel at your new trendy restaurant.  But Millennials are choosing to go their own way.  For one reason, many can't afford to buy an overpriced particle board crap shack so they ended up staying at home living with their parents deep into their late 20s and 30s.  Many are also addicted to housing lust shows where reality star wannabes flip or flop on big real estate purchases.  A modern day Lifestyles of the Rich and Famous.  Yet most are not famous and many are certainly not rich.  Ideals have simply changed and the market has transformed for Millennials.
Living at home and loving it
The percentage of young adults living at home has hit multi-generational highs.  This isn't by choice but because of financial necessity.  There was a recent study conducted by the Federal Reserve that showed inflation adjusted, Millennials are financially worse off than baby boomers.  So this notion that Millennials are simply a bunch of whiny good for nothing crybabies isn't exactly true.  Funny that is the perception when many baby boomers are somewhat technologically illiterate and are screaming how "dumb" Millennials are on Facebook and Twitter (technology built and managed by younger Americans ironically).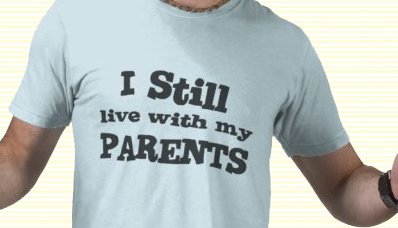 Looking at demographic data for this site, most are baby boomers and older Americans although we do have our share of Millennials.  Most look at housing prices and realize that it is a pipe dream but also wonder if they even want a big home given their varying lifestyles.
Typically buying a home was pushed by emotional reasons and "doing the right thing" especially when it came to starting a family.  But marriage rates are changing for this group: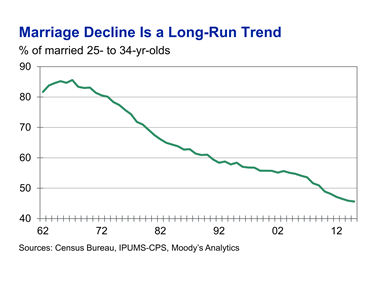 Less marriage and smaller families.  And you even see this with reality house humping stars getting divorced and each going after each other and their money.  So much for that equity.  What is so funny is that they need to pretend all is well to keep ratings up so there is another legal battle there.  So the notion that buying a home is a sure bet, marriage is a sure bet, long-term jobs are a sure bet, are all based on this phony utopia ideology brought on by the 1950s and 1960s.  But many Millennials don't want this as their end all goal in life.  Some baby boomers seem to have the ultimate goal of buying a crap shack and that is that.  To quote a very Twitter happy politician, "Sad" – and the dynamics are going to be interesting with many older adult kids living at home with parents: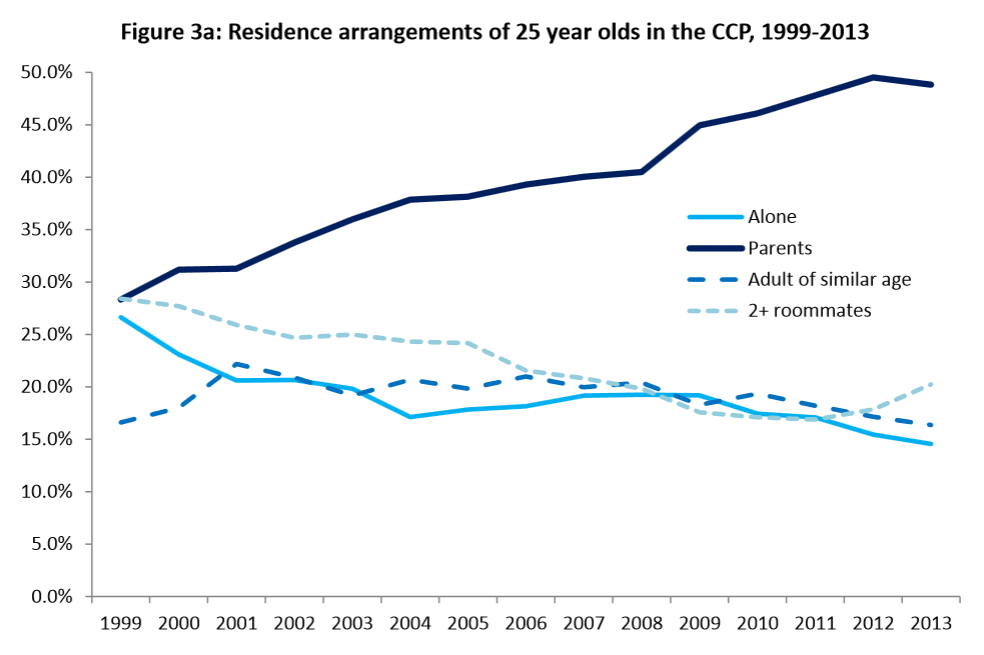 These changes are important.  So a lot of the new building in recent years has come in the form of multi-unit construction (condos and apartments).  Yet there is a danger in this too.  Since most Americans are notoriously bad savers, a home is a surefire way to build equity over the long run.  In fact, when we look at net worth figures for households, the biggest source of "wealth" here is equity in a home.  It serves as a forced savings account and human nature being what it is, most just don't have the discipline to invest in other more profitable ventures.  But again, you need to sell that property to unlock that equity which many Taco Tuesday baby boomers seem to miss.
For many of the open houses I've been too recently (areas with homes in the $1 million range) you have investors (foreign and domestic), older buyers, and a handful of late 30s professional couples.  And these homes are mediocre at best – a slight step above a crap shack.  Let us call it a shining turd of real estate potential.  Millennials just have different tastes and this is impacting decisions on home buying and where they choose to live.

Did You Enjoy The Post? Subscribe to Dr. Housing Bubble's Blog to get updated housing commentary, analysis, and information.