Fake it until you make it.  No truer words have ever been uttered especially when it comes to Hollywood and the make believe of reality TV.  Just because you put the word "reality" in front of TV doesn't make it so.  Yet people flock to housing shows in mass because it feeds into their world view that real estate is always a winning bet.  Whether the show is about a couple looking to buy their first home or a show where prospective investors take a chance at rehabbing a former meth home and turning it into a puppy daycare, these shows put out some unrealistic scenarios especially for those that actually buy and invest in the real estate market.  Yet that is the rub.  Most people never purchase investment property.  Most that do own real estate own it as their place of residence.  And that is why these shows do so well because they highlight an alternate reality that only works out in scripted reality.
Ridiculous budgets and emotional buying
I must admit to my chagrin I enjoy the episodes where they have first time buyers and how they analyze the situation:
"Currently, we live in a 700 square foot studio apartment but with a baby on the way, we need to upgrade to a 2,500 square foot home so we can have space for our 6 pound baby.  Oh, and a sauna and a walk-in closet would be nice."
Then you get the agent slash personality TV star asking about the budget for the couple:
"We can comfortably afford $400,000.  If it is a dream place we can stretch to $425,000"
Next thing you know they are buying a $500,000 place and panning to the couple:
"I guess one of us can get a second job flipping burgers!  I can wash the smell of grease off in my faux marble tiled shower."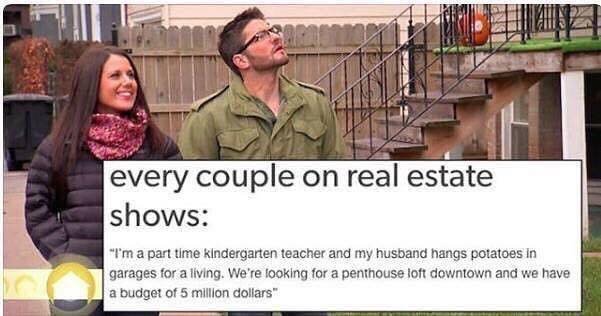 The above scenario happens over and over and is taken as financially savvy home buying because real estate never goes down!  Okay.  Let us assume that is the case.  But what about opportunity cost?  What about the insane added financial pressure for the family since they just expanded their monthly housing costs big time?  You also see couples tapping into their 401k which is simply ludicrous.
Would you overpay that much for a computer, car, or an airplane ticket?  But this is the "roof over your head" so you can't attach a value to that.  Well in reality you can.  That is what investors do all the time.  Yet these shows in many cases portray fake scenarios that lead the public naively down the real estate cult.  And yes, some of it is staged:
"(AC) For quicker turn-around, producers sometimes choose buyers who are already in escrow with one of the three locations shown. The other two choices that are filmed, are only shown to allow viewers the option of making the choice themselves."
Of course it has to be staged this way to get people living through rental Armageddon off the fence and into their mortgage broker's office.  In the case above, in some shows the "house hunters" really aren't hunting because they already bought.  This is like you going hunting only that someone already hunted the deer for you and has placed it out for you in the forest.  Of course you have to go through the pomp and circumstance of it all.  Call it housing foreplay.  Also, why is it called house hunting?  Are they trying to tap into our ancestral need for this?  I doubt our ancestors used Range Rovers to drive a couple of miles to buy frozen meals out in the tundra.
And this is a deeper examination of cultural real estate psychology.  Why don't they have shows like "my escrow fell through" or "my 35 year old still lives at home" or "my bank denied my loan request" to show reality?  Or what about looking at a household budget pre-home buying and post-home buying a few years out?  What about the reality that many couples that buy have the added burden of childcare costs that in some states, rivals that of a mortgage?  This is too much to think about.  Real estate buying is simple!  It never goes down!  If this dingbat couple bought then surely "I" with my genius IQ and my spouse will live happily ever after so long as we buy.  No one lost buying real estate (aside from the 7,000,000+ recent foreclosures from the latest housing bust).
In the end, no one cares about your financial well being more than you.  In my view, managing your finances wisely is about financial independence, not being locked down as a house slave while having to forge into the toxic freeway wasteland of California.  That financial independence may very well include owning a home.  Heck, in most parts of the country buying is really a no brainer.  But in expensive regions and states, the math isn't so clear.  These shows also lower expectations to get people more used to buying crap shacks without questioning deeper.  Would you buy a car if the dealer told you the engine is leaking oil and the steering wheel only turns left after three tugs?  But this is real estate!  A land of pure happiness that comes with a 30-year mortgage.

Did You Enjoy The Post? Subscribe to Dr. Housing Bubble's Blog to get updated housing commentary, analysis, and information.