The morning news is now covering how unaffordable Los Angeles housing has become.  Just this morning there was a story about rental prices increasing the prevalence of poverty in the area.  Apparently this is somehow going to resolve itself even though cracks are now starting to form in the economic landscape.  There is now a band of people that seem to have this odd idea that everything economic and politically oriented is about keeping prices up for their crap shack.  You can have a story about an "asteroid set to destroy Earth" but they would respond by saying "but even if the meteor causes prices to drop 10 percent, it will always go up later."   By the way, a 10 or 20 percent down drop equates to $70,000 or $140,000 for a typical Taco Tuesday crap shack.  Today I'm going to ask readers to dig into this story a bit more because I'm not exactly sure what is going on with this Torrance property.
Moving a property fast in Torrance
Torrance is one of those crap shack filled hoods.  Dull looking homes built before many baby boomers were even in diapers, this area has seen some dramatic price appreciation.  We did an in-depth analysis of an entire city block here and it would appear that most people on that block wouldn't even have a remote opportunity of buying their own property back today even if they wanted to.  Many used this as justification for the buy now or be priced out forever meme.
I found something odd with this property but readers might have more insight into the background here: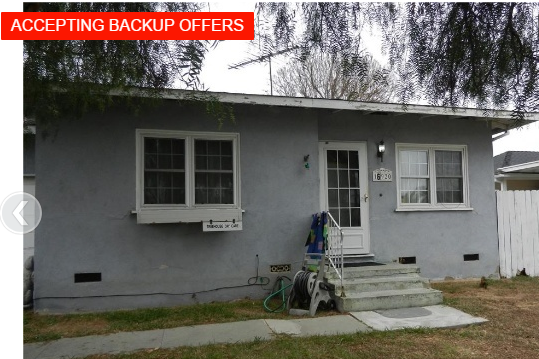 16920 Elgar Ave,
Torrance, CA 90504
2 beds, 1 bath 770 square feet
The ad is simple and to the point:
"Great starter home to get you into this wonderful neighborhood, add to make bigger or enjoy the large back yard."
Well at least we have one sentence to work off of. There is nothing odd about this listing.  This is your typical crap shack in a gentrifying hood.  What is odd is the pricing action here: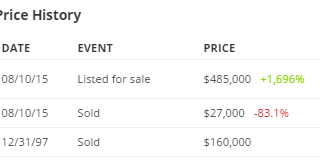 This place sold for $160,000 back in 1997.  It has a closing sale on 8/10/2015 for $27,000 and is immediately listed back on the market for $485,000.  On Redfin the property is listed as "accepting back up offers" so it does already have some traction.  Why is there a $27,000 recorded sale?
So I went on Google and found that this address was linked to a child day care:

http://listings.findthecompany.com/l/19673292/Day-Treehouse-Care-in-Torrance-CA
The address listed is for this property.  I'm assuming this child care is no longer in operation unless there is a new method of showing homes with kids already in the property.  According to the link above, this child care was making good money since 2010 (at least if the link above has any validity).
Regardless of the outcome, do any sleuths in the Torrance area have any deeper insight?  There might be a simple explanation to the $27,000 sales price.

Did You Enjoy The Post? Subscribe to Dr. Housing Bubble's Blog to get updated housing commentary, analysis, and information.